Last Updated on September 28, 2023
A color often associated with earth, elegance, and warmth, mahogany is also the name of a tropical hardwood tree. This deep reddish-brown pigment can be seen almost everywhere: in furniture, flooring, fashion and textiles, accessories, and even hair dyes. Mahogany hues are usually chosen for their timeless appeal.
Read on as we unpack the meaning of mahogany color. The post will introduce the color's appearance before delving deeper into its preparation methods, various shades, and symbolism in color psychology.
Introducing Mahogany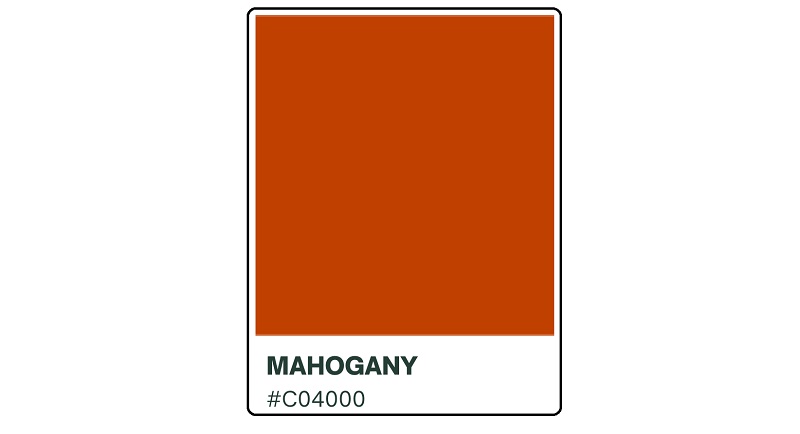 Mahogany is a luxurious color that's commonly found in furniture, wooden musical instruments, and paints. The color is also a top preference for many graphic designers, hair stylists, and some automobile makers.
The standard definition of mahogany is a reddish-brown color with the hex code #C04000. However, this description may vary slightly depending on who's defining the color.
The ISCC–NBS System of Color Designation defines mahogany as a strong yellowish-brown or strong red color. Some people also describe the pigment as a light burnt umber that features various shades of brown.
Mahogany's description may vary further depending on the color model in question. For instance, you'll realize that the web version of mahogany looks like a strong orange or medium-to-orange color.
Regardless of definition, this hue is available in numerous shades. These may differ considerably in depth and intensity, from very light to very dark ones. Some may also incline more toward red and others more toward brown or orange.
As a shade of red, mahogany is found on the traditional color wheel. The color is nestled between dark pink and mustard-orange.
Difference between Mahogany and Burgundy
They may look similar at first glance, but that's because they both appear reddish-brown. However, these colors have glaring differences when observed up-close.
The main difference between mahogany and burgundy relates to the intensity of the visible hues in both pigments. Burgundy is a reddish-brown color with a pinkish or purplish hue. This shade of red derives its name from wine that originated in the Burgundy region of France.
True mahogany doesn't feature noticeable pink or purple hues. The color may only take on these appearances if you tweak it with hints of pink or purple during the preparation process.
Other Colors That May Be Confused For Mahogany
1. Auburn
Auburn is a shade of red that can range from light to deep reddish-brown. The color usually appears with more intense orange hues, which is how it differs from mahogany.
2. Cattail Color
Cattail is a brick brown color with warmer undertones than mahogany. The color gets its name from the cigar-shaped head of perennial plants which develop from creeping rhizomes that thrive in freshwater or brackish water.
3. Cedar
Cedar is a distinct tree whose bark may somewhat resemble that of mahogany. However, cedar barks tend to be a little more light-red than mahogany. Cedar may also look more silvery or grayish than mahogany, depending on its age.
4. Lemon Iced Tea
Lemon iced tea differs from mahogany in its strong orange hue, which is commonly labeled as generic brown. And true to the name, this color gets its name from the nutritious lemon iced beverage.
5. Ruddy Brown

Ruddy brown looks very similar to some mahogany undertones. However, this color is basically a shade of brown with a tinge of red. So, it's more brown than red, which gives it a clear distinction from true mahogany. Ruddy is the color synonymous with the fallen autumn leaves.
6. Rust
Rust is a vivid orange or orange-to-reddish-brown color. Compared to mahogany, rust is lighter and a little less intense. The color also inclines more toward orange and yellow than red and brown.
7. Sinopia
Sinopia is a color based on a dark reddish-brown natural earth pigment. Despite its description, sinopia is considerably more orangey than mahogany.
Shades of Mahogany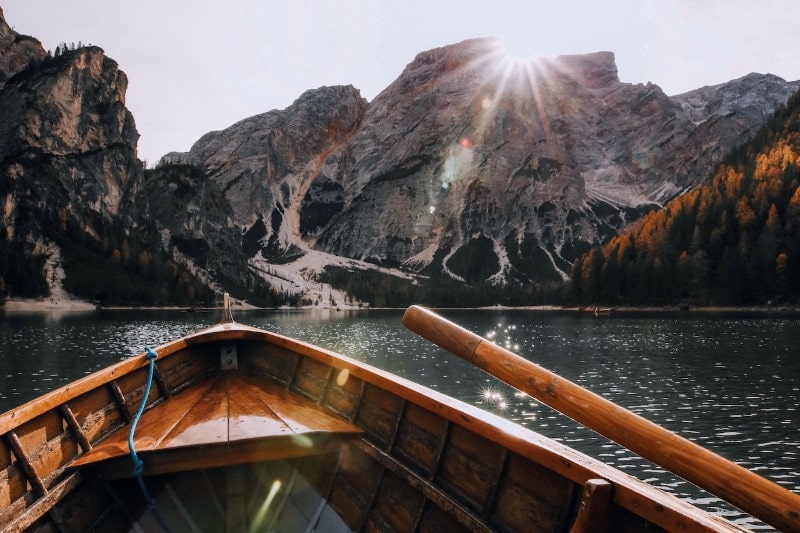 There are many colors considered shades of mahogany. But as you shall find, some of these undertones look entirely different from true mahogany and the only similarity they share is probably the color name.
Examples include;
• Old Mahogany – Also known as antique mahogany, this is a dark, spiced red color with a Sedona red-rock undertone. It's warmer than true mahogany.
• African Mahogany – African mahogany is a term for a group of colors that range in appearance from pale pink to a deeper reddish-brown.
• Young Mahogany – Young mahogany looks like a deeper variation of African mahogany, with more pinkish hues.
• American Mahogany – This shade of mahogany is very dark with heavy grayish undertones.
• Rich Mahogany – Rich mahogany looks like a paler shade of American mahogany, although both have noticeable hints of gray.
Etymological Origin of the Mahogany Name
The mahogany color is aptly named after the timber obtained from mahogany trees.
The Mahogany tree is a straight-grained, reddish-brown timber obtained from three tropical hardwood species in the genus Swietenia. These trees are indigenous to the Americas but can also be found in plantations across other continents, particularly Asia and Oceania.
The exact origin of the word "mahogany" is rather unknown. One theory suggests that the name is a corruption of 'm'oganwo', a term used by the Igbo and Yoruba people of West Africa to describe various trees of the genus Khaya, which are closely related to trees in the genus Swietenia.
When they came to Jamaica as slaves, members of these West African ethnicities might have given several trees they found in the Americas the same name as 'm'oganwo.' The word was originally associated exclusively with islands in the West Indies under British control.
Territories under French control called it 'acajou' while those under Spanish rule called it 'caoba.' The first documented use of the word "mahogany" to denote a color name in English was in 1737. This is around the same period large-scale mahogany trade flourished.
History of the Mahogany Color
Historical records indicate that mahogany trade may have begun around the 16th century and flourished throughout much of the 17th and 18th centuries.
The timber is still highly prized in many countries for its beauty and durability. However, many people also consider it an invasive species, which might explain the gradual decline in the once-thriving mahogany business.
It's unclear when mahogany pigments were first synthesized. However, the color has appeared in the palettes of a few renowned painters throughout history.
The most notable of these works is a painting by Dutch artist Piet Mondrian titled 'Mahogany.' Completed in 1910, this oil-on-canvas painting depicts the mahogany tree with its reddish-brown trunk. The masterpiece is housed at the Hague Municipal Museum in The Hague, Netherlands.
Rembrandt Harmenszoon van Rijn also had a deep love for dark brown and dark ochre red colors. Therefore, it's likely that he used mahogany in many of his palettes, even if he doesn't exactly mention it.
For instance, Rembrandt's 1669 oil-on-canvas painting titled 'The Return of the Prodigal Son' appears to have utilized various shades of mahogany. This painting is found at the Hermitage Museum in St Petersburg, Russia.
How to Prepare Mahogany
The best way to prepare mahogany is by using all three primary colors – red, yellow, and blue. A typical process would unfold as follows;
i. Purchase red, yellow, and blue paints from your local art or paint store.
You'll also need other essential art supplies, such as a palette and paintbrush.
ii. Add equal amounts of blue and yellow to a palette to obtain green.
iii. Mix equal portions of red and green in a different palette to produce a reddish-brown color.
The idea is to add red to green and not the other way around. That's because red is quite overwhelming and needs to be introduced into a palette in small amounts to produce the desired color.
iv. Tweak the reddish-brown color produced into your desired shade of mahogany.
For instance, adding more red will deepen the brown color while more green will lighten it. You could also use neutrals like white and gray or other fancier colors like pink and purple.
White and gray can help balance out the effects of red and green while also making it appear glossy. On the other hand, pink and purple will make your mahogany look a bit more sophisticated.
The Meaning and Application of Mahogany
Mahogany is a symbol of style and beauty, a reputation consistent with most shades of red. The color's sheer elegance is the reason it's one of the world's best-selling hair dyes.
The dyes are popular with both professional hairdressers and do-it-yourself (DIY) home hairstylists. They're suitable for people of all ages with light brown or brunette-colored hair. As a hair color, mahogany has this deep appearance that will easily make the wearer the center of attention.
It also symbolizes class and luxury. That's due to its association with precious wood. Although there's no shortage of mahogany trees especially in the Americas, the timber obtained from the tree has retained its tag as one of the world's most precious woods. No wonder this wood (and its resultant color) is commonly used for high-end furniture and musical instruments.
Because of its high value tag, mahogany would best suit indoor furniture. However, the timber is incredibly hard and durable, making it a perfect fit for outdoor furniture too. And the best part is that you can still paint your furniture accessories with mahogany to imbue a sense of durability associated with mahogany timber.
The mahogany color may also resonate with resilience or endurance. This is partly because mahogany species are fairly hardy trees adaptable to multiple environments and partly because the timber obtained from these trees is one of the most durable.
Shades of red are generally associated with aggressive emotions. However, mahogany is a welcome exception to that rule. Due to its connections to nature, mahogany can bring a sense of serenity into its surroundings.
The color is exceptionally effective at conveying feelings of balance and harmony. It's also excellent where you wish to create a vintage or rustic ambiance. Stepping into a room painted mahogany can inspire feelings of freshness only akin to walking in nature.
The name mahogany is believed to be feminine. As such, the mahogany color resonates with the feminine qualities of kindness, trust, loyalty, and nurture.
Summary
Mahogany is a versatile, nature-inspired shade of red that has been part of interior décor for years. If used sparingly and alongside matching colors like creams and ivory, mahogany can transform your designs far more than other shades of red ever could.