Last Updated on September 28, 2023
This combination of blue and green has long held a unique place in our world. Enchanting, soothing, and tranquil, the cyan color is reflected onto our seas and our skies. It's a bridge between nature's serenity and human creativity.
In this exploration, we'll dive into the history, meaning, and psychology of cyan. Let's uncover its symbolic significance, examine its harmonious color pairings, explore its presence in the natural world, and celebrate its artistic and design applications.
Join us on this journey through the refreshing realm of cyan: where its serene allure meets the boundless realms of imagination and expression.
What Color is Cyan?
As one of the oldest shades of blue, cyan has a rich historical background that spans across cultures and civilizations. It derives its name from the Greek word 'kyanos,' meaning dark blue enamel. It surprisingly shares a similar hex code with aqua, which is #00FFFF.
The name "cyan" is often used interchangeably with aqua or turquoise. However, these words can mean entirely different things depending on the context in which they're applied.
How does cyan occur naturally in the environment? Natural sources of cyan include cyanobacteria, which produce pigments that create blue-green hues. Cyanide compounds in minerals can also produce this hue. Certain plants and animals have cyan coloration due to natural pigmentation.
The Real Deal Between Aqua and Cyan
While aqua and cyan may share similar hex codes, they embody distinct colors in the real world. Aqua, at times, exudes a welcoming warmth. While cyan exudes a refreshing coolness. These subtle variations make cyan versatile and captivating choice for creative projects.
Cyan Color Combinations
Complementary hues are a top recommendation when it comes to creating beautiful cyan combinations. As cyan is a primary color, you can pair it with its complementary counterpart, red. This combination creates a strong contrast and adds visual interest to a design.
Color theory suggests that cyan may blend well with warmer hues like yellow or orange to create a vibrant and energetic feel. These are often used in advertising and marketing to grab the viewer's attention.
On the other hand, you could use cyan alongside cooler shades like purple or green to produce a more soothing effect. The outcome of such combinations are popularly used in interior design to invite familiar comfort into a room.
When combined with other colors, cyan can enhance or modify the psychological impact of those pigments. For example, you might combine cyan with red to balance out the latter's intensity and produce a more harmonious composition.
Cyan's association with water and the sky may also clue you in on the specific shades to combine it with. For instance, using cyan alongside green, brown, or ochre would be ideal for nature-themed settings. Whether you're seeking a bold statement or a calm atmosphere, you can trust cyan to deliver the desired result.
Origin and History of Cyan
Emerging in the late 19th century, cyan found its roots in synthetic pigments, revolutionizing the color palette. Yet, its presence in the natural world dates far earlier.
In ancient Egypt, cyan pigments were used to create vibrant blue-green paints and dyes. These applications were due to the color's association with the Nile River, which was seen as the lifeblood of the civilization.
The Middle Ages used cyan in illuminated manuscripts to represent the heavens and divine enlightenment.
In many ancient Western cultures, cyan was mostly associated with water and the ocean, symbolizing depth, purity, and renewal. And in Eastern cultures, the color stood for the element of wood and is believed to represent growth, vitality, and abundance.
Even before the era of synthetic pigments, cyan bore cultural significance. In ancient Egypt, it symbolized immortality; while ancient China hailed it as a harbinger of healing and renewal.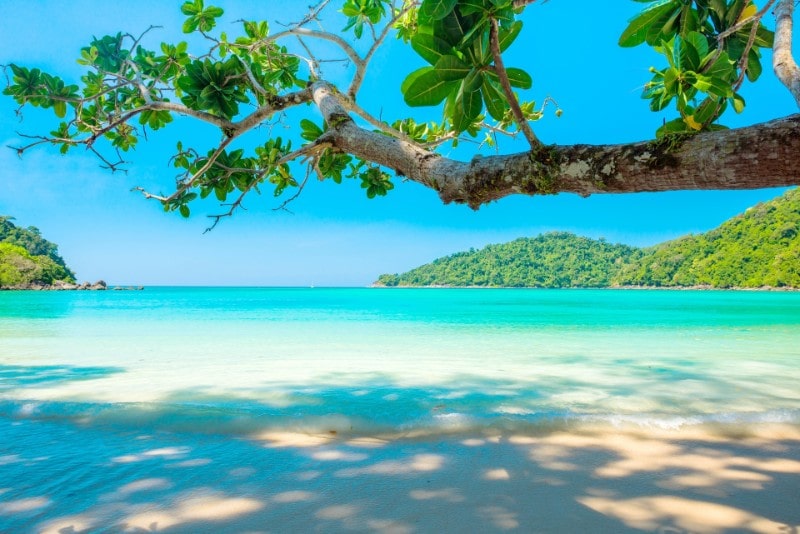 Native American cultures revered cyan as the embodiment of water's spirit. Nature itself boasts cyan's presence, from vibrant turquoise stones to select flora and fauna. Its dual allure of vibrancy and calm makes it a versatile choice for dynamic projects.
In the realms of art and design, cyan's allure captivated movements like Art Nouveau and Art Deco in the early 20th century, and visionary artists such as Wassily Kandinsky and Piet Mondrian harnessed its emotional and spiritual resonance.
Cyan's rich heritage and storied journey, complete with psychological ties, symbolic depth, cultural reverence, and a cherished place in artistic expression, firmly establish it as one of the most versatile shades within the spectrum of blue.
Psychological Associations of Cyan
Much like other shades of blue, cyan resonates deeply with tranquility and calmness. Its presence can effortlessly craft a serene atmosphere, conjuring images of peaceful waters and expansive blue skies.
Beyond aesthetics, cyan possesses the potential to enhance cognitive functions. It fosters mental clarity and bolsters concentration. Research has proved that exposure to cyan-infused environments can elevate cognitive performance and amplify overall productivity.
For many individuals, cyan is an emblem of coolness and soothing freshness, often evoking feelings of cleanliness. This perception is largely guided by the wavelength of cyan light. However, the symbolic interpretations show an unpredictability across different contexts. Some may link cyan to trust, loyalty, and unwavering integrity; while others perceive it as a conduit for divine healing and spiritual purification.
Equally noteworthy is cyan's impact on behavior. Studies affirm its capacity to induce calmness, alleviate stress levels, and facilitate relaxation. That's why this shade of blue is mostly seen in therapeutic environments, like spas or yoga retreats. It contributes to a tranquil ambiance conducive to calming the mind and body.
Understanding the diverse psychological effects of cyan is important to help you harness its potential effectively in your creative endeavors.
Cyan Symbolic Meanings
In color psychology, the color cyan often embodies peace and serenity, offering a soothing influence suitable for tranquil environments. This hue is also linked to clarity and mental focus. This makes it a popular choice in tech design and communication.
Cultural interpretations of cyan vary. Western cultures associate it with calm seas and clear skies, symbolizing stability and purity. In some Eastern cultures, cyan signifies healing and rejuvenation, denoting harmony between physical and spiritual realms.
Nature, with its cyan-hued plants, adds connotations of growth and vitality. Beyond psychology, cyan finds its place in art and home decor, lending elegance and tranquility. Whereas in marketing, it signifies reliability and trustworthiness.
Cyan Cultural Significance
Cyan holds immense cultural significance worldwide. Its symbolism deeply rooted in diverse traditions. While interpretations vary, this color universally evokes feelings of tranquility, spirituality, purity, and healing.
From ancient civilizations to modern societies, cyan's presence remains strong. In some cultures, cyan is considered sacred and is integrated into religious ceremonies.
In ancient Egypt, it symbolized Hathor, the goddess of beauty, love, and joy. Meanwhile, Chinese culture links it to growth and vitality, representing new beginnings. Western cultures surprisingly associate cyan with Christmas.
This hue also played a pivotal role in cultural movements. During the counterculture movement of the 1960s, it symbolized individuality and rebellion. In essence, cyan defies the typical association of blue with melancholy – making it a universally positive color embedded in countless cultural contexts.
Cyan in Nature
Our natural world is filled with the presence of cyan color! Its most iconic appearance occurs in the clear daytime sky. This results from sunlight scattering in Earth's atmosphere, giving the sky its characteristic blue hue. Cyan also graces pristine water bodies, especially in crystal-clear tropical regions. Here, sunlight reflects off the surface, lending it a cyan tint.
In addition to these environments, cyan emerges in the plant kingdom. The color adorns flowers like hydrangeas and morning glories, thanks to pigments called anthocyanins. Furthermore, cyan aids certain animals in camouflage. Birds and reptiles sporting cyan-colored feathers or scales can blend seamlessly with their surroundings.
This widespread presence of cyan enhances the natural world, contributing to its visual allure and diversity.
Cyan in Art and Design
As a primary color, cyan is a vibrant hue that allows it to blend seamlessly into various creations. In nearly all its applications in art, cyan helps to convey a sense of peace and serenity.
It's also beloved for its powerful visual effects. It can draw attention to specific elements in an artwork. Its bright undertones make it an excellent choice for creating magical contrasts with warmer shades.
Additionally, cyan can add depth and dimension to your creations. The color is also easy to manipulate into different shades. When it comes to design, cyan is mostly used to convey a sense of freshness and modernity.
The color's cool and refreshing qualities make it a popular choice in branding, particularly in industries related to tech and innovation. Cyan is also a staple in website design palettes, creating beautiful, user-friendly interfaces.
Contrary to what many people think, aesthetic appeal isn't the sole consideration in determining how to use cyan in art and design. There are also emotional effects and psychological impacts to consider. Remember that this color can evoke diverse feelings, from serenity and tranquility to harmony and balance.
Conclusion
It's almost impossible to discuss various shades of blue without making references to cyan. Cyan is considered the quintessential symbol of the calm seas and clear skies. The nature-themed color resonates with feelings that border on mental relaxation. It can also convey a host of other emotions depending on the context and application.