Last Updated on October 9, 2023
With so many yoga and fitness brands claiming to be the best in the business, it can be hard to stand out from the crowd. Perhaps you are only starting out and are looking to find a unique font to add to your designs? or perhaps you are on the brink of giving up and need something to inspire you quick. Well, whatever your situation, at HipFonts, we have got you covered. 
Below are 25 stunning fonts that are optimized for use in yoga clubs or yoga class promotion. Any one of these will help you stand out. But why just provide the goods without any advice! That's right, not only will this article provide you with fonts, but also a little bit of promotional expertise. Take these tips, utilize them, and the font you choose will be the cherry on the cake. You can thank us later.
Promoting your Yoga Brand
What good is having a top-quality font if you are not able to do anything amazing with it? We are not just here to provide you with the best fonts, but maybe even offer a little advice on how you can get the most from the fonts that you do choose. 
The most important thing that you can do is define your brand and make it unique, now a font can have a big part to play in this, and to be honest, it should. Many companies use fonts in their logo, and it makes the design stand out even more. Choosing the best font to pair with your logo can be a make-or-break decision when it comes to business, so don't pick the wrong one! 
Social Media is Your Friend!
Social media is one of the most important avenues in the world when it comes to promotion, so make sure that you are using your companies/brands social media accounts to their full potential.
Choosing a font that will look good on a social media post is key. For one, make sure that the files in the font package allow you to edit the fonts accordingly, and secondly, make sure that the font is fun, quirky and inviting. The last thing that people want to see on their social media feed is a super-serious yoga promotion. Yoga is all about reaching zen, being relaxed, and opening up the body and mind. 
Optimize Local Presence
Finally, optimizing your presence in a local area, particularly if you are new, is key. The use of posters, flyers, and brochures can greatly improve business in this regard, but once again, you will want the right font to complement your design. Plus, handing out physical pieces of promotion is a great way to connect with potential customers, and word of mouth can spread fast! 
1. Wisteria 
Wisteria is an elegant and classy serif typeface – The font is both modern and nostalgic and works great for logos, magazines, and social media posts. It has a real touch of class and will make any promotion look modern. Wisteria was built with OpenType features and includes ligatures, alternate, numbers, punctuation, and it also supports other languages.
2. Amalia Bilquest 
Amelia Bilquest is an organic handwritten font inspired by the simplicity of writing in a simple but strong character, perfect for branding, signatures, wedding invitations, promotions, product packaging and other needs. What we love about this font is the fact that is it so simple, but yet so effective. Included is multilingual support as is standard, and also ligatures and swashes too for good measure.
3. The Dreamer Font Family 
The font may be called the dreamer, but there is nothing dreamy about this font, it is well-grounded and has a super stylish and contemporary design. Available in regular, italic, and bold variations, the font is stunning.
4. Movek Noiya 
Movek Noiya is a modern display font with alternatives and ligatures. Movek Noiya will be great for any branding project. The range of alternates and ligatures will help you to create a unique and original logo design or website header! The font also comes with multilingual support, so you can create stunning fitness or zen yoga-themed designs in different languages. 
5. Peachy Fantasy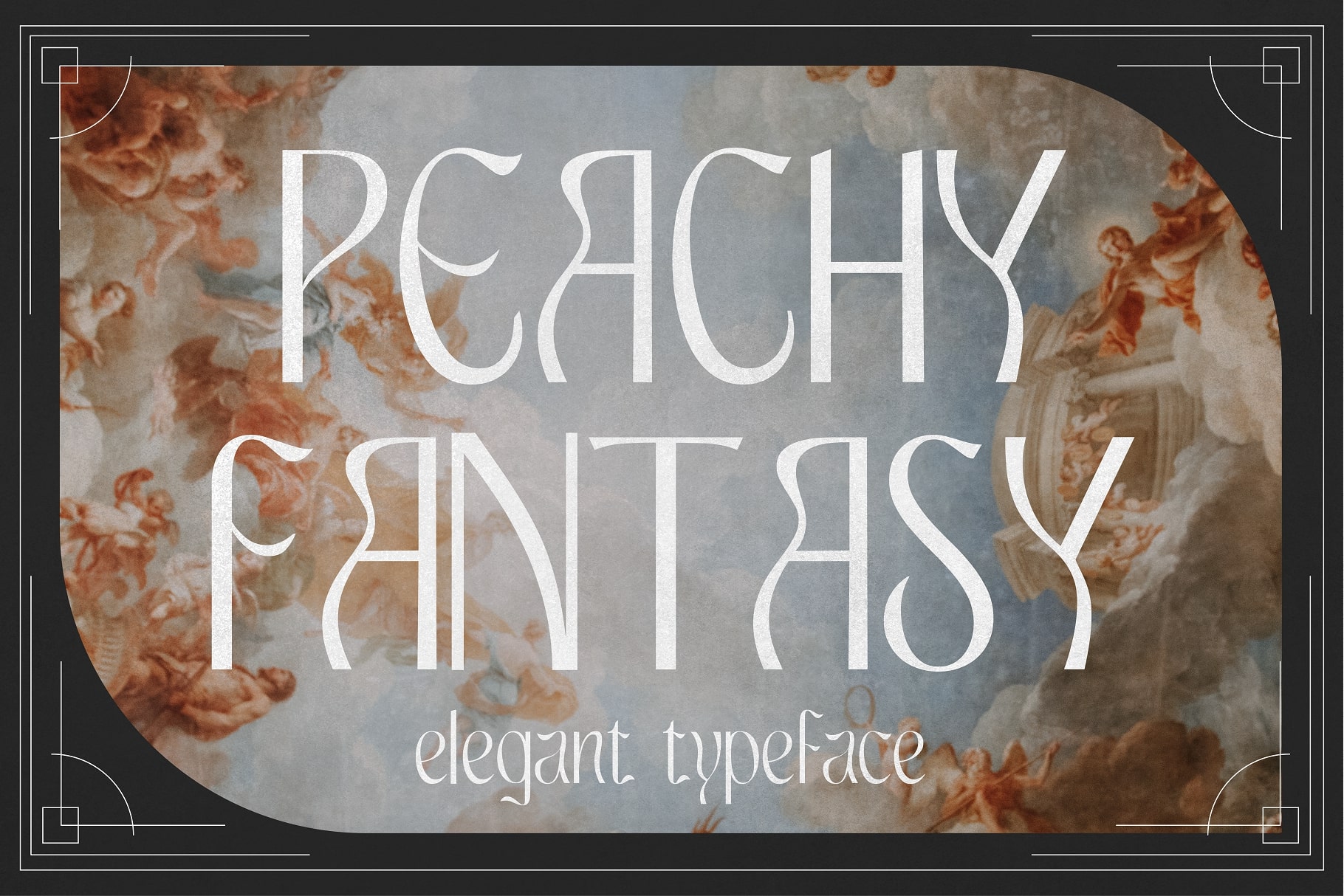 Peachy Fantasy is an Art Nouveau inspired typeface that evokes nostalgia. This typeface is ideal for a wide range of projects such as magazines, posters, branding, apparel, editorials, social media, packaging, advertisements, and much more. Each letter stands out on its own, giving your designs a touch of elegance and originality. If you're in the market for a modern typeface with vintage influences, then Peachy Fantasy is for you.
6. Munale Loird Diaplay Font 
Fresh and attractive, this typeface will give a modern look to any yoga brochure or advertisement. 
7. Creamy Peachy 
Creamy Peachy fonts includes uppercase letters, lowercase letters, numerals, and a large range of punctuation. Serif font with modern stylish style includes ligatures and alternate characters. Examples of the upper and lower cases of the font can be seen above, and the package also contains regular and italic variations of the lettering.
8. Lavish 
The name says it all, this design is both lavish and elegant in its approach. It is designed for fashion-themed projects, but is also feminine in its approach and would look great in a yoga-themed design too. 
9. Rosaline
Rosaline is a beautiful outline typeface inspired by the glorious Art Deco era of the 1920s. This gorgeous font is strong, decorative, and classy. You can use it for vintage projects as well as modern design projects like packaging, apparel, posters, branding, prints, weddings, and more. Create your Art Deco masterpiece today with Rosaline.
10. Bambosa 
Unique and quirky, this serif font design is absolutely stunning and the unusual curves have quite a relaxing feel to them. If your aim is to add a premium/luxury feel to your project, then Lavish is for you. Not only is the font elegant it's also timeless.
11. Grove 
Grove combines in itself the elegance of a classic serif font (high contrast) with the modern and clean lines of a serif font. The wide selection of ligatures also makes it look unique and super customizable.
The font itself is modern and minimal in its approach, which we think works well. Included in the font package are all of the usual numeral and punctuation features that you would expect, and with fully editable OTF, TTF, and WOFF files available too, the possibilities are endless. 
12. Novara 
Novara font includes uppercase letters, numerals, and a large range of punctuation characters. It is a serif font with a modern style. Created for posters, web design, branding, illustrations, badges and social media designs, you won't go far wrong with Novara. 
13. Glitten – Ligature Serif Font 
A perfect serif font, the curves and sense of elegance attached to this font design are second to none. The nostalgic look is bound to make Glitten a popular choice, and with nearly 100 ligatures included, what's not to love? 
14. Perfecta Liner – Handwritten Script 
A stunning cursive font that is great for any promotion or invitation. nearly 300 glyphs included along with numerals and punctuation as well. 
15. Serena – Modern Sans Serif 
Often, the most simple-looking designs can be the most effective, and we are confident that this is the case with Serena here, a modern and attractive elegant serif font.  Great for a range of designs and activities, Serena will give any promotion a laid-back and simple edge. 
16. Megante 
In the same way that some of the other fonts provide a simplicity that is unmatched, Megante provides that same simplicity, but with a bit more bounce and curve to its design. 
17. Swifted – Chic & Stylish Sans 
Chic and stylish with a touch of class and elegance. Beautiful curved design, and the font works well in both upper and lower case. A timeless alternative to regular font styles.
18. Volgue – Chic Modern Typeface 
Chic, elegant and classy, this design is perfect for a range of promotional concepts and ideas, and would look amazing on posters, flyers, and social media designs. All letters are PUA encoded for added versatility, and the font can be edited on a range of different programs. 
19. Buckaroo – Desert Typeface

Hand-drawn, balanced, simple, and effective, what's not to love? A stunning design that will leave potential customers and clients wanting more.
20. Deglion – Classy Elegant Display
Curved, classy, and elegant, this stunning serif is ideal for any style of promotion and would look great on a poster, a brochure, and a flyer. Feel free to utilize the design to your advantage using Adobe or Illustrator products, and make this beautiful font your own. 
21. Houstiq – Elegant Luxury Sans 
An elegant and luxurious design that will make any project design look seamless and modern. Perfect for pretty much any project you are looking to begin or enhance.
22. Glastigo – Beauty Elegant Expanded Serif 
Thin, elegant, and understated, this modern serif is stunning but requires a simple design, or it may get lost. In saying that, you won't find classier curved edges and a more elegantly balanced font anywhere on this list.
23. Gilvestre – Beauty Luxury Expanded Font 
Made to look expensive, this design has all the ingredients to help you build your design concept and take it to the next level. 
24. Florenia Beautiful Display Serif 
A little thicker than some of the other fonts on the list, Florenia is well-balanced, attractive, and super modern. Great for branding, poster design, brochures, and social media entry, the font is versatile and eye-catching.
25. Byutih Sans Typeface 
Perfect for headlines, short body text, posters, and brochures, Byutih is a slick font style that has a range of different ligatures which can be applied to any design.
26. KAIVALYA – Cultural Type
Clearly inspired by middle-eastern culture, Kaivalya is a beautiful and unique font style that we think would work perfectly with a Middle-Eastern or Arabian-themed yoga or massage business. 
27. Boho Rainbow 
This stylish and contemporary font contains upper and lowercase letters as well as numerals and punctuation additions too. The modern style of the serif makes it a perfect choice for any user.