Last Updated on March 14, 2023
Informational technology (IT), finance, marketing, and healthcare are among the top industries that have benefited immensely from artificial intelligence (AI). But they're not the only ones.
AI has also revolutionized the creative industry in many ways. With the right technology, it's now easy to create realistic videos, audios, and images from scratch. It's remarkable to acknowledge that a feat which initially required impeccable artistic skills and technical know-how can now be pulled without ever setting foot in an art class. All it takes is investing in special tools and software that are aptly known as AI art generators.
AI art generators use various aspects of artificial intelligence, including machine learning and neural networks, to automatically create artwork. These tools can help generate various art forms, including pictures, paintings, sculptures, drawings, and digital art.
AI art generators come in two primary types, namely text-to-image and image-to-image.
As the name implies, text-to-image AI tools create images from text. You simply import content from the internet or your device, or type in words directly into the tool's dashboard then wait a few seconds as the platform converts your text into realistic images. On the other hand, image-to-image AI generators use non-text art forms like paintings and drawings to create secondary images.
In this post, we review the 10 best AI tools to help you create high-quality art in 2023.
Pricing: Free
Images.ai is one of the most powerful AI art generators available on the internet. The platform uses the latest generative AI technology by taking advantage of the innovative stable diffusion open-source code. But unlike most websites that also offer stable diffusion solutions, Images.ai is 100% free to use.
As part of offering cutting-edge AI art generation solutions, Images.ai continuously improves its algorithm to add more resources. The website also conducts routine upgrades to ensure that all available elements are at par with the current trends in art generation.
Many previous Images.ai clients also laud the software for being simple to use. The dashboard is easily navigable and there are no confusing commands. Therefore, any user can get the hang of it without going through a steep learning curve.
To use Images.ai, you only need to enter a search term and the software will quickly create a relevant art based on it. The entire process typically takes less than ten seconds.
Pricing: Free
Craiyon, or DALL-E mini as it was previously known, is another effective AI art generator that can create images from any text you feed into it. The tool is also 100% free, which makes it a worthy competitor to Images.ai.
Like Images.ai, Craiyon's in-house AI experts are always working tirelessly to improve the software's efficacy. The tool is modeled in such a way that it trawls millions of internet images and tries to learn the captions associated with such pictures. When you feed a word or phrase into its dashboard, its deep learning abilities enable it to create art that's relevant to the pre-learned captions associated with similar images.
But Craiyon doesn't just generate images through learned memory. Certain elements of the masterpieces created using this software are completely unique to the art and are made possible by blending different concepts together.
However, there's just one drawback to using Craiyon. Since the tool primarily models art after unfiltered content from the internet, its outputs may often contain stereotypes and biases. So, be sure to carefully analyze the art generated by the software before sharing them publicly.
Pricing: Free
Starry AI is the third AI generator tool on this list that comes free of charge. So, what makes it different from Images.ai and Craiyon?
Starry AI implements unique granular models that allow you to create more customized art. The extra personalization feature makes this tool a top recommendation if looking to produce images that align with your personal tastes or your brand's needs. You won't need to perform extensive edits to art forms generated using Starry AI, which reflects positively on time-efficiency. A few tweaks here and there and the images will be ready to go with your personal or business branding materials.
You'll also find the Starry AI platform quite easy to use. The service has split its digital art generating category into two sections.
The image creation process begins by entering your text within the field provided and then choosing between Altair and Orion. Images produced by Altair contain abstractness while those generated by Orion depict fiction. Next, you'll need to choose your preferred style. There are over 16 different styles to experiment with. Finish the process by setting your background and wait a few minutes for Starry AI to do its magic.
Pricing: Credit-based
DALL-E 2 differs from the above-listed AI generators primarily in its pricing plan. Unlike its competitors that come free of charge, DALL-E 2 levies a fee based on credits.
One of DALL-E 2's best features is a paintbrush. The paintbrush is essentially an image editing function. You can use it to add details to your images, including shadows and highlights, thereby creating complex art with multiple layers. The tool can be incredibly useful in generating customized art.
DALL-E 2 also sports an easy-to-use interface. The developer – OpenAI – designed the software with a view to helping digital creatives artificially create realistic images in minutes.
The primary objective is to help users generate illustrations and design products, while also brainstorming new ideas for their businesses. Install DALL-E 2 today and uncover why thousands of creatives prefer this AI art generator.
Pricing: Paid plans start from $8.99/month; a free plan also available
It's difficult to do a rundown of the best AI art generators in 2023 without making reference to Fotor. Fotor is an image-to-image AI art generator that's especially suitable for creating non-fungible token (NFT) art. That makes it a particular recommendation for digital art dealers. After generating your images, this tool lets you list them on the NFT marketplace.
Besides its efficacy in generating NFT art, Fotor can be just as useful for creating many other art forms. Masterpieces produced by this AI generator are both charming and unique.
Fotor is also engineered to generate images in a few minutes. The platform doesn't require design experience or technical skills to navigate. When you feed an image into Fotor, the website deploys any of its 10,000+ templates to come up with a relevant image remarkably fast. The sheer number of templates makes it easy to find a piece of art that aptly suits your project.
Notable editing capabilities include background removal and color splashing for accentuating the colors in your images.
Pricing: Paid plans start from $8.99; a free plan also available
The name of this tool speaks volumes about its core design objective. However, Artbreeder doesn't just breed any cheap image you can find on run-of-the-mill art stores. The software exists with one primary goal – to help you design high-quality, realistic images from scratch. It uses the latest advancements in AI to enhance the quality of your art.
Another exciting thing about Artbreeder is its ability to render multiple versions of the same image. Using this tool, you can create portrait and landscape copies of one image. There's also the option of generating anime figures.
You'll also love Artbreeder for its efficient image management features. The tool maintains thousands of illustrations that are storable in folders hosted on its platform.
No account is required to use Artbreeder either. You only need to check into the tool's online platform and begin creating your masterpieces.
Pricing: Paid plans start from $15/month; a free plan also available
Paying $15 a month for an AI art generator may not make much economic sense at first glance. But for art dealers churning out digital images in a large scale, there's a lot to gain by purchasing AISEO Art's premium plans.
First off, AISEO Art helps you convert your concepts into spectacular images in a matter of seconds. The tool works primarily as a text-to-image generator.
AISEO Art also ranks among the most user-friendly AI art generators. To use the program, you begin by logging into your account (or creating an account if you don't already have one). The next step entails determining your image size and shape. You can choose from vertical, horizontal, or square.
You then tell AISEO Art the type of image you'd like to generate by inputting some text into the provided field. Finally, click on "Generate" and your images will be created in as little as five seconds.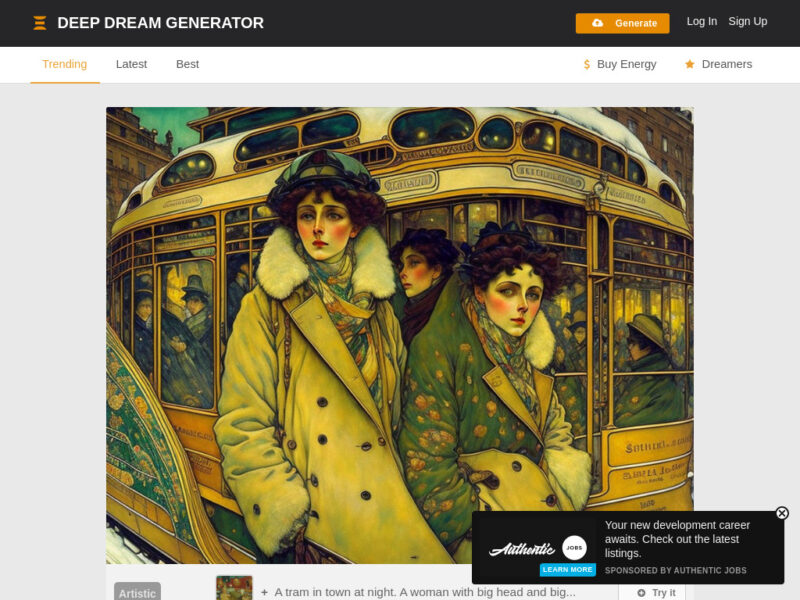 Pricing: Free
Another popular AI art maker on the market boasts numerous features that make it the go-to image-generating solution for many creatives.
Deep Dream Generator by Aifnet prides itself on helping users generate high-quality, realistic images. The platform relies on a neural network that has been pre-trained with millions of images. Therefore, it creates stunning arts by comparing your keywords with its learned captions.
Like most tools on this list, Deep Dream Generator is easy to use. You only need to upload an image to the dashboard and the platform will create a new image based on the original one. Once your image is generated, you can deploy Deep Dream's editing features to fine-tune it to your requirement. The program uses numerous painting styles that can make your art appear as if it was created in a different period of time.
Last but not least, Deep Dream comes with several image categories, including landscapes or animals. There are also three different styles to choose from – Deep Dream, Deep Style, and Thin Style.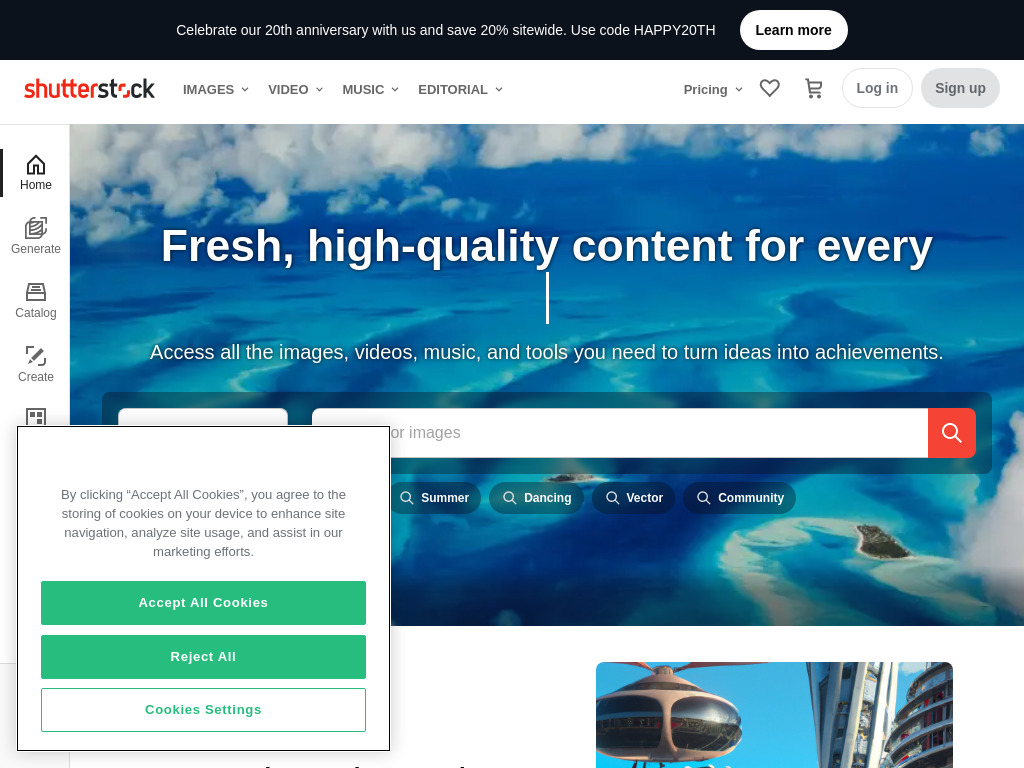 Pricing: Paid plans start from $9.99/month; a free plan also available
Shutterstock is a renowned provider of stock photography, music, and footage. If you've worked as a digital creator for a considerable period, there's a high chance that you've used a Shutterstock image before. But besides its popularity as a stock photography provider, Shutterstock also offers AI art generation and editing tools. The company became known for its AI image creation services following a partnership deal with DALLE-E's creator, OpenAI.
According to the terms of the agreement, Shutterstock would also initiate a creator's fund to compensate artists who generate synthetic images on its platform. And while this deal was inked only a few months ago, it has already positioned Shutterstock as a one-stop shop for all stock imagery needs. Users can visit the platform to purchase published images or create their own art from scratch.
Most Shutterstock services come with both freemium and premium plans, with the cheapest paid bundle costing $9.99/month. Therefore, it's expected that the company's AI art generator will also be subject to these competitive rates.
To use the Shutterstock image generator, type in a keyword into the search bar provided. The platform will generate a few versions based on the search term. You can then implement a raft of editing tools to tweak the image further.
Pricing: Paid plans start from $82/month; a free plan also available
The last AI art generator on this list is by no means the least. While it's the most expensive of the lot, this tool contains many advanced features that you'll find in any credible AI art maker.
To begin with, Jasper Art is remarkably user-friendly. Content creators who've used Jasper AI as a writing assistant will especially find the tool's art generator easier to use, much as the former application is highly discouraged.
To generate original art using Jasper Art, you'll begin by signing into your account or setting up an account if you don't already have one. Then, like standard AI art makers, you feed the keywords into the provided fields and let the tool generate your realistic images in seconds.
Digital images generated by Jasper Art tend to be 100% unique. But you can also implement a raft of editing features, such as photo-realistic, full-face portrait, and flat lighting, to tweak the image further.
Final Word
Generating original images has never been easier. Whether you're an art dealer or digital marketer, using any of the above-listed AI art generator programs can go a long way in boosting your revenue.