American Captain is a decorative logo-based typeface created to be used for Captain America, the famous American comic books superhero character.

The font was designed by Michael G. Adkins and initially released by The Fontry in 2010. The Fontry currently holds all rights to American Captain's licensing and usage.
More About Captain America Franchise
Captain America is a superhero that appears in comic books published by Marvel Comics.
The character was created by Joe Simon and Jack Kirby, as a gallant and patriotic soldier who often fights the Axis powers of the Second World War. He can be seen donning a costume inspired by the American flag and carrying an indestructible shield that he often unleashes as a projectile upon his opponents.

Captain America made his debut appearance in Captain America Comic #1 by Timely Comics, whose cover is dated March 1941. Timely Comics is Marvel Comics' predecessor.

As his initial release coincided with World War II, Captain America became the most iconic super soldier character during the 1940s. However, his popularity faded away after the war ended, so much that the Captain America comic series was discontinued in 1950.

But in 1964, Marvel Comics revived Captain America, pulling the legend back from imminent oblivion. The character has since remained one of the most talked-about superheroes and arguably the most iconic super soldier comic book hero of all time. He has also made his way into the cinematic world, appearing in several films and television series.
American Captain Font Features
The American Captain font is noted for its unique letterforms. Letters in this font are clean and bold, which reflects positively on their legibility. It also comes in six different styles. They include;

• American Captain Regular
• American Captain 01
• American Captain Eternal
• American Captain Patrius
• American Captain Patrius 01
• American Captain Patrius 02

All 6 styles are available in different characters, including CAPITAL ALPHABETS, small alphabets, integers, currency symbols, and punctuation marks. You get a wide range of language support too, including lesser-known languages like Jèrriais, Sami, Oromo, and Kabardian.
American Captain Font Compatibility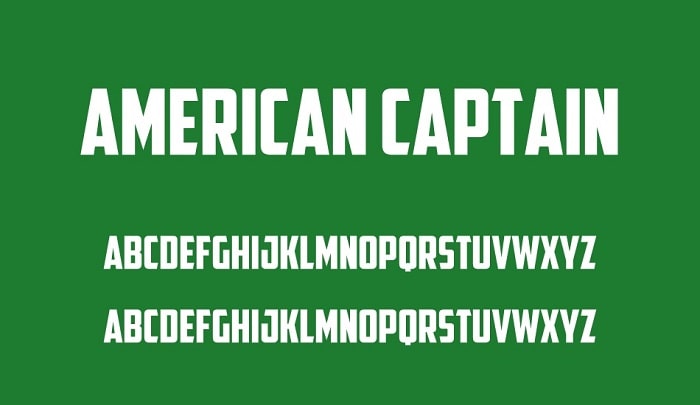 American Captain is available in both the OpenType (OTF) and TrueType (TTF) file formats. That makes it compatible with numerous devices and operating systems, such as Windows, macOS, Android, and iOS.

The availability of the OTF and TTF file formats also allows you to transfer documents across various interfaces without losing their originality. For instance, it's remarkably easy to export texts in the American Captain font from Word Document to Google Docs while still maintaining the formatting and layouts of such documents.
Where Can You Use the American Captain Font?
American Captain is typically classified as a display font. It's best suited for digital display projects, such as billboards, store signage, website templates, social media content, and PowerPoint presentations.

You can apply the American Captain even on non-display design projects like business cards, invitation cards, posters, flyers, and banners. The font would also look great on book and magazine covers, movie and documentary covers, product packaging, apparel branding, etc.
Where to Download the American Captain Font
There's no shortage of websites to download the American Captain font. The typeface is available for immediate download from Fonts Fabrica, Dafont, or the Free Fonts Family.

Note that American Captain is only free for personal use. Remember to contact The Fontry company from their official website before using this font for commercial projects.