Last Updated on September 21, 2023
Every seasoned photographer understands that there are times when you simply can't get close enough to the subject for that once-in-a-lifetime shot. Another challenge is moving subjects. Then there's the issue of losing quality when enlarging photos.
During such moments, you wish you could capture every detail: every crack, every color, every dot. However, such moments in a photographer's life are rare. But thanks to today's technology, these could be issues of the past.
Modern image upscaling software has made it possible to enlarge images while enhancing detail. Now you could say goodbye to noise, blur, and incorrect hues. The only challenge would be finding the right app for the job. And this is where Topaz Gigapixel AI comes in.
But is it the best image upscaler in 2023? In this review, we'll talk about everything you need to know about this AI-powered photo enlargement software that's been making headlines online.
About Topaz Gigapixel AI
Topaz Gigapixel AI is an artificial intelligence (AI)-powered downloadable image editor that enlarges images by up to 600% their initial resolution. As a lossless image upscaler, you can use it to increase the resolution of your photos up to 6 times while maintaining their original quality.
Gigapixel has earned itself a place among the most efficient image upscalers in 2023. Try it on all kinds of subjects, including landscapes, wildlife, architecture, and portraits. It also implements powerful upscaling algorithms that accurately fill in missing pills. This ensures that it specifically targets image resolutions as opposed to simply increasing pixel size.
Company Behind Gigapixel 
Gigapixel AI is a product by Topaz Labs LLC, a company renowned for its cutting-edge image editing solutions. It was founded in 2005 by Dr. Feng (Albert) Yang. The technology firm is currently headquartered in Dallas, Texas.
Dr. Yang leveraged his entrepreneurial and video processing experience to establish Topaz Labs with a view to making the company the most reliable image and video editing service provider. Before founding Topaz Labs, Yang served a 5-year stint as the co-founder and chief technology officer (CTO) of Fortemedia Inc., a Silicon Valley semiconductor company.
Topaz Labs is famous for its three major proprietary offerings, namely Sharpen, DeNoise, and Gigapixel AI. But perhaps it's the latter product that has earned it a spot among the most reputable image and video editors in the world.
Gigapixel incorporates artificial intelligence in its photo and video editing services to address common postproduction issues, including low resolution, blurriness, and noise. The idea is to ensure the final output focuses solely on the subject.
Getting Started On Topaz Gigapixel AI
Much like most image editing software, the initial step involves downloading and installing the app on your device. Topaz Gigapixel AI is compatible with major operating systems such as Windows, macOS, and even PlayStation (PS).
After successful installation, launch Gigapixel AI. You'll immediately notice a folder icon labeled "Open." Click the icon to open the upload folder. Familiarizing yourself with Gigapixel's user interface is recommended. The good news is that it boasts an uncluttered dashboard, making it easy to locate essential editing functions.
The software provides accessible buttons and sliders for magnification, sharpening, and noise reduction. To utilize Gigapixel AI effectively, upload your image in any supported format and apply various editing settings.
Preview the image for any last-minute adjustments. Once satisfied, download it to your device or seamlessly export it to your preferred social media platforms.
Topaz Gigapixel AI Standout Features
1. AI- and ML-powered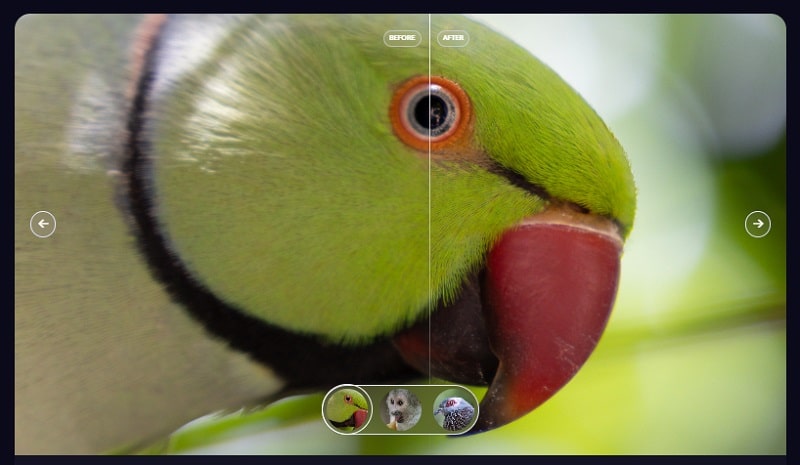 As an image upscaler for pros, Topaz Gigapixel AI is powered by both artificial intelligence and machine learning (ML) algorithms. This combination significantly improves the quality of the upscaled images.
Gigapixel uses neural networks that are continuously trained on millions of sample images with a view to understanding what photorealistic details look like. The learned information allows it to achieve remarkable resolutions.
The use of AI and ML also boosts Gigapixel's speed and accuracy. It doesn't matter how messed up the quality of your images may be. You can improve their resolution at a fraction of the time you'd take editing the same photos on other popular websites (e.g., Adobe).
2. Different AI Models
Not only does Gigapixel use powerful AI algorithms, the software's designers also understand that different images require different levels of AI technologies for effective editing.
To that end, Topaz Labs integrated five different models into Gigapixel's image editing services. These include;
• Standard (formerly Natural) Model, which enhances image quality by removing blurs and noise issues while incorporating realistic details.
• HQ (High Quality) Model, which improves the quality of images that are already in high resolution.
• Low Resolution Model, which boosts the quality of low-resolution images (those with a low dots per inch (dpi) or low pixels per inch (ppi) ratio).
• Lines Model, which targets architectural images or those featuring numerous straight lines.
• Art & CG Model, which is ideal for non-photographic images, such as paintings, computer graphics, and animations.
• Very Compressed Model, which targets highly-compressed images or those in JPEGs file formats.
3. Lossless Editing
The ability to improve an image's resolution while retaining its original quality is one of the most admirable features in any photo editor. It's also a top reason many professional photographers prefer Gigapixel AI.
This photo enlargement software lets you produce larger prints without affecting the image's clarity and finer details. That's because the tool doesn't just focus on the neighboring pixels. Rather, it looks at the entire image resolution at a time.
4. Incredible Scalability
It's exciting to know that this software offers flexible scaling. This means you can enlarge or reduce images to your desired sizes, depending on the intended purpose.
The scaling feature is especially important if you want to enlarge images for printing. That's because most printers work best with image files that are 300 dpi or 360 dpi (if using Epson models).
For starters, Topaz Gigapixel AI implements a Scale option that helps you choose your desired photo enlargement scale factor. You can quickly select your desired scale from the preset buttons, which include 0.5X, 2X, 4X, 6X. There's also a custom option that lets you enlarge photos to any length provided it's within the 600% range.
You can also deploy the Width or Height features to lay out the width or height in pixels (px), centimeters (cm), or inches (in).
5. Batch Processing
Photography pros deserve a tool that can help them edit multiple images simultaneously while ensuring topnotch quality. Gigapixel AI provides batch processing services using its proprietary photo enhancement solutions. That makes it particularly suitable for photo and video editors handling large request volumes.
To use the bulk editing feature, just drag and drop your image files into the main window either from Finder or File Explorer. There's also the option of clicking "browse" to upload your files. Once uploaded, complete the batch editing process by checking the boxes for individual images.
Just remember to tread carefully while using bulk editing. While the feature is undeniably time-saving, it may render less-than-perfect outputs since it prevents you from implementing personalized settings.
6. Flexible Viewing
While many high-end image editors offer a preview function, Gigapixel AI takes it a step further by providing four distinct viewing options for a more engaging image exploration.
The first option is "Single View," offering a full-screen preview. Next, there's "Split View," which places the original image on the left and the upscaled version on the right, separated by a dividing line. This format is commonly seen on Gigapixel's official website. "Side-by-Side View" presents both the original and upscaled images side by side.
Lastly, "Comparison View" showcases the upscaled image in four different models, allowing you to select the most refined version. This diverse range of viewing options enhances your interactive experience with your images.
7. Automatic Face Recognition and Recovery
One of the software's standout feature is its exceptional face recognition capability, which effortlessly enlarges facial photos while maintaining intricate details and sharpness. This makes it perfect for upscaling portraits and group pictures, even for old or grainy images. It's important to note that this feature is tailored for human faces and may not work as effectively for animals.
Topaz Labs had the following to say about its face recovery solution:
"The primary purpose of the Face Recovery model is to recover a wide variety of facial features that may have been negatively impacted from low-quality photos, such as those suffering from being highly compressed, noisy, artifacted, shaky, or blurred. Fortunately, we were able to improve the former Face Refinement model by adopting a brand-new deep learning process and training the new Face Recovery model by using a large library of high-quality faces."
8. Additional Features as Other Topaz Products
The Gigapixel app provides many of the same features you'd find in its two cousins – Sharpen AI and DeNoise. Experts generally recommend running images through a sharpening and denoising software before upscaling them. The fact that Gigapixel incorporates these features means you can quickly edit your images without leaving the platform.
Topaz Gigapixel Pricing
The standalone Gigapixel AI software costs a one-time fee of $99.99, inclusive of one-year upgrades and updates. Alternatively, you could purchase it as part of the Topaz Labs Image Quality Bundle. This bundle costs $199.99 and includes the company's three major proprietary products – Gigapixel AI, Sharpen AI, and Denoise AI.
As you might expect of any reliable image upscaler, Gigapixel also provides a FREE trial version (choose 'Download Trial'). Leverage this option to familiarize yourself with the software before purchasing its subscription plans.
The trial version doesn't require entering your credit card information. It's also unlimited. The only drawback is that any photo you upscale under the trial version will bear the company's watermark.
Pros
• Lossless image enlargement
• Time-saving batch processing
• Higher image resolution for better image clarity
• Different AI models for different image qualities
• User-friendly dashboard
• Flexible preview function
• Flexible scalability
• Improved face recognition and recovery
• Compatible with multiple operating systems
• Affordable as not subscription-based
Cons
• Slow editing speed, especially with batch processing
• Requires advanced image editing systems
• Has no Lightroom plugin
Comparison with Other Image Editors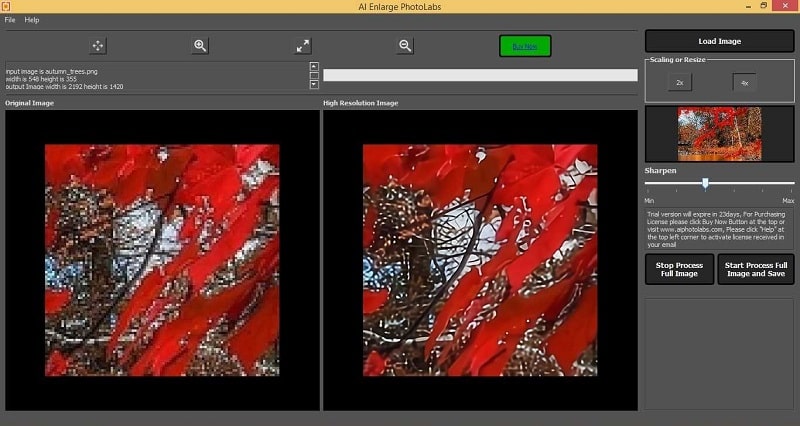 This tool is superior to its close competitors like Adobe Photoshop in terms of better image enlargement using AI. Gigapixel can upscale photos up to 6X, compared to the likes of AI Enlarge PhotoLabs with a maximum enlargement of 4X.  
Imglarger is another Gigapixel's notable competitor. Imglarger can enlarge your images up to 8 times their original size. However, it falls short in its limited file formats (only JPEG and PNG), limited pixel file size (up to 1200 X 1200), and lower image upload size (5 MB).
Is Topaz Gigapixel AI Worth It?
As a powerful, AI-driven software, Topaz Gigapixel AI will provide lossless image upscaling and batch processing capabilities. If you're in the photography or design niches, it could save you time and effort.
Be sure to evaluate your budget, assess its ease of integration into your workflow, read user feedback, and weigh these factors against the app's cost. Ultimately, the worth of Topaz Gigapixel AI depends on how well it aligns with your specific needs.
For those with plenty of image-related work, it will certainly be a valuable addition to your toolkit!