Last Updated on September 21, 2022
Windows 95 is an operating system (OS) developed by Microsoft as part of the company's Windows 9x family of operating systems. The operating system was marketed for being incredibly consumer-friendly.

Windows 95 was the first operating system under the Windows 9x family. The OS was released to manufacturing on August 15, 1995, and to retail nine days later. It's the successor to Windows 3.1x and the predecessor of Windows 98.
Windows 95 Font
The font used for Windows 95 is Microsoft Sans Serif.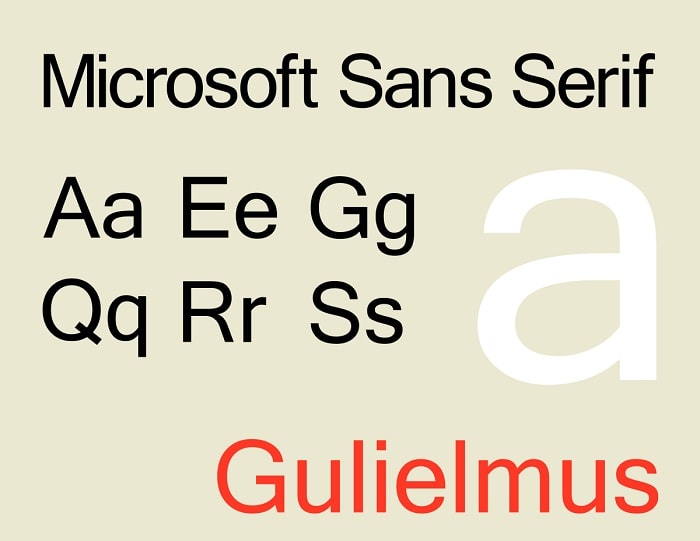 Microsoft Sans Serif is a TrueType neo-grotesque sans-serif typeface designed and released by Microsoft. The font is published by Microsoft Typography.

Microsoft Sans Serif was first created in 1985 and was initially known as Helv. Helv was a proportional raster font that was introduced exclusively for Windows 1.0. The font bears a close resemblance to Helvetica and Arial, and its naming was actually inspired by the more popular Helvetica font.

In 1992, Helv changed its name to MS Sans Serif. The new font was largely included in Windows 3.1.

In 1997, MS Sans Serif finally changed its name to Microsoft Sans Serif. This was also the year that the current version of the font was officially released to the general public.

Microsoft Sans Serif was created as a vectorized replacement for MS Sans Serif. Version 1.10 of this font boasts 1119 glyphs (1209 characters and 26 blocks), whereas version 1.41 includes 2257 glyphs (2301 characters and 28 blocks). Version 5.00 contains 3053 glyphs (2788 characters and 36 blocks) and comes with extended Unicode ranges compared to previous versions.
Over the years, Microsoft Sans Serif has become the default system font for various Microsoft Windows versions, including Windows 3.1, Windows 95, and Windows 98. Microsoft Sans Serif is also the official typeface for Windows NT 4.0 and Windows ME. Windows 98 users may notice a "Euro" symbol that comes along with the font. This symbol was added following the release of Windows 98.

Another interesting fact about the MS Sans Serif typeface is that it's available in numerous font sizes. They include 8, 10, 12, 14, 18, and 26 points. You might also notice sizes 23 and 30, especially when changing the dots per inch (DPI) settings on your Windows 95 device. These are not additional points but rather high DPI versions of font sizes 18 and 26, respectively.

It's also worth noting that despite the various name changes, the name "Helv" is still used in various Microsoft devices and operating systems. Examples include OS/2 as well as its successor ArcaOS.
Where to Download the Microsoft Sans Serif Font
You can download the Microsoft Sans Serif font from the Font Zone and CuFon Fonts websites. The font is also available on Mais Fontes and Free Fonts Download websites.

Microsoft Sans Serif is free to use on personal design projects. But being an officially-patented property of Microsoft, the font cannot be used for commercial purposes unless with express authorization from the company.