Last Updated on September 28, 2023
Promoting a little fun in the sun isn't always easy. There are so many beach bars, beach events, and summer festivals to choose from in any given year that promotion can prove to be difficult, so you really need to make sure that your promotion is unique.
That is where we come in, in this short and sweet article, we give you 7 beautiful sand texture overlays that you can download and use right away, so what are you waiting for? 
20 Beach Textures
Are you hosting a beach party or looking to create a poster or flyer for a beach-related event or for beach activities? If so, then these 20 high-resolution overlays might be the answer to your prayers. Easily edited, and full of different colors and textures, the designs are attractive and will definitely impress potential customers! 
Download the 20 Beach Textures here!
10 Rocky Halftone Textures
This set of natural rocky halftone textures is derived from actual photos I took of real rock surfaces in nature. This gives authenticity to the textures since they are straight from nature. Real textures from real surfaces.
This collection is fully isolated with transparent backgrounds in all formats. Each texture itself is colored dark grey, and the color may be manually changed with Photoshop or Illustrator. 
The vector EPS and Illustrator AI formats are infinitely scalable. PNG files are sized to 8,000 x 6,000. Yep, that's 48 megapixels! Your design projects demand the highest quality textures you can find. You're in the right place.
Download the Rocky textures here!
14 Subtle Sand Textures
Subtle is a texture pack that has detailed noise, grain and shading and a naturalistic look. The designs are in a variety of elegant neutrals plus black and white.
Subtle works well for packaging, invitations, cards, gift wrap, wallpaper, notebook and book covers, website headers, advertisements, social backgrounds, flyers, posters, fabric prints, stationery, collage, photo layering and masking, etc.
The pack includes 14 textures with 50+ variations. The artwork is vector and high-resolution 300 dpi. Image file types include Adobe Illustrator AI, EPS, and PNG. All designs are 12×12 inches and up.
28 Beige Abstract Wavy Backgrounds
This pack comes with a total of 28 tileable waves backgrounds (14 unique backgrounds with 2 variations: clean and textured). They can be used in multiple ways, such as a website or YouTube header, Facebook and Instagram ad background, mobile and desktop wallpaper, or even as a part of another design composition. 
15 Sand Backgrounds/Textures
This package includes 15 detailed real photos of fine sand in the summer sun. All the photos were captured on the sunny beaches of the Dominican Republic and post-processed after. Use them in your next design to create impressive website landing pages, headers, hero images, presentation banners or large scale prints. 
Sand Wave Textures x10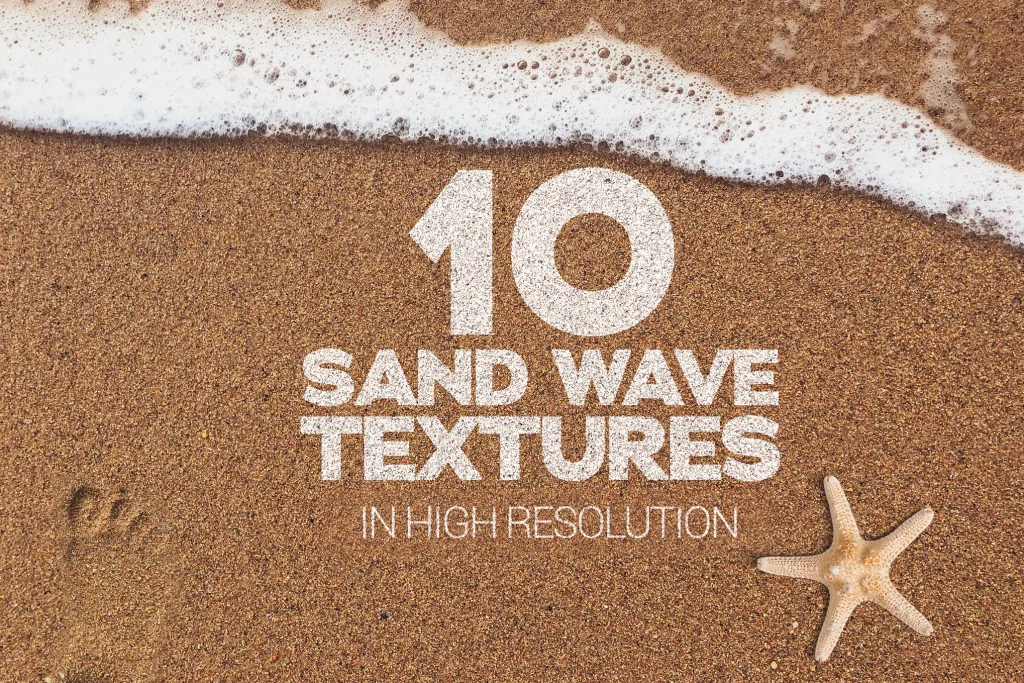 If you are looking to improve the visibility of your design projects, then this sand wave overlay set might be the best choice for you. If you want to promote your summer camp, coastal adventures, or beach games, then you can use one of the many textures in this package. 
Download the sand wave textures pack here!
Sand Textures x10
If you are looking to improve the visibility of your design projects, then this sand wave overlay set might be the best choice for you. The overlays contain a range of gorgeous sandy colors that can be used and combined to help you create the perfect design, so download the package today!