Inter is a variable font family created by renowned Swedish designer and font maker Rasmus Andersson. The font was crafted specifically for computer screens to enhance the legibility of small text sizes. It was first released on August 20, 2017, and was initially known as Interface.

The Inter font has been widely described as a cross between the popular Helvetica and San Francisco (SF) Pro. Indeed, it's easy to pick up several characteristic elements of Helvetica and SF Pro fonts when you examine Inter up-close.
About Inter Font
Inter is noted for its relatively tall x-height, which makes the font exceptionally legible in lowercase and mixed-case lettering. The typeface is available in several OpenType features as well.

Depending on where you download it from, the font may contain contextual alternates. These alternates allow you to adjust punctuation marks based on the designs of the surrounding glyphs.

Inter may also come in slashed zero, a feature that lets you disambiguate "0" to "o." Tabular numbers, numerators & denominators, localized forms, and quirky embellishments are other standout features of the Inter font.

The Inter font is available in 9 weights and each weight has a matching italics. That makes a total of 18 unique styles. Besides, you get a broad language support (including Latin Extended, and Cyrillic), as well as hundreds of glyphs.
Although Inter was created explicitly for computer screens, the font looks gorgeous in both digital and print surfaces. You can apply it to virtually any design project, including: books and magazine covers, video games, brochures, flyers, invitation cards, product branding, as well as website design, and social media content.
Inter is particularly recommended for graphic designers looking for a typeface that isn't overly fancy yet not too simplistic. The font also does an excellent job at highlighting super short labels and texts. As a variable font, it means you can mix and match different weights and italic variations.
Are There Any Downsides To Using Inter Font?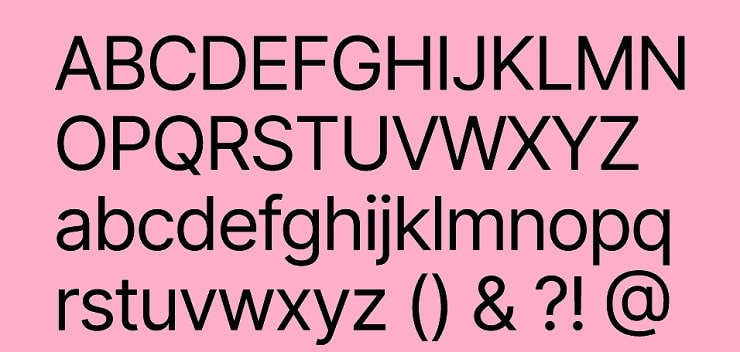 The only notable downside to Inter is its bad kerning (letter spacing issues), particularly when used for larger texts.

Although it boasts a relatively high x-height, poor kerning makes Inter a less-than-ideal font for using on headlines. It's even less effective if used on small digital display screens with poor resolution and color depth.
Where to Download Inter Font
Inter is available on Google Fonts. Other websites you can download the font from are Fonts Arena, CuFonts, and Font Swan. Most of these websites let you choose from a number of file formats. Examples include .OTF, .TTF, .WOFF, and .WOFF2.

Inter fonts are licensed under the Public Domain or Open Font License. That means you can freely download and use the font on any personal or commercial design projects. Remember to consult your attorney or Inter publisher before using the font for business purposes.