Last Updated on October 6, 2022
Hug Me Tight is a playful handwritten font intended to infuse a warm and cuddly aura into your design projects. The font was created by Misti's Fonts. It's characterized by its friendly texture, which makes it ideal for using on casual DIY craft projects.

Hug Me Tight also boasts an incredible amount of boldness. The lettering is round and slightly chunky. These features are intuitively integrated to enhance the font's legibility, especially on digital display surfaces.

The Hug Me Tight font is typically available in one style. However, the single style comes with both UPPERCASE and lowercase letters, as well as numerals, punctuation marks, and special characters.

Hug Me Tight is classified as a handwritten font. The font wasn't inspired by any preexisting typefaces but created from scratch by Misti's Fonts designers. Therefore, it's a perfect recommendation if looking for a font that blends uniqueness and elegance.
What Design Projects Are Best Suited For Hug Me Tight?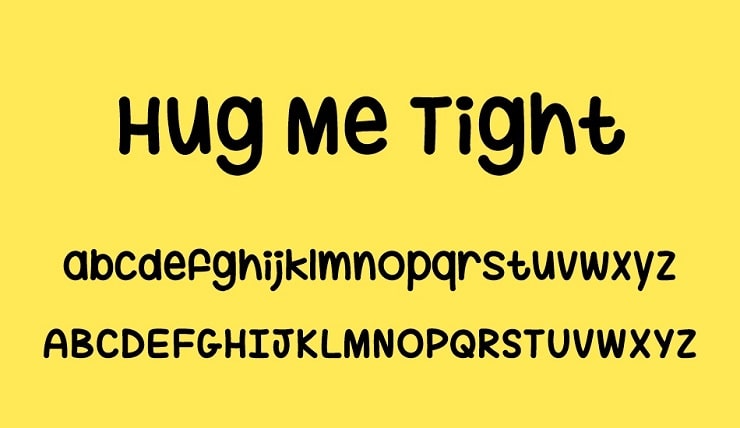 By its sheer name and elegant appearance, the Hug Me Tight font is best suited for design projects with love and romance as the primary themes. Think wedding anniversary cards, birthday invitation cards, and romantic quotes.

Hug Me Tight is the perfect font to use when sending out romantic text messages to the special man or woman in your life. If your partner is the chitty-chatty type, then you'd do well to download and install this font on your smartphone or laptop. You can then utilize the font when chatting with them to help spread your warm hugs, albeit virtually.

Hug Me Tight is incredibly versatile too. Besides romance-themed designs, you can also apply the font on plenty of other projects. Examples include children book covers, billboard advertisements, store & road signage, television commercials, movie posters, etc.
The font blends a playful yet exquisite appearance, making it suitable for most casual but glamorous design projects.
Where to Download the Hug Me Tight Font
Hug Me Tight is available on the Font Swan website. This site lets you download both the freemium and premium versions of the font. You can also download Hug Me Tight from the Cufon Fonts, Font Meme, and Font Get websites.

The download process is rather straightforward, regardless of the website you're downloading Hug Me Tight from. All you need to do is select your font type (Truetype or Opentype), choose your preferred file format, and then hit the "Download" link.
Can You Use The Hug Me Font For Free?
Hug Me Tight is free for personal use. That's a great thing, considering that this font is generally suited for texts meant to spread romantic vibes.

One way to obtain the Hug Me Tight commercial license is by donating directly to the designer.