Last Updated on October 24, 2023
Web hosting is in high demand, thanks to the ever-growing number of websites, blogs, and e-commerce stores. With hundreds of web hosting services out there, it can be tough to choose the right one for your needs. That's where Domain.com comes in.
It's one of the world's leading web hosting providers, offering a wide range of services at competitive prices. In this review, we'll take a closer look at its features, pricing, and competitors to help you make an informed decision.
Read on to learn more about one of the Web's most popular domain registrars.
Introducing Domain.com
Domain.com is a domain registrar company based out of Jackson, Florida, but with services available worldwide. The company operates as a subsidiary of Newfold Digital.

As a domain registrar, Domain.com makes it easy for aspiring website owners to access domain names. The company offers hundreds of domain name extensions for your convenience, from popular extensions like .com and .net to more personalized ones.

Their service is also relatively more affordable and easier to use than other domain name registrars. It currently boasts over 1.2 million websites worldwide.

Aside from domain registration, Domain.com also provides web hosting and website building tools. You can get your hands on WordPress hosting, shared hosting, and Secure Sockets Layer (SSL) certificates.
Their other claim to fame is being credited for unveiling the .xyz top-level domain. This was part of the company's initiative to outpace the competition by providing short, personalized URLs.
Domain.com Brief History
It began in 1998 as part of the Dotster brand, established by George DeCarlo. Initially conceived as a special project under the umbrella of Columbia Analytical Services, Dotster was acquired by Baker Capital six years later when DeCarlo decided to part ways with the brand.
Dotster made a significant impact on the domain name industry in 2005 when it introduced groundbreaking domain technology. This technology revolutionized internet search results by ranking them based on the domains entered by users, marking a pivotal moment in the company's journey.
In recognition of its pioneering work, Dotster received the prestigious Domain Pioneer Award from Verisign in 2010, triumphing over formidable contenders at the "25 Years of .com Gala."
In 2011, Dotster and its two subsidiaries, Netfirms and My Domain, were acquired by the IT services company Endurance International Group (EIG), formerly known as BizLand. The following year, Dotster initiated a migration of its domain accreditation to Domain.com, which effectively established Domain.com as the company's official domain registrar business.
Fast forward to 2021, and EIG merged with Web.com to form Newfold Digital. This new entity boasts a portfolio of numerous subsidiaries, most of which are involved in domain registration and web hosting services. This solidifies its presence in the ever-evolving online landscape.
Apart from Domain.com, they include Bluehost, Network Solutions, HostGator, Crazy Domains, Markmonitor, Sitebuilder, iPage, Yoast, NameJet, Yith, Vodien, BuyDomains, and SnapNames.
Domain.com Domain Registration Features
Picking the right domain name doesn't end with choosing an extension. Domain.com implements a search function underneath every extension where you can search for available domains under that extension.
What if a domain name you're interested in is already taken?
Well, there's no need to fret. Domain.com has a team of dedicated brokers whose mission is to negotiate already-taken domains. The following are other perks you'll enjoy by choosing Domain.com as your preferred domain name registrar;
1. Domain Name Transfer
Transfer your domains to a new host in exchange for a one-year free registration. Transfer fees costs $9.99.
To transfer your domain, you'll need to visit your current domain registrar to unlock the domain you intend to transfer. This releases the domain name to the public market, which makes it available on Domain.com.
Now, go back to Domain.com and search for the name using the domain transfer tool. You'll receive an authorization code that you then enter to confirm the transfer. Allow for up to 7 days to complete the transfer.
Note, however, that you can only transfer a domain name that has been actively registered for at least 60 days and isn't expiring soon.
2. Premium Domain Services
Premium domains are concise, memorable, and brand-specific. They mostly use popular extensions like .com, .net, and .org. Domain.com provides access to dozens of premium domains.
Simply search for the domain name in the search function on this website (https://www.domain.com/domains/premium#site-hero-wrapper). If the name is available, select your preferred extension and pay for it.
These cost a little more than regular domains. The price you pay is for the initial purchase and covers you only for the first year. Remember to renew your subscription each year to avoid losing the name.
3. Domain Name Expiration Protection
Domain names are bound to expire after certain periods – so you must continually renew them to keep them active.
However, certain unforeseen circumstances, such as credit card failures, might prevent your domain name from auto-renewing. That's where Expiration Protection comes in.
Domain Expiration Protection allows you to defend intellectual property rights to your domain name in the event of credit card malfunctions or other payment system failures. The feature costs $9.99.
4. WHOIS Lookup and Privacy Services

Their WHOIS Lookup tool helps you establish the owners behind certain domains. The results will reveal the entity that manages your domain, in line with requirements by the International Corporation for Assigned Names and Numbers (ICANN).

There's also a WHOIS PRIVACY + PROTECTION tool that secures your sensitive information from slipping into the hands of malicious entities. This feature guards against identity theft by continuously scanning for malware and trackers. It then notifies you when it detects unauthorized access to your domain or website.
Quick Pricing Guide
The company offers more than 300 different domain extensions to choose from. These extensions are uniquely priced depending on the intended application.

The most popular and professional domain name extension, .com, starts from $11.99 for the first year. If your brand operates as an organization, you might consider a .org extension that starts from $9.99 for the first year.

A .me extension, which is ideal for describing who you are and showcasing your abilities, starts from $3.99 for the first year. There's also a .blog extension designed for bloggers and a .store extension for e-commerce websites, which start from $6.99 and $1.99 for the first year, respectively.
Other common domain name extensions offered by domain.com include;
• .co for brands operating as companies – Starts from $1.99/year
• .net for brands operating as networking platforms – Starts from $14.99 for the first year
• .tech for tech companies – Starts from $6.99 for the first year
For a more detailed look at prices, visit their domain name pricing page.
Who Should Use Domain.com?
Anyone can benefit from Domain.com's domain registration and web hosting services. However, the company is more suitable for the following clients;

• New entrepreneurs looking for affordable yet high-quality web hosting services
• Small businesses seeking excellent web hosting and web design tools on a budget
• Medium-sized enterprises keen on growing their brand without breaking the bank
• E-commerce business owners looking to provide their stores with superb uptime to minimize bounce rates
• State agencies looking for a web hosting company that uses cutting-edge cybersecurity solutions to keep their clients' data secure
• Passive income earners dealing in domain flipping
• Digital nomads looking for the most secure web hosting platform as they travel and potentially log into compromised internet connections
Domain.com Other Services
1) Website Building
This service is offered in partnership with Web.com. There are numerous perks to building your website using Domain.com.
For starters, they give you access to hundreds of fully-customizable, niche-specific templates to start you off. You also get to choose from over 2 million stock images as well as YouTube videos and Vimeo embeds.
All websites built with Domain.com come with your preferred domain name, too. Besides, you get a built-in web hosting, an SSL certificate, and dedicated support.
Domain.com charges different fees depending on the type of website you wish to build.
Ordinary websites and blogs cost $4.95/month for the first year and then renew at $15.99/month subsequently. To build a website integrated with marketing tools, you'll need to pay $7.95/month for the first year and $21.99/month thereafter.
E-commerce stores and online marketplaces are considerably more expensive to build. An online store will cost you $13.95/month during the first year and $29.99/month thereafter, while building a digital marketplace costs $19.95/month for the first year and $44.99/month subsequently.
2) Web Design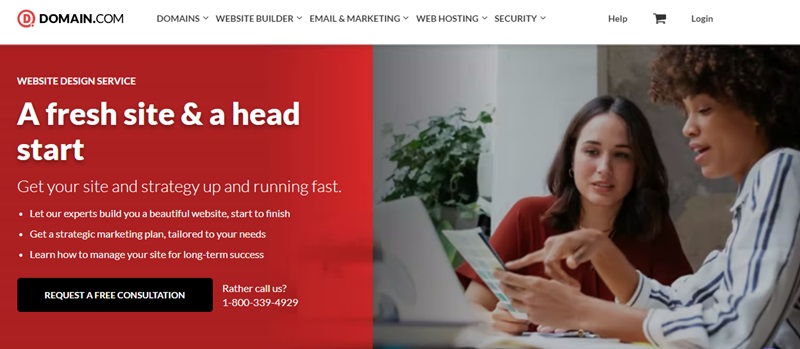 Not only can Domain.com help you build a website from scratch. The company also offers bespoke web design services.
It maintains a team of professional web designers who'll walk with you every step of the way. All you need to do is contact them and be assigned a dedicated account manager.
The design process typically begins by you spelling out your brand name, products, and services. Next, your account manager will draft and share an overview of your website. They'll then wait for your approval before refining the design further. Finally, your account manager will schedule walkthroughs to help you learn more about how to maintain and grow your website.
Like most web designers, Domain.com integrates relevant photos and links into your website to help your brand stand out. The company also implements a raft of SEO strategies to rank your site higher up on search engine result pages (SERPs).
There are no standard fees for web design services. What you pay will depend on the scope of work involved.
3) Web Hosting
The biggest drawcard to hosting your website on Domain.com is that you get to enjoy a free domain for the first year. The company also guarantees 24/7 professional support, unlimited storage, and scalable bandwidth.
You won't need to worry about site downtimes either, as the company guarantees up to 99.99% uptime. This provides the peace of mind knowing that visitors can access your website 24/7. They also take your online safety seriously. The company offers automatic malware monitoring and DDoS protection to keep hackers at bay.
There are up to three different premium bundles to choose from. The cheapest of these is the Basic plan, which starts from $3.75/month and provides the following services;
• 1 website
• Unlimited storage capacity
• Scalable bandwidth
• Free SSL certificate
• Free domain for a year
• 5 FTP logins
• 10 MySQL databases
The other two plans are Deluxe (which starts from $6.75/month) and Ultra (which starts at $13.75/month). Both plans offer all Basic features plus unlimited websites. They then differ in the number of FTP logins and 25 MySQL databases. Deluxe offers 25 FTP logins and 25 MySQL databases, while Ultra provides unlimited FTP logins and MySQL databases.
4) WordPress Hosting
Expect Domain.com to provide the most features you'd want in a high-end WordPress hosting company. These include unparalleled speed, maximum cybersecurity, and responsive support.
Users are entitled to a fully-customized, user-friendly control panel and tons of pre-built plugins for enhanced productivity. You also enjoy plenty of mobile-optimized themes.
As with its other services, Domain.com has different WordPress hosting plans for every budget. The most affordable is the WP Starter plan, which starts from $3.75/month. The features under this plan include;
• Personalized control panel
• Pre-installed themes
• Pre-built plugins
• Unlimited storage
• Scalable bandwidth
There's also a WP Essential plan that starts from $6.95/month. It includes all the features in the Starter plan plus;
• SiteLock professional security
• Maximized load speeds and uptime
• Automatic security scanning
• 24/7 security
5) WP Live
WP Live is a tool by Domain.com that offers expert support to WordPress users any time of day. Common support areas include WordPress settings, page optimization, and site traffic monitoring. WP Live clients can contact support in various ways, including email, live chat, and phone.
Considering the scope of technical support required, Domain.com's WP Live services are reasonably costly. The most affordable premium bundle is the WP Live Lite plan that costs $29/month. This package includes basic design guidance, WordPress backup assistance, and on-demand ticket.
The other plans are WP Live ($49/month) and WP Pro ($149/month). The latter provides all Lite features in addition to on-demand phone support as well as SEO assistance.
6) Security Features
After guiding you in finding a suitable domain name and building your website from scratch, Domain.com helps secure the site from malicious attacks through its cutting-edge security features. One such tool is an SSL certificate, which blocks unauthorized entities from collecting sensitive data on your website.
An SSL certificate comes with an extra bonus in terms of improving your SEO rankings. Major search engines like Google now rank websites based on their security and encryption statuses.
Domain.com's SSL certificates are differently priced depending on the number of intended users. The cheapest plan – Domain Validated SSL – starts from $2.75/month while the most expensive – Wildcard SSL – starts at $14.99/month.
SiteLock security is another noteworthy website security feature by Domain.com. This tool continuously scans your website for malware and viruses, nipping attacks in the bud. It works quietly in the background, minimizing disruptions.
It immediately sends out notifications to your email and control panel when it detects any potential breach. The tool has three different plans, each starting from $3.75/month but vary depending on what's covered.
Domain.com Pros and Cons
Pros
• Intuitive interface
• A variety of web hosting services under one roof
• Excellent uptime and web performance
• Automatic malware monitoring
• Flexible pricing
• Certain products are free
Cons
• WP Live services are expensive
• Dedicated support isn't truly free
• No domain reseller services
• Fee for domain name migration
• No dedicated servers or virtual private servers (VPS)
Domain.com versus the Competition
1. Domain.com vs. GoDaddy
GoDaddy is comparatively easier to set up and administer than Domain.com. However, Domain.com is the better option when you consider the full range of services offered.
2. Domain.com vs. Hostwinds
The one feature that gives Hostwinds an edge over Domain.com is its highly-maintained virtual private servers. But when compared side by side against other parameters like uptime and site performance, Domain.com easily has a leg up.
3. Domain.com vs. Namecheap
True to its name, Namecheap strives to provide domain names at competitive prices. However, many reviewers found the site to be considerably more difficult to use than Domain.com.
4. Domain.com vs. Hostinger
Hostinger plans start from $1.99/month for most services. That's way cheaper than Domain.com, whose cheapest plans start at $3.75/month (with the exception of the Domain Validated SSL Plan which costs $2.75/month/month). However, a $3.75 Domain.com subscription includes more products than a $1.99 Hostinger package.
Is Domain.com Worth It?
With its innovative domain technology and solid track record, Domain.com stands as a reputable player in its industry. The company boasts near-perfect uptime and unmatched performance. There are also multiple SEO tools to increase your site rankings on SERPs.
While it offers a vast range of domain and web hosting services, you should still evaluate your specific needs and budget, as Domain.com may not be the perfect fit for everyone.
Nonetheless, its history of innovation and commitment to customer service make it a noteworthy contender in the world of domain registration.