Last Updated on October 24, 2023
Getting noticed online is not as easy as it seems. First, you need to get a significant following. That, in itself is challenging. Then you need your followers to engage with your content. And just when you think you've got it all figured out, you realize that it's even harder to convince followers to take action.
All this planning, designing, and promoting can take its toll on new brands and small businesses. How do you find the energy and budget to achieve your marketing goals? What you need is the right set of hands. With the Tailwind app, you will feel like you have an entire marketing team with their powerful design and promotion tools right at your fingertips.
Sounds impossible? Read our comprehensive review of Tailwind and see how it could make your life easier.
What Is Tailwind?
Tailwind is a privately-owned marketing management software that works primarily as a social media scheduling tool. It integrates with different social networking platforms, including Pinterest, Instagram, and Facebook.
But it isn't only a social media scheduler. The app provides many other useful marketing management solutions. These include a time-saving content creation tool, and powerful analytics to gauge the quality and quantity of traffic to your social media pages.
Many Tailwind features are FREE (you will get limited monthly credits to try them out). But to truly take advantage of its impressive tools, you may want to purchase one of their premium packages.
How Tailwind Got Started
The company was founded by Daniel (Danny) Maloney and Alex Topiler. They have their headquarters in Oklahoma City, Oklahoma.
Maloney and Topiler imagined an app that would take away the hassle from social media marketing. They launched Tailwind with a mission to make that process easier for people with varied digital marketing skills.
Since its launch in 2015, it rose from humble beginnings to become one of the most popular marketing management software. Over one million brands worldwide use the app to optimize their social media campaigns through seamless content creation and scheduling. Among its noteworthy clients include Shopify, CB2, Jenny Yoo, and Article.
The app attributes its smashing popularity mainly to selfless dedication and ruthless determination on the part of its founders. The duo also served in several prestigious positions prior to founding Tailwind. They invested the experience amassed from their previous engagements in setting their joint startup on the path to success.
How To get Started with Tailwind
The first step in using the Tailwind application is to SIGN UP for an account. You can do that by heading to the app's official website at tailwindapp.com and clicking on the blue "Sign up free" icon to the top-right section of the page.
A pop-up will appear asking you to sign up with your Pinterest, Instagram, or Email account. Choose your preferred sign-up method and provide the required information. Then select your industry (blogger, seller, etc.). Complete the sign-up process by confirming your email (if signing via email).
Once you have an account, you can now log into Tailwind using your credentials.
Intro to Tailwind Social Media Creation and Scheduling Tool
Creating Social Media Posts with Tailwind
Their content generator tool works remarkably fast compared to creating social media posts manually. It also gives each story a professional touch while aligning it with your business needs.
To create compelling social media posts, Tailwind's Creator tool relies heavily on your brand setup and images. It then generates beautiful stories based on your marketing goals.
a) Creating Pinterest Pins
Using Tailwind, you can generate amazing Pinterest pins in five minutes or less. The app maintains thousands of posts curated specially for Pinterest. Again, each template is professionally designed and optimized for your business needs. You can quickly select pins that are personalized for your brand and then sample from dozens of other looks as you go.

The best part is that you don't need to be a designer to switch between the different colors, photos, and layouts. Tailwind makes the whole process quick and easy.

A January 2021 study found that pins made using Tailwind's Creator tool generated 47% more re-pins compared to those made using other marketing software.
Here's how to create Pinterest posts using Tailwind;
i. Head to their official website at Tailwindapp.com.
ii. Hover the mouse over the Features icon, then proceed to Create and click Design Pinterest Pins. You'll be prompted to sign in.
Once signed in, proceed to dashboard, click "Upload or Create Posts" and enter the following details;
• Brand Information – Your Pinterest URL.
• Fonts – Add your own fonts or select from Tailwind's massive library of curated font pairings.
• Colors – Specify the colors (preferably four) that you intend to use for your brand by choosing from the list provided or directly inserting their hex codes.
• Logos – Add your brand or blog logo.
NB: Don't worry if you're unable to submit the correct information at the first attempt. You can always come back later and edit this section to suit your brand.
iii. Add your pin information by filling in the details specific to the post or product you're trying to generate a pin for. In this step, you may be required to fill out the following information;
• Destination Link – The link where you want the pins to go to, such as a link to a YouTube video or e-commerce page.
• Title – The text that will feature on your pin image.
Although Tailwind automatically inserts a title for your post based on the information given, you can also type the title yourself. Be sure to keep it short and sweet.
• Photos – Add photos that you want to accompany your pins. The pictures must be your very own or those you have a right to use.
iv. Make any necessary edits by clicking on Edit. Among the edits you can implement include changing the fonts, colors, images, or sizes.
v. Review your selection by clicking on Review Your Selection.
vi. Add the pins to your schedule.
b) Creating Instagram and Facebook Stories
The Tailwind Creator tool can also come in handy when you need to generate beautiful Instagram stories or Facebook posts.

There are hundreds of templates customized for your brand in each case. And just like generating pins, you can use Tailwind's intuitive editing platform to align each story with your business. You can sample the app's library for logos, fonts, and colors that aptly capture your brand's story.

The process of creating Instagram and Facebook stories is more or less similar to that of generating Pinterest pins.

Log into your account, head to features, and click "Design Instagram Posts & Stories" or "Design Facebook Posts." Proceed to dashboard and then take it up from there.
c) Creating Email Marketing Copies
Email marketing and social media marketing often go hand in hand. So, it's unsurprising that Tailwind's Creator tool is equally useful for creating email marketing copies.

Tailwind's Creator uses the power of artificial intelligence (AI) to ghostwrite email subject lines for you. The tool saves you time while also boosting your lead generation efforts.

The most interesting part of using Tailwind as an email subject line creator is that the app designs copies personalized for both your brand and the intended recipient. The software also follows email marketing best practices for higher click-throughs and conversions.
Scheduling Social Media Posts with Tailwind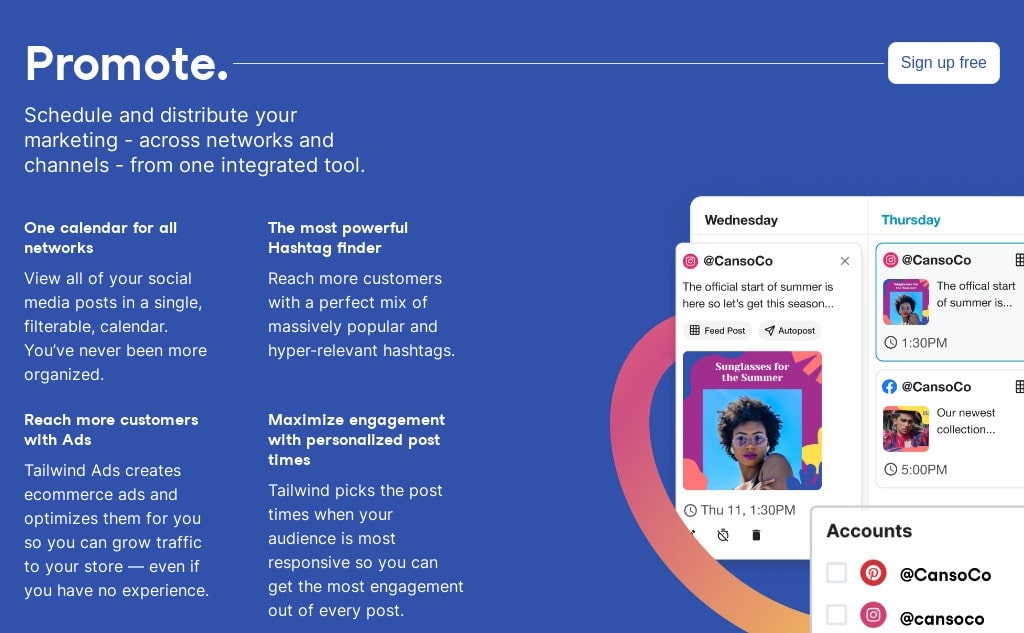 Not only does Tailwind help you create compelling social media posts. The software also doubles up as a social media scheduler. Tailwind's scheduling feature is a handy time saver, especially for prolific social media bloggers or large marketing teams.

Expectedly, you'll need to start by creating a story. The next step is to schedule those stories on your preferred social media platform – Pinterest, Instagram, and Facebook.

It takes approximately 20 minutes to create and schedule a social media story. With this app, you won't need to log onto multiple sites to share a post. Simply define the time and date you want the story to go live and Tailwind will do the publishing for you.

You can choose to have your social media stories automatically posted by checking the Auto Post option. Alternatively, you can check the Post Reminder option to receive periodic notifications on your phone as the designated posting time draws near. The second feature is especially important in the event you need to make further edits before publishing the story.
What Else Does Tailwind Offer?
1. Social Media Optimization Tools
The app provides several tools that let you optimize your social media for maximum reach and engagement. They include;
a. Instagram Hashtag Finder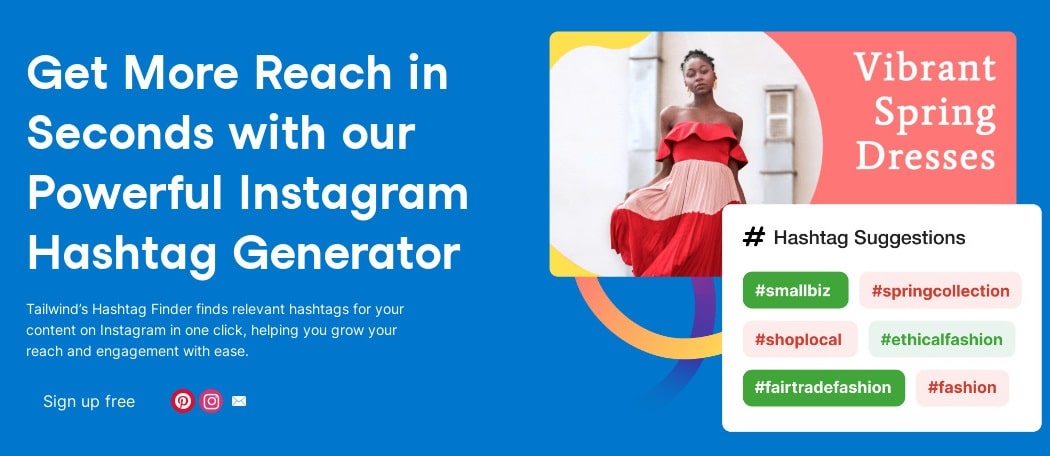 This social media optimization solution by Tailwind is designed for prolific Instagram bloggers and marketers struggling to generate unique hashtags. The tool works incredibly fast, allowing you to reach millions of potential leads in seconds.

Hashtag Finder leverages the power of artificial intelligence to generate tags that are both relevant and unique to your offerings. It also lets you save your favorite hashtags into lists of up to 30 tags, just in case you need to use them later.

The app's hashtag finder is remarkably easy to use too. All you need to do is post a short caption and it will suggest several hashtags based on those captions. The tool even ranks the recommended hashtags based on their potential efficacy. It indicates which tags are Niche, Good, Best, and Competitive.
b. Smart.bio
Smart.bio is an Instagram link-in bio tool by Tailwind that allows you to create a custom Instagram landing page that you can display on other blogs or websites. As with their many other features, Smart.bio is AI-driven. That means it generates personalized link-in bios superfast.

The link-in bios generated using Smart.bio are long enough to cover essential information and short enough to keep your profile neat. Share the link on your other websites of interest to drive more traffic to your Instagram page.

To align the link-in bio with your brand, Smart.bio lets you choose your preferred brand colors and layout style. Seamless integration with Tailwind's scheduling tools allows you to auto-update your link-in bio along with the scheduled posts.
c. Social Media Analytics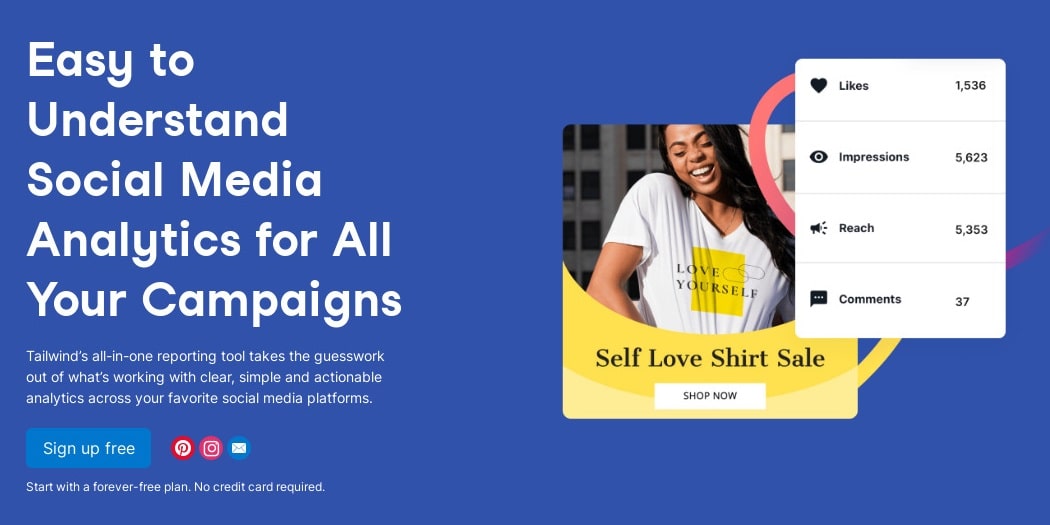 Posting content regularly is one of the best practices in social media marketing. But it's not enough. It's also important to analyze each story carefully to ensure it's hitting the right notes with your followers. And that's where social media analytics tools come in.

Tailwind provides an all-in-one reporting tool that tracks the performance of your social media postings to ensure they're achieving the intended goal. The app computes and displays your engagement rate across several metrics every month.

It also lets you switch seamlessly between connected accounts to gauge their performance based on the selected metric. You can even export the performance scores for each social media platform and compare them on a single page for swift action.
2. Ghostwriter AI
It turns out that the app's AI-powered Ghostwriter can create many other types of content, including;
• SEO articles
• Blog posts
• Image descriptions
• Video descriptions
• Product listings
• Ad copies
Ghostwriter AI is more than twice as fast as generating posts manually. Most importantly, it proofreads content grammar and plagiarism issues on the go, delivering publish-ready stories at the first attempt.
3. Communities
Tailwind has a large community of members with shared interests. You can seamlessly connect with thousands of Pinterest creators to grow your brand. The Community also serves as a storehouse of information on everything Pinterest.
Post a question and have it answered by experienced creators. Or simply follow discussions to acquire fresh ideas on how you can revolutionize your Pinterest marketing campaigns.
4. Ecommerce Ads

They recently launched an Ecommerce Ads feature that uses generative artificial intelligence technology to deliver "done for you" advertisements. No more racking your brains or scaling up your marketing team trying to come up with compelling ads on short notice.

Ecommerce Ads works in as little as 10 minutes. Simply pick your preferred ad creative, modify the copy if you wish, set a budget, and you're good to go.

Once your ads go live, Tailwind's optimization tools immediately kick in to ensure the content receives maximum exposure. You even get reports on the ads' performance across various metrics.
How Much Does Tailwind Cost?
The FREE plan provides only the basic tools you need to get started on the social media scheduling software. They include;
• 1 Pinterest account
• 1 Instagram account
• 1 Facebook account
• 20 email sends per month
• 20 scheduled posts per month
• 20 social media post designs per month
• 10 Ghostwriter AI credits per month
• 5 Tailwind Communities
You can unlock more services by upgrading to any of the three paid versions. The first premium plan, known as the Pro plan, costs $12.99/month. Then there's the Advanced plan that costs $19.99/month and the Max plan that will set you back some $39.99/month.
The Max plan has the most advanced features, including;
• 3 Pinterest accounts
• 3 Instagram accounts
• 3 Facebook accounts
• 5 users
• Unlimited posts per month across all three accounts
• Unlimited post designs per month
• Unlimited email sends per month
• Unlimited Tailwind Communities
• 500 Ghostwriter AI credits per month
It's also worth noting that Tailwind provides amazing discounts for non-profit organizations. Be sure to contact them with proof of your 501(c)(3) status, such as your Employer Identification Number (EIN).
How Compatible Is Tailwind?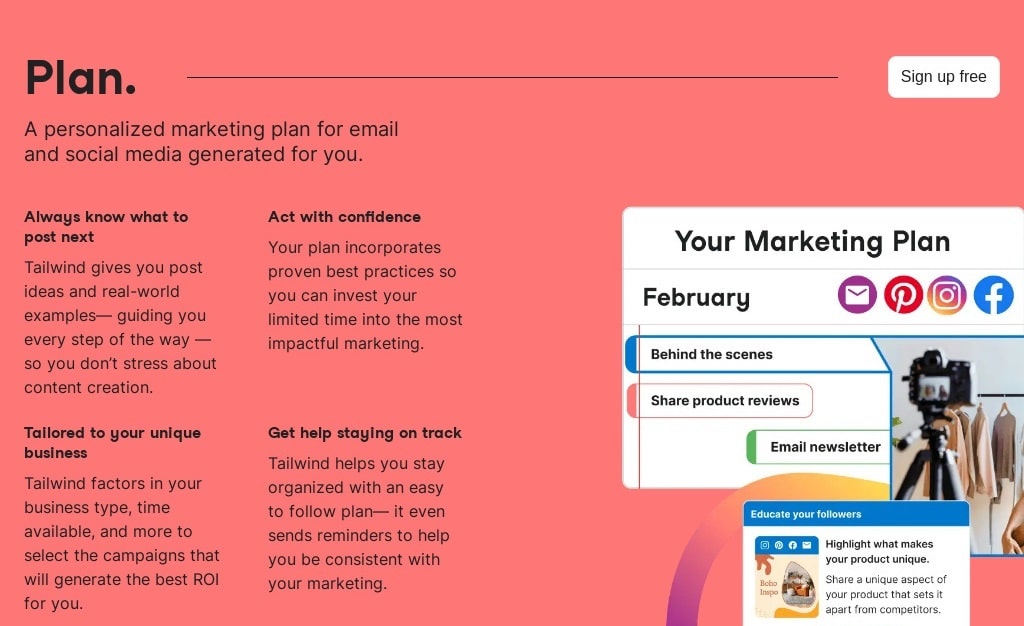 You can rest easy knowing Tailwind is compatible with numerous devices and operating systems.
The software comes with desktop and mobile versions as well. It works efficiently on both Android and iOS mobile devices. Plus, there are extensions for common browsers like Chrome, Firefox, and Safari.
The provision for browser extensions allows you to create and schedule social media posts right from one tab. You can focus better on every project while also keeping your sessions clean and tidy.
Tailwind Pros and Cons
Pros
• Clean and intuitive dashboard
• AI-powered social media content creation and scheduling
• Cross-posting on multiple social media websites
• Built-in hashtag and link-in bio tool
• A plan for every budget
• Excellent customer service
Cons
• Restricted to Pinterest, Instagram, and Facebook
• Sometimes unresponsive
• Limited social media monitoring tools
Is Tailwind Worth It?
There's no doubt that the Tailwind app is an incredibly powerful marketing tool. Their user-friendly content scheduling platform helps you plan and optimize your workflow.
Its features provide immense flexibility, customizability, and visibility for the freedom to create and publish content whenever you want. With its intelligent interface, Tailwind enables users to save a great amount of time and effort. This allows you to capitalize on creativity and pursue better engagement from audiences.
Ready to take your content strategy to new heights? Take the leap and join the Tailwind revolution today.