Last Updated on September 21, 2023
The past several years have seen a dramatic rise in the demand for virtual private network services or VPN. The whole idea is to prevent unauthorized access to sensitive data. The service blocks other people from eavesdropping on your internet activity, protecting you from malicious activities (i.e., hacking, phishing, ransomware, etc.).
A quick online search for the best VPN in 2023 will turn up dozens of recommendations. At the top of that list is usually NordVPN. Highly recommended by businesses and individual users, it's a well-known VPN provider featuring strong encryption, thousands of servers worldwide, and a user-friendly app.
But is NordVPN the most secure VPN software in 2023? This article shall attempt to answer that question.
Introducing NordVPN
NordVPN is at the forefront of the VPN industry, offering robust features that meet high-quality VPN service standards. Its user-friendly interface ensures effortless navigation.
Meanwhile, its blazing-fast performance is a crowd favorite. What sets it apart is its multi-layered security approach, safeguarding your sensitive data from potential online threats. Operating from a privacy-friendly jurisdiction adds an extra layer of confidence in terms of internet security.
Furthermore, NordVPN distinguishes itself with a range of add-ons that outshine competitors. These include versatile web browsing tools, as well as seamless streaming and torrenting capabilities. Notably, NordVPN's pricing model is designed to accommodate users with varying budgets. This makes it an attractive choice for those seeking both security and affordability.
Company Behind NordVPN
Nord Security (Nordsec Ltd) developed NordVPN. They are an industry leader in the development of cybersecurity solutions. Nord Security was originally supported by Tesonet, a Lithuanian business incubator and startup accelerator. Most of its products, including NordVPN, operate under the jurisdiction of Panama.
Nordsec Ltd has offices in several European countries, including Lithuania, Panama, the United Kingdom, and the Netherlands. Aside from NordVPN, the company also offers other products such as NordLayer (for businesses), NordPass (password manager), and NordLocker (encrypted cloud storage).
How to Get Started On NordVPN
Account registration is the first step in getting started. To sign up for an account, download the application first. There are two different methods to download NordVPN. You can do so through an app store or directly from its official website.
The availability of two download methods is particularly useful for countries with restricted access to app stores. As you shall find, the NordVPN website is accessible in dozens of countries and territories around the world.
Follow the below procedure to download the NordVPN app;
i. Head to the NordVPN website or the app store and click on the button prompting you to get the app.
ii. Choose from the available subscription plans or try the software for 30 days first.
iii. Fill in the required checkout information by entering your email address.
iv. Download and install the app on your device.
Once you have it installed on your device, you'll need to log into your account and then press on the "Connect button." This will automatically mask your real IP address and provide you with a new one, while also creating a tunnel for your browsing data.
It's from this point that your IP location will become untraceable by your internet service provider (ISP), state agencies, and any other third-party entities that may be covertly tracking your online activity.
Activating NordVPN doesn't only hide your IP address. It also lets you unblock geo-restricted content, including streaming services, adult websites, and the dark web.
How Secure Is NordVPN?
Enhancing your online security is at the core of utilizing a VPN – and NordVPN excels at this. Upon creating an account and installing the app, you gain access to a world of top-tier encryption.
It seamlessly connects you to any server within its network, ensuring that both your incoming and outgoing data remain impervious to prying eyes. NordVPN employs the AES-256-CBC cipher, widely regarded as the pinnacle of security within the VPN industry.
Moreover, it leverages the ChaCha20 protocol, adding an extra layer of defense to your online activities. What sets NordVPN apart is its utilization of the SHA-512 hash function, which transforms your online credentials into a string of 512 binary digits, rendering them indecipherable to external observers.
This scrambled data is then compared to cryptographic hashes generated and stored on NordVPN's servers during your registration process. Only when these two sets of data align perfectly does the VPN grant you access to its servers. This ensures the utmost in online security and peace of mind.
NordVPN Security Features
1. Malware Blocking
The service comes with a Threat Protection feature that prevents you from accidentally visiting potentially malicious websites.
The Threat Protection feature also offers protection against intrusive online ads, allowing you to browse undistracted. Besides, it blocks trackers and automatically scans files for infection.
Even better is that Threat Protection doesn't only work on NordVPN applications. The product is also available as a standalone application on both Android and iOS devices. Moreover, you can enable it on all major browsers, including Google Chrome, Mozilla Firefox, Microsoft Edge, and Safari.
Threat Protection also works silently in the background. So, you can be sure the software won't disrupt your sessions.
2. Dark Web Monitoring
It's not unusual for your sensitive online credentials to leak into the dark web while browsing normally. Without proper safeguards in place, hackers can easily steal your identity and use it for malicious reasons.
NordVPN warns you whenever your personal data pops up in dark web marketplaces. That mostly includes information associated with your email address.
3. Kill Switch for Emergencies
A significant percentage of online security breaches occur when your internet connection slows down. That's especially when you're browsing behind a VPN service that requires stable internet to operate.
The developers understand this all-too well, which is why they came up with a Kill Switch feature to guard against slow internet connection. This feature immediately blocks your access to the web whenever your internet connection drops.
4. Split Tunneling Support
The VPN converts data from your device to its server using tunneling protocols. This lets you determine which apps to connect to VPN directly. The software supports three primary tunneling options, namely;
i. OpenVPN (UDP/TCP) – An open-source VPN protocol available on all NordVPN platforms, which lets you pick between safer (TCP) and faster (UDP) connection.
ii. IKEv2/IPsec – A less CPU intensive protocol that lets you switch seamlessly between Wi-Fi and cellular data, making it particularly suitable for mobile operating systems.
iii. WiregGuard (NordLynx) – The upgraded version of older protocols, which makes it both faster and safer.
5. Colocated Servers
Most VPN services you'll come across simply rent out the servers they're providing to customers. To manage such servers, the VPN companies usually need to install custom software, ceding some control to the third-party agencies owning the data center.
To ensure third-party data centers don't utilize the little control granted to them to compromise their customers' safety, NordVPN decided to convert their rented servers into an independently owned and fully managed network.
Besides, all data on NordVPN's servers is stored in random access memory (RAM) as opposed to disk drives. That means any sensitive information gets deleted whenever the server is restarted.
6. Dedicated IP
It's among the few VPN service providers that offer Dedicated IP. This feature offers additional online privacy by assigning a single IP address to only one user. Dedicated IP comes with additional perks, including the ability to access IP-restricted networks and bypass CAPTCHAs.
NordVPN Other Noteworthy Features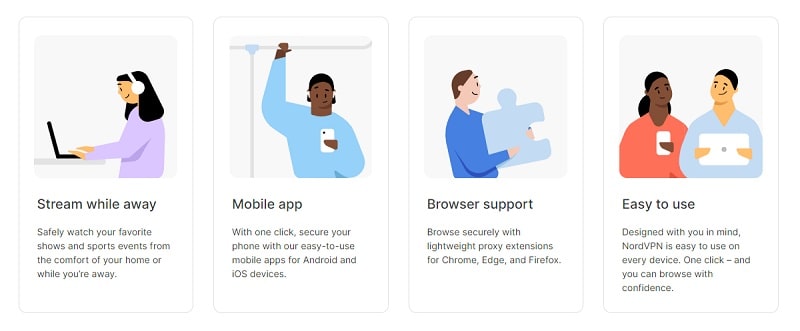 a) Multiple Server Locations
With over 5,700 servers spread across 60 countries, it's one of the largest number of servers by a VPN service provider. With dozens of servers in each country, you can be sure to find one that suits you best.
b) Simultaneous Connections
A single NordVPN account can support connection of up to six devices simultaneously. The VPN application is compatible with Windows, macOS, Linux, Android, Android TV, and iOS devices. You can also protect your entire household by installing NordVPN on your router.
c) 24/7 Support
NordVPN users may be spread across several locations worldwide; but that doesn't prevent the company from offering round-the-clock support. The service provider maintains a vibrant Support Center and Contact Us page where you can reach out and pose your queries. For a faster response, you can reach the company through email or live chat.
d) Additional Nordsec Features
There are plenty of other features you can enjoy from the makers of NordVPN. One such feature is NordPass, a password management tool that lets you create, save, and autofill passwords using a single tap or click. There's also NordLocker, a file encryption tool that lets you safely share your documents on the internet.
How Fast Is NordVPN?
Rarely do you find a VPN that provides better privacy and superfast speed in one package. Fortunately, NordVPN is a welcome exception. The software guarantees remarkable speeds, whether you're downloading, uploading, streaming, or playing an online game.
One way to take advantage of its speeds is to use the NordLynx protocol. As already hinted, this is an upgraded version of older protocols which guarantees blazing fast speeds without compromising your online privacy.
Another way to improve your surfing speed is to connect to servers that are closest to your physical location. Note that you may experience speed drops when connecting through NordVPN in certain countries. Still, the lags aren't significant enough to affect your device's performance.
NordVPN Pricing
There are three different pricing plans. The fees vary depending on the plan you choose and the billing cycle.
• Standard Plan – Costs $12.99/month if billed monthly, $4.99/month if billed annually and $3.19/month if billed biannually (every two years).
• Plus Plan – Costs $13.79/month if billed monthly, $5.79/month if billed annually and $3.99/month if billed biannually.
• Complete Plan – Costs $14.99/month if billed monthly, $6.99/month if billed annually and $5.19/month if billed biannually.
Does NordVPN Offer a Free Plan?
It does NOT have a free plan. However, the VPN service provider comes with a 30-day money-back guarantee. You can try it free-of-charge for 30 days before purchasing any of the subscription plans.
NordVPN Pros and Cons
Considering these pros and cons should provide a balanced and informative view of NordVPN.
Pros
• Built-in antivirus tools
• IP masking
• Data hiding while torrenting
• Unblocks geo-restricted sites
• Eliminates ISP bandwidth throttling
• Split tunneling and multi-hop capabilities
• Amazing design
• Excellent 24/7 customer support
• Flexible pricing plans
• Free trial and money-back guarantee
Cons
• No free plan
• No graphic interface for Linux users
NordVPN versus Competition
1) NordVPN vs. ExpressVPN
ExpressVPN has a higher server distribution per country (over 3,000 servers in 94 countries). It's also considerably faster than NordVPN. However, NordVPN excels ExpressVPN in its advanced privacy features. Nord is also comparatively easier to use.
2) NordVPN vs. CyberGhost
CyberGhost exceeds NordVPN in the number of countries served (over 9,400 servers in 91 countries). It's also slightly more affordable than NordVPN. But compared against download and streaming speeds, NordVPN is the clear winner.
3) NordVPN vs. Surfshark
Surfshark's pricing plans are nearly similar to CyberGhost's. That makes it more appealing to budget-conscious customers. However, NordVPN excels Surfshark in terms of the number of individual locations served. While Surfshark is available in 100 countries, it only has slightly over 3,200 servers. That's nearly half the total amount of server locations NordVPN provides.
4) NordVPN vs. IPVanish
IPVanish pales in comparison to NordVPN in both server location and distribution. The VPN service provider has 2,200+ servers in 52 countries. Interestingly, IPVanish costs slightly more than NordVPN despite its glaring limitations.
Is NordVPN Worth It?
NordVPN is a feature-rich solution that ensures data encryption, rendering your online activities impervious to prying eyes.
In addition, it offers robust protection against malicious websites, infected files, as well as bothersome ads. And with the Kill Switch, you can further preserve your online privacy, even in less-than-ideal internet conditions.
What makes it even more appealing is its affordability – starting as low as $3.19 per month. This combination of top-tier security features and budget-friendly plans makes NordVPN an enticing choice for reliable, cost-effective VPN service.