Bleeding Cowboy is a font designed and released by Guillaume Seguin in 2007.

Seguin is a famous graphic designer based in Quebec, Canada. He has enjoyed a successful graphic design career, mostly undertaking his projects through his very own company, Segments Design.
He specializes in all manner of design work, including website design, apparel design, logo creation, album covers, business cards, and font creation.

Seguin's fonts are all custom-made. In other words, these fonts are not inspired by any preexistent typefaces. Bleeding Cowboy is unarguably the most famous font ever created by Guillaume Seguin.

According to Seguin, the hardcore rock scene was his primary motivation behind creating nearly all his typefaces. Bleeding Cowboy, in particular, was born of Seguin's passion for listening to Southern metal bands like Maylene and Sons of Disaster.
Like his other typefaces, this font is characterized by its degraded, obscured shapes based on traditional letterforms. The lettering resembles the splatters and smudges of a homemade printing press, giving the appearance of a 'weary cowboy.'
More About Bleeding Cowboy
Bleeding Cowboy is a grunge-up and decorative-style typeface. The font features 'weary-looking' Western letters.

Another noticeable feature of Bleeding Cowboy is the integration of swashes and swoops. These elements occur on random letters.

For instance, the print version of the letter "Q" in The Joplin Globe reveals the tail of the letter beginning from the lower left of the circle. The tail then curves up toward the center of the letter, slicing down through the letter located on the lower right before pointing to the right. A similar phenomenon can be seen on the tail of the small letter "g."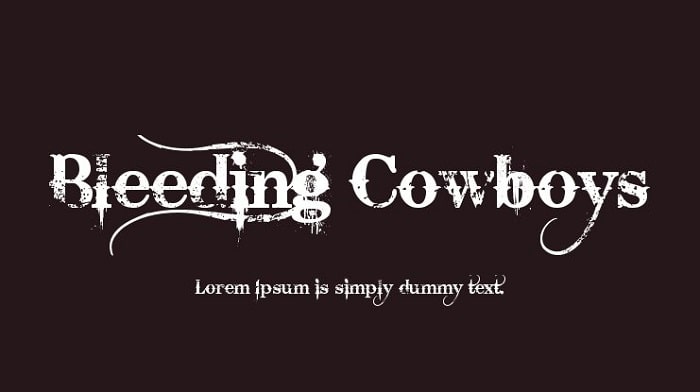 Note that the Globe uses a font known as Nimrod. This implies that, while the main elements of tailed letters in Bleeding Cowboy largely remains consistent, the behavior of the tails might change depending on the specific style used.

Bleeding Cowboy boasts lots of other quirky elements. For instance, the typeface may feature tails on letters that typically do not have them. Examples include capital B, N, and U. Similarly, the tails in some letters may be exaggerated, diminished, or totally eliminated to bring out a more exquisite look.

Also, while Bleeding Cowboy is a custom font not primarily based on any previous typefaces, certain elements of the font are not entirely unique. For instance, Guillaume Seguin admits that the swashes and swoops were inspired by the Bickham Script, of which Seguin was a great fun.
Seguin's Bleeding Cowboy has been used on numerous logos and posters since its creation. Notable examples include in the liner art of the album "Fearless" by Taylor Swift as well as on the album cover of "Leave This Town" by Daughtry.
Where to Download Bleeding Cowboy
You can download Bleeding Cowboy by following the download link on DaFont website. Other major websites that let you download this font include WFonts and 1001 FreeFonts.

Bleeding Cowboy is free for personal use. You may need a special license from Seguin if intending to use this font on a commercial project.