The Philippines is well-known for a variety of reasons. For instance, the country is known to have an abundance of beautiful beaches and delectable fruit. It is a country endowed with stretches of pristine white sand beaches and crystal clear waters. Furthermore, the Philippines is home to world-renowned natural wonders such as underground rivers, rice terraces, biodiversity-rich diving spots, unique cuisines, and vibrant festivals.
Aside from being a fantastic vacation destination, the Philippines is home to enthralling films with addictive plots. From romantic thrillers to tragedy-centered films, these movies keep you on the edge of your seat and elicit a plethora of emotions thanks to impressive storytelling abilities. 
The Philippines is a country brimming with rich cultural heritage and an abundance of untold stories. Aside from its captivating movie plots, The Philippines has a rich cultural heritage and fascinating stories about heritage, ancestry, and lineage. In line with this, these beautiful fonts were creatively designed to tell the world about their cultures. Each of these fonts has a unique story to tell.
Let's take a nosedive into these 20 awesome fonts made in the Philippines! 
20 Stunning Typefaces Made In The Philippines
1.
Abangan (Free)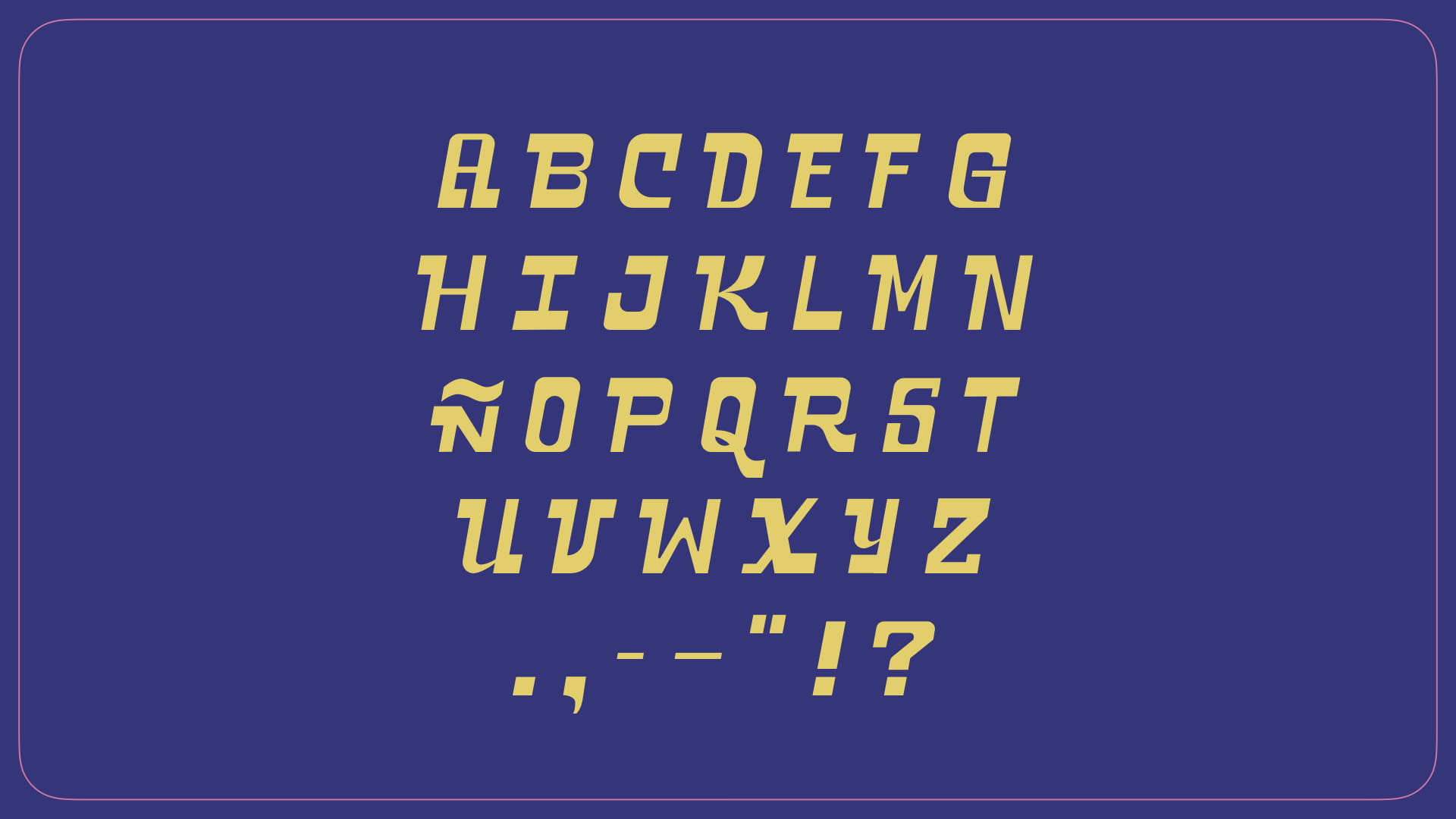 Abangan is a sharp typeface that comes only in uppercase letters. Originating from the Tagalog word ábángan, this font, as its name, reminds us to wait. Its characters are specially designed to capture the essence of the Philippines' chaotic streets, after which it was inspired. It is appropriate for headers, simple designs, and editorial projects.
2.
Balay
(Free)
Balay is an elegant display font by Baybay type, inspired by bamboo's fascinating structure and composition. Its letters are strong and deeply rooted, like bamboo. Despite its sturdiness, Balay, like the bamboo plant, is highly flexible and versatile. As this font is rooted in nature, it provides a calm and soothing feeling that can only be found when breathing in fresh, natural air.
Balay is a multilingual font with up to seven alternates for most letters. 
3.
Batok Karayom
(Free)
Batok Karayom is an expressive font by Corinth which draws inspiration from the ancient Philippine art of hand-tapped tattoos. It exudes a subtle royal opulence and is distinguished by sharp, quirky needle-like letters.
Batok Karayom works well as an artistic work, tattoo, merchandise design, rock music album cover, or as a simple overlay to a background image.
4.
Bantayog
(Free)
David Maza's Bantayog is a simple but rough typeface that delivers a lasting effect. Its bold and legible letters make it the perfect choice for headlines, posters, magazine covers, branding, and other editorial projects. It is available in regular, light, and semi-light weights and contains only uppercase characters. 
5.
Berbanya Font
Lorenzo Martinez created this unique display font. Inspired by a Filipino folktale story, Berbanya is not only beautiful but also stylish and sassy. Its letters strike an appropriate balance of legibility, creativity, and attitude.
Berbanya was designed to be used in large sizes, hence is suitable for posters, flyers, greeting cards, album covers, movie titles, and product packaging.
6.
Bold Rose
Bold rose is a sharp display font by Bj Cabaltera. Its letters are characterized by their jagged edges and pronounced figure. This font comes in a complete set of uppercase characters, numbers, and basic punctuation. It is ideal for headers, posters, headlines, and magazines.
7.
Camaleondesque Display
The Camaleondesque Display Typeface by Gian Wong evokes feelings of comfort and familiarity. This font features squishy, plump characters reminiscent of the Camaleonda sofa. Its characters consist of modular bits mirrored into the letterform to reflect the sofa's soft corners and structured appearance.
This is an excellent font for posters, merchandise, statement pieces, and anything else that needs to convey a sense of comfort.
Download Camaleondesque Display
8.
Bisdak Typeface
(Free)
Bisdak is a display font inspired by Cebu and the Cebuano language. It is a brisk, bold font designed by Diane Diana that perfectly blends legibility and sophistication. Its characters have distinct edges that highlight their mature appearance. Consequently, it is an excellent font for posters, titles, and headlines. 
9.
Hook
Hook is an eccentric display font from Jo Malinis. Its poise and elegance are enhanced by the delicate, confident strokes of its letters. This font exudes sophistication and instantly elevates any piece in which it is used. Hook is excellent for headlines, magazine covers, social media, jewelry brands, and artworks.  
10.
Galactech
(Free)
From the stables of Lorenzo Martinez comes this fabulous font, Galactech. Inspired by arcade video games, this slab serif display font has a retro feel. It has uniform characters that perfectly blend basic design techniques to create a visually appealing font. It is appropriate for branding, logos, school projects, retro, sports, gaming, and tech-themed designs.
11.
Liham
(Free)
Liham is a simple, clean style inspired by postage stamps. Its letters are specially designed to replicate the handwritten style of postage stamps. It is an excellent choice for statement pieces, magazine covers, and vintage-themed designs. This typeface includes 42 glyphs and was designed by Zianne Agustin.
12.
Maragsa
(Free)
Maragsa is a display font designed by John David Maza. This font is soothing and enthralling as it exudes confidence and a sharp definite composure. Its letters are legible due to their uniform proportions, sharp cut edges, and fluid strokes. As a result, it is a splendid choice for magazine covers, headers, photography projects, and exquisite brands. 
13.
Jeeprox
Jeeprox is a funky display font by Lurinzu. It is a playful font with lively characters that stand out and deliver vibrance to any design. Its chunky letters enunciate its presence and make it impossible to overlook. Consequently, it is an ideal choice for fun, catchy posters, concert tickets, movie posters, and funky designs. It also brings a happy, groovy vibe to any design. 
14.
Taklobo Baybayin
Taklobo Baybayin is a modern artistic font inspired by giant clams. This font by David Maza has remarkable features. Its letters are one-of-a-kind and exude poise and class, making it an exceptional choice for abstract-themed designs.
15.
Saphion Typeface
(Free)
Saphion is an elegant display typeface by Lorenzo Martinez. This masculine font has a bold encompassing aura that commands respect. Deriving inspiration from vintage typography, this font combines modern designs with vintage elements. In addition, it offers multilingual support, and has numbers, letters, and punctuation marks included in its package. Saphion is perfect for weddings, blogs, fashion programs and magazines, weddings, and branding.
16.
Roma Serif
The Roma Serif font by Alli Cunanan reminds us of the grandeur of the Roman Empire. This font exudes splendor and magnificence with uniformly proportioned letters and clean, sophisticated finishing on its edges. It is expertly crafted to maintain a polished look without compromising legibility. As such, Roma Serif is ideal for headings, book covers,  magazine covers, and short to medium-length texts.
17.
R.U.N.E.S – Display Font
(Free)
Runes is a futuristic font by David Miranda. The creation of this font was influenced by the cyberpunk aesthetic and merging the patterns of circuits with chamfered strokes. This font has decorative characters and modern glyphs adapted for the future.
Download Runes Free Font Display
18.
Salbabida Sans V.2
With Jo Malinis' Salbabida Sans font, bigger is better. This font has plump, full characters that automatically stand out. This font was derived from the Filipino word salbabida, meaning "lifesaver" or "water floater," and it mimics the inflated forms of objects used to stay afloat in water. This font is suitable for bold settings and funky posters and comes in Regular and Outlined styles.
19.
Obra Letra Font
Lorenzo Martinez's Obra Letra is a display font with a distinct personality. With its well-defined characters and edges, the font is lively and colorful. It is appropriate for cool designs and posters about magic tricks. Obra Letra is available in two weights: bold and regular.
20.
Tahan
(Free)
This elegant typeface by Albert Zedrick reminds us that less is more. Tahan's eccentric poise and elegance lie in its characters' swift, fluid, familiar strokes. Its rounded apexes and vertices give it its warm, caring appeal. Additionally, its calligraphic strokes determine its gentle character, making it fit for lifestyle brands.