Last Updated on July 20, 2023
Creating your first QR code might seem a little daunting. But the process is easy once you know how. Don't worry if you feel clueless, that is what we are here for!
Here's our full tutorial on how to design your very own QR code that contains your brand's logo.
What Exactly is a QR Code With a Logo?
We have all seen those black-and-white squares on products, posters and even online. But what is this wonderous shape with its pixelated patterns?
Well, QR stands for "quick response" and it is basically a more modern version of a barcode. In other words, a barcode that gives you rapid information or a response. 
QR squares can be used to verify a password or to provide information about a product. For example, a QR code on a candy bar might provide nutritional information. They can also store phone numbers, web addresses, coupons and other useful information. 
A QR code with a logo is simply that. The square has its normal black and white bits but your own business logo is incorporated into its design. 
How Does It Work?
Most people already know that, in order to "read" a QR code, you need to photograph it or focus your smartphone's camera on the square.
Most smartphones have a pre-installed app that can effectively recognize and decode the information stored inside these barcodes. The information is then displayed or downloaded to your phone for later reading. 
Why Do I Need a QR Code?
QR codes are no longer just for big corporations. If you are an entrepreneur, a QR code can make your business look more professional – especially when it shows off your logo.
In a time when customers also crave instant information, this pixel-filled square is a great way to give your clients what they are looking for within seconds and this user-friendly experience can possibly even lead to a sale. 
How Do I Make My Own QR Code?
You can always ask a professional to create one for you. However, this can be both time-consuming and expensive. There is another way to make the process quick and painless – and that is to use an online QR code generator. 
These amazing tools can produce your very own barcode in minutes. Ready? Let's look at the 5 best QR generators that are available today!
Best QR Code Generators
Cost: FREE service. 
This is a great site for anyone who has never created a QR code before. QR Code Monkey allows you to do so in a few simple steps, with no technical experience required. Even better, the tool is 100 percent free. 
There will be a box where you can add the URL of your site. Once you have done that, you can choose the colors and appearance of the code. You can then upload your logo's image, generate the QR square and save it in the desired format.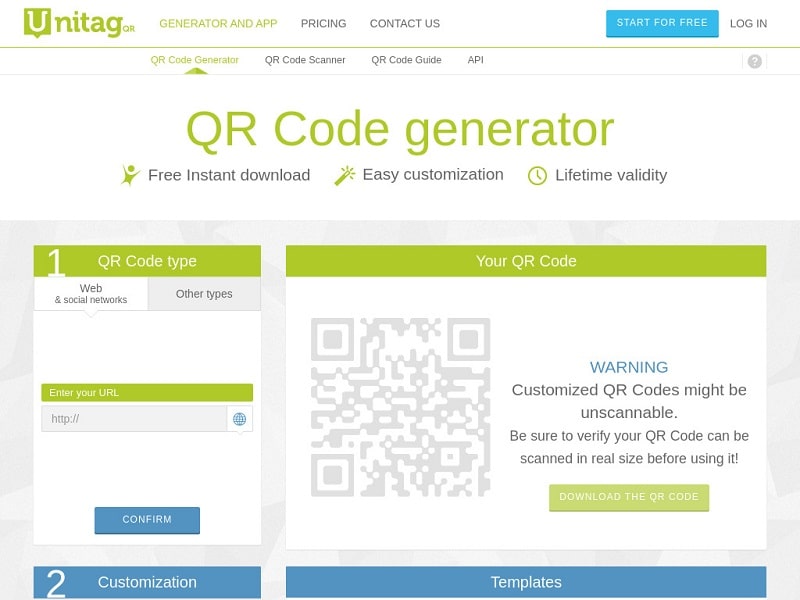 Cost: Premium service. 
Okay, this is not a freebie but you can look forward to several perks. The QR codes generated by Unitag are highly professional and effective. You can create intelligent codes for anything that you need. 
The process is also very user-friendly and similar to Code Monkey (see number 1). The only difference – and perhaps we should call this another perk – is the fact that you can adjust the color of your square.
Hate that black-and-white design? Unitag can produce barcodes of various attractive colors. This is a huge bonus if you want a code that doesn't clash with your brand's color palette. 
Cost: Free/premium service. 
QRTIGER is a popular choice for business owners but before you can use their tools, the site requires that you sign up for a free trial. The trial allows you to create three dynamic QR codes but if you want to download or save them, you have to purchase a monthly or yearly plan.
If you want to give QRTIGER a shot, this is what you can expect. First, you select the type of QR code you want to create, choose "static" or "dynamic" and then click the generate button. Once you have your square, you can customize it with colors, patterns, a frame and a logo. 
Difference Between Static and Dynamic QR Code
In this case, a static QR code is not why you are reading this article. Static squares cannot be edited. You cannot add your logo or change the color. A dynamic QR code is simply a barcode that can be edited. A dynamic QR is exactly what you want!
Cost: FREE service. 
This handy site is absolutely free and allows you to create as many QR codes as your heart desires. Even better, the site is very clear on ownership issues.
Once you create a QR code with a logo, you are free to use it any way that you like. As a bonus, you have full private and commercial rights. The creation process is also super simple. 
First step? Add all your information. The generator can handle a lot of information so don't be shy! Add your website link, any content you wish, phone numbers, logo, and social media channels. 
Next, the generator focuses on branding and requires input on your brand's color, which pattern you prefer and you can also add the logo in this step (if you did not do that already). Finally, generate your code and enjoy!
Cost: Premium service. 
Scanova customers need to register and pay a monthly subscription fee. But creating a code with this software allows you to edit your linked content whenever you want.
Other perks include instant activation or deactivation, tracking scanning activity, creating and linking mobile landing pages, adding password protection and hosting files. 
Using Scanova is also easy. You start by selecting the QR code category. In other words, what do you need it for? Your website address? Google Maps, Vcard profile or social media?
Once you have chosen your category, Scanova will generate your barcode. You can then use the "Edit Design" option to customize your code. 
QR Code FAQs
Q: Can I create my own QR code without using an online generator?
Online QR generators are great tools for beginners or experienced programmers who do not want to waste time creating their own codes. But yes, you can use Python to create a QR code with a logo.
Q: Does my phone have a QR scanner?
Most phones need a scanner app to read QR blocks. Some phones can be bought with a pre-installed app but others, especially Android phones, do not come with this feature. If you have an Android phone, you need to download a scanner app.
Q: How is a QR code different from an old-fashioned barcode?
A QR code's square can contain different designs but an old-fashioned barcode consists of nothing but stripes. A QR block can also hold significantly more information than the old barcode system.
Q: How many times can a QR code be used?
This depends on the website you used to create your QR code. Some free sites allow limitless scans while paid sites allow a certain number of scans (the higher your subscription fees, the more times it can be scanned).