Last Updated on September 20, 2022
Whether you are new to website design or already have some experience, you might find yourself stuck coming up with an idea for a new project.
Creativity and exclusive concepts are essential for creating successful, attention-grabbing platforms. Nonetheless, you should also consider some fundamental aspects to ease this process. Read further to learn how to boost online engagement and approach new projects more confidently.
5 creative ideas for web page design
1. Analyze the projects you love
Beginner and experienced designers usually have favorite websites they find appealing and easy to navigate. Examine your preferred projects to understand what you like about them.
It can be the smart font usage or the way buttons are drawn and positioned. Maybe it's the website's grid, color palette, or menu. Analyze how these things are made and consider how you can apply this approach to your projects.
2. Embrace bold colors
The minimalistic approach doesn't fit every single niche and client. It is a good option if you're looking for a web design idea that focuses customer attention on the goods sold on a site. However, even in this case, adding vibrant colors might help the platform stand out from competitors.
For artsy or bold brands, bright colors in design make perfect sense as they may reflect their image well. The most important thing is to make bright, vivid colors look good when combined.
3. Use high-quality images
High-quality visuals like illustrations or photos can help your project look more authentic. Still, finding a professional to support your website design ideas with great high-resolution images can require time and an extended budget. The quicker and simpler way to obtain such visuals is to look for them on stock websites like Depositphotos.com.
Being one of the largest online image stocks, Depositphotos offers a variety of royalty-free photos, illustrations, and vector art. By exploring thematic image collections, you can find visuals on a particular topic, be it holidays, family, or nature. You can also filter search results by orientation, season, color, and even the number of people in a picture. All this helps you find needed HD visuals quickly.
4. Introduce videos
Videos are a great way to visualize products and services. For instance, if your client offers wedding or party planning services, the best way to showcase their work to potential customers is to record and assemble a video from these events. Professional high-quality videos boost engagement and demonstrate the perks of a particular offer.
However, loud autoplay clips don't deliver a good user experience. They could startle a user or simply be inconvenient to watch at the moment. On the other hand, a silent background video doesn't disturb visitors and provides essential brand information.
5. Play with interactivity
Introducing user interactivity is one of the best web design ideas for businesses. It makes a website look modern and engages visitors when applied correctly. When they interact with information on the pages, they stay longer, which benefits performance.
Also, interactivity is an excellent way to allow users to find out more about a service or product without making a website look too cluttered. Instead of posting all the textual and visual information on a page, you can store it in the pop-up boxes that appear after clicking or hovering over the interactive elements.
4 homepage design ideas to optimize performance
1. Focus user attention on your offer
Unfortunately, many users don't scroll beyond the first fold of a website. That's why it is so important to position the offer on top of the homepage, so visitors can see it right away after accessing the site. This will help you retain a significant part of a target audience.
2. Make your CTA visible and clear
The CTA button has to be the second main focus on a page. Users have to spot it easily if you want to convert them into customers. The important thing here is to maintain size balance. The button shouldn't take up a large part of the screen, but still be big enough to attract attention. A simple way to make a CTA more noticeable is to use a unique font or a bright button color.
3. Avoid conflicting CTAs
While using a CTA on a page is crucial, it's possible to overdo it. Sometimes, web designers introduce multiple action buttons on a page. It can confuse visitors and redirect their attention from more important to less significant things. To avoid that, stick to one specific CTA or make the less important ones smaller and not so noticeable.
4. Create straightforward navigation
While creative design ideas are generally beneficial for a website, a designer must also create understandable and user-friendly navigation. For instance, most websites store all necessary information in the header and footer.
That's a rule you shouldn't break if you don't want to confuse users. You can also use sidebar navigation, breadcrumbs, hamburger menu, and other widespread guiding models. But don't introduce anything the audience might find confusing or hard to understand.
How can you create a unique web design?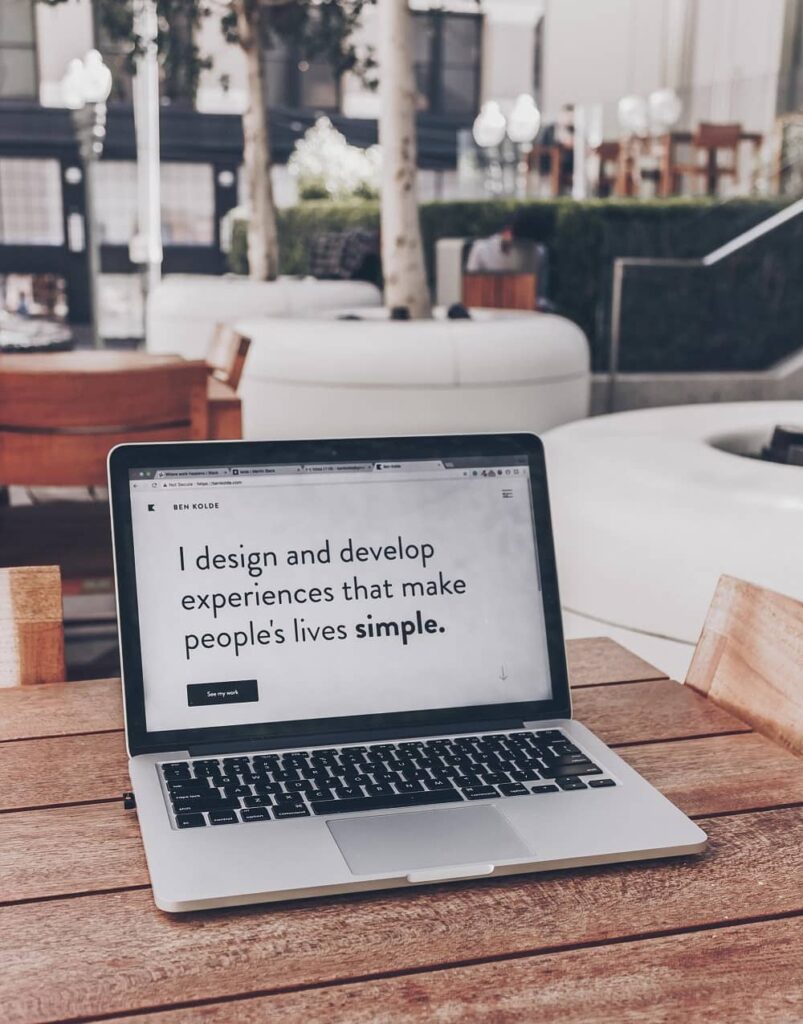 Follow blogs and informative sources on design. This can help you keep in touch with your niche, gain valuable insights, and find new tips to implement in your projects. The more successful, engaging artwork you see every day, the easier it becomes to generate creative ideas for web design.
Monitor visual trends on photo stocks. Usually, photo banks are packed with up-to-date content in high demand among users. So when you go to stock content marketplaces looking for inspiration, you find trendy visuals right away.
To sum up
Web design shouldn't be all work and no play—this niche still offers plenty of space to experiment and be creative. Explore the tips and ideas presented in this article to optimize website performance and develop unique new projects. Remember, you can even find inspiration on photo stocks that deliver high-quality visuals for your future designs.