The use of watercolor isn't new – in fact, it's been here for centuries.
It's been courting plenty of attention lately thanks to social media. Despite being known as a tricky medium, watercolors are still good for beginners. There's no shortage of stuff to try, too – from super hero characters, space themes, to flora, landscapes, and cityscapes.
Different watercolor techniques to try
Dreamy, light, and airy, watercolors instantly capture the imagination thanks to its charms. Don't be afraid to play around and experiment with it. Just make sure to have plenty of paper towels handy.
Drip effect – create lovely gradients by doing a wet-on-wet method. Spread a bit of water on your page, then apply paints, letting them naturally drip downward. Mix hues for an exquisite look.
Stencils – if you've never liked stencils with watercolors because the paints bleed out, then maybe it's time to change your perspective. These 'flaws' actually make your work 'imperfectly unique'!
Stamping – use stamps that you have laying around to make cute, magical, or interesting artworks. No stamp? No problem. You can cut out shapes from sponges.
And the most important thing is to have fun!
What to do with your watercolor artworks
Watercolors are a wonderful medium to use in your art journal. As they come in various brands and packaging, you can pick what suits you best and carry it around with you. When inspiration strikes, take them out and start painting!
Do you already have a few pieces of watercolor art? Why not turn them into bookmarks, greeting cards, postcards, or coasters? Use proper sealant and your works can last a long time. Gift them to friends and loved ones. You can also sell them during art fairs or local markets.
With almost everything going digital nowadays, you can scan your artworks to post or sell online. Edit them on apps like Photoshop or Illustrator so you can turn them into posters, branding material, or desktop wallpaper. It's going to be easier to keep them, too.
Presenting Incredible Watercolor Backgrounds and Textures
Love the look of watercolors but don't want to clean your workstation? Then grab these incredible watercolor backgrounds and textures instead!
1. 30 FLAT Textured Watercolor Backgrounds
Inspired by sunsets and sunrises in the sky, Kimmy Design brings you these flat gradient images available in TIFF, JPEG, and PNG formats.
Download 30 FLAT Textured Watercolor Backgrounds
2. Pale Watercolor Backgrounds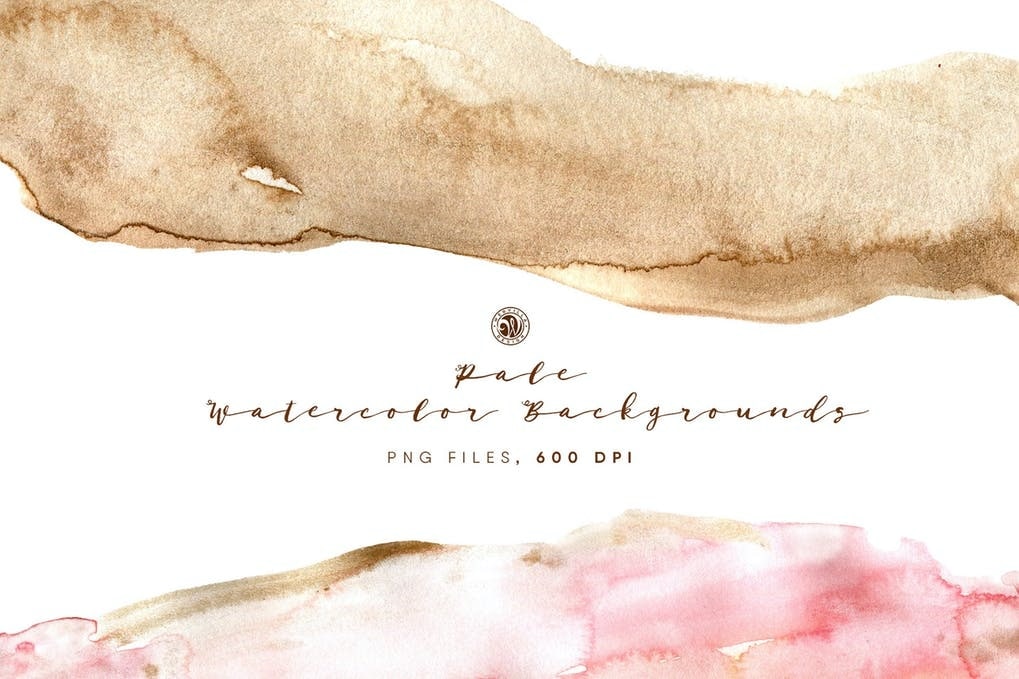 Gold, beige, and brown hues dominate this collection from Webvilla. They are best used on wedding invitations, scrapbooks, branding, and photobooks.
Download Pale Watercolor Backgrounds
3. 64 Watercolor Textures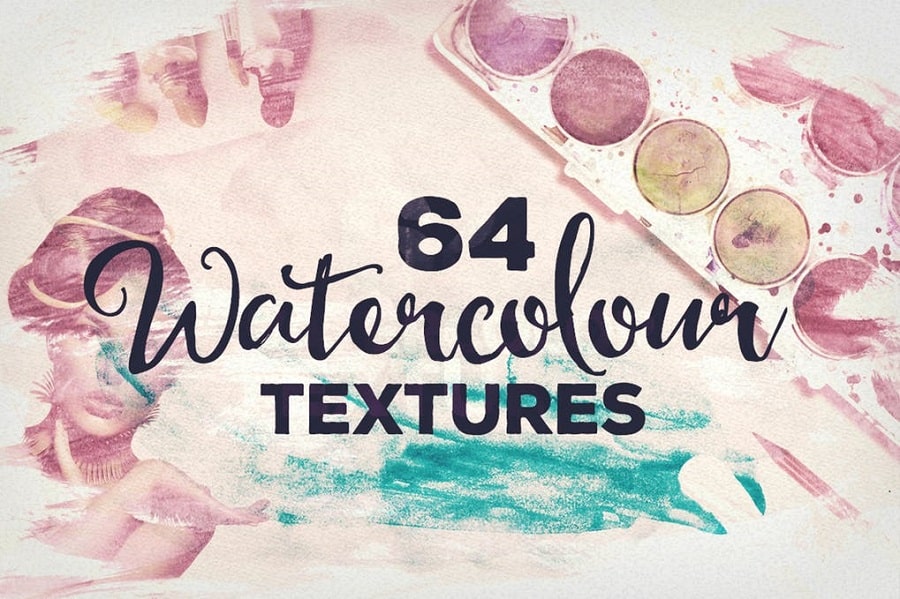 Whether you need them for a typographic poster or a mockup, you will love this collection from Layerform. It contains 32 watercolor textures and 32 neon watercolors for a total of 64 files.
Download 64 Watercolor Textures
4. 10 Watercolor Space Backgrounds
Explore the vastness of the universe with this breathtaking set by Kaleriia with 10 textures in 600 dpi.
Download 10 Watercolor Space Backgrounds
5. Watercolor Backgrounds Modern Shapes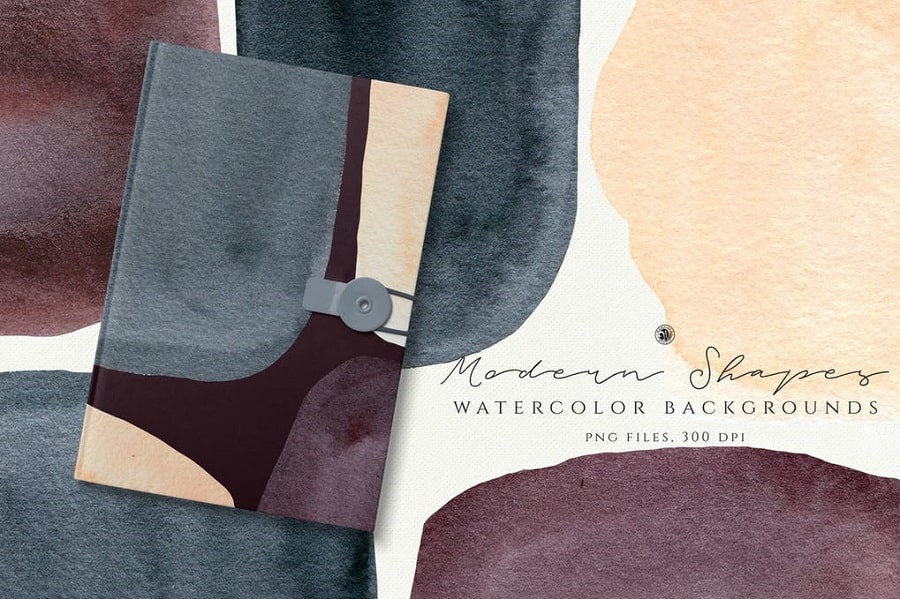 These hand-painted watercolor shapes are ideal for business cards, corporate presentations, arts and crafts, scrapbooks, branding, dinner invitations, and printed projects.
Download Watercolor Backgrounds Modern Shapes
6. Watercolor Backgrounds – Blush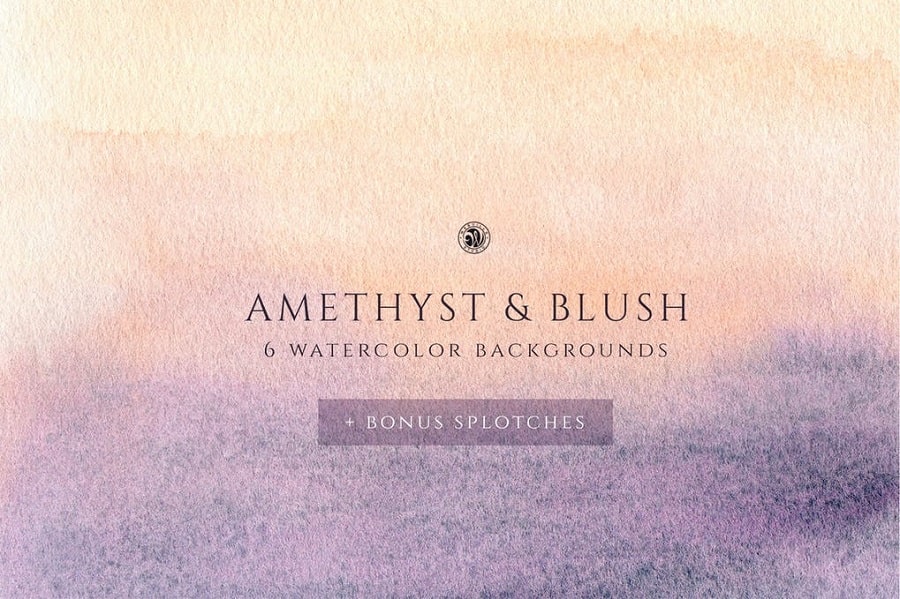 Elegant, surprising, yet down-to-earth, this product includes backgrounds and watercolor splotches (in transparent PNG) that are fast and easy to edit.
Download Watercolor Backgrounds – Blush
7. 30 Colorful Watercolor Backgrounds
Make room in your designer toolkit with these colorful watercolor backgrounds by M-e-f. You will get 30 high-resolution JPEG files at 6000×4000 px and 300 dpi.
Download 30 Colorful Watercolor Backgrounds
8. Watercolor Textures Vol. 2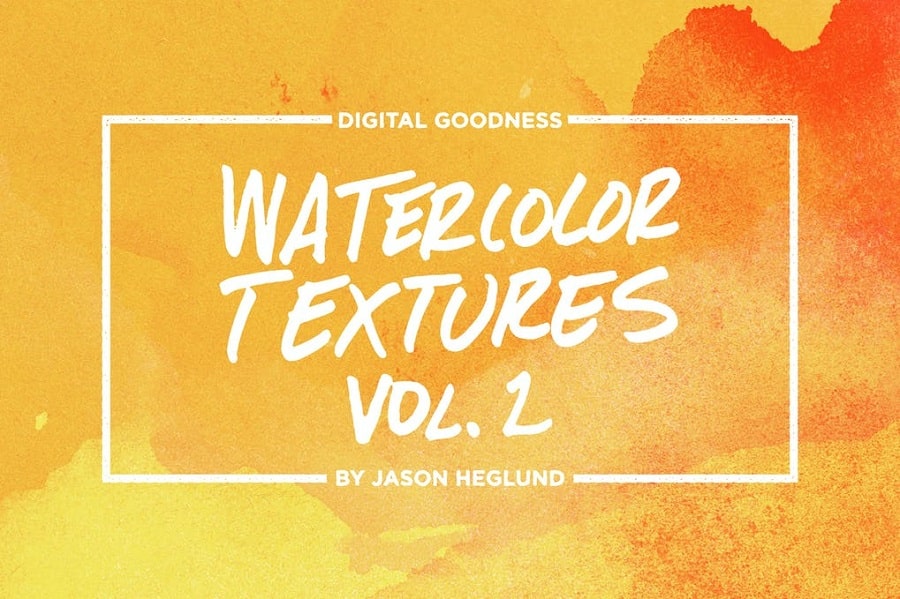 Building your asset library? Don't forget to add these watercolor textures by Jason Heglund. Each background has its own unique look to help you create all kinds of  designs.
Download Watercolor Textures Vol. 2
9. 48 Watercolor Backgrounds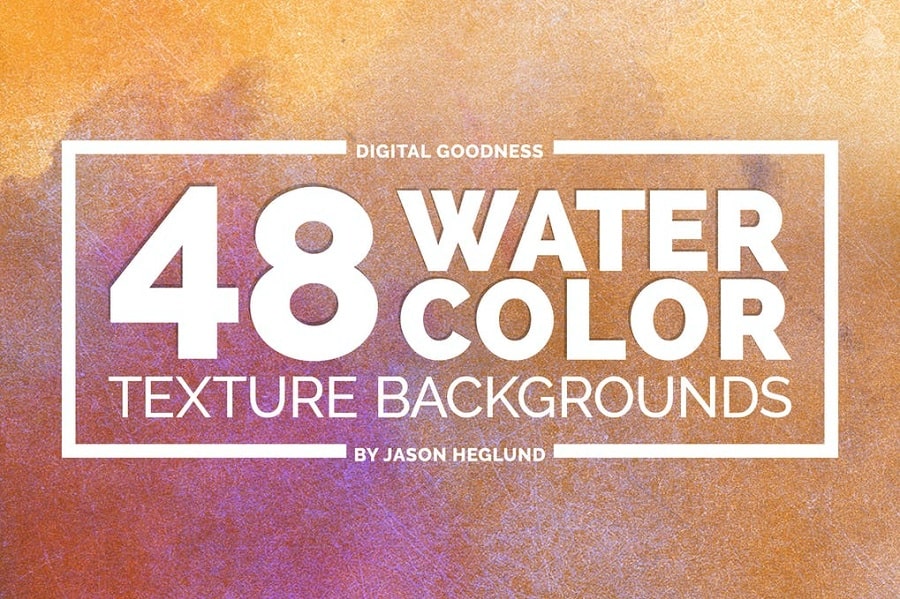 This massive bundle includes 54 separate JPEG files and 5 multi-page PDF files. Featuring four seasonal themed watercolor images, you'll definitely have something special all year round.
Download 48 Watercolor Backgrounds
10. Magic Watercolor Backgrounds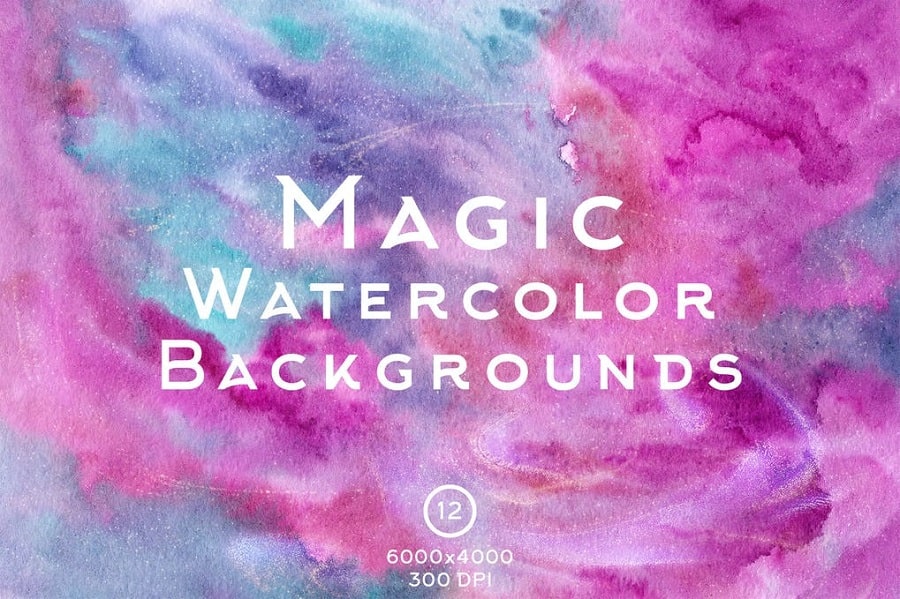 Be mesmerized by the magical combination of hues in this set by Freezeron Media.
Download Magic Watercolor Backgrounds
11. Summer Time Watercolor Backgrounds
Warm tones reminiscent of summer months dominate this collection. With 8 PNG files in 4000 x 6000px and 300 dpi, you will love using it on either digital or print materials.
Download Summer Time Watercolor Backgrounds
12. Watercolor Seamless Textures – Brown Pack
A small but very useful package from Creative Form, the watercolor textures here have been drawn by hand, scanned, and cleared so they can be seamlessly repeated without a hitch.
Download Watercolor Seamless Textures – Brown Pack
13. Watercolor Wash Bundle Volume 1
This bundle by Design Panoply contains a total of 35 files in 3 practical formats for your convenience. Enjoy various styles, from smooth to complex, for nearly unlimited effects.
Download Watercolor Wash Bundle Volume 1
14. Crystallized Watercolor Backgrounds
Imagine different geodes in watercolor form. This is what you get when you download this amazing and one-of-a-kind set.
Download Crystallized Watercolor Backgrounds
15. Watercolor Texture Blush
With shades of beige, blush, and peach, you will fall in love with this pack by Corner Croft. Files come in various shapes and strokes to add variety to your works.
Download Watercolor Texture Blush
16. Warm Textured Watercolors
Casscappello brings you these 12 high-res and print-ready PNGs made using alcohol and salt for a highly textured look.
Download Warm Textured Watercolors
17. Matte Watercolor Textures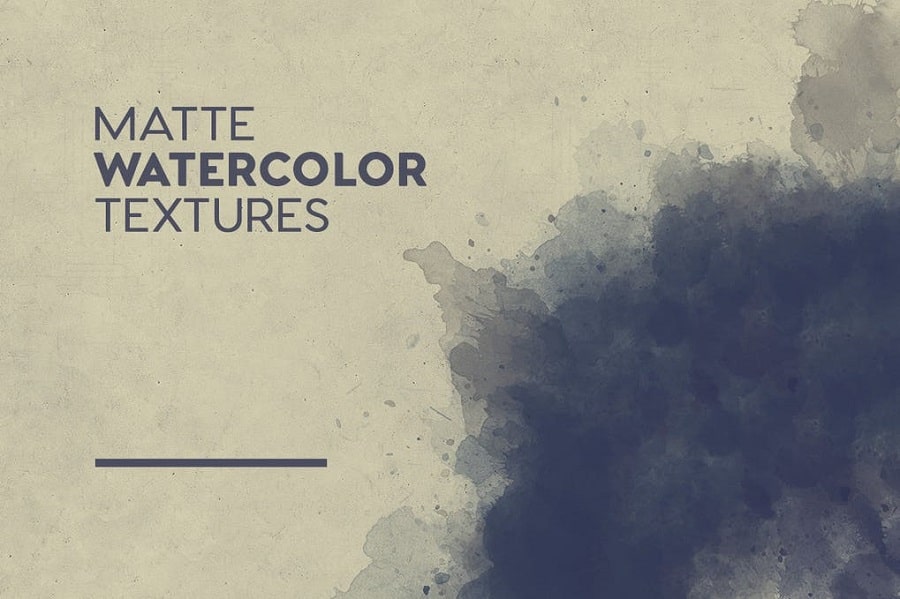 Searching for something minimal yet dramatic? These backgrounds in muted colors by Mehmet Reha Tugcu will complement both light and dark elements, such as fonts and graphics.
Download Matte Watercolor Textures
18. Watercolor Paper Backgrounds
Handmade, multi-colored, and very detailed, you will receive 16 backgrounds in 3000×2000 px and 300 dpi. Use on photo overlays, postcards, posters, web pages, and more.
Download Watercolor Paper Backgrounds
19. 14 Watercolor Backgrounds
Showcase your best works using the best images with this pack from Mamounalbibi.
Download 14 Watercolor Backgrounds
20. 16 Watercolor Backgrounds
These backgrounds and textures look amazing on their own, or combined with other graphic elements. Available in a total of 16 files, put them in logos, ads, presentations, banners, cards, flyers, etc.
Download 16 Watercolor Backgrounds