Last Updated on July 27, 2021
While Vikings are known (and shown in pop culture) for their brutish behavior, that wasn't their original nature. Before that, they were farmers, traders, storytellers, artists, and explorers. They were also not tied to a single race. Vikings came from Denmark, Norway, and Sweden; but there were accounts of them being Finnish, Estonian, and Saami, as well.
Back then, they were collectively called 'Dani' (Danes) or 'Northmen', referring to the rural countryside where they made a living farming. Why they left their homeland in favor of riding narrow ships to pillage and plunder is still a mystery, even to scholars, today.
But what cemented their reputation as merciless warriors was the attack on the Lindisfarne monastery, in northeastern England. Victims claimed they ransacked even the library, taking treasures and making slaves of the monks. Since then, Viking raids would spread across Europe, concentrating on coastal targets but eventually taking the battle inland.
If you love Viking lore and history, then you will fall in love with these Viking fonts with beautiful Scandinavian influence.
Strong Viking Fonts
1. Arkana
Arkana is a breathtaking fantasy typeface. It includes upper, lowercase, special characters, numbers and punctuation. You can use this font for a variety of projects. It's perfect for books, video games, movies or any other kind of publishing or production in the fantasy genre.
Test this font by typing here
This viking font is both geometric and ancient looking, which would not look out of place on game graphics, posters, logos and websites.
3. Paraoh
Noatun is a viking font that comes in two different versions and features a unique geometric style. It works great in titles, logos and short quotes.
4. Higenson
Influenced by Siberian and Nordic styles, Newface brings to you this stunning exclusive font that contains full language support, with Cyrillic alphabets.
5. Hodor
Inspired by the character Hodor from Game of Thrones, TGIF.STD gives you this font that would be perfect for music or movie posters, but would also work well on book covers, logos, and apparel.
6. Midgard Font
Enter another world in this carefully crafted display typeface by Umkatype. With extended Latin and Cyrillic characters, its rough edges and subtle Gothic design is simply otherworldly.
7. Northern Runes Font
Delve into runes in this beautiful ancient typeface by Roman Korolev. Featuring 2 styles: Dots and Frame, it's best used for medieval or pagan themes.
8. Asgaard
This layered label font by Vozzy Vintage Fonts comes in 7 styles and also includes graphic files so you can design with ease.
9. LovePagans
Inspired by pagan history and Nordic runes, this delightful typeface from MrKevCostello even has a useful attribute: type in lowercase to use real pagan rune symbols. How cool is that!
10. Nordica Font
Bring the Soul of the North into your designs thanks to this gem created by hellokisdottir. There's nothing like a little touch of rune to breathe new life to your posters, invitations, logos, and branding.
11. YT Kraken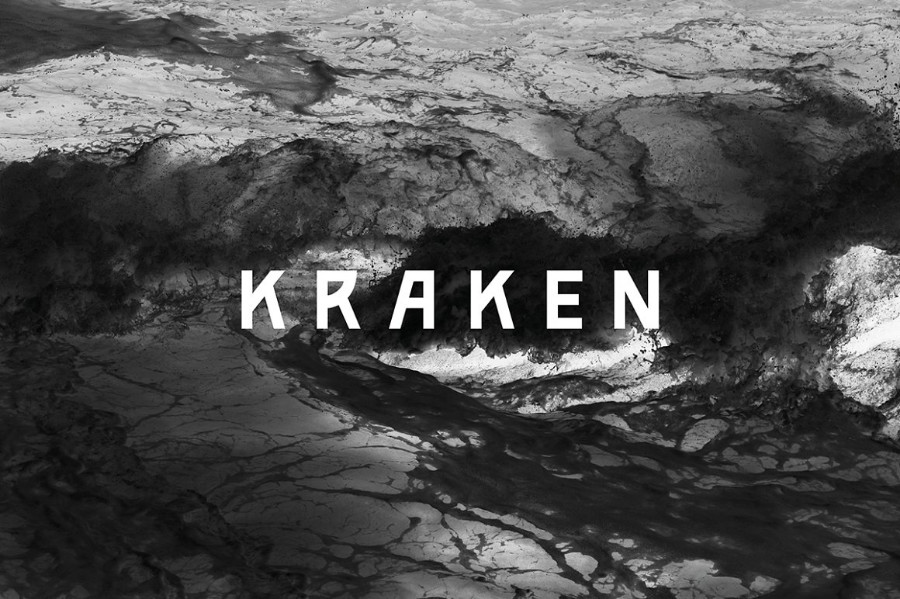 Designed to embody the style of Norwegian diacritical marks as well as the fabled monster, the "Kraken", this chiselled typeface from YewType is all about strong, unrelenting vibes.
12. Erin
This uncial, Celtic-inspired font by Twinbrush Image Forge comes in 2 styles: Regular and Weathered, so you can effortlessly add mysticism to your designs, without trying too hard.
13. KVC Midgard
The name comes from the Norse/Germanic cosmology term for Earth. A sharp angled display font from Wild Giant Studio, you'll have no trouble creating Medieval or Fantasy works with this in your toolkit.
14. Njord Typeface
Tugcu Design Co. proudly presents this strong display font that's available in Regular and Alternate styles. Make sure you use it with really wide spacing to fully enjoy its interesting aesthetic.
15. Ragnarok
Combining traditional Latin letters with the formidable Viking spirit, Medialoot managed to come up with a font that's both modern yet traditional. Use it for your branding, apparel, or social media campaigns.
16. Vintage Label Typeface Viking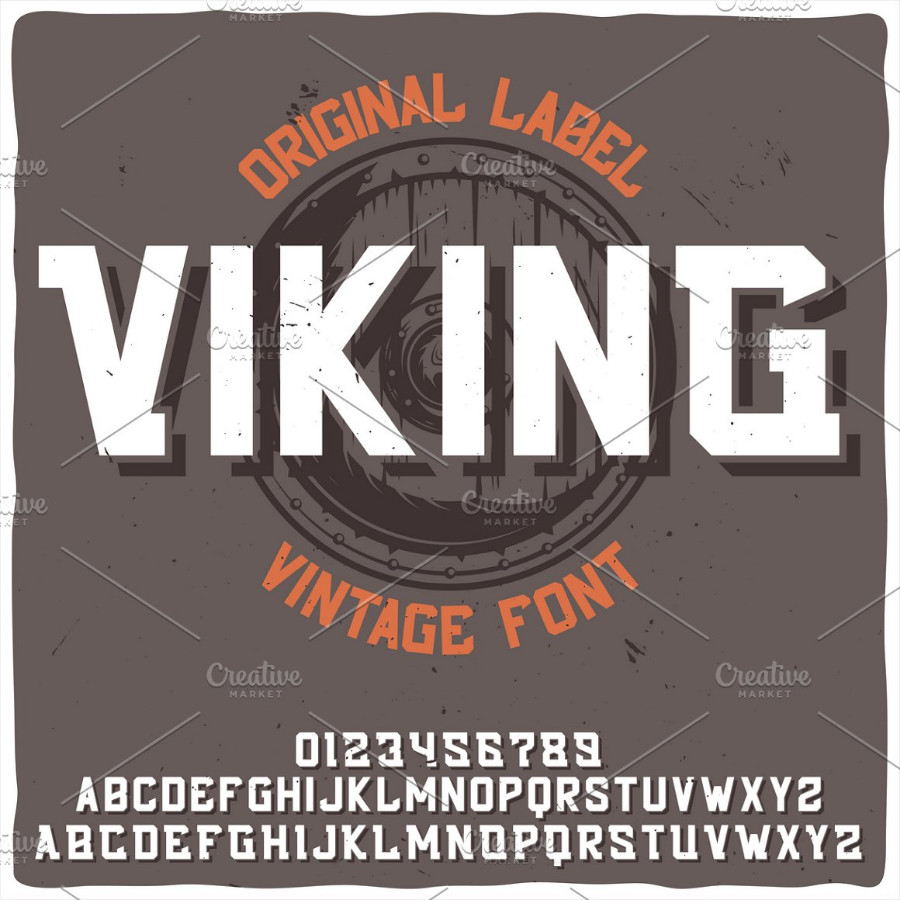 Created by Anton Antipov, this handcrafted font will look great on anything that needs a bold impression, like on headers, logos, and branding.
Download Vintage Label Typeface Viking
17. Angars Runes
Go back to the Middle Ages in this rune-style typeface from Mans Greback. Featuring engraved letterforms and gothic curves, this is a must-have for those who love vintage or period concepts.
18. Northlands
For those in search of the perfect organic font, then look no further than this hand-drawn gem from MoonLake. With slender characters and a natural feel, it will go great with nature, modern, or minimalist themes.
19. Mjölnir
Introducing Mjölnir – a Viking font inspired by Nordic runes. Incredible when used for headlines, titles, logos, posters, flyers, and anything that requires a unique geometric typeface with a tribal motif.