Remember the times when you would go to Blockbuster on a weekend to rent movies? Those were the days of Dirty Dancing, Stephen King books, Whitney Houston songs, and Space Invaders. Simpler times indeed. Today, people would instantly know how old you were based on that Blockbuster card.
The 80s were definitely a fun era. Also known as The Greatest Decade, it was the time of The Breakfast Club, cassette tapes, and 'big hair'. Want to imbue your works with the same fun vibes? Then check out these vintage VHS fonts.
Nostalgic VHS Fonts
1. Hanahelia
Bring back the 80's with a VHS font like Hanahelia! A cross between graffiti, neon, and metal, this incredible set features alts, ligatures, discretionary ligatures, and has multilingual support.
2. Lagoon
Lagoon Beach seems like it should be a retro tv series, and the VHS font would be perfect for the intro! It's a 2-in-1 font pack perfect for those crazy night beach vibes!
3. Megaton
Megaton is a retro-futuristic stencil-style VHS font. Go back to the 1980's with this one, and create movie posters, clothing, video games, and so much more!
4. System Glitch
System Glitch feels like Max Headroom meets VHS font styling. Every glyph is different when it comes to the glitchy components, so this font is perfect for titles, display, and even apparel or games!
5. Thunderstorm
Thunderstorm is a hand painted VHS font straight out of the 80's with a modern feel. Best for poster, logo, apparel, books, invitation, quotes, packaging, album cover, and includes extras in AI format!
6. Gemini Cluster
This expanded-futuristic font family from Harmnessless Type Co includes 6 weights and 3 styles, for a total of 18 fonts total. Wide, bold, and modern, this will look amazing in game or sci-fi concepts.
7. CRT-64 Dotted Font
Inspired by 80s computer system aesthetics and CRT displays, this retro typeface designed by Darumo Shop can be used in large or small blocks of text. The pack also contains Space Invaders characters in EPS file as well as template PSD with CRT glitch effects for text and backgrounds.
8. Bisect Font
Create something cutting-edge with this horizontally-shifted font. Make your headers, posters, or presentations exude energy and audacity when you add this gem to your works.
9. Barkleigh Font
Badspark presents this timeless font born out of a love for 80s typefaces. Now you can make book covers, posters, headlines, cards, and web pages in the style and vibe of Generation X.
10. Genome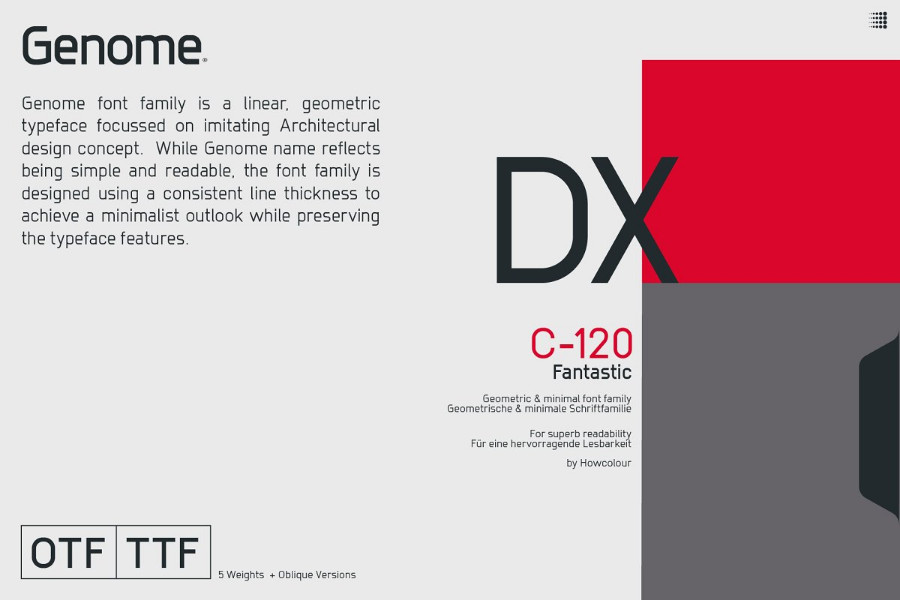 Featuring 10 fonts, Howcolour brings to you this family of linear, geometric lettering that stays readable no matter the weather. Consistent and minimalist, it's a must-have in every designer's toolkit.