As a designer, it's important to understand how your project will be used or perceived once it's finished. Great design after all, it's not just aesthetically-pleasing. It should serve its purpose, too. Enter the humanist sans, Verdana.
The Verdant Verdana
Released in 1996 and designed by Matthew Carter and Thomas Rickner, this sans serif typeface was created for Microsoft Corporation. Carter collaborated with Virginia Howlett, part of Microsoft's typography group. Together, they came up with Verdana – a font that's able to retain readability even with small sizes and low screen resolution.
The name 'Verdana' comes from a combination of the word 'verdant' (green, lush) and Ana (Howlett's daughter). The font has a large x-height as well as substantial width and spacing. This makes it easy to read, especially for screens at that time. The bold version has thicker lines, too, making it a good fit for screen applications.
Even though it was specifically created for digital screens, Bill Hill, Microsoft's font manager, has said that it's 'not a comfortable ebook font'. For this, he recommends Frutiger or Berling.
FREE Verdana Font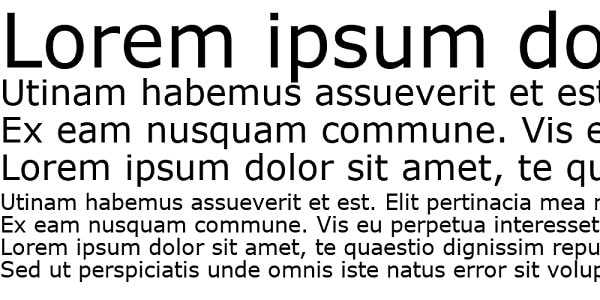 As a humanist font, Verdana pairs very well with other sans such as Arial, Futura, Lucida Grande, and PT Sans. But you can also combine it beautifully with serifs like Georgia, Scala, and Calendas.
If you're looking for something with a similar concept but isn't Verdana, try: Frutiger, Tahoma, or the organic serif, Cheesecake. All three are screen-friendly, legible, and comes highly recommended.
The Verdana font family by Ascender is available for purchase from MyFonts. You can download the entire package, which includes 4 styles (Regular Italic, Bold, Bold Italic), or get just one for a reasonable price. For FREE versions, you can go to Dafont Free for personal use, or download from Fonts Family for personal and commercial use.