Last Updated on October 9, 2023
Trolls is a 2016 American computer-animated musical-comedy film directed by Mike Mitchel, produced by DreamWorks Animation, and distributed by 20th Century Fox. The film is based on Thomas Dam's the Good Luck Trolls dolls. It features voices from Anna Kendrick, Justin Timberlake, Russell Brand, Zooey Deschanel, James Corden, Gwen Stefani, among other voice actors.

Trolls follows a happy and carefree troll known as Poppy (voiced by Anna Kendrick) and an overly cautious troll named Branch (voiced by Justin Timberlake). The duo teams up in an arduous mission to save their village from destruction by troll-eating creatures called the Bergens.
As with any animated film, Poppy and Branch's mission isn't short of fun and adventure. But the pair also runs into mishaps, mostly due to their mismatched personalities. To succeed in their demanding endeavor, Poppy and Branch must tolerate each other while also relying on one another's expertise.

Trolls was initially released on October 8, 2016, at the BFI London Film Festival. The film was subsequently released in the United States on November 4, 2016. It has since grossed over $346 million at the box office from a budget of $125 million.

Like most successful films, Troll's official movie poster has a custom font. In this case, that font's name is called Tangak.
What Is the Tangak font?
There's no typeface matching the original font used on the Trolls movie poster 100%. The font was most likely created by in-house designers hired by the film's makers.

But as we've already hinted, there are several typefaces that look a lot like Trolls' original movie logo font. Tangak is one such typeface. It's a fun-looking, metallic-themed font noted for its bold texture and swashy serifs. The font is the work of a designer named Dastan Miraj from Kyrgyzstan.
Tangak Features
Tangak shares a lot in common with Trolls' original logo font. The one unmissable feature of this typeface is the sharp curves and prominent swashes in its letterforms. The curves are more noticeable on tailed letters like g, p, and y.

Another outstanding feature of the Tangak font is the shape of bowled letters, such as a, b, d, g, and p. When set in the lowercase, such letters sport incomplete bowls. This further adds to the font's overall visual effects. Tangak also stands out for the wavy and elongated shape of the letter T's crossbar.

Overall, Tangak includes 152 defined glyphs and 157 characters. The character range includes UPPERCASE LETTERS, lowercase letters, numbers, and a slew of special characters.
Where Can You Use Tangak On?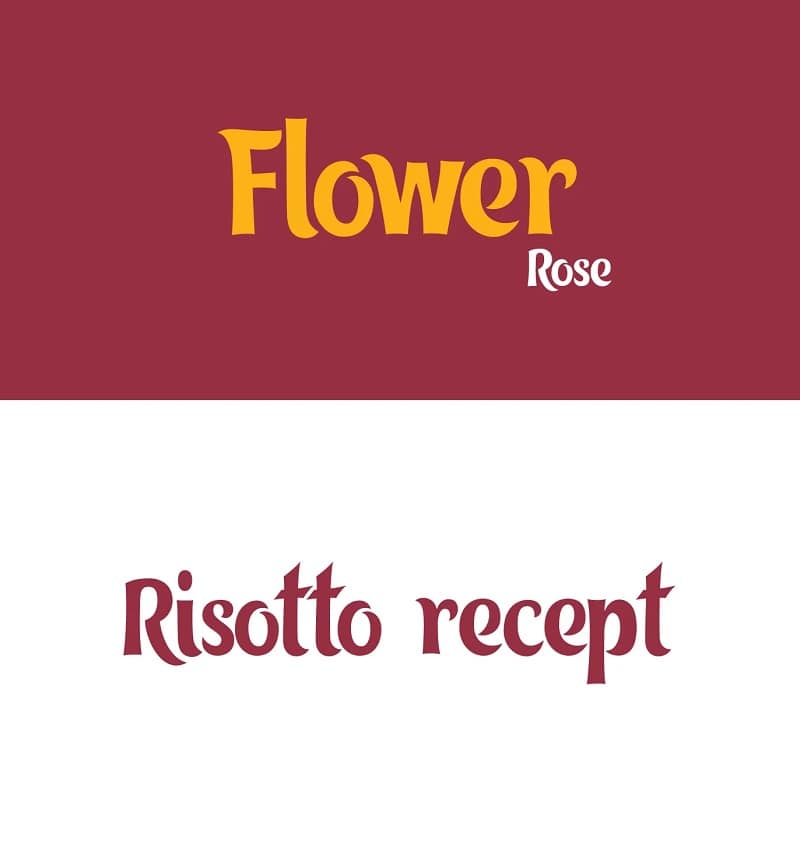 Since Tangak resembles the original font on the poster of Trolls movie, it's not surprising that this font is an excellent choice for movie covers. There's a long list of other designs that you can apply Tangak on. Examples include;

• Company logos
• Business cards
• Invitation cards, (for birthdays, weddings, housewarming parties, etc.)
• Apparel branding
• Homeware branding
• Books, magazines, and newspaper covers
• Road and store signage
• Billboards and flyers
• Social media and PowerPoint presentations
Where Can You Find Tangak Font?
Fonts 4 Free, Maison Fontes, and Dafont Free, are just a few of the numerous places where you can download 'the Tangak font. Others include Font Meme (which is also a font generator), BE Fonts, and All Free Fonts.
Is Tangak Free?
Tangak is licensed as free for both personal and commercial usage. So, there's virtually no limit to the number and types of design projects you can apply the font to. If ever you're in doubt, you can always contact the designer directly from the Behance.net website.