Last Updated on October 9, 2023
The Walking Dead is an American post-apocalyptic horror television series developed by Frank Darabont based on an eponymous comic book series authored by Robert Kirkman, Charlie Adlard, and Tony Moore.
The series stars an ensemble of actors, including Andrew Lincoln, Jon Bernthal, Sarah Wayne Callies, Laurie Holden, to mention but a few. The plot follows a group of post-apocalyptic survivors, led by a former police officer, who wander in search of safe homes.
In their seemingly endless journey to safety, the group must endure constant attacks from zombies and degenerate communities of human survivors who've since established their own legal and moral systems.
The Walking Dead Font
If you're an ardent fan of The Walking Dead, you must have noticed the gradual decline in the series' logo through the seasons, which portrays a decay in the human race.
The continued decline in the logo's shine has affected all its elements, including the lettering and background. And no font could capture that decay better than the Tungsten Black.

Tungsten Black is a variant of Tungsten, a grotesque sans-serif family of fonts designed by Hoefler and Frere-Jones and published by Hoefler & Co. The font is relatively new, having been released in 2009.
However, it has since garnered tremendous popularity. Besides being used in The Walking Dead series, various styles of the Tungsten font family can be seen in the posters of several movies, logos, and album covers. Examples include Taylor Swift's fourth studio album Red, the 2019 American crime thriller film Uncut Gems, the Just Dance video game, etc.
Tungsten Black is characterized by its compact, flat-sided styles and considerable spacing between letters, which makes it the go-to font for poster designs. The font has a clean and soft look too. That explains why it's fairly legible despite frequently appearing in dull-colored backgrounds.
You can apply the font on the covers of books and movies, particularly those with death and adversity as the overriding themes. Tungsten Black is also suitable for use on all kinds of branding materials, including t-shirt designs, business cards, invitation cards, and product packaging. What's more, you can apply it on your website and blogs as well as PowerPoint presentations.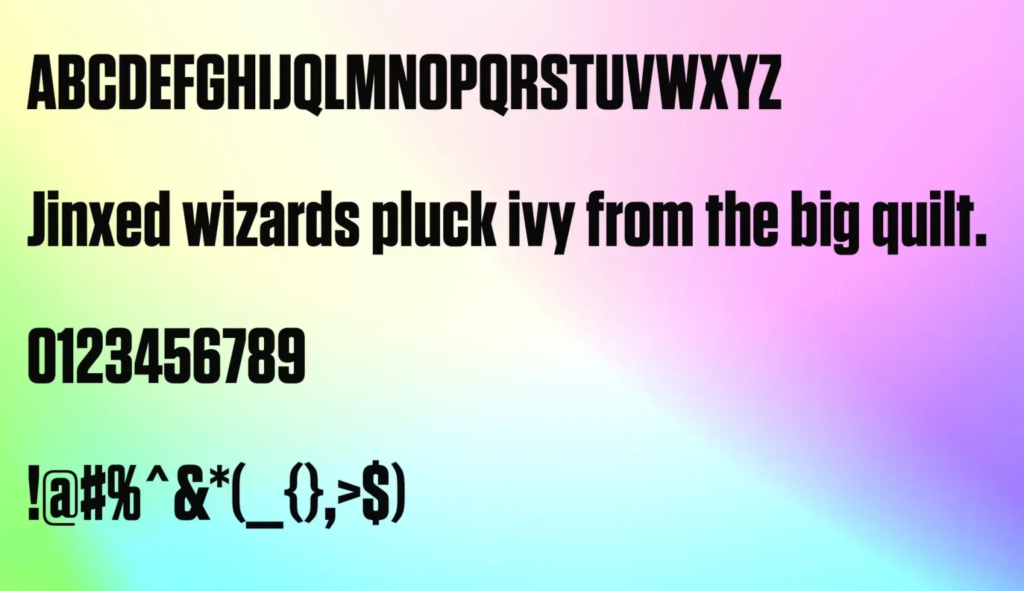 In addition to Tungsten Black, there are at least 30 more variations in the Tungsten font family that you can check out. They include;

• Tungsten Narrow Black
• Tungsten Condensed Black
• Tungsten Compressed Black
• Tungsten Thin
• Tungsten Narrow Thin
• Tungsten Condensed Thin
• Tungsten Compressed Thin
• Tungsten Light
• Tungsten Condensed Light
• Tungsten Extra Light
• Tungsten Condensed Extra Light
• Tungsten Compressed Extra Light
• Tungsten Narrow Light
• Tungsten Compressed Light
• Tungsten Book
• Tungsten Narrow Book
• Tungsten Condensed Book
• Tungsten Compressed Book
• Tungsten Medium
• Tungsten Narrow Medium
• Tungsten Condensed Medium
• Tungsten Compressed Medium
• Tungsten Bold
• Tungsten Condensed Bold
• Tungsten Compressed Bold
• Tungsten Semibold
• Tungsten Condensed Semibold
• Tungsten Compressed Semibold
• Tungsten Narrow Semibold
• Tungsten Narrow Bold

Where to Download the Tungsten Black Font
Tungsten Black is a commercial font, which means that the font is generally free for personal use. You may require a license before you can use it on commercial projects.

The font is available for purchase from Typography website. You can also purchase Tungsten from Goova Fonts.

To get the font, simply select your preferred font format and hit the "Download" link or its equivalent, depending on the website you're downloading the font from.