Thanks to advances in the audio and visual industry, as well as social media, we can now access tons of video content across multiple platforms. From YouTube to Netflix, and everything in between, more and more people are expected to consume video in the coming years.
Whether you're a budding filmmaker or a videographer, these are exciting times indeed. But people will expect a lot, too. And in many cases, if not all, it's the details that can make or break the viewing experience.
One of the things you will need to prepare for is adding subtitles or closed captions in your work.
How to choose fonts for closed captions and subtitles
Subtitles and closed captions aren't just for foreign films.
They're important to make your projects accessible to everyone, such as hard-of-hearing individuals and foreign-language speakers. Expect that viewers may be watching your video in different ways – and that includes doing it with the sound off. If you upload your work on platforms like YouTube, subtitles can improve SEO, too.
Did you know that there's a difference between subtitles and closed captions?
Subtitles are usually used for translating speech. This is often used for foreign films so audiences can understand the language. Closed captions on the other hand, are not only meant to translate dialogues in the video, but also to describe background noises and music.
When choosing fonts for your subtitles and closed captions, keep three main things in mind:
Contrast of colors;
Mood of the film; and
Overall readability.
Many video editors will prefer Google fonts or sans serifs because they're readily available. But don't limit yourself. Even serifs can be a sophisticated choice if the font works well.
Best Subtitle Fonts
Don't just settle for any generic sans serif. Put in as much thought into picking fonts for your closed captions as much as you have in making your video. After all, you want to give your audiences the best experience while viewing your finished product.
Here are some of the best subtitle fonts your videos.
1. Addington CF
Beauty meets practicality through this 7-weight set from Connary Fagen. This works great in text-heavy settings but doesn't break a sweat filling the role of a display typeface.
2. Amenti
Introducing Amenti – the epitome of modernity and sophistication. Featuring clean lines and graceful curves, this font comes in six different weights for convenience. As a sans serif, you can rely on its charm and minimalist aesthetic to leave a lasting impression on viewers. Use it for branding projects, printed works, or website design.
Amenti will elevate any composition to new heights. Versatile and highly legible, it's the perfect choice for both display and body text. So the next time you need a font to clearly communicate your message, there's no better option than Amenti.
3. Cartograph CF
Connary Fagen's handsome font family features lush and cursive italics, cost-friendly ligatures, and OpenType compatibility – a great throwback to utilitarian lettering found in terminals and typewriters.
4. Gilmer
Gilmer is a fresh, geometric, sans-serif font family inspired by the iconic typefaces like Futura and Avant Garde. Gilmer has a big x-height value, ​geometrical letterforms, sharp edges and very small stroke contrast as the neo-grotesk fonts from 20th century. The typeface is versatile and can be successfully used in magazines, posters, branding, websites etc.
5. Greycliff CF
Rugged, hearty, and warm, Greycliff® CF is a versatile font family. Strong capitals and a smooth, open lowercase are effective in a variety of applications. The geometric, near-monoline construction lends a classic durability, tempered by softened edges and vibrant shapes.
6. Izmir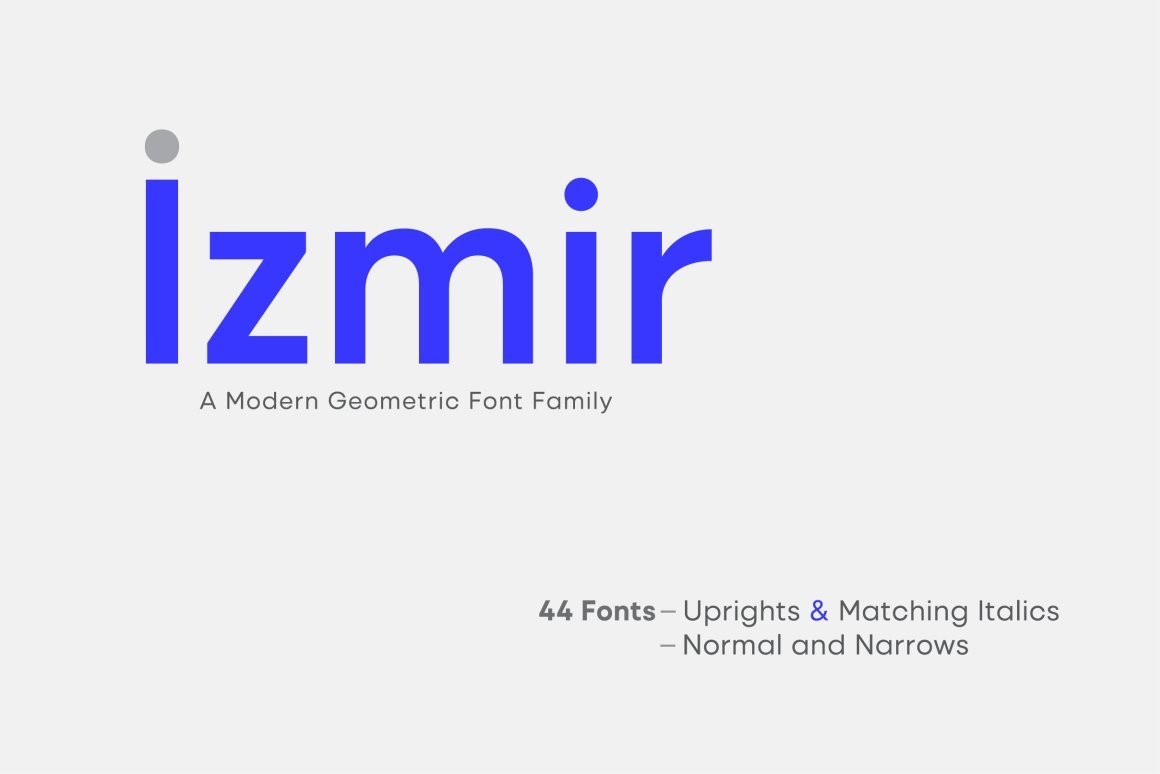 Izmir is a modern, geometric font family. Izmir font family consists of 44 fonts in mainly two widths, normal and narrow where each width consists of regular and italic styles in 11 weights. Each weight is equipped with useful opentype features. A local ampersand has been added to use in Turkish in normal weights and italics. The combination of normal and narrow weights can be an excellent choice for any graphic design and display use.
7. Jeko
Jeko is a contemporary geometric sans in 6 styles. Strong geometry combines with modern, sharp cuts, resulting in sturdy font with a distinctive personality. The concept of bold repetitive elementary shapes creates a clear rhythm and makes it a highly legible family suitable for everyday use.
8. Dallas
Dallas is officially a new favorite of mine – this beautiful all caps vintage sans serif is so versatile and looks great in just about any context. With five different weights/styles, you can create beautiful, consistent contrast in logos, printed materials, and more! You can even layer the stroke and solid styles to create a more modern effect.
9. TT Norms Pro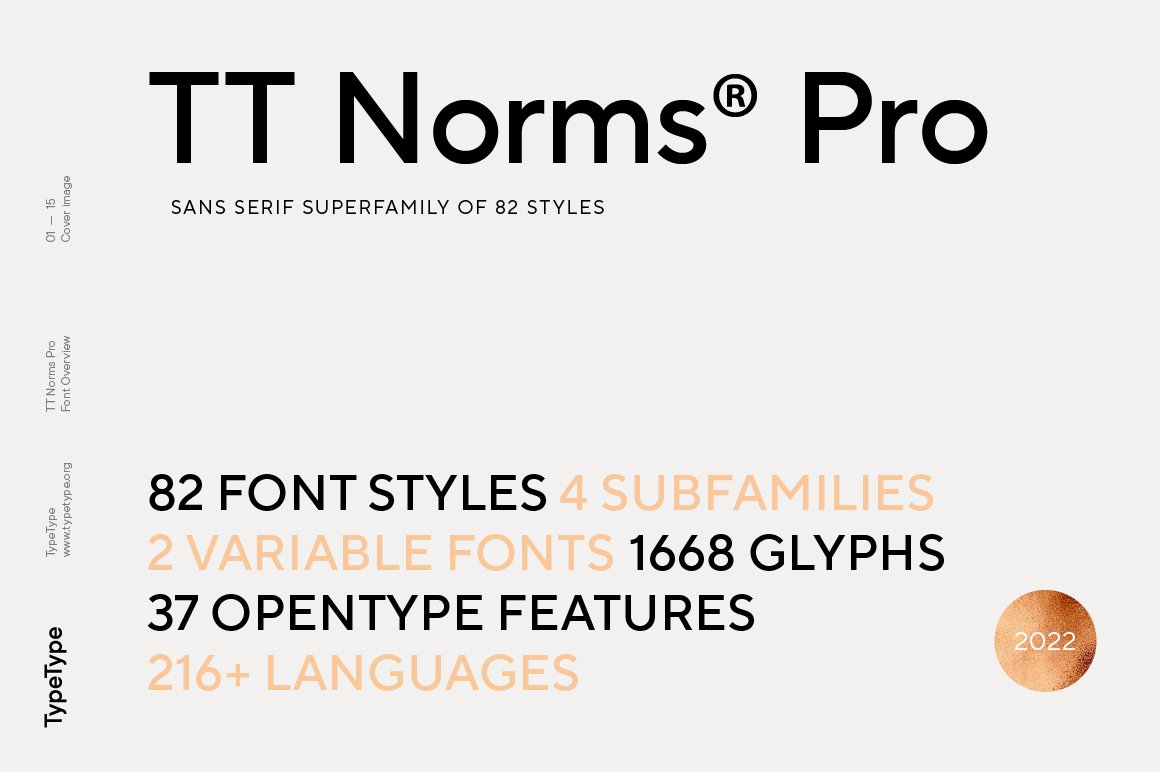 TT Norms® Pro Basic subfamilies Total update of a universal sans serif!
*22 styles: 11 upright, 11 italics
*1668 glyphs
*Support for more than 216 languages: extended Latin, extended Cyrillic, Greek, Vietnamese, Bulgarian localizations and many, many other languages
*37 OpenType features in each style: small capitals, stylistic alternates, ligatures, old-style figures and other useful features
TT Norms® Pro—"the one" universal geometric grotesk with the widest implementation range!
10. Causten
Causten is a geometric sans serif font family with maintains rationality in designing each form. With use the sharpness of the eyes, and remain logical, so that balance is maintained in each form. So, it will get a clean, neat, and perfect shape.
Causten comes with 9 weights and matching oblique, making it 18 styles. It makes perfect for all creative projects. Also, some alternative glyphs will be an attractive choice.
11. Roie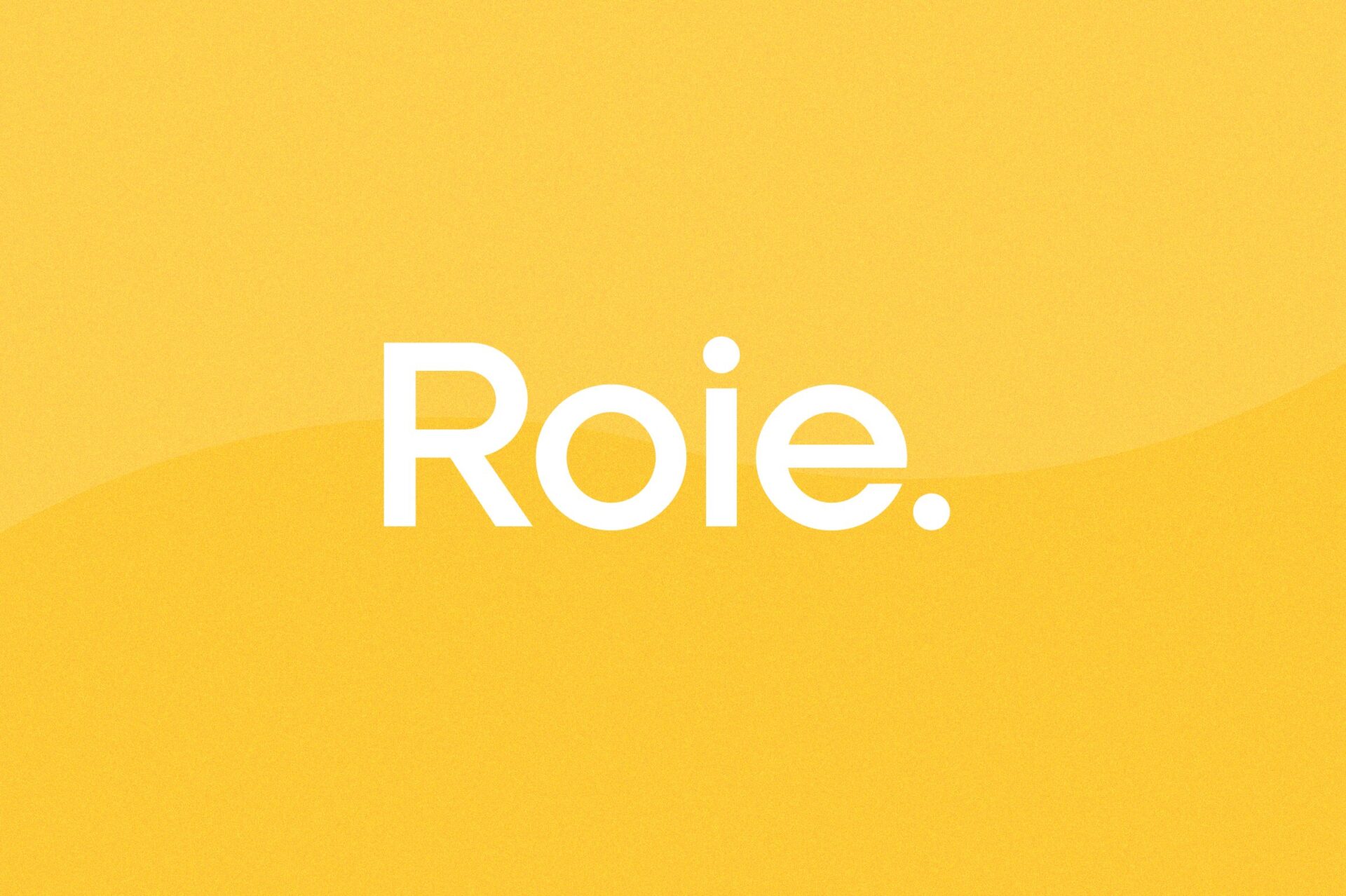 Roie is a special font for your logo & branding. Every character is designed for a good logo, so not suitable for a long text.
12. Geliat
Geliat will be suitable for many creative projects, from logos, posters, presentations, headlines, lettering, branding, quotes, titles, magazines, headings, web banners, mobile applications, art quotes, advertising, packaging design, book title, and more! Sky is the limit!
13. Gopher Mono
This 16-font family from Adam Ladd is a unique take on the mono-spaced genre using a contrast of thinner vertical and thicker horizontal strokes.
14. Undeka Sans Serif Font
Simple geometric shapes merged with strong typographical characters make this Bolderaja1 Studio typeface a perfect representation of the 20th Century grotesk typography.
Download Undeka Sans Serif Font
15. Mollen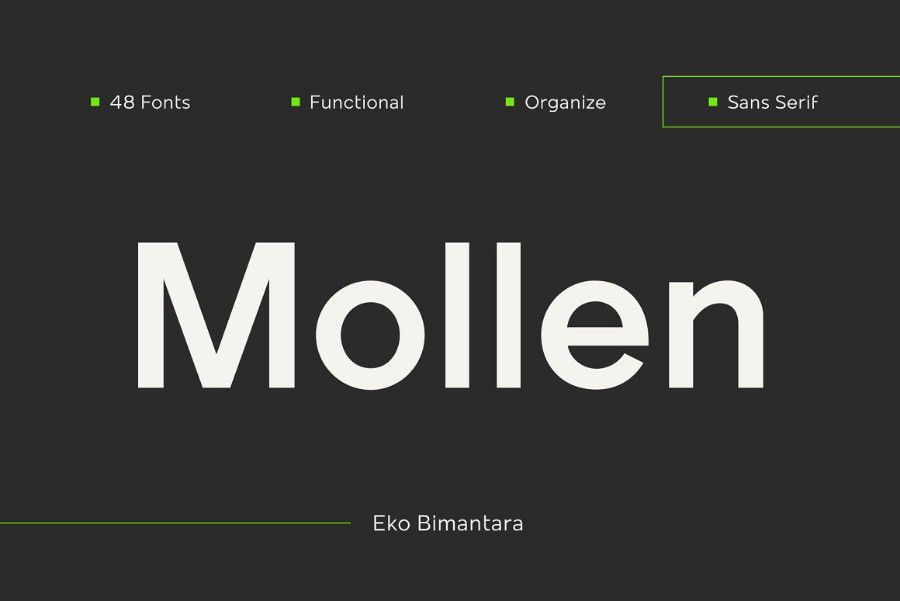 Simple and clean forms with low contrast strokes give this Eko Bimantara typeface quite a nice fit for presentations with modern or technological nuances.
16. Rockford Geometric Sans Serif
This 8-weighted typeface from Fenotype features a large x-height and subtly-rounded edges, suitable for a wide range of tasks from editorials to brand design.
Download Rockford Geometric Sans Serif
17. Brasley
Nicolas Desle's geometric sans serif is optimized for the finest readability. Its 6 weights and matching italics make it perfect for all kinds of applications and projects.
18. Ageo
A geometric sans serif with 8 weights ranging from Thin to Heavy, you get a wide range of options for that versatile and easy-to-read visual your project needs.
19. Tommy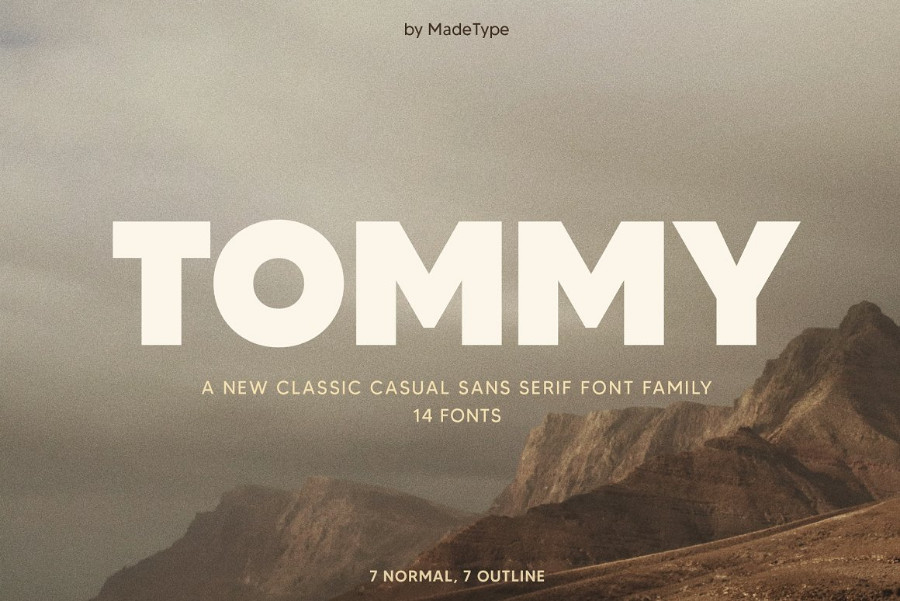 With 7 Normal and 7 Outline styles, this classic and casual sans serif from MadeType is adaptable to an assortment of projects.
20. Rostin
The half-open character forms give this Russian font concept huge potential in a broad spectrum of projects. Take advantage of this gem that reads well in small letters, and is noticeable in larger sizes.
21. Calling Code
Dharma Type presents a mono-spaced typeface that is ideal for coding and tabular layouts. Bring a fresh take on otherwise old and traditional fonts using its 4 styles.
22. Captura Now
Refined shapes and sensitively-balanced spacing and kerning give this font by Anita Jurgeleit perfection in form and shape.
23. Sofia Pro Complete
Designed with a higher x-height, rounded curves, and open terminals, this set from Mostar Design Type Foundry dares to be its own expression of modernism in the geometric sans genre.
24. Gevher Grotesque
This family of grotesque fonts made with rigid and stable structures, points that resemble ink traps, and unusual opposite angles at the joints. Humanistic, versatile, and beautiful, the collection features a total of 48 fonts you can play around with.
25. Salda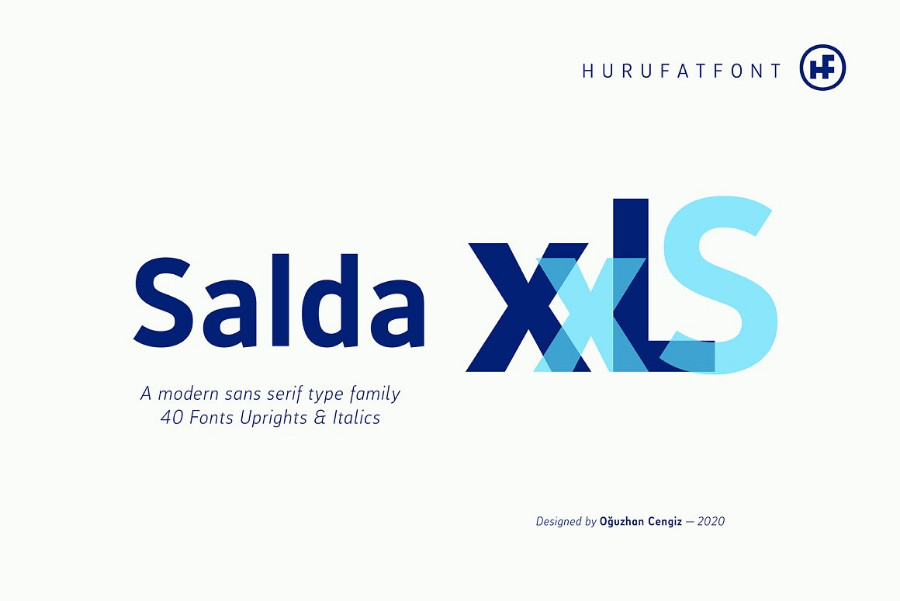 Old and new generation sans serifs make a meeting point through this modern sans. Take advantage of its 40 styles to provide an organic touch to digital applications like mobile screens and block texts.