Springfield Mugshots is a calligraphy script typeface created by TracerTong. The font looks like it was handwritten on paper using a brush.

It's unclear when Springfield Mugshots was designed. However, the typeface has been around for a few years and has racked up hundreds of downloads from many online font repositories.
Springfield Mugshots Font Features
Springfield Mugshots contains 51 glyphs and 58 characters. The relatively high number of glyphs implies that most elements come with alternative variations. This can add an extra layer of variety to your graphic designs.

Springfield Mugshots is available both in the UPPERCASE and lowercase letters. The font also supports integers (0 to 9) and a number of special characters.
The special character list includes basic punctuation marks (such as a period, coma, exclamation mark, and colon), mathematical operators (such as the plus sign), and currency symbols (such as the dollar and euro signs). Others include the copyright sign, the asperand, ampersand, asterisk, the star sign, and the percentage symbol.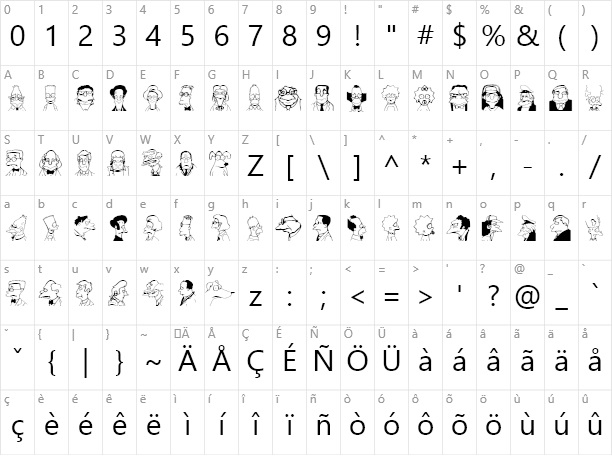 The one notable drawback to Springfield Mugshots is that the typeface is presently available only in the Regular weight and Normal style. The font's designer is yet to develop additional weight and style variations.
But considering the numerous design elements that Springfield Mugshots comes with, its apparent lack of optional weights and styles is by no means a deal-breaker.
Besides, you could always tweak the font further to your preferred texture and appearance. One way to do that is by using free online generators to create a font that looks quite similar to the original Springfield Mugshots.
About Springfield Mugshots Designer
Paul Reid, better known professionally as Tracer Tong (stylized as TracerTong), is an accomplished typeface designer based in Glasgow, Scotland.

TracerTong has treated the font market to scores of quirky typefaces, which include both freeware and shareware fonts. Most of his fonts are available on his official website. The typefaces are classified under various categories depending on what you're looking for.

Whether you're looking for a free, bundled, retro, or handwritten font, you can be sure to find it on TracerTong's website. What's more, you can contact Tong directly and discuss the possibility of having a font custom-designed for you.
Springfield Mugshots Applications
Like most handwritten typefaces, Springfield Mugshots can add a realistic appeal to graphic images. The font creates a personalized effect, making it suitable for using on a variety of cards.
You can use Springfield Mugshots as the main font for your wedding invitation cards, birthday party cards, family get-together cards, and even wellness cards. The recipient will truly appreciate the gesture and want to turn up for the occasion.

Springfield Mugshots' handwritten appearance also makes it an excellent recommendation for home and personal art. You might consider the font when engraving jewelry, as part of your embroidery, or in designing your casual wear.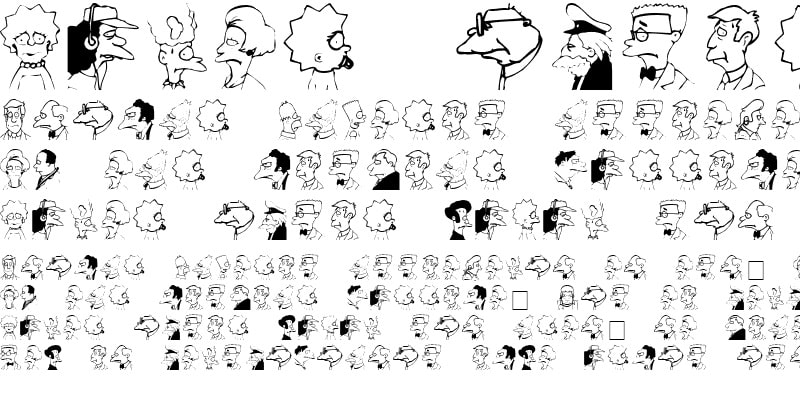 Due to its remarkable elegance, Springfield Mugshots will deliver both as a display and body text font. Try it on blog posts or social media content. Other potential applications of the Springfield Mugshots font include titling books, comic strips, newspapers and magazines, films and television, and video games.
Where to Download Springfield Mugshots
Common places to download the Springfield Mugshots font include Bold Fonts, Better Studio, and Fonts 4 Free. Others are CDN Fonts, Free Fonts Family, and Co Fonts.

The font comes in both OpenType Font (OTF) and TrueType Font (TTF) formats. This flexibility lets you predetermine how you'd like to download the font.

Many of the above-listed websites also implement a test-drive function. This is basically a feature that lets you have a sneak preview of how Springfield Mugshots would look on your graphic designs. Be sure to take advantage of this.
Is Springfield Mugshots Free?
Springfield Mugshots is licensed as free for personal use only. Remember to refer to the font's download terms before using it for commercial purposes. Contact the designer directly on his official website if you want to use it outside of your personal projects.