Last Updated on June 10, 2022
The winter season is typically associated with snow. It is formed when temperatures get low enough that tiny snowflakes form in the sky. When they compile together, they become heavy and fall. Temperate climates usually experience snow as early as the last weeks of November, and could last until February.
Snow and cool weather is one of the first signs that the holidays are approaching.  Many people look forward to it. You can curl up in a cozy blanket and read books all day. Others enjoy strolling through the snow-covered streets, with a hot drink in hand. Many begin decorating their homes for the upcoming parties and festivities.
Whatever your preferred activity is, snow doesn't last for very long. So make sure you enjoy it while it lasts – just like these magical snow fonts.
Cool Snow Fonts
1. Frostine Snow
Inspired by winter snow, this Christmas font by Attype features upper and lowercase letters, as well as snow effect you can layer to create an awesome 3D effect. Use to make apparel, branding, labels, children's book covers, and more!
2. Winterland Font
This cute, handwritten typeface by Khurasan comes in 2 charming styles (Regular and Slant). It will certainly add a touch of whimsy and child-like wonder to your projects.
3. Snowy Floral Color Font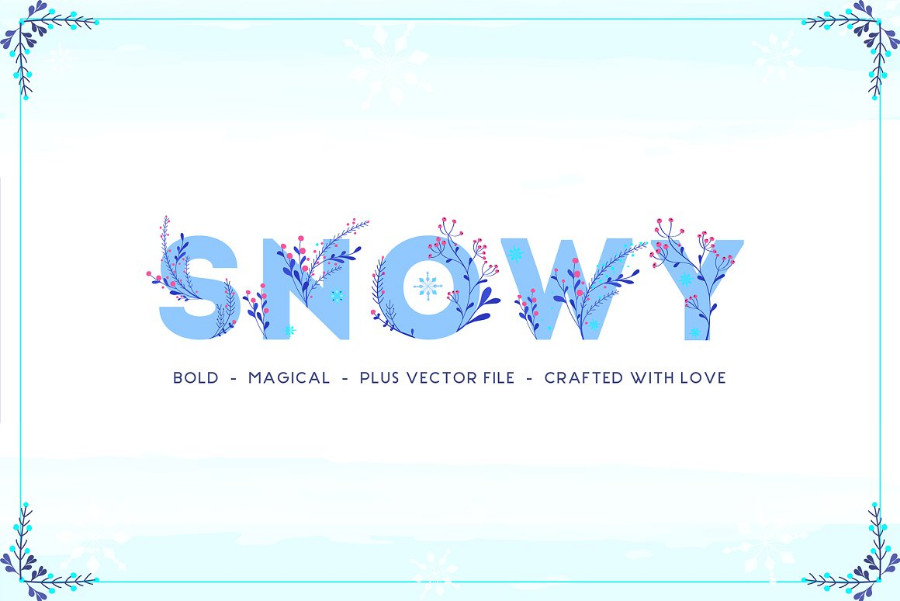 NEWFLIX.Bro brings to you this OpenType-SVG color font that will add a whole new dimension to your headlines, banners, logos, and postcards. Just make sure you have the latest version of Photoshop or Illustrator (Photoshop CC 2017/2018 or Illustrator CC 2018).
Download Snowy Floral Color Font
4. Ice Age
Have you ever wanted that Ice Age look on a campaign poster or any other type of advertising? The Ice Age color font is an SVG font that will give you exactly that look. No mammoths or sloths on this snowy font, but plenty of character and realistic style.
5. Snowes
Snows is a classic almost cartoon-like snow font that has a brush-like vibe to it, and thus functions as a wonderful Christmas font as well.
6. Under The Snow
Under The Snow is an interesting split-font that has a brush-like vibe to it as well. Works well if faded into a snowly landscape background.
7. Snow Color
Snow Color is a realistic 3D-like SVG font that can be used for when you really want to sell the idea of snowy poster / movie / book. It's an SVG font and quite realistic.
8. Alpen Snow Font
YandiDesigns gives you this multipurpose handwritten font that will suit any occasion – not just winter. Use it on postcards, banners, headlines, logos, signage, or posters, whether it's summer or fall.
9. SNOWLAND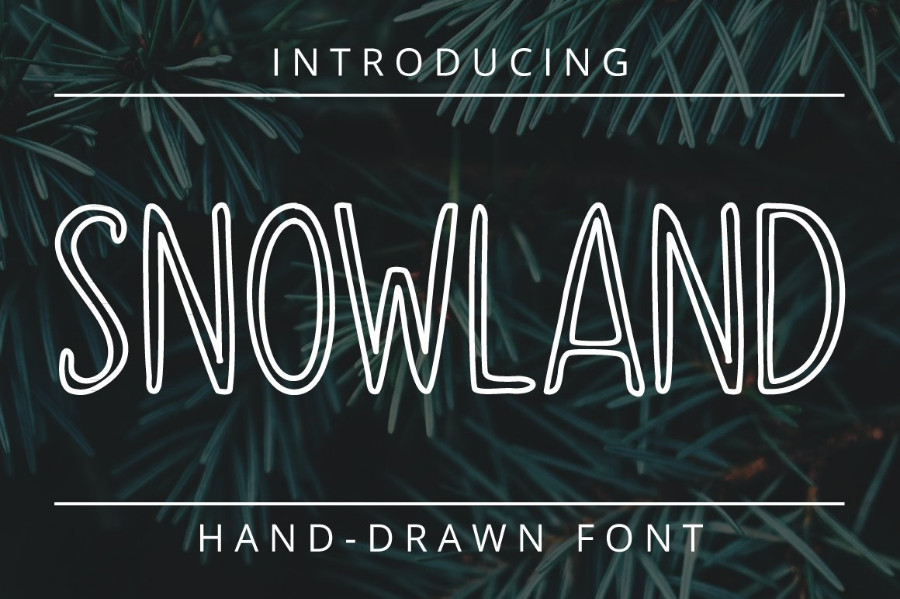 Cozy up to this fully hand-drawn TrueType winter font from Yashroom! It comes in 2 versions (Regular and with snow effect) so you can effortlessly put in a little holiday cheer into any and all of your works.
10. Snowbrush Script Font
Maria Fernandez proudly presents this lovely script made with brush pen, each letter boasting of a unique snowflake effect. The product comes with a separate set of Snowbrush Symbols font, which can be accessed through the Glyphs palette in programs like Illustrator or InDesign.
Download Snowbrush Script Font
11. Frostbite
This re-mastered font family from Comicraft Fonts includes 4 styles and an icy crunch you just can't resist. Add to your headers, labels, branding, or apparel to get you all geared up for winter.
12. SnowHut Typeface
Simple yet delightful, this handwritten styled font by Shaped Fonts can be used for any season. With over 338 glyphs and special characters, this is one playful typeface you don't want to be caught without!
13. Big Freeze & Big Frost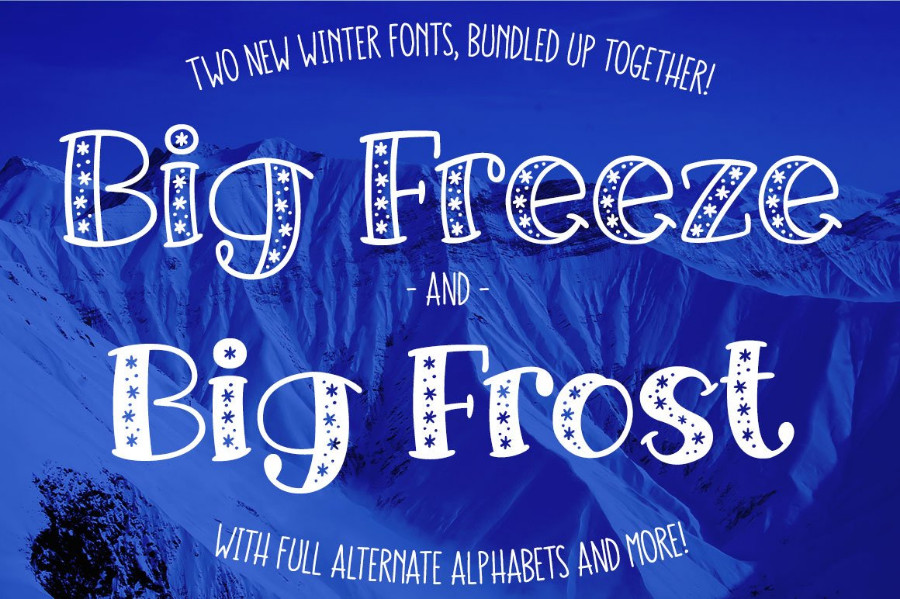 With two main styles – one hollowed out and the other solid and filled in – both feature snowflake designs that will brighten your holidays. The set by Missy Meyer also contains plain variants for each, plus 16 small catchwords, dingbats, and multi-language support.
Download Big Freeze & Big Frost
14. Snow Blue
This display font from PuriCreative is all about playfulness with cartoon-like look. But don't limit yourself to its wintry vibe – you can use it on branding or any project that requires a 'chilly' atmosphere.
15. Christmas Snow Hand Drawn Font
If you love doodle or the Scandinavian hygge style, then you will love this hand-made font from Happy Letters. It's perfect for social media, children's books, photo overlays, gift tags, greeting cards, and more.
Download Christmas Snow Hand Drawn Font
16. Magic Snow
Make your holidays more magical in this offering from Qilli. This cute Christmas typeface package includes Christmas elements to make your creations even more festive!
17. Blanket of Snow Font
This bold font by Denise Chandler is packed with personality. Add the overlay and instantly turn it into a wintry scene! Don't like snow? You can also use this typeface for kid-friendly Halloween projects.