Sant Joan, also known as Sant Joan Despi, is an elegant sans-serif display typeface designed in 2013 by Forma & Co.

The font was developed for the Christmas advertisement of the Sant Joan Desp Town Hall. It bears a striking similarity to another lesser-known typeface called Modulus Pro.
Sant Joan Font Features
Sant Joan stands out for the shape of its letter 'O,' which looks more like Hart. The font is also noted for its rounded corners.
Sant Joan was developed as an ALL-CAPS typeface, which makes it potentially unideal for designers looking for variety. However, the typeface makes up for that apparent limitation by letting you experiment with a slew of special characters.

There are up to 120 unique glyphs and 160 quirky characters. The character range includes letter-like symbols, currency symbols, integers, mathematical operators, and basic punctuations.
Sant Joan Font Applications
Sant Joan is a display typeface. That means you should probably consider using the font on headers, sub-headers, keywords, and taglines as opposed to body text.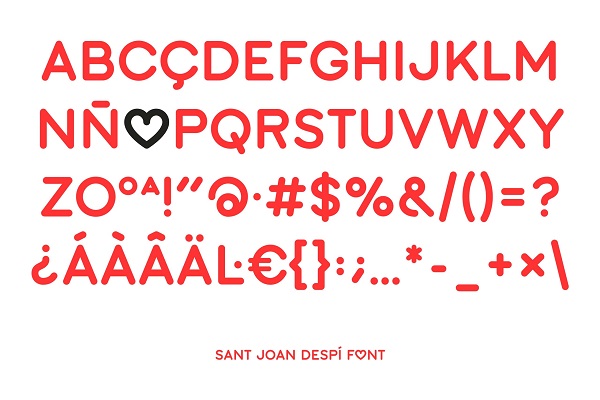 The good news is that there's a plethora of areas where you can deploy Sant Joan. Notable ones include when designing your company emblems, business cards, apparel, and homeware. The typeface would also suit movie and videogame titling, website and blog titling, book and magazine covers, posters and flyers, to mention but a few.
And despite being created primarily for display applications, there are certain scenarios when Sant Joan would look great on body text too. One such instance is when pairing it with a similar typeface, in which case you could use the other font for displays and Sant Joan for fine print. Examples of fonts that you can pair Sant Joan with include Bariol Bold and Wolf Sans SC Regular.

Last but not least, Sant Joan supports numerous languages. Examples include English, Italian, Afrikaans, and Zulu. The multilingual support makes the font compatible with numerous browsers and operating systems.
Sant Joan Font Family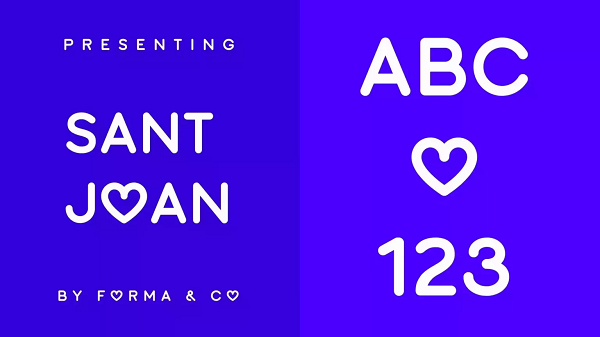 It's important to point out that Sant Joan is a distinct typeface. In other words, the font comes only in one style – Sant Joan Regular.

Sant Joan's designers originally created the font in the regular style. And nearly ten years down the line, there don't seem to be significant efforts to upgrade and expand the typeface into a large family.
Where to Download Sant Joan Font
Sant Joan enjoys a huge presence on a number of renowned online font repositories. Download Sant Joan from Fonts Vault, Fonts Lab, and Fonts Download. Other popular places include CDN Fonts and WFonts.

Sant Joan is available in both OpenType (OTF) and TrueType (TTF) file formats. There are also varying file sizes, depending on the selected download website.

Is Sant Joan Font Free? Sant Joan is a trademark of Forms & Co, which avails the font for free only for personal usage. Remember to obtain the full license details if planning to use this typeface for commercial designs.