There are colors whose popularity never seems to go away. Such pigments defy all seasons and time. And no matter how long or frequently they're used, they never lose their awe-inspiring qualities.
One such color is rose gold, a color whose name alone inspires deep reverence. You can associate it with the delicate rose flower or the precious gold metal. Either way, rose gold is a color you seriously want to consider for your next art and design projects.
Read below for a comprehensive guide to rose gold and what makes it truly special.
Rose Gold Definition
Rose gold is a darker and softer shade of pink which typically comes with a golden metallic undertone. It's considered one of the most exquisite shades of pink. It's hex code is #B76E79.
Rose gold is a fairly versatile color. It can pair well with most shades, particularly those across the rose (pink) and gold (yellow) spectrum.
Rose Gold Constituent Colors
Rose gold is a color in the pink family. Like regular pink undertones, the pigment is typically created by combining red with white.
It, therefore, goes that red and white are the main constituent colors in rose gold. The ratio of either pigment will depend on the specific shade of rose gold you wish to create.
Is Rose Gold a Primary Or Secondary Color?
Rose gold doesn't fall within the primary or secondary color group. It's rather a tertiary color. Tertiary colors are the result of mixing a primary color with a secondary or neutral color. In this case, it's the combination of the primary color red and the neutral color white.
Is Rose Gold a Warm or Cool Color?
Since rose gold is a shade of pink, a warm color, the pigment is equally warm. In fact, rose gold is one of the warmest metallic tones you can ever find. The color is far much warmer than silver and is often ranked alongside gold based on its warmth-imbuing effects.
As a warm color, rose gold can be mentally uplifting. The pigment can easily stir up powerful emotions like love, happiness, and empathy. Its warm attributes also makes it a great choice for different skin tones.
It's more interesting to note that rose gold is one of the few metallic tones that can elicit both warm and cool effects. Depending on its actual shade and where it's used, this color can inject a profound sense of tranquility into its surroundings.
Is Rose Gold On The Color Wheel?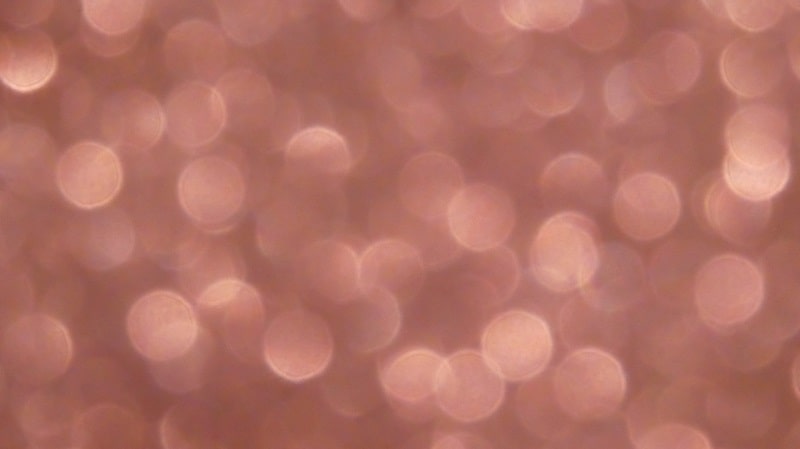 You'll not find rose gold on the traditional color wheel. That's because it's a shade of pink, which is itself a hue of the color red.
However, some modern color wheels may include rose red and other pink undertones. In this case, the color would be nestled between plain red and mauve.
Comparison between Rose Gold and Standard Rose Color
Due to the "rose" reference in 'rose gold,' it's intuitive to imagine that both colors look identical. But that's not quite the case. The most common color of the rose flower is a variant of red that sits midway between plain red and magenta on the RGB color wheel.
Besides, rose flowers may come in many other colors besides red. You can find these blossoms in pure white, plum purple, yellow, burgundy, and pink (where rose gold technically belongs). It's even possible to find green rose flowers. It all comes down to a specific plant species.
Comparison between Rose Gold and Pure Gold Color
Again, the "gold" name in 'rose gold' color may have some people confusing the color for gold. But while rose gold is pinkish in appearance, gold is typically reddish yellow.
However, note that reddish yellow is the color of pure gold. The metal can take on a variety of colors depending on whether it exists in alloys and the material it's coated with.
Origin of the "Rose Gold" Name
The "rose gold" name derives from a form of gold of the same name. Rose gold (the metal) is an alloy of gold and copper. The metal alloy is also known as pink gold or red gold.
True rose gold is 75% gold, 22% copper, and about 3% silver. Remember that pure gold should be reddish yellow.
Copper is what accounts for the pinkish tint in rose gold. The depth and saturation of the pink color in rose gold depends on the amount of copper in the alloy. More copper will create stronger and deeper pink saturations that almost appear reddish while less copper will create a lighter pinkish appearance.
History of the Rose Gold Color
Rose gold – the metal alloy that the rose gold color is named after – has been around for many years. The metal was at some point known as the 'Russian gold' due to its widespread use in the country.
The rose gold alloy has been a popular raw material in the manufacture of jewelry. A notable example of such jewelry is a Faberge egg that Tzar Nicholas II had designed for his wife Empress Alexandra as an Easter present in the early-20th century.
There's also the Cartier's Trinity ring, which is a symbol of love and friendship. The ring was worn by renowned French writer Jean Cocteau, whose association with rose gold is believed to have helped popularize the metal and its color.
Rose gold witnessed a slight decline in popularity before shooting once again into the limelight in 2015 after Apple released a new rose gold iPhone. The color is now commonplace in multiple industries, including automotive, interior design, web design, fashion, and even food packaging.
Rose Gold Color Meaning
The best way to decode the meaning of the rose gold color is to split the phrase into two parts and then explore the meaning of each component separately.
Meaning of Rose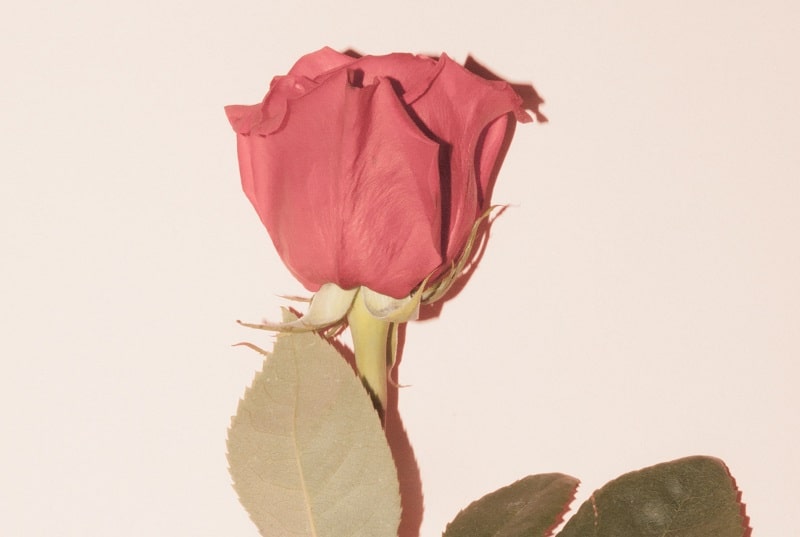 Rose is a timeless color of love and romance. Anything rose-themed, whether it's a stylish apparel gift or a warm greetings card, is bound to arouse some passionate emotions in the recipient.
The color's association with romance is the reason why rose flowers and other rose-colored gifts are especially popular during romantic occasions like Valentine's Day.
But more interesting is the fact that roses actually come in multiple shades and each undertone has its meaning in the language of love.
Deeper and hotter pink roses are a symbol of appreciation, gratitude, and recognition. Sending rose gold gifts to your partner is a way to express your heartfelt gratitude for their presence in your life and remind them that they still hold a special place in your heart. Such presents would deliver the same impact regardless of your relationship with the recipient.
On the other hand, light pink roses resonate more with grace, gentleness, and happiness. This makes rose gold the go-to theme color for all-family get-togethers. The color can help you convey a deep sense of appreciation to the heavens for endowing you with such a wonderful family while also stimulating 'feel-good' emotions like joy and optimism.
There are also peach-colored roses that symbolize platonic love and admiration. Although the actual rose gold color isn't quite similar to peach, the psychological meaning associated with rose can make the color a great choice for creating designs that border on platonic relationships.
Outside of its numerous shades, rose may generally symbolize health and vitality. This has much to do with the fact that the rose flower abounds in healthy nutrients. So, rose gold would be a welcome inclusion when designing wellness products.
The color's alluring charm will draw many to your brand while its rose undertones will communicate your products' underlying benefits.
Meaning of Gold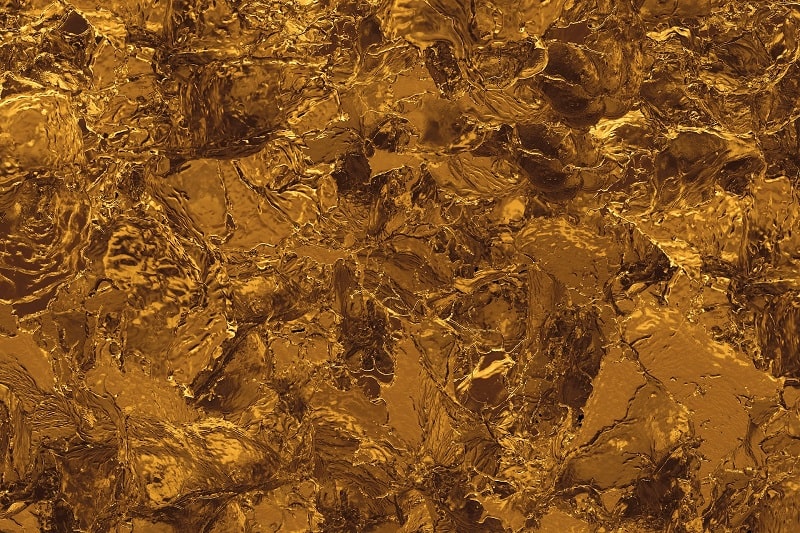 Gold is widely considered the most precious metal on earth (although not necessarily the most expensive as it's often surpassed by rhodium, palladium, and iridium in that area).
As such, the rose gold color is synonymous with elegance. This color can transform the aesthetic value of your designs and make them the center of attraction despite how sophisticated the general surroundings are.
Gold also stands for wealth and status. You'll likely find the rose gold color in precious jewelry, interior décors of fancy hotels, or splashy events.
Gold also stands for luxury. The metal where the color takes its name from has been considered a mark of luxury for millennia. Its relative scarcity makes the rose gold color a hot commodity among artists who wish to infuse a sense of prestige into their designs.
The rose gold color may symbolize success and achievements. This is another quality that the color derives from gold, a metal associated with the wealthy in society.
Since gold is widely regarded as the most precious metal, the rose gold color can add an extra layer of significance to your designs. Some artists may consider the pigment a bit overbearing especially when used as the primary background color.
But if matched up with the right pair, rose gold can help you render artistic masterpieces without coming off as too dominant.
Other Meanings of Rose Gold
Rose gold stands for generosity. While orange tends to be the most popular color for thanksgiving events, it doesn't hurt to get a little creative with rose gold.
Rose gold could also convey a sense of compassion. That's all the more reason to consider the color when sending out best wishes cards, especially to the sick or bereaved. It helps communicate your deep sense of compassion for the recipient.
Some people associate rose gold with spiritualism. As a spiritual color, rose gold is incredibly comforting. It can imbue in you the emotional strength required to overcome hardships or at least face them with long-suffering.
Rose gold may also help combat the feelings of inferiority. Wearing rose gold outfits is a secret way to boost your self-esteem. The color will instill a sense of confidence and help you face your fears or detractors head on.
Although rose gold is a shade of pink – the archetypical color of feminism – rose gold is more gender-fluid. It's one of the few pink hues that cut across gender barriers. The color's gender-neutrality also explains its association with harmony. Besides its compatibility with numerous pigments, rose gold can also diminish the effects of clashing colors.
It's therefore, an excellent choice for use in multiple triadic color schemes.
Final Word
Rose gold is a delightful color that derives its awe-inspiring qualities from both the rose flower and gold metal. There's no reason you wouldn't want to consider this cute shade of pink for your upcoming projects.