What is a Public Domain Image?
Simply put, public domain images are images that are freely available for use on the internet. Therefore, they are void of any copyright and can be used as needed without fear of infringement on anyone's work.
They are completely free and are of just as high a quality as copyrighted pictures, so you never have to feel like you are getting lesser quality pictures just because they are in the public domain.
Many websites online that offer images like this, some of the most popular of these are listed below.
Key things to Note before you Source your Images
If you work in the public space or as a designer or editor, it is vital that you are on the ball to check the licensing and terms and conditions of every picture that you use. Using one copyrighted image without the owner's consent could lead to issues for you and your brand, which is a headache that nobody wants or needs.
Doing proper research may take a little time, but it is worth it; there are many stunning pictures online that are well worth using and will not present any hassle to you. Here are a few top tips that should be remembered when you are looking to source images online:
Can you use the image for both print and web format?
Are the images in the public domain by law in the countries that both you and the creator are citizens of?
Have you checked that the image you have just sourced is in the public domain?
Does the image that you ae looking to use have any trademarks or property that belongs to other people? If so, have you obtained a release for the placement of that trademark or piece of work?
Best Public Domain Websites
If you like the classics, then this is the site for you. Old Book Illustrations does exactly what it says on the tin and allows users to take pictures from old books that are no longer copyrighted and use them in their own work.
Many of the illustrations are beautifully detailed and modifiable to use in both personal and commercial projects. Their large collection is perfect for those that are into vintage style or design.
Stock images are no fun. Thankfully for us, a group of photographers realized that and in the last few years, have created a fantastic website of high-resolution images (over 250,000+) that anyone can copy and use.
The website's layout is very crisp, and the pictures are broken up into genres and then condensed into specific genres, making them easier to find. You can download the images quickly using their one-touch download feature, and you get the dimensions for each photo downloaded which makes it even easier to pick the ones you want.
It doesn't get much bigger than this. With 60 million+ media files, it can be quite daunting trying to navigate the Wikimedia library, but on the upside, there are a host of search filters that will make your life a lot easier.
Almost all of the content of the Commons is free to use. Some of it comes with restrictions that are explained on the same page as the image. The most common is that the original creator must be attributed, so if you want to use some of the pictures, you'll have to be ready to credit the creators.
This image site is a little more out of left field; however, food images are becoming more and more popular, particularly with restaurants. If you are a restaurant that is looking to create a specific design or work on a particular brand, then look no further than Foodies Food and their selection of thousands of food-related pictures.
Their photos feature everything from baristas and back of the house coking to carefully arranged meals and produce. All images are available for commercial use.
Pexels is a personal favorite sire of mine because it offers a wide range of picture choices available for use on blogs, sites, apps, or projects. I feel that the leaderboard page feature works well because it shows the most popular pictures of the past month on the site.
Getting an insight into what style of picture is most relevant is a top way of keeping your brand or work relevant in itself. Many image sizes are available on the site, which is great, and access is free. The only caveat is the fact that searching for images can be difficult because the search algorithm relies on specific keywords.
There is a lot to like about Kaboompics. It is one of the easier sites to use, allowing users to search via color, keyword, or theme and category. Secondly, they release and update new pictures every day, so the catalogue is ever-expanding. Also, you can download each picture in any size or format that you wish, making each picture accessible to use if you so wish.
Any pictures you choose to download are also saved into a personal gallery, so you know which ones you have used. One small point to warn you about is that each picture, when opened, will open up a new tab, so it can get a little clustered if you are not organized, but overall, it is a great program to use.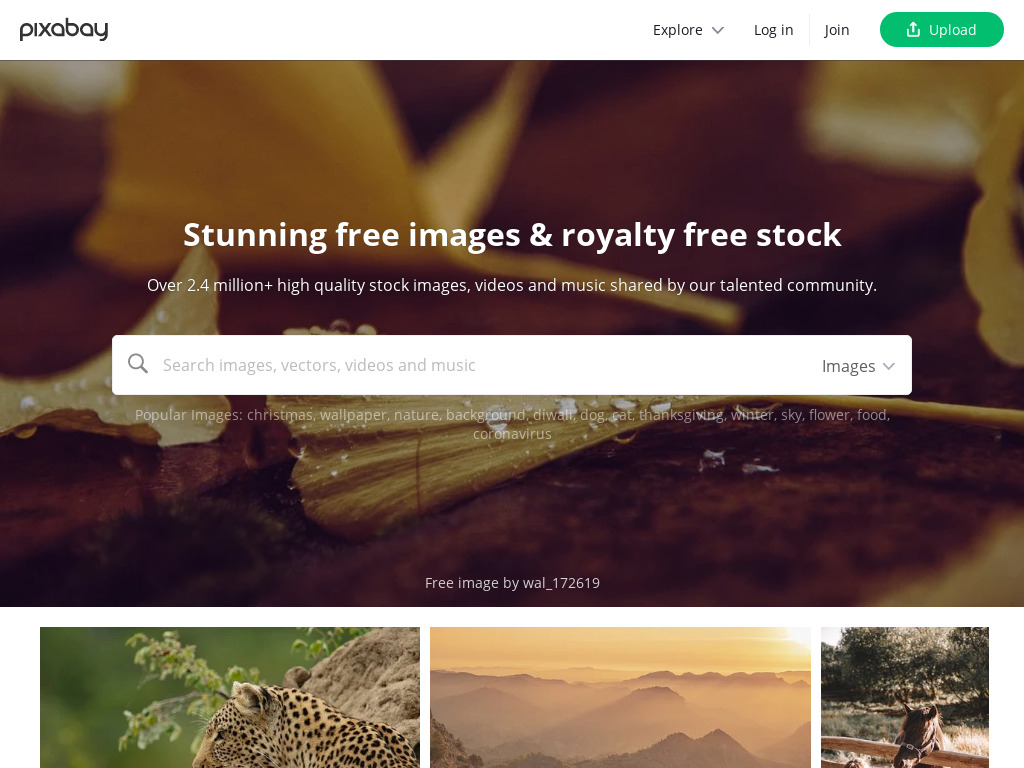 Pixabay is one of the kingpins when it comes to the offering of royalty-free images. They are home to over 1 million royalty and copyright free pictures, and this number grows every day. It is also home to custom illustrations and vector graphics.
Perhaps the best thing about Pixabay, is that it can be used to make money for the creators. I mean by this, users can donate money to the creators of the pictures, illustrations, or videos if they so choose. This drives better quality work in the hope that creators will be able to make more money.
Similarly to Pixabay and how it operates, the Public Domain Pictures platform is a great way for creators to utilize their talents to make money through donations. It is a site that contains thousands of stunning and practical images that are perfect for use in a variety of scenarios.
Although all the photos are in the public domain, you'll occasionally see a note about a special use condition. For example, if a person or paid model appears in the photo, the condition may be that you can't use it in any way that depicts that person in a bad light or in a manner that the person might find offensive.
Similarly, be aware of the fact that there is a premium download option that you will need to avail of if you want a larger version of a picture.
One million royalty-free pictures all in one place; what more could you want? There is a range of galleries that are easily accessed on-site, and you can filter them in such a way that finding the exact picture you need is such a breeze. Remember that no pictures have releases for art, property, or trademarks that are in the shots, so be careful when looking into using pictures like that.
Another great choice for all you history buffs. The British Library holds an extensive list of images from the 17th, 18th and 19th centuries in Britain, and they are great for anyone looking for their work to take a more vintage direction.
The site has many albums and galleries; click over to the albums for curated images of everything from typography and decorative paper to instruments and animals.
FAQs
What is a public domain image?
A public domain image is a picture that is not protected under any intellectual property laws despite being original work. Perhaps the copyrights have expired, or the picture itself was never copyrighted.
What is the largest library of public domain images available to use?
Since its launch in early 2020, the Smithsonian Open Access Library has been the worlds largest library of public domain images and is utilized by millions daily.
What does it mean to be in the public domain?
If a work itself is part of the public domain, it means that it is available to anyone for any purpose. A public domain image may therefore be used as the user sees fit. This includes not only reproductions but also adaptations, modifications, and distributions of the original image.
Do you need a license to use a public domain image?
No, you do not need a license to use an image in the public domain; however, you will need a license to use an image in the private domain because those images will likely have been copyrighted.
Is it safe for me to use images from Pixabay anywhere?
Yes, all contents are released under the Pixabay License, making them safe to use without asking for permission or giving credit to the artist – even for commercial purposes.