Mankind has always been looking for means to get jobs done. While nature blesses us with the materials we need, it doesn't stop us from thinking of bigger, better ways to make our lives easier.
Our natural curiosity, coupled with our ability to make tools, pointed us to another direction in the name of progress. We can have all the wood, stone, bone, and metal from nature. But even those won't be enough to satisfy our craving for something new and more effective.
This is when we turned to science – and plastic was born.
When was plastic invented?
Plastic was a word that used to mean 'pliable and easily shaped', and was adopted for use as an umbrella term for polymers. Humans learned to make synthetic polymers out of many materials for a century and a half.
We can make plastics out of cellulose and other plant-based materials, but our go-to materials come from carbon atoms provided by petroleum and other fossil fuels. The product is a strong, lightweight, and flexible material. These are what make synthetic polymers so 'plastic'.
The first synthetic polymer was made by John Wesley Hyatt in 1869 as an attempt to create an ivory substitute. He discovered that this 'plastic' could be crafted to imitate substances like tortoise shell, horn, and linen – apart from ivory.
The first fully-synthetic plastic was invented by Leo Baekeland as a shellac substitute. It was named Bakelite, marketed as 'the material of a thousand uses'. The plastics industry saw great expansion during World War II, when the need to preserve natural resources was a priority. This saw expansive use of synthetic alternatives.
Wallace Carothers' Nylon was used for parachutes, ropes, body armor, helmet liners, and more. Plexiglas replaced glass for aircraft windows. The adaptability of plastics saw further use even after the war ended. It even became a symbol of an abundant future because it can be shaped to pretty much anything people wanted it to be.
Transparent Plastic Textures and Mock-Ups
Plastic has come a long way from being just a substitute for natural materials.
Today, it's used in every industry – from medicine, manufacturing, cosmetics, to construction, education, as well as science. It can be very difficult to imagine what our world would be like without this synthetic material. Even digital designers and creatives need them!
Just take a look at these practical plastic textures and mockups as proof.
1. Transparent Plastic Wrap Texture Mockup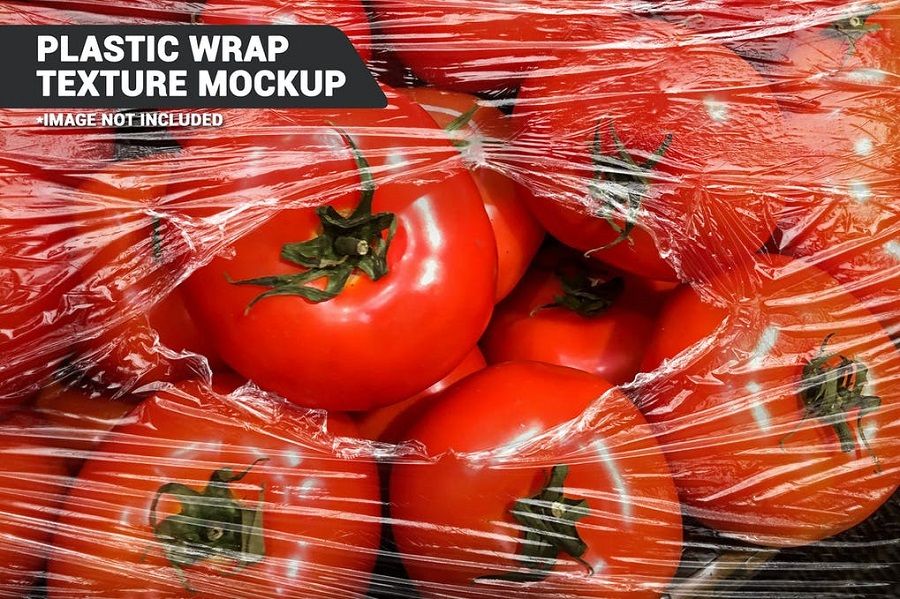 StreetD gives you this texture set that includes 9 PSD files and styles so you can safely wrap those digital goods in stretched or torn cling film.
Download Transparent Plastic Wrap Texture Mockup
2. Colorful Foil Textures
These colorful high-resolution colorful foil textures by M-e-f can be used on just about anything – as a photo overlay, background for print design, or as mask for your website – the sky's the limit, really.
Download Colorful Foil Textures
3. Plastic Wrap Overlay Texture
What could be more transparent than plastic wrap? Get 12 no-nonsense overlay textures from Creativeartx today.
Download Plastic Wrap Overlay Texture
4. 30 Plastic Texture Overlays
This collection contains 30 different plastic overlays as JPEG and PNG files. Drop as an overlay to your image or just use the transparent PNG file to save yourself some time.
Download 30 Plastic Texture Overlays
5. 12 Plastic Wrapped Textures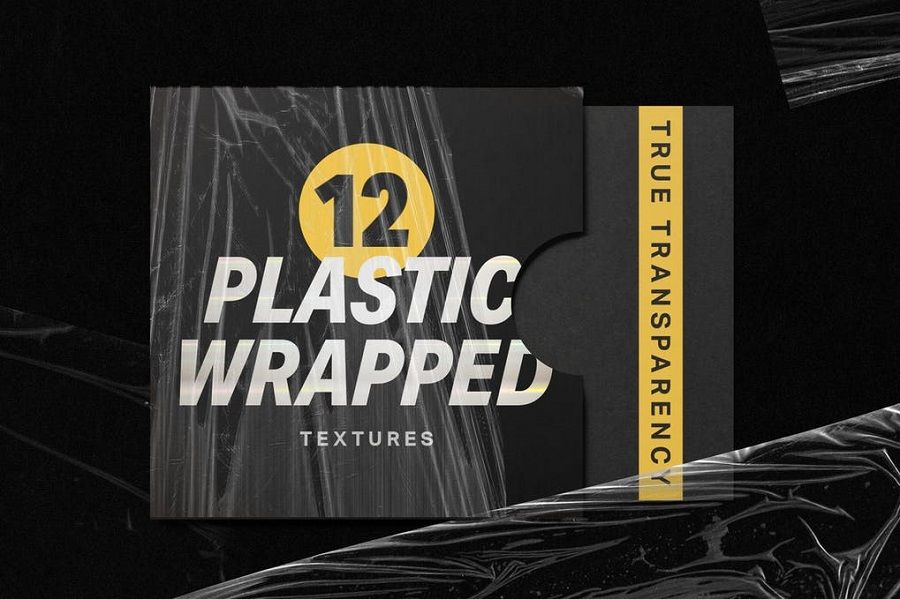 Wrap anything in plastic using these high-res (6000×4000 px) textures from Sparklestock. Featuring True Transparency so you can put them against any color without blending modes, you'll be done with that project in seconds!
Download 12 Plastic Wrapped Textures
6. 30 PSD Plastic Mockup Templates
Marie T proudly presents these 30 photo-based textures that look natural and realistic against any text, photo, or logo. They're perfect for making social media posts, for your online shop, or portfolio.
Download 30 PSD Plastic Mockup Templates
7. Plastic Bundle Branding Wrap Texture
This huge bundle from PrintPixel contains 285 professional PNG textures such as transparent plastic bags, wrappers, cellophane, and vacuum sealing. You're sure to never run out of things to wrap!
Download Plastic Bundle Branding Wrap Texture
8. Plastic Textures
Looking for plastic envelope or bubble wrap textures? This pack by Indieground Design Inc. includes more than 80 textures that simulate common plastic items like bubble wrap, plastic bags, and cling.
9. 4K Plastic Wrap Textures Volume 2
Make those album covers or music posters look pristine using these (23) custom-made textures by Nickjayk Design. Boasting of stunning 4k resolution, you won't find quality like this elsewhere.
Download 4K Plastic Wrap Textures Volume 2
10. Isolated Empty Plastic Bags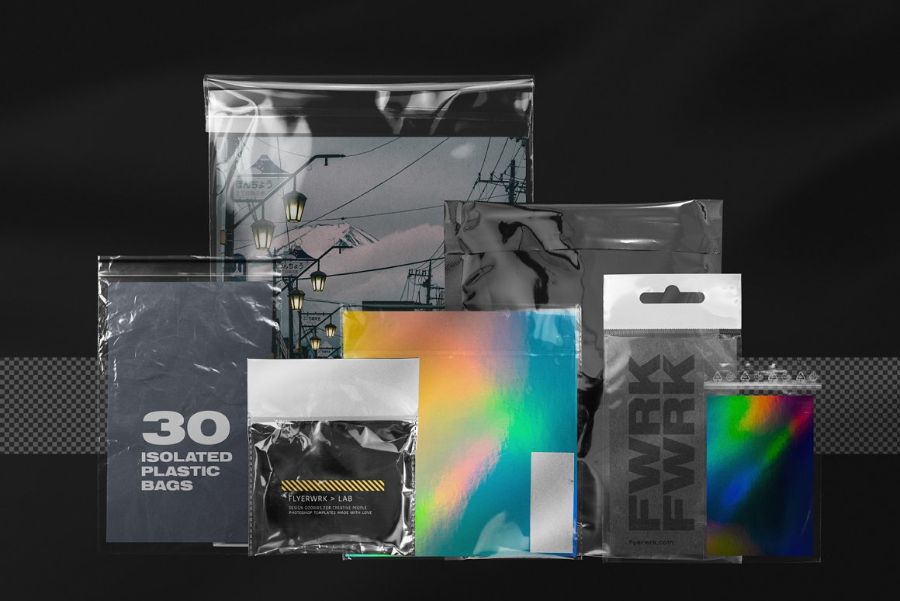 Create an impressive online shop with this texture collection by FLYERWRK. You will get 30x transparent (PNG) and opaque (JPEG) files, plus 1 Photoshop mock-up with 4 premade scenes and 7 shadow overlays.
Download Isolated Empty Plastic Bags
11. High Res Overlay Texture Pack
When building your toolkit, you should grab these high-res overlay textures. With 33 files in 3000×3000 resolution, there come in 3 styles (dirt, plastic wrap, edges) that will produce varying looks depending on how they're used.
Download High Res Overlay Texture Pack
12. Broken Plastics Texture
These textures by Nicholas Asmita are anything but smooth – they're grungy and stretched and all over the place. Still, there's nothing better to use to get that vintage, edgy look. This pack includes 15 JPG and transparent PNG files, with bonus (3) dust grain textures and (3) premade PSD smart objects.
Download Broken Plastics Texture
13. 30 Plastic Shrink Wrap Textures
These smooth plastic shrink wrap textures by Jacoboyles are scrunched up at the corners for that authentic look and feel, regardless of what you're wrapping it against.
Download 30 Plastic Shrink Wrap Textures
14. ROSCO Transparent Plastic Sleeve
Showcase your products through a sleek, transparent plastic sleeve from The Goods Club. This pack contains (3) transparent plastic sleeve textures and (1) PSD mockup template.
Download ROSCO Transparent Plastic Sleeve
15. Cello Plastic Texture Collection
Want to show customers that their goods are going to be properly wrapped? Use this massive bundle from Studio Yorktown. This one-stop collection has over 70 high-resolution PNG files, plus 3 Photoshop mockups of: (1) album artwork sleeve, (1) floppy disk, and (1) card bag header.
Download Cello Plastic Texture Collection
16. Plastic Wrap & Torn Paper Bundle
This is perhaps the most comprehensive plastic texture pack you will ever own! This amazing set contains JPG and PNG plastic textures, as well as duct tape pieces, stickers, and logos. They're perfect for making contemporary projects, or to use in your online shop.
Download Plastic Wrap & Torn Paper Bundle
17. High Res Plastic Textures
Made completely from scratch, this affordable plastic textures pack from dbdslondon is as easy as 1-2-3. Simply pick 'Screen' blend mode for transparency, make adjustments, and save.
Download High Res Plastic Textures
18. 100 Plastic Wrap Textures
Use the power of plastic to show off your artistic side or to flaunt your online store. This collection by FLYERWRK includes high-res, detailed and isolated PNG files for your convenience. There are also: (1) hanging poster and (1) vinyl record mockups, with 6 bonus design goodies to complete your designer toolkit.
Download 100 Plastic Wrap Textures