Last Updated on April 6, 2022
There's a saying that goes: 'bad typography is everywhere; good typography is invisible'.
Ever walked past a sign and you just had to read it again because you thought you didn't understand it the first time? That might be bad typography in practice. Typography is both an art and technique. More than making letters look good, it also ensures that people can understand your message right away.
Unfortunately, typography is one of the most underestimated elements in design.
Uses of Text Effects
Typography has existed for centuries – way before its introduction in MS Word or Google Fonts. Back then, there were artists and calligraphers who specialized in making sure letters were legible and beautiful.
Today, the process is easier thanks to online repositories and apps like Photoshop. But many typographers still practice drawing their fonts before uploading them on the Web. This gives their works an authentic, handcrafted feel.
One of the easiest ways to change the look and mood of a design project is to add different text effects.
You can see good examples from movie posters, book covers, and in game titles. For instance: one of the most iconic movie posters is from the 1975 film, Jaws. With red, bold letters and an open shark's mouth, it'll scare you before you even see it on the big screen.
Another great example is the 2009 game title, Minecraft. Its custom, bitmap-inspired font is recognized anywhere – even by non-gamers. The 'cracked' appearance (plus the little Minecon character) will give you an idea of what to expect, prior to playing the game.
Best Photoshop Text Effects
Whether you're designing a movie poster or a magazine editorial, don't underestimate the effect your chosen typography will have on your audiences. No project is too small. If you're just starting out in building your portfolio, then practice by making small designs and then moving up.
Make your typography come alive using these amazing text effects!
1. Vintage Retro Text Effects
If you love old movies or old-school vibes, then you will also love these 11 fully layered .PSDs by Creative Artx. They're available in 2000×1500 pixels and 300dpi for crisp, clear effects – even in black-and-white.
Download Vintage Retro Text Effects
2. CyberPunk Text Effect
Make your logos, game titles, album covers, and posters come alive in this glitchy, cyberpunk text effect from Supreme Tones. Ideal for sci-fi, modern, futuristic, sports, and game themes.
Download CyberPunk Text Effect
3. Space Text Effect
Is your mind playing tricks? No, it's just this cool letter effect by Sagesmask. With smart object layer for easy editing, you can simply change the font, color, or background image – and you're done.
4. Crashed Text Effect
Inspired by the 'Thing' from Fantastic Four, this fractured effect by Pixel Buddha Graphic knows no limits. So just use your imagination.
5. Sliced Letters Text Effect
Dynamic, powerful, and imposing, this smart object will come in handy for making movie posters, book covers, promotional materials, gaming titles, and more.
Download Sliced Letters Text Effect
6. 3D Cartoon Text Effects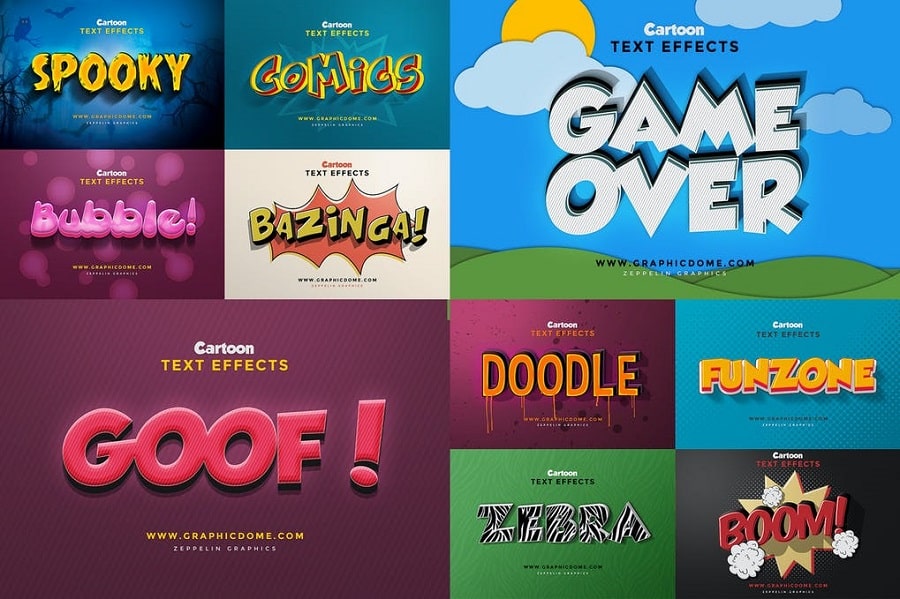 Zeppelin Graphics brings you 10 PSD files that are fun, bubbly, and full of life! Recommended for Photoshop CS4+ and CC (does not work with Photoshop Elements).
Download 3D Cartoon Text Effects
7. Feminine Colorful Text Effects
Now you can create wedding invitations, cute stationeries, and fashion blog headers with ease thanks to this pack with well-organized layers in 2000×1500 px and 300dpi RGB.
Download Feminine Colorful Text Effects
8. Holochrome Text Effects
Featuring 10 different styles that are easy to use and edit, Sko4 gives you this collection of shiny holographic effects for that genuine retro vibe.
Download Holochrome Text Effects
9. Anaglyphic Stereo Text Effect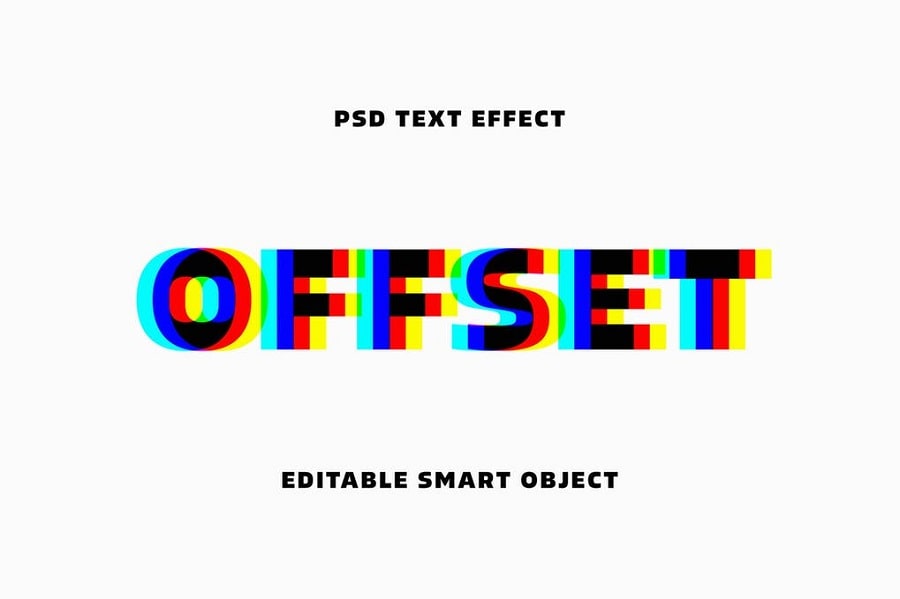 Remember that crazy glitch that sometimes happens in old CRT televisions? Now you can re-create the same effect effortlessly using this high-quality PSD file that comes in 3 color options.
Download Anaglyphic Stereo Text Effect
10. Urban Text Effects
This pack contains 8 PSD Photoshop templates, 8 JPG examples, and a PDF help guide so you can make edgy, unique modern designs in a flash.
11. Papercut Text Effect
These volumetric curved layers are so realistic, you'll want to poke your fingers through just to see if they're actually there!
12. Doppler Distortion Text Effect
You don't need to be a science major to understand the Doppler Effect. Thanks to Oxana-Milka, all you have to do is to apply this distorted lettering effect to your texts and watch its artistic yet mind-boggling results!
Download Doppler Distortion Text Effect
13. Wood Text Effects
Add some organic feel to your designs when you use these fully editable PSD files from Evatheme Market. Available in 8 styles.
14. 90s Text Effects
Bring back a bit of the good ol' times using these fun and colorful PSD templates that works well with any text, font, or shape you want to combine them with. Comes with instructions so you can make the most of them.
15. Glitch Text or Logo Effects
No need to jump through hoops to get the perfect glitch or error effect. Just use this pack that includes 9 PSD templates plus 1 PDF help file for realistic, out-of-this-world distortions.
Download Glitch Text or Logo Effects
16. Vintage Text Effects Vol.6
Re-create simpler times through your logos, posters, headlines, and displays when you opt for this well-organized vintage pack. Only works with Photoshop CS 6+.
Download Vintage Text Effects Vol.6
17. Vintage Text Effects Vol.1
Quickly and effortlessly make typography inspired from the 20s, 30s, 40s, or 50s using this set with 10 PSD files in 2000×1500 px.
Download Vintage Text Effects Vol.1
18. Cyberpunk 80s Text Effects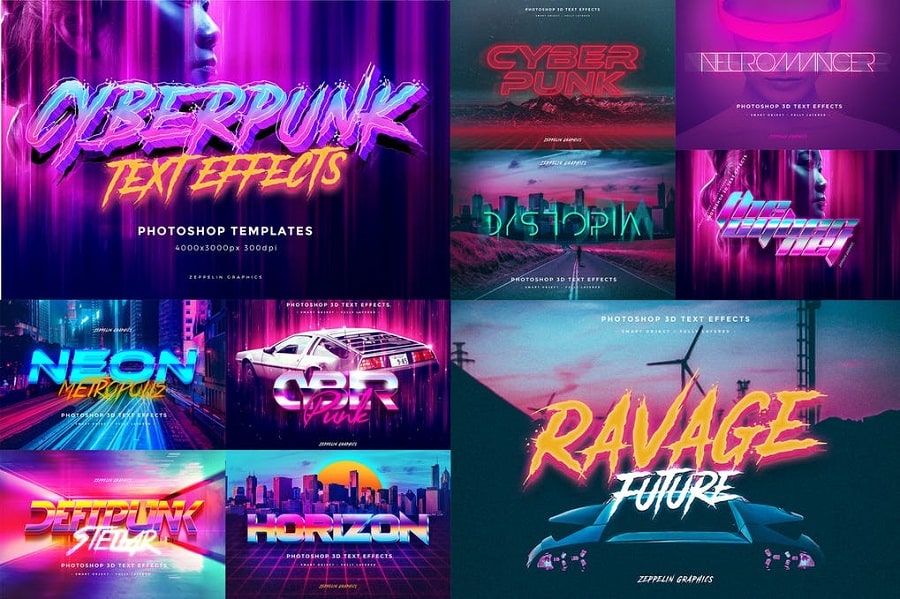 Re-create your own sci-fi or futuristic dystopian settings with these 10 PSD files that work well with smart objects. Recommended for movie posters, album covers, book titles, promotional purposes, and more.
Download Cyberpunk 80s Text Effects
19. 80s Style Text Effects
Go back to the decade of Generation X in these text effects featuring bright, glowing waves and reflective chrome finishes. You'll get 8 COOL compositions and 8 PSD mock-ups.
Download 80s Style Text Effects
20. 70s Retro Text Effects
Keep swingin' and dancin' in these funky 70s-inspired letter effects that will surely bring back the disco fever!