Last Updated on August 14, 2023
How certain fonts can stand the test of time, no one knows exactly. Often, it's down to attention to detail and amazing design. A smaller percentage however, is because it's written in the stars. Much like the story of how the Perpetua font came to be.
Perpetua Font Beginnings
This traditional serif was designed by Eric Gill for the British Monotype Corporation at the request of Stanley Morison. Work on the typeface began in 1925, and it was released from 1929 to 1932.
One might be surprised to find that Morison had always intended to ask sculptor and stonemason Gill to make the typeface instead of a calligrapher, because he believes a sculptor is more suited for the job. To quote: "…The fine serif is not in origin calligraphic but epigraphic; not written but sculptured."
The point of the font was not to be a revival of anything, but rather, something original, with 'roman letters most appropriate for book reading'. What was born was Perpetua, named after the Christian martyr Vibia Perpetua. The accompanying italics were named 'Felicity' for her companion at that time.
Perpetua Font Characteristics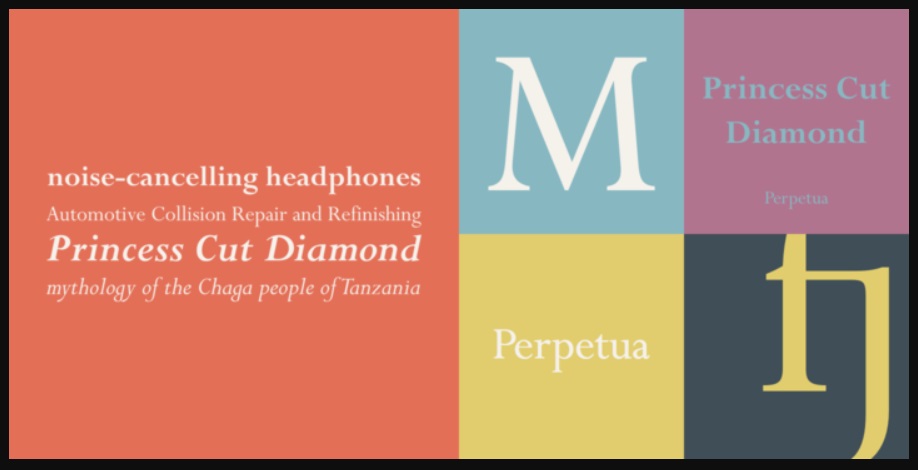 Identified as a transitional serif (also called Baroque, for the differences between thick and thin lines) font with a delicate structure, Perpetua became popular as the font of choice for high-quality printing projects. Crisp but economical, it's long been used in the UK for books as well as wood blocks.
Nowadays, you can see it on anything from websites to posters, brochures and menus. It's still as useful today as it was when it became commercially available sometime in 1932.
Aptly named, this font will live forever not only in the hearts of designers and typographers, but will go down in history as well. To get the individual styles or family packages, go to MyFonts. For the free version, check out Fonts Free.