Last Updated on October 18, 2022
Jimmy Donaldson, more popularly known by his online alias MrBeast, is an American internet personality most famous for his presence on YouTube.
Donaldson has garnered tremendous recognition for posting stunt videos on his YouTube channels. He's actually considered one of the pioneers of a YouTube genre that focuses on expensive stunts.

MrBeast kicked off his YouTube career in early 2012. His channel went viral in 2017 after he posted a video in which he counted to 100,000. His popularity on the platform only skyrocketed thereafter.

As of February 2022, MrBeast's main YouTube channel, titled MrBeast, has racked up over 90 million subscribers. The YouTube stuntman has several other channels, including MrBeast Gaming, Beast Philanthropy, MrBeast Shorts, Beast Reacts, to mention but a few.
Besides YouTubing, MrBeast maintains a presence across other major social networking platforms. The internet star is also an entrepreneur most noted for founding MrBeast Burger and Feastables.
He's also credited for co-creating Team Trees and Team Seas. The two initiatives have raised over $23 million for the Arbor Day Foundation and over $30 million for The Ocean Cleanup, respectively.
MrBeast Font
MrBeast has a number of YouTube channels to his name. That's part of the reason behind his ever-rising popularity on the platform. But despite his numerous YouTube channels, the sensational vlogger seems to favor one particular font known as Obelix Pro.

Obelix Pro is the most popular font appearing on MrBeast's YouTube videos. The fancy, high-quality font can be seen on MrBeast's thumbnails and video subtitles.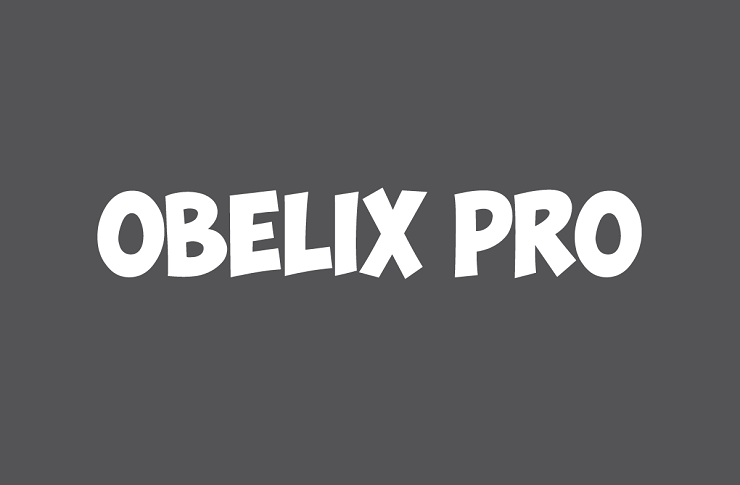 Obelix Pro was designed by Valentin Antonov. It's a premium font that also includes a freeware package. The free version provides both UPPERCASE and lowercase letters, plus several other characters. However, you may need to upgrade to the paid version to unlock Obelix Pro's premium features.

Obelix Pro is excellent for use on design projects where the main objective is to create a fancy and comic appearance. Examples include as the cover font for comic strips, comedy movies, and prank videos.
But with its 104 glyphs and 181 characters, this font will suit just about any design project. Whether you're looking for the primary font for your company logo or e-commerce website, Obelix Pro will definitely come in handy.
Where to Download Obelix Pro
There are tons of websites to download the Obelix Pro font. Notable mentions include Graphic Pie, Font Meme, and DaFont Free. Obelix Pro is also available for download from the Let Root and Fonts 4 Free platforms.
For the font used by MrBeast on his logo, you can check out Third Rail from FFonts. It's not the exact typeface, but it comes pretty close.

You can access Obelix Pro in both the OpenType and TrueType file formats. All you need to do is select your desired file type, choose a suitable file size, and then hit on the "Download" button.

Obelix Pro is only available for personal use. Fortunately, you can contact the designer for a full commercial license.