There's very little that you can't do online nowadays. Whether it's ordering food, shopping, getting a diagnosis, learning, or even business dealings, almost everything can be accomplished with a few simple clicks. It's no doubt convenient; but it can sometimes make people feel alone and isolated.
Here's where traditional items, like the humble business card, come in handy.
Why Choose a Simple Business Card Design
There's something warm and familiar about business cards.
They're tiny, so they fit just about any pocket or purse. They can say a lot about you without plenty of introduction. They're memorable enough that, just when you've nearly forgotten about that chance encounter during your high school reunion, lo and behold, you find their business card in between the slots of your wallet. Plus, they work for just about any profession, in pretty much any industry.
But the next question is: should you choose a simple design or go for quirky and fun?
You might think that those tiny cheese graters and origami paper forms will ensure you won't be forgotten by this potential business partner. But did you know 1 in 3 people in fact, prefer to keep things simple? And why not – less fuss means more room for essentials, such as your contact details and company logo. Think of it as a blank canvas for which your creativity can thrive in the most unexpected of ways.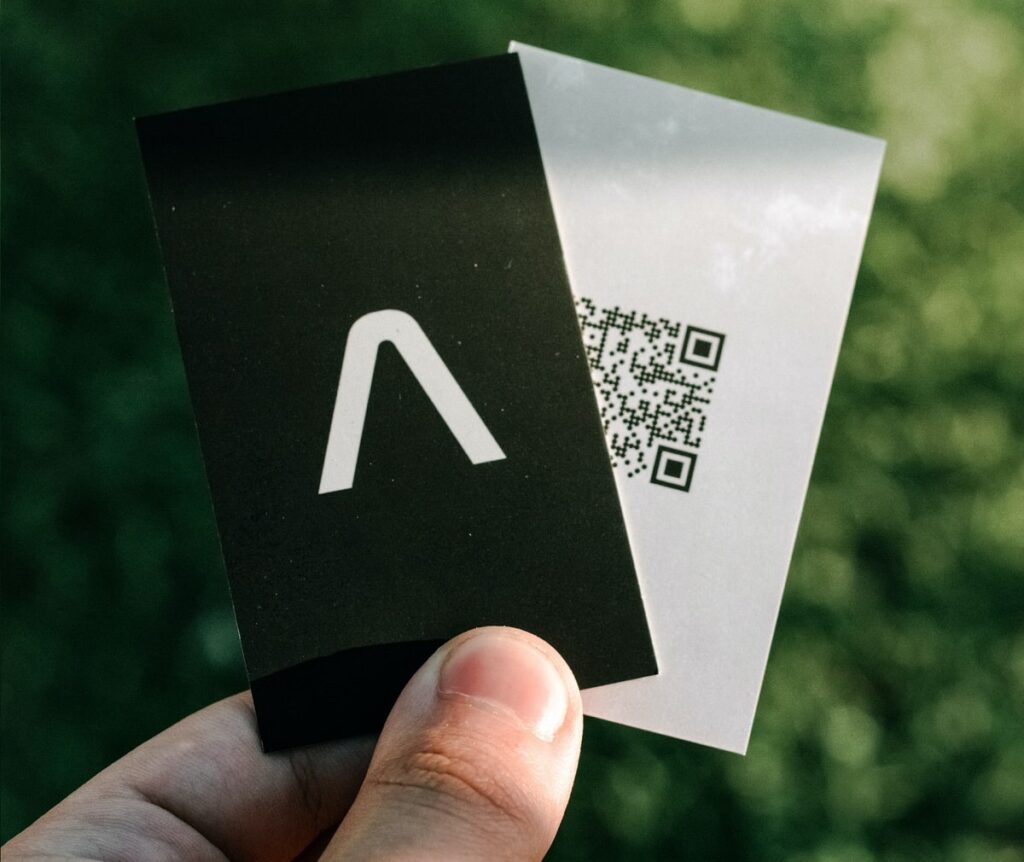 Just because it's simple, doesn't mean it has to be boring. Minimalist designs are definitely in. Play it up with different colors, customized fonts, geometric patterns, and sophisticated details like embossed letters. Use high-quality paper with a textured finish and you're sure to be the talk at next month's online seminar. Keep in mind: details matter, especially to those with discriminating tastes.
Business cards can also double as marketing tools. Have clients use yours as a loyalty or discount card. For freelancers, put a QR code at the back to showcase your portfolio. What do you want your business card to do for you? This is the perfect opportunity to think outside the box.
Minimalist Business Card Templates
In today's quick, cutthroat environment, a business card may seem traditional and passé. But this is exactly why you should have one – because it helps you stand out among the smartphone-wielding crowd. When it comes down to business, less is often, worth more.
Go for these minimalist business card templates and start making a great first impression.
1. Minimal Business Card Vol.18
Not sure how to brand yourself yet? Then this template from Justicon is perfect for you. Includes 2 PSD files and 2 high-quality JPG files (front and back) that work with Adobe Photoshop CS6 or CC.
Download Minimal Business Card Vol.18
2. Minimal Business Card Template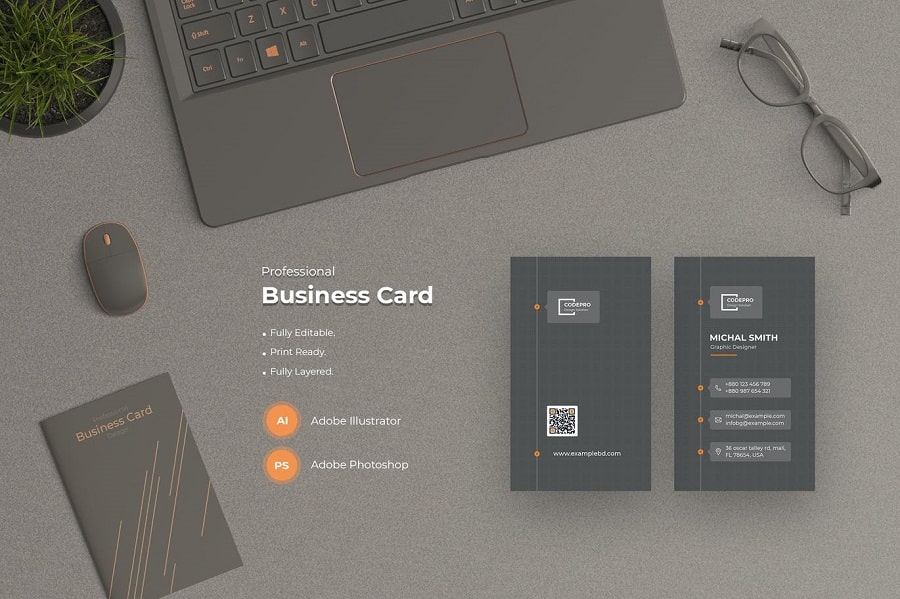 This business card by Bdthemes comes in a sleek vertical design that even lets you add your own QR code. It's great for corporate as well as creative industries.
Download Minimal Business Card Template
3. Visser Minimal Business Card
Clean, professional, and sensible, this product from Micromove is well-organized to help you edit it to your liking. Play it up by using bright, vivid colors such as cerulean blue, shamrock green, crimson red, or corn yellow.
Download Visser Minimal Business Card
4. Minimal Business Card
Simple yet sophisticated, this template gives emphasis on your branding elements. Suitable for corporate, creative, retail, or freelancing industries. File contains black-and-white version and also comes in CMYK color.
Download Minimal Business Card
5. Minimal Business Card
Boost your business with this unpretentious design that still speaks volumes. Created by Portocraft, it's clean, structured, and fits all kinds of trades.
Download Minimal Business Card
6. Name Card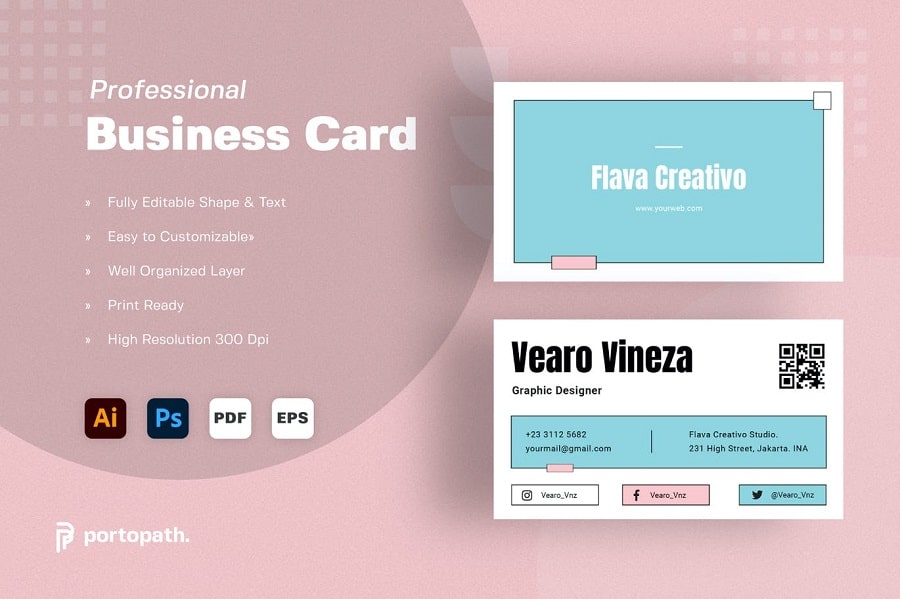 This horizontal template is print-ready, and comes in CMYK color and 300 DPI. Edit it in minutes using Adobe Illustrator or Adobe Photoshop.
7. Name Card
Make it easy for potential clients and business partners to reach you by giving them this modest but impactful business card.
8. Bright Minimal Business Card Template
Furnace brings you this pack of 6 pragmatic templates in AI, EPS, and PSD files you can quickly and easily edit. Give it a splash of your brand/favorite hues for a warm and friendly vibe.
Download Bright Minimal Business Card Template
9. Minimal Creative Business Card Template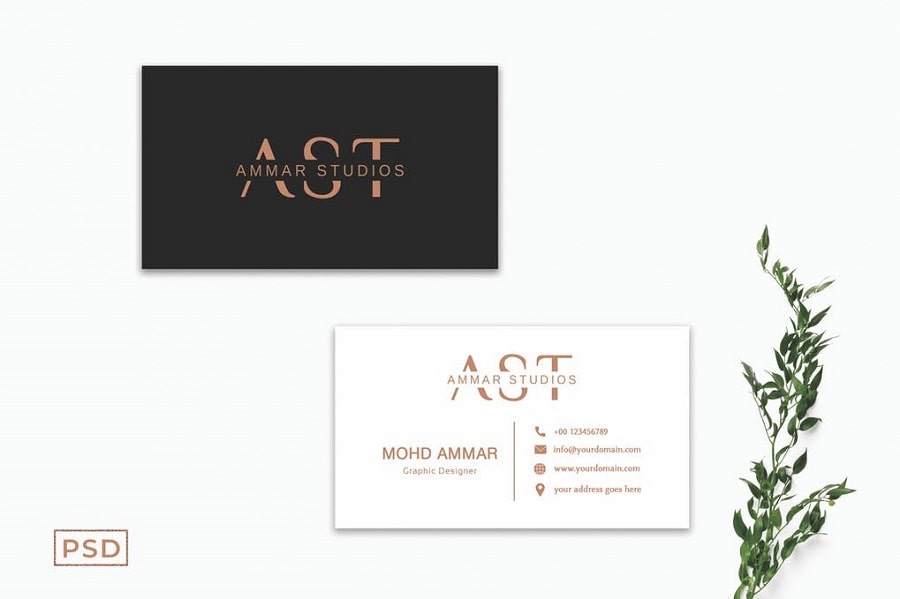 Simple, sophisticated, but surprisingly effective, this business card design from Creative Tacos is available in a minimalist style that's certain to get nods of approval.
Download Minimal Creative Business Card Template
10. Minimal Business Card Vol.3
This product comes in high-resolution 300 DPI and separate front and back files for easy management and editing.
Download Minimal Business Card Vol.3
11. Creator Business Card
Ashuras Sharif proudly presents this business card layout pack in vertical and 300 DPI resolution. With 2 color options (dark blue and minimal white) already inside, you can simply edit the details (name, logo, contact, address, etc.) and print them right away.
Download Creator Business Card
12. Business Card Name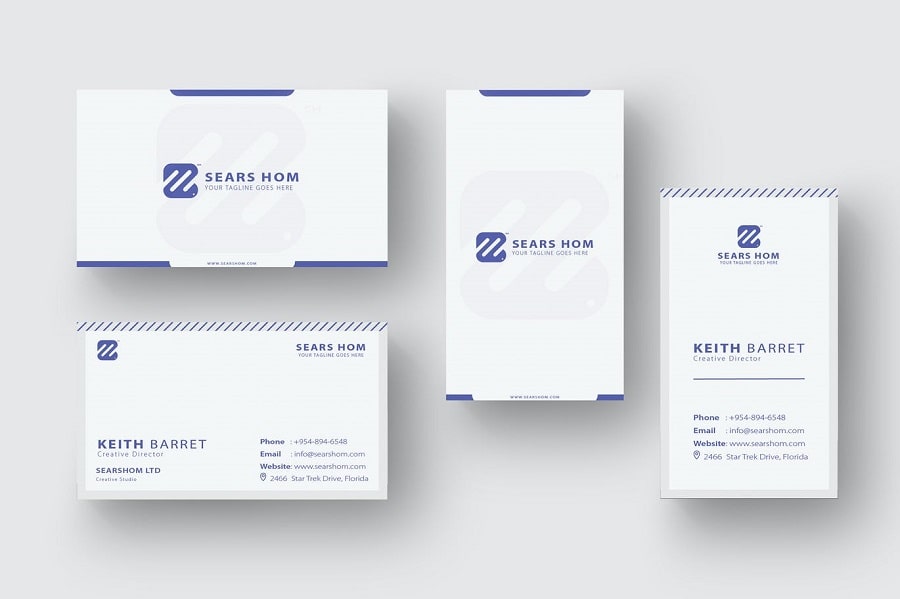 This design template by Kaiserken offers you horizontal and vertical designs to choose from. Structured and aesthetically pleasing, it strikes the right balance for all essential elements.
13. Minimal Business Card Vol.7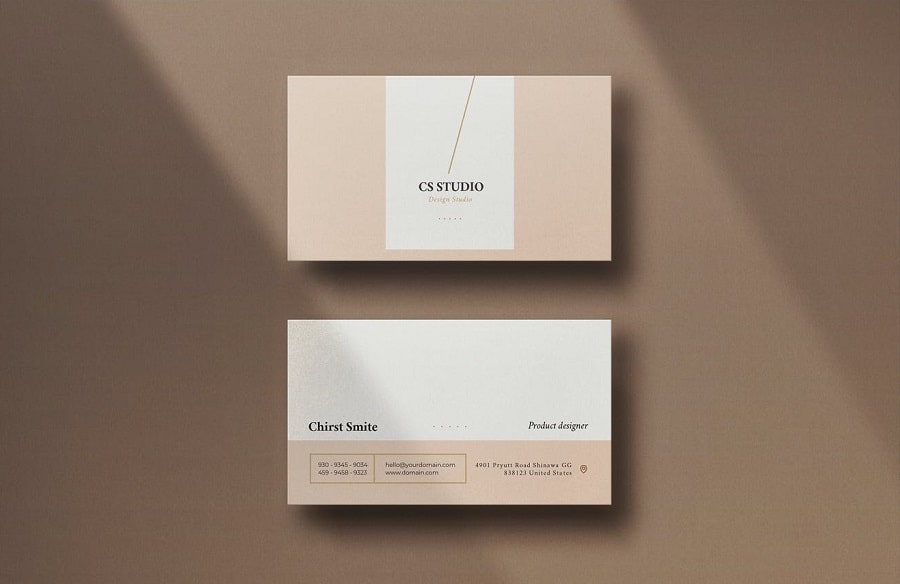 Don't underestimate the power of white space when it comes to creating stability and style. This graphic template uses it wisely to present a subtle yet striking impression.
Download Minimal Business Card Vol.7
14. Business Card
Help potential clients connect the dots to you in this creatively simple yet tasteful business card layout from Shemul. Available in Ai and EPS formats, it's recommended for those in architecture, marketing, engineering, communications, and consulting industries.
15. Creative Minimal Business Card Template
Modest doesn't have to mean boring. This product includes 2 PSD files with built-in smart object feature, so you can replace the text and colors in just a few clicks.
Download Creative Minimal Business Card Template
16. Minimal Business Card Vol.8
Perhaps one of the best reasons to get yourself this minimalist business card is because its classic, uncluttered look will never go out of style.
Download Minimal Business Card Vol.8
17. Business Card
Professional, eye-catching, yet refreshing to the eyes, this modern business card template from Mahative is all you need to make a good first impression for your brand or company.
18. NATURALIS Business Card
FortySixandTwo presents this beautiful and multipurpose template pack that's fully customizable. Contains Landscape and Portrait options, plus 4 design variations to mix and match.
Download NATURALIS Business Card
19. Business Card
The vertical layout of this business card may seem too straightforward – but trust us when we say that its muted look and spartan appeal will serve you well in plenty of conventions, luncheons, corporate dinners, and other fateful encounters.
20. Monta Creative Business Card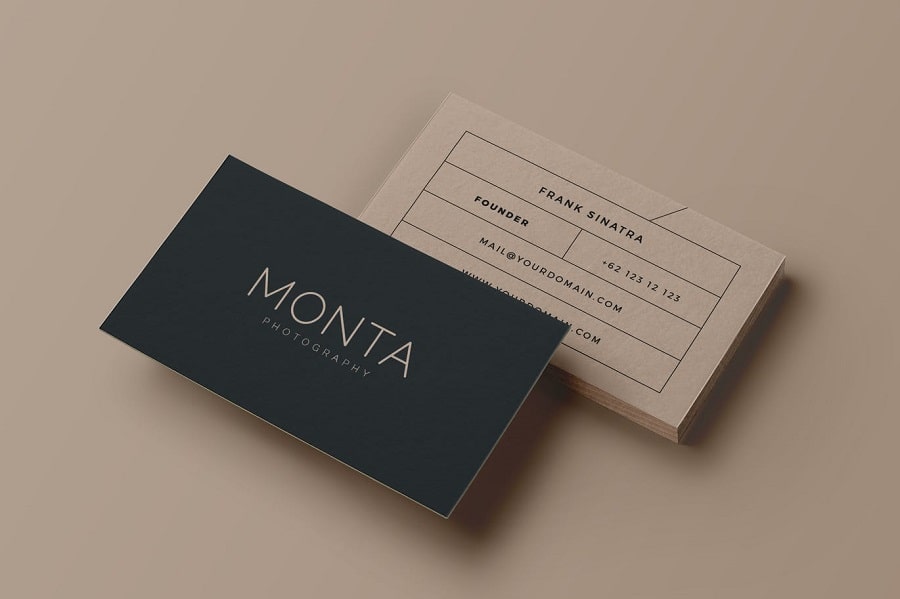 Introduce yourself using this understated yet impactful design that will always stay in trend.
Download Monta Creative Business Card
21. Minimal Business Card Template
Triangle patterns adorn this minimalist template that's fully layered and highly editable. Don't like the existing color scheme? Just replace it with your own and you're good to go.
Download Minimal Business Card Template
22. Business Card
Cute and colorful, this friendly layout will showcase your essentials with a fresh, modern take. Recommended for those working in tech or creative fields.
23. Minimal Business Card Template
Give your business card a slightly sci-fi look with this particle design. This suits all kinds of professions and industries, but will work extremely well for people in architecture, engineering, science, fashion, and tech.
Download Minimal Business Card Template
24. Professional Business Card
Danny Aldana proves that a muted design is just as effective as something that's wild. Professional, elegant, and limited only to the most basic information, this business card layout will make for an interesting conversation starter.
Download Professional Business Card
25. Business Card
Lively and striking, this user-friendly template suits just about any industry – whether you're in real estate or communications.