Last Updated on September 28, 2023
As the sun bathes the world in fresh, yellow hues, you know that a new day has broken. Warm tones such as gold, amber, and freesia, have energizing properties that instantly awaken our senses. They also brighten rooms, gardens, and our wardrobes!
Because it is such a vivid color, some people advise against using it all the time as it attracts too much attention. But the golden yellow shade mimosa, might change that. Somewhat peachy but still within the yellow range, this cheerful color used to be Pantone Color of the Year in 2009 thanks to its happy aura.
See why this pigment deserves a room in your design toolkit.
What Color Is Mimosa
Hopeful, radiant, and stimulating, the mimosa color has a hex code of #FFCA4B. For those who want to use it for digital works, the RGB percentages are 100% red, 79% green, and 29% blue. For folks who wish to use the CMYK model, follow the percentages 0% cyan, 21% magenta, 71% yellow, and 0% black.
Mimosa was probably called after the brunch cocktail of the same name. But there's also a well-known flowering tree named mimosa.
What Colors Make Up Mimosa?
This striking pigment sits between red and yellow on the color wheel. To the naked eye, it looks almost light orange. As it's still within the warm range, mimosa would comprise mostly of yellow, a little bit of red (to get that orange-like tint), and white.
What Colors Complement Mimosa?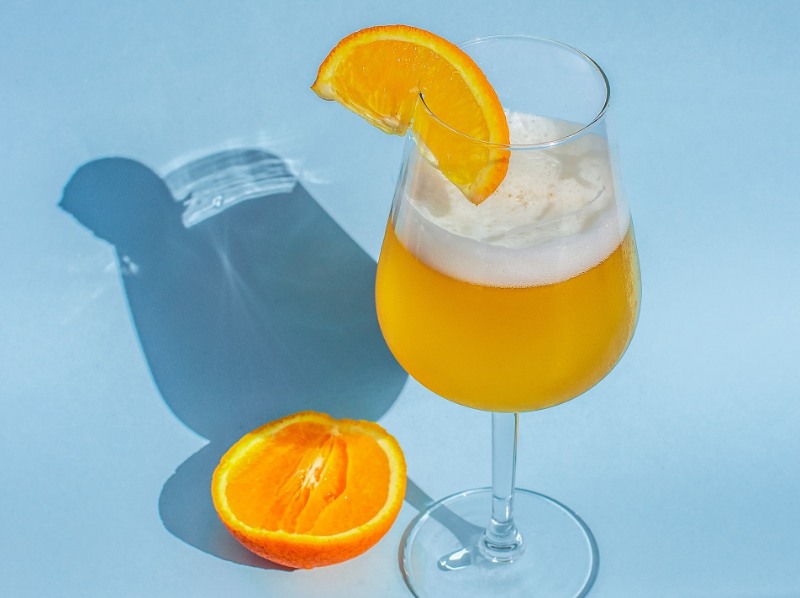 Mimosa is a captivating color, exuding a lightheartedness that sets it apart from red. It harmonizes beautifully with vibrant shades like lime green, coral, aqua, and orange, resulting in outstanding, lively color combinations. On the other hand, it also complements deep blues, earthy greens, and browns, allowing for more subdued, natural palettes.
Shades Similar to Mimosa
Can't get enough of warm hues? Go monochromatic by choosing similar shades such as amber, gold, and mango pulp yellow.
Amber
Amber is a golden-orange hue reminiscent of fossilized tree resin. It possesses a rich, translucent quality, ranging from light to dark tones. Amber exudes a feeling of warmth, earthiness, and vintage allure. This hue is often linked to the autumn season and finds application in gemstones, jewelry, and decorative items.
Gold
Gold color is a warm, metallic shade that closely resembles the hue of the precious metal itself. It boasts a lustrous and reflective appearance. Symbolizing luxury, wealth, and elegance, this color is commonly associated with opulence. Its spectrum ranges from bright and yellowish, to deeper and more subdued tones. Gold finds extensive use in jewelry, fashion, as well as interior design.
Mango Yellow
Mango yellow is a vibrant, rich shade of yellow, reminiscent of the sun-kissed color of ripe mangoes. It embodies the warm and tropical essence of this delicious fruit. This hue tends to have a medium to deep saturation, leaning towards a golden and slightly orange-toned hue. It exudes an energetic, joyful, and zestful feel. Commonly seen in fashion, home decor, and graphic design, it is used to infuse creations with a cheerful and lively ambiance.
How Did Mimosa Get Its Name?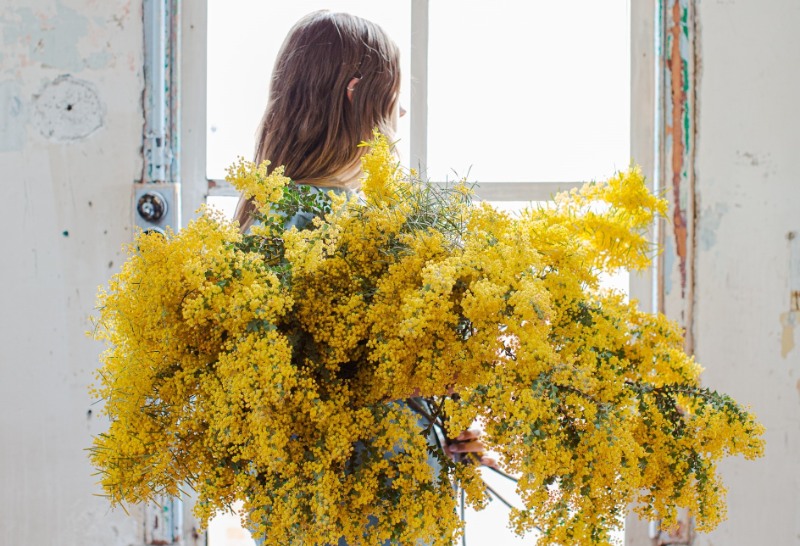 While one may assume that this shade of yellow got its name from the popular alcoholic drink, it was in fact, named after the mimosa flower (also known as the silk tree or Albizia julibrissin) as early as 1909. This flower is known for its eye-catching buttery color.
The name "mimosa" was given to this shade to capture and reflect the visual characteristics of the blossoms, as well as its cheerful and lively nature.
The Beautiful Mimosa Tree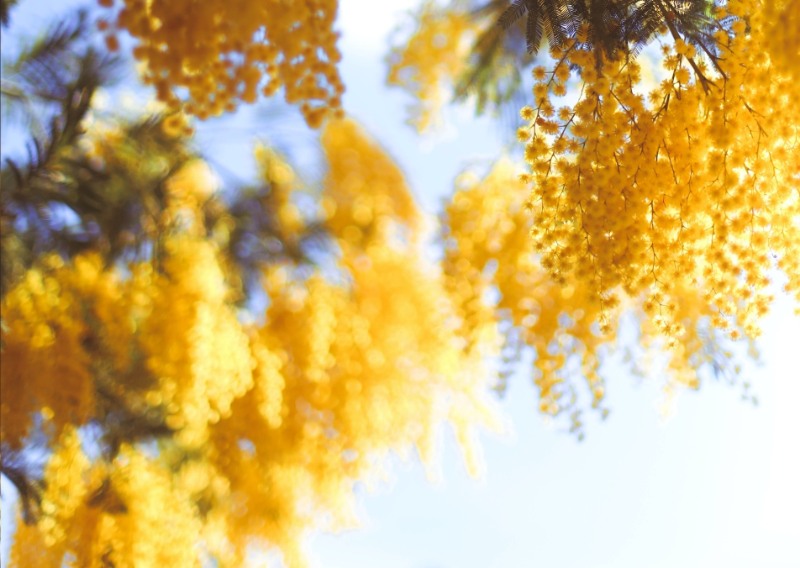 The mimosa tree, scientifically known as Albizia julibrissin or silk tree, is a deciduous tree originating from Asia. It is widely cultivated and can be found in various regions across the world. This tree is renowned for its unique foliage, which consists of delicate, fern-like leaves that tend to fold up during nighttime or rainy periods.
Typically reaching a height of 20 to 40 feet (6 to 12 meters), the mimosa tree blooms with clusters of fragrant, pink or fluffy pom-pom-like flowers during the summer season. The winter flowering species, Acacia dealbata, has clusters of bright, yellow blossoms resembling the mimosa color. These captivating flowers serve as a magnet for bees, butterflies, and other pollinators. The tree bears flat, elongated pods containing small seeds as its fruit.
Mimosa trees are highly appreciated for their ornamental value and are frequently planted in gardens and parks due to their graceful appearance and colorful blooms. However, it is important to note that in some areas, the mimosa tree can become invasive, potentially outcompeting native plant species.
Mimosa as The Brunch Cocktail
Nowadays, nobody can imagine Sunday brunch without mimosas on the side. But its history and origin remain murky to this day. There are sources that claim it was bartender Frank Meier at a Ritz Hotel in Paris that invented the drink in 1925. Still others say it was created at the Buck's Club in London at around the same time.
However, drink experts and enthusiasts have their doubts and reject both theories – mostly because it was believed that the Champagne-orange combo had been a staple in France wine county before it found its way in some of Europe's best bars. It wouldn't be mainstream in the United States until the late 60s. This is thanks in part to the British royal family, who was reported to have taken a liking to the drink after visiting the south of France.
Despite slowly gaining favor, the Champagne cocktail was still not a brunch favorite. Back then, that title belonged to the Bloody Mary. But good press and the right A-listers would soon change that. Aside from the British royal family (who enjoyed mimosas before dinner), English filmmaker Sir Alfred Joseph Hitchcock was seen downing the drink. Then, Vanessa Redgrave and French actress Denise Darcel made headlines for being spotted with the Champagne and fresh orange juice mixture.
Soon enough, news spread about the refreshing new drink enjoyed by the New York elites and the jet-setters. By 1971, Shandy Pub, Point Pleasant Beach in New Jersey was serving mimosas alongside Bloody Mary. But it wouldn't be until 1977 when American food critic, Mimi Sheraton, recognized the Champagne and orange juice combination as one of the favorite drinks she encountered at a 40-stop brunch tour of Manhattan.
This helped boost the mimosa further into the spotlight – and into today's Sunday brunches.
Meaning and Symbolism of Mimosa Color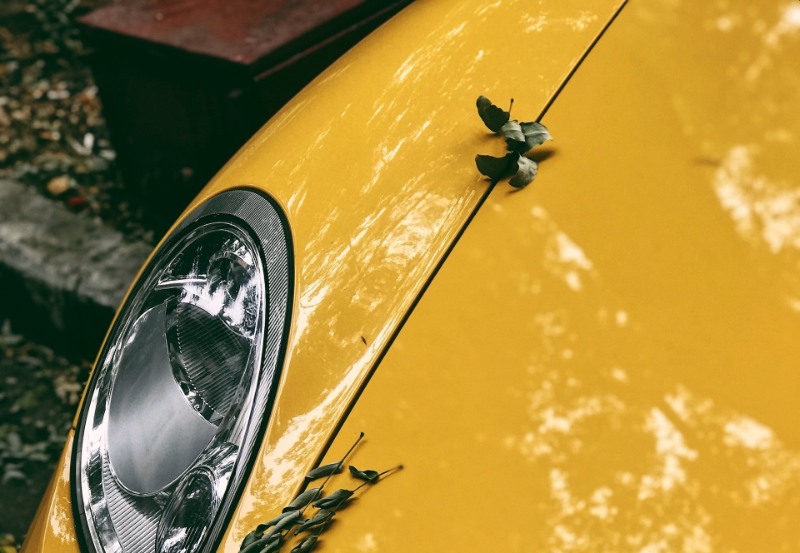 As a shade of yellow, mimosa stimulates happiness, positivity, and optimism. It also calls to mind the hot season of summer.
Certain brands opt for this cheerful color as the background or border in their website design. Incorporating mimosa into elements like the 'free shipping' bar at the top of your website can help visitors associate your store with something positive. Even a small touch of this shade can make a difference in creating a positive impression on your website's visitors.
The mimosa color can assist in decision-making. The hue can act as a practical guidance in complex situations, making it useful for organizing thoughts (as seen in yellow Post-It notes). Additionally, mimosa promotes energy, confidence, and a sense of fun. Bright colors, such as mimosa, trigger the release of serotonin in the brain, contributing to its association with happiness and creativity.
Despite its connection with optimism and happiness, mimosa could carry negative connotations, too. Some people would say this shade of yellow can be related to deceitfulness, cowardice, impulsiveness, and egoism.
Prolonged exposure to bright, cheery colors such as mimosa can make one irritated or even enraged. Yellow personality types have occasionally been linked to a choleric temperament, characterized by descriptions of being prone to violence, vengeance, and a quick temper.
If you plan on using mimosa for a room, consider complementing it with calming shades such as blues or purples to avoid its undesirable effects.
How to Make the Mimosa Color
Begin with a yellow base on your palette. Then gradually add small amounts of orange or red pigment to the yellow, mixing thoroughly with a palette knife or brush.
Continuously adjust the ratio of pigments until you achieve the shade you want.
Test the color on a separate sheet of paper or canvas to evaluate. Make further adjustments if needed by adding more yellow, orange, or even white until you get your desired results.
Remember: color mixing can be subjective. It may take some experimentation to find balance. Always start with tiny amounts and slowly increase as needed to ensure better control over the mixing process.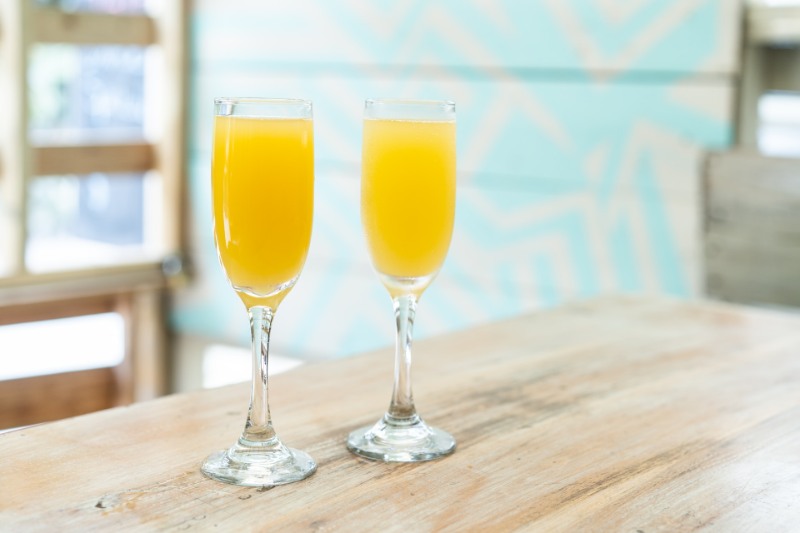 Final Word
Don't let mimosa's bright aura deter you from adding this splendid color to your projects. It's a peachy shade that grabs attention on gloomy days. Purchase dresses, hats, scarves, boots, or raincoats in this hue for a quick pick-me-up. Mimosa pairs well as an accent with blue, creating a vibrant summer combo.
Whether it's aqua, cobalt blue, or turquoise, this golden yellow color fits seamlessly. The mimosa color is sure to impress, no matter how you use it.