Last Updated on November 1, 2023
Hailed as a timeless, go-to look, mid-century modern design and its elements has been a staple in many industries, from architecture, interiors, to packaging. If you look around your room now, you can bet that there's at least one item there that's inspired by this concept.
What has made mid-century modern design endure all these years?
Events That Influenced Mid-Century Modern Design
It's still a matter of debate on the exact period of when mid-century modern first sprang to life. However, experts and historians can agree that it began after the war (post WW II) and continued in the 1970s.
One of its heavy influences was the Bauhaus movement that started in Germany. The concept in Bauhaus is that form follows function. It has similarities with Scandinavian design, which emphasizes organic materials, clean lines, and smart use of resources. After the war, these ideas made sense because people wanted things that were practical, innovative, and fresh.
With the expansion of cities, advances in science and technology were also inspirations for the mid-century modern look. With humankind perfectly poised for space came new materials to experiment with. There was fiberglass, steel, aluminium, foam, and plastic. These lent incredible textures, shapes, and hues that would pave the way for Space Age and Pop Art.
Why We Love Mid-Century Modern Design
Mid-century modern design has five key characteristics:
Functionality over form;
Sleek, clean lines and geometric shapes;
Minimal decorations or embellishments;
Use of unconventional materials; and
Juxtaposition of contrasting materials or elements.
Because these traits lend an uncluttered and compact appeal, it's not difficult to incorporate mid-century modern design into almost anything. It's also easy to integrate them into existing themes, whether it's Art Deco, Classical, or Oriental.
With installations or 3D projects, you'll find that using unusual or organic materials will give your works interesting textures, shapes, and feel. This type of design is an amazing choice especially if you're a big fan of sci-fi, futuristic, modern, minimalist, or Scandinavian concepts.
For digital designs, a mid-century modern vibe is all about accessibility, functionality, and fluidity. While some designs in this area can look radical, it will still feel familiar and classic. Adding this to your website, social media, banners, and graphics is easy as pie. Just pick bright, vibrant colors; mix serifs with sans; and opt for geometric lines and forms.
Awesome Mid Century Modern Fonts
No need to travel back in time to enjoy these unique looks. Re-create postcards, posters, labels, signage, and shirts in mid-century modern design with these fonts.
1. Fifties
Mid century modern fonts like Fifties Typeface offer a retro touch with extras and glyphs. Inspired by vintage novel covers, use this font for any project that requires a retro feel!
2. Firecracker
Fire up the jukebox, cats and dolls! Firecracker is a blast from the past, taking you on a groovy ride back to the rockin' and rollin' 50s and 60s. Its beautiful letters evoke the energy and enthusiasm of the vintage period.
With two different styles, Regular and Oblique, you can add a real touch of retro flair to any project. It's the cat's pajamas and it'll have your audience flipping their wigs with excitement! Whether you're publishing in magazines, newspapers, signage, branding, packaging, or anything in between, Firecracker is the real deal.
Allow yourself and your audiences to be transported to a nostalgic time of soda fountains, jukeboxes, and poodle skirts. So let's get hip and start creating designs that are outta sight! Don't be a square – get your hands on Firecracker today!
3. Let's Jazz
Let's Jazz is a mid century modern fonts typeface that brings the 1950s back to life! Featuring two versions that each feature over 450 glyphs with a bonus collection of illustrations to complete your project with ease.
4. Mayburn
Mid century modern fonts like Mayburn bring a bold script touch to a retro feel. Featuring multilingual support, alternates and ligatures, and so much more, this set is the perfect addition to your retro font collection.
5. Boardley Script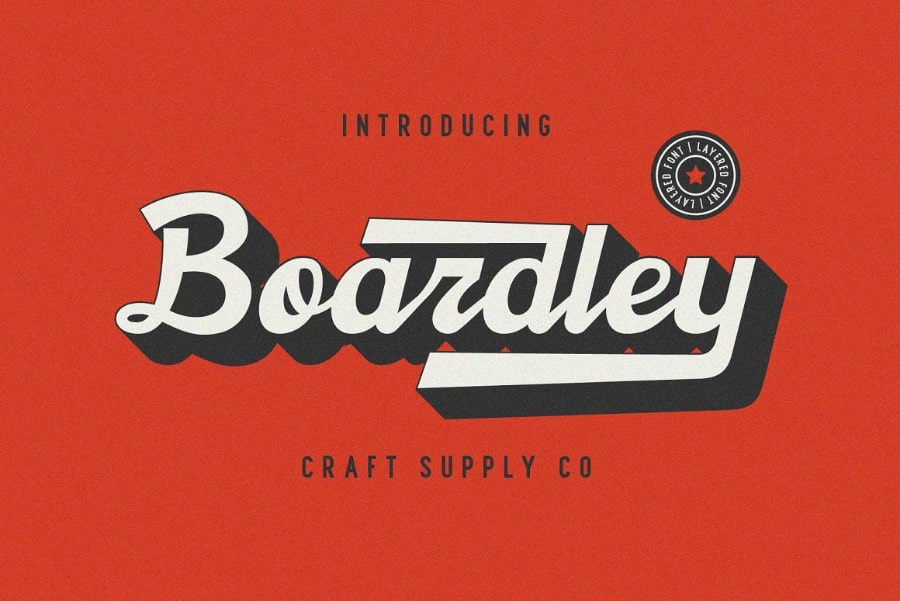 Craft Supply Co. presents this layered font that includes two styles, Regular and Extrude. Drawn from scratch with new and vigorous detailing, no expense was spared for this bold script lettering that will continue to be trendy, regardless of the period.
6. MidCentury Typeface
Fill your life in vintage color with this retro offering from The Good Store. Featuring an all-caps font and various templates for flyers, logos, Instagram posts, as well as background patterns and mid century icons – you'll have your hands full with all things good and wonderful.
7. Point Blank
Point Blank is a retro-inspired display font that takes us back to the groovy and funky style of the 1960s and 1970s.
With big, bold, and chubby letterforms, this typeface is perfect for making a statement. Whether you're designing a poster, a logo, or a product label, Point Blank will add a touch of retro charm to your project.
8. Strikeout 
Strikeout is a beautiful script typeface inspired by 1940s and 1950s baseball era. Strikeout allows you to create hand lettering in an instant. This super handy typeface is ideal for logos, product packaging, headers, posters, merchandise, handwritten quotes, social media, greeting cards, and much more. If you love baseball and retro typography, then this font is for you!
9. Kansas Casual
If you're looking for a modern alternative to the conventional sign painter's one stroke, Very Cool Studio has got you covered. Featuring a total of 6 fonts with wide language support, OpenType fractions, and arrows, this all-caps set is ready to get friendly.
10. Silverlake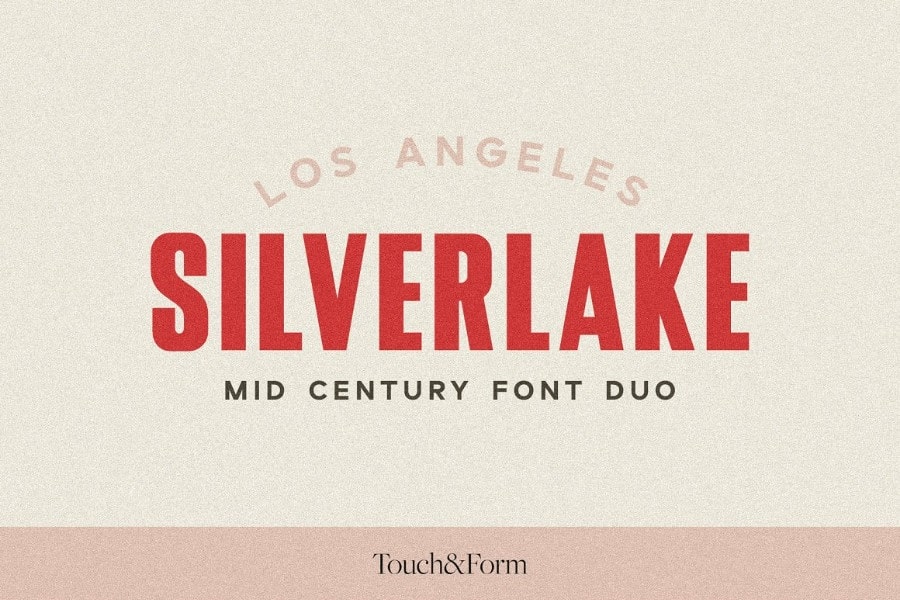 Introducing this bright and versatile all uppercase mid-century font duo from Touch and Form. Available in 2 variants (Sans Tall and Regular Sans), they're a pair you can count on for personal or commercial projects.
11. Tide Sans
A beautiful font family that blurs the line between being carefree and hardworking, the set has a total of 18 fonts (9 weights with matching italics) you can either take to the beach or to the office.
12. Cornhusker Regular
Inspired by 1940s Midwestern signage, this condensed sans by Section Type is like tall corn husks in an Illinois cornfield in September: proud, delicious, and lovingly made by hand.
13. Lustik
Francis Chouquet proudly gives you this one-of-a-kind layered font created specifically to be layered on top of the other. A definite conversation starter, you can use any color or even add an overprint effect to really drive home that retro vibe.
14. Halau Serif
Need a vintage typeface for your 60s movie title or groovy postcards? Look no further than Vintage Voyage Supply's funky casual font family that comes in 5 weights guaranteed playful and fresh!
15. Tipique
This revival of an early 1930s sans designed in the spirit of geometric Bauhaus typefaces, this font is both modern and retro, making it the ideal choice for organic branding as well as corporate logos.
16. Sylvester Typeface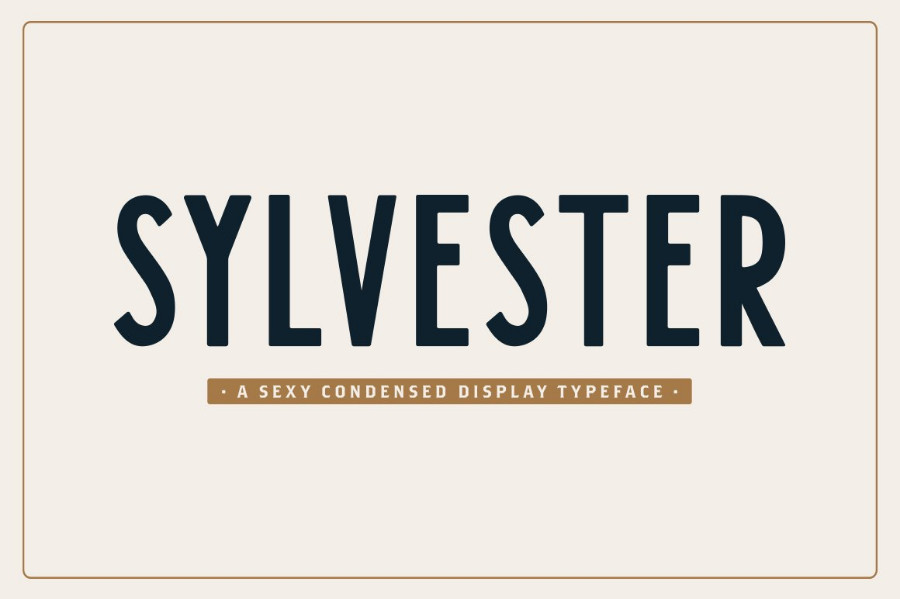 Reminiscent of cigar boxes and classic lettering, Millieangelo gives you this all-caps font that's available in Rough and Regular styles.
17. Jaywalker
Inspired by mid-century illustration and design, Turncoat Studio brings you this off-kilter sans serif that will go well with your spunky t-shirts, logos, posters, packaging designs, invitations, and greeting cards.
18. Jeames
This detached extended serif with curved, heavy, joints comes in 3 solid weights everyone will be taking seriously. Best applied on headers, titles, signage, and labels.
19. TAN SONGBIRD
An ode to 70s retro, TanType's tightly spaced but slightly bulging serif has the right amount of groove for any project that wants to party until dawn.
20. Palm Canyon Drive
Inspired by 40s and 50s California, this monoline script comes complete with popular catchwords so you'll have no trouble applying it to branding, ads, editorials, or DIY crafts that need a little warm Hollywood optimism.
21. Milan
If you're ever strapped for inspiration, try this gorgeous and classic all-caps sans by Jen Wagner Co and feel instantly enthused. With a cool modern-meets-vintage vibe, it easily pairs with dainty serifs for pastel posters, Instagram photos, quick ads, and more.
22. The Big Tickle Font Family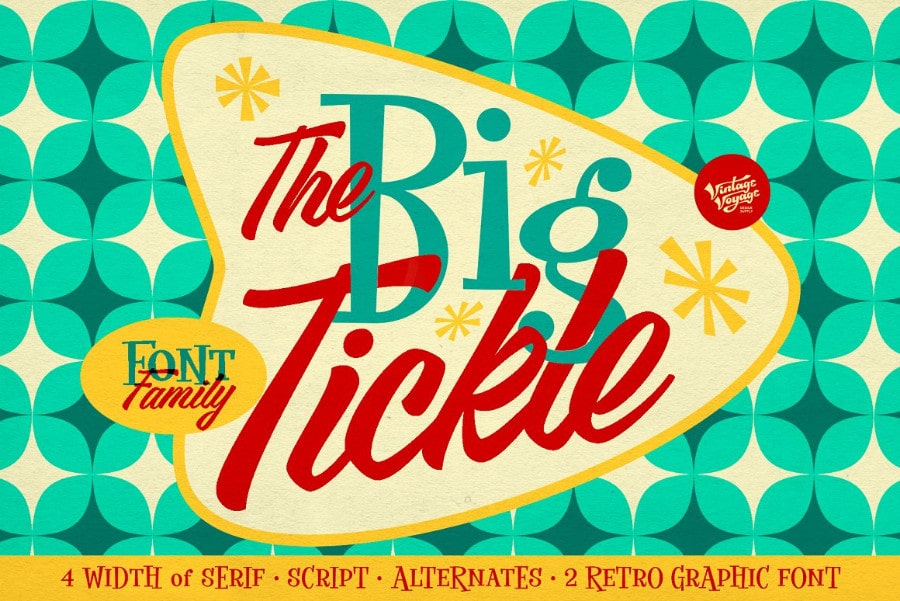 What do you get when you combine the smooth jazz of the 50s with the rock 'n roll vibes from the 60s? You get this amazing font family packed with 15 unique fonts, plus 124 graphic elements to help you begin your mid century modern adventure.
Download The Big Tickle Font Family
23. Meisterz Typeface
Is it for horror or for fantasy? You decide with this fancy typeface from Gumico Studio. Product contains badges and vector illustration so you can play it up for any theme you see fit.
24. Goal Digger Font Collection
Kissed by the sun and blessed with super rich textures, this collection from Maryam Kamal Co comes in a total of 5 fonts with a sweet vintage twist. Hand-drawn with 2 fonts available in SVG, the pack includes more than 13 stylish crayon swashes to ramp up your designs in a snap.
Download Goal Digger Font Collection
25. Snifter
Inspired by Mad Men, StudioWorks gives you this spirited retro display typeface straight from the boardroom bar cabinet. A warm mix of style with substance, its sharp serifs, graceful curves, and shuffling baselines is perfect for ads, branding, product labels, and the usual quote images.
26. Jurta Sans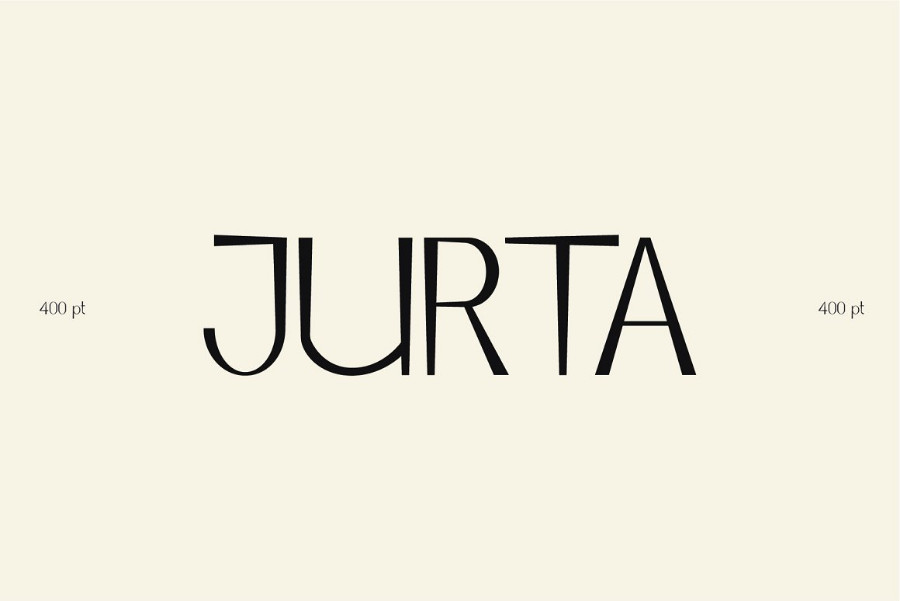 Vintage but playfully modern, this display type by Ideabuk has influences from the 60s, as seen in its varying thick to thin widths. But thanks to its clean, sleek lines, you've also got yourself a minimalist font you can pull in an instant.
27. Tiffany Gothic CC (FREE)
As a revival of the Tiffany Gothic by American Type Founders, this typeface has a lot in common with its more famous relative, Copperplate Gothic. But it has its own charm and legacy, thanks to designers Cowboy Collective and Indestructible Type.
28. Gillnord (FREE)
Inspired by vintage farmers markets and mid-century modern farmhouse signage, this script font by Angin Studio fits vintage projects perfectly – from posters, signs, and labels, to greeting cards, invitations, logos, and packaging.
29. 57-Futura (FREE)
Jason Forrest scanned and assembled this retro typeface from an old 1957 magazine. The results resemble a slightly distressed version of the classic Futura. The set includes uppercase, numbers, and punctuation. Try it on headlines, posters, logos, apparel, and more!
30. Glitten (FREE)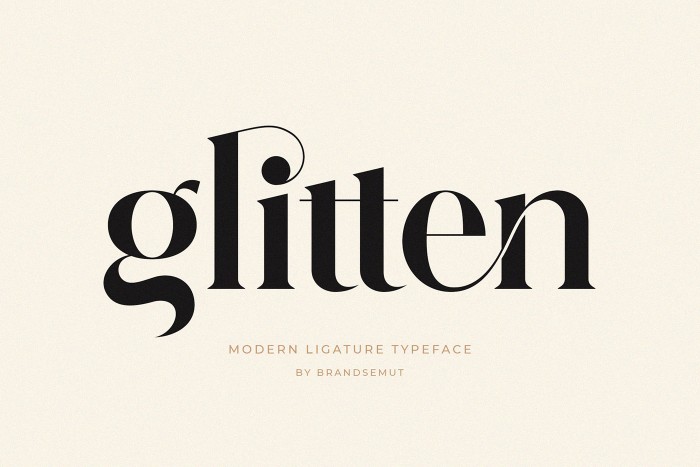 Lend the right amount of mid-century modern vibes to your beauty and fashion editorials with this ligature serif from Brandsemut Freebies. Elegant, charismatic, yet remains readable despite small sizes, it's great for headlines and titles, as well as body copy.
31. Portia (FREE)
Do you miss noir movie titles? Re-create the same effect using this versatile contemporary typeface by Ochaya Designs. Tall, sleek, and sophisticated, you can also apply this on magazine covers, book titles, game apps, digital portfolios, websites, and branding.