It's beautiful, timeless, albeit expensive. Yes, it's marble. This old and traditional building material has been tied to opulence and grandeur since its first usage. A favorite for Greek and Roman sculptors, it's also beloved by modern designers and homeowners.
Let's see how marble cemented itself in our history and hearts.
Marble Quick Facts
Marble was first used by the ancient Greeks and Romans. But because of its beauty and durability, its popularity spread across Europe, and eventually, into the New World.
Aside from Michelangelo's David and the Parthenon, you can find marble in: the door of Heaven and Hell of the Hagia Sophia, the Lincoln Memorial, rock formations around General Carrera lake, and the decor of the Taj Mahal.
Acquiring marble is always a challenge. As a metamorphic rock, it's formed when original carbonate rock is subjected to immense heat and pressure over a long period of time.
This means that marble can be under layers of soil and earth. Once located, the mining team may take months before marble is quarried. Quarrying can be in open mines or in caves.
In ancient times, quarrying marble was done by lots of hammering until the material is wedged from the earth. It is then taken up to the surface using wooden beams, winches, levers, and pulleys.
Today, heavy machinery is used to help with the load; but the process still requires old-fashioned equipment such as shovels, picks, halters, ropes, and wooden wedges.
Why people love marble
Marble is still much sought-after today for its uniqueness and strength.
Interior designers love this material because it can effortlessly tie a room together, regardless of theme. Want to make a bold statement by using a solid color like bright red or royal blue? Don't worry – white or black marble in the room (like in coffee tables or fireplaces) can instantly make your space cozy and bright.
There's a quiet simplicity and air of elegance in those veins and swirls. This is why artists enjoy using it in their artworks. Marble wallpapers and backgrounds for instance, are a fine choice for wedding invitations, retail posters, dining menus, and more. Take advantage of its rich patterns by picking minimal elements. For example: opt for a simple serif font or just icons so as not to upstage its splendor.
Marble Textures and Backgrounds
Beautiful either as a countertop or as a backdrop, marble can lend a sophisticated look and feel to your designs. These marble textures and backgrounds will undoubtedly be versatile, mysterious, and colorful additions to your toolkit.
1. Acid Textures
Reminiscent of spilled toxic fluids or chemical experiments, these backdrops by Themefire have a natural marbling effect that will look amazing on their own, or when used in combination with other graphic elements.
2. Water Painting Texture Pack Background
Mihis Design gives you this collection of 20 vector water textures in Ai and EPS files in high detail.
Download Water Painting Texture Pack Background
3. Multicolor Marble Ink Backgrounds Vol. 2
Logos, letterheads, banners, and web pages aren't going to be the same thanks to these hand-painted images by M-e-f. Comes in a total of 30 different backgrounds in 6000×4000 px and 300 dpi.
Download Multicolor Marble Ink Backgrounds Vol. 2
4. Vintage Halftone Marble Textures
Crisp and finely detailed, these halftone textures by Ghostly Pixels are available in two vector formats (AI & EPS) with a variety of textures to choose from.
Download Vintage Halftone Marble Textures
5. Marble Ink Textures 6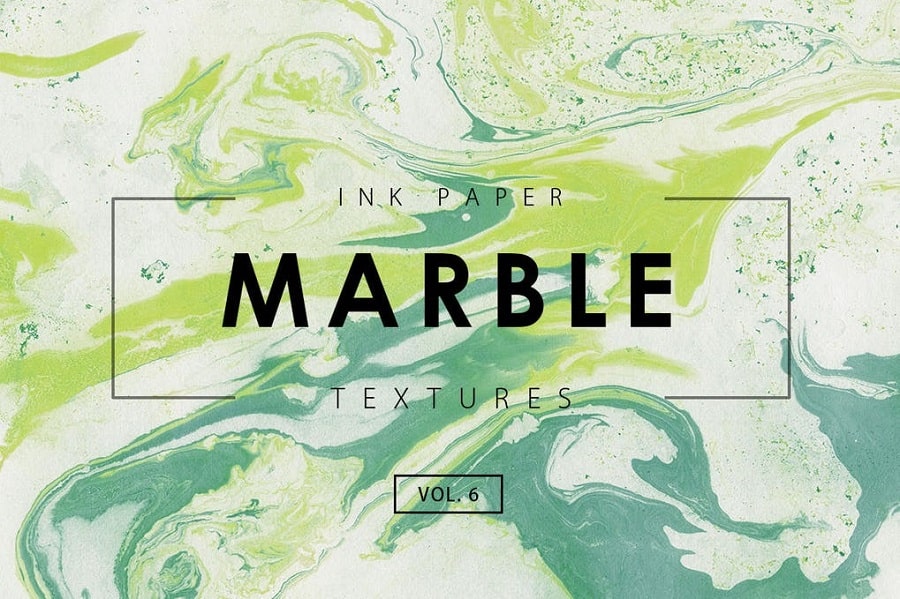 For those who love the look and feel of paper marbling, you will fall in love with these 15 top quality backgrounds for your social media banners, presentations, posters, desktop wallpapers, and more.
Download Marble Ink Textures 6
6. Marble Paper Texture Vol. 05
CocoTemplates gives you 10 JPEG images to play around with. Available in 4500×3000 px and comes in 300 dpi, these marble textures are simply exquisite.
Download Marble Paper Texture Vol. 05
7. 35 Marble Ink Texture Overlay
Dramatic, complex, and high-quality, MographMotions offers you a new way to showcase your designs in these classic overlays.
Download 35 Marble Ink Texture Overlay
8. 22 High Resolution Marble Texture
Featuring 22 unique images in 4000×3000 resolution and comes in TIFF format, this collection by EightonesixStudios will make a fantastic addition to any toolkit.
Download 22 High Resolution Marble Texture
9. Suminagashi Marble Textures
The beautiful and delicate art of 'suminagashi' (or Japanese marbling) can be seen in this lovely set by Mehmet Reha Tugcu. You will get 20 textures plus 20 inverted versions in JPEG format.
Download Suminagashi Marble Textures
10. Liquid Marble
This product from Mix Media 87 comes in 8 high-res abstract backgrounds, 3840px x 2160px and available in 4K RGB.
11. Marble Textures
Believe it or not, these images have been manually sourced from actual marble, to give you fine detail and exceptional quality. Photos come in vector EPS and transparent PNG for your convenience.
12. Space Marble Backgrounds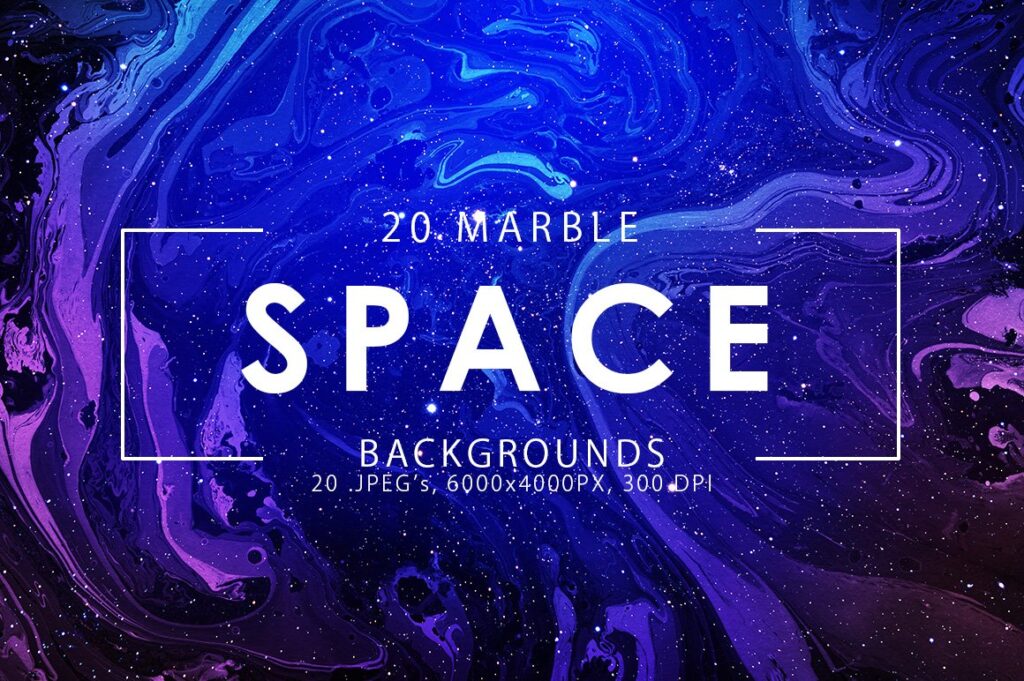 Hand-made with a splash of vivid hues, these backdrops by Artist Mef showcase stunning abstract shapes and swirls fit for interstellar travel, or dreaming under the stars.
Download Space Marble Backgrounds
13. Marble Stone Textures
This huge collection of 150 various stone textures – plus 30 vector textures – by Harmonia Green Art were created using oil paints, water, and solvent to produce only the best results.
Download Marble Stone Textures
14. Marble Textures
Julia Dreams proudly presents this set of 47 different multicolored textures – made with love. Ideal for digital or printed projects, you'll love it on almost anything: from notebook covers, product packaging, apparel, to cards, posters, and even branding.
15. 30 Liquid Marble Textures
Make the right statement when you use these fully editable backgrounds by Foldo. Images are in AI and EPS formats so you can easily change colors to suit your creative works.
Download 30 Liquid Marble Textures
16. Modern Marble Ink Textures Vol. 1
This product from Fox & Bear feature beautiful gradients with a modern color palette, fit for contemporary designs such as stationeries, posters, websites, invitations, banners, flyers, and more.
Download Modern Marble Ink Textures Vol. 1
17. Gold Flecked Marble Texture Pack
Add a touch of opulence to your works when you use these gold-flecked marble texture papers by LW Brand Styling.
Download Gold Flecked Marble Texture Pack
18. Rose Gold Marble Digital Paper
Your parties, baby showers, and wedding invitations will look and feel luxurious in these seamless rose gold marble digital papers from Digital Curio.
Download Rose Gold Marble Digital Paper
19. Navy Blue Marble Backgrounds
Nautical, classy, and reminiscent of the deep, blue sea, these images by Creative Paper will make the perfect backdrop for scrapbooks, picture frames, posters, party invitations, and more.
Download Navy Blue Marble Backgrounds
20. Abstract Marbled Backgrounds
Who can resist these soft, wistful colors? Bring that spring and summer vibes in your projects when you use these watercolor backgrounds by Basia Stryjecka. Available in 4 colors palettes, for a total of 40 files.
Download Abstract Marbled Backgrounds