Last Updated on January 5, 2023
The Mandalorian is an American television series set in outer space, which was created by Jon Favreau for the Disney+ cable network. Favreau also serves as the series' head writer and showrunner, as well as its executive producer. Other producers include Dave Filoni, Colin Wilson, and Kathleen Kennedy.
The series is considered the first live-action series in George Lucas' Star Wars franchise. It was set about five years following the events of Return of the Jedi (1983) and 25 years before the events of The Force Awakens (2015).

The Mandalorian stars a lone bounty hunter known as Din Djarin (played by Pedro Pascal). After the Empire falls in the hands of Rebel forces, Din Djarin embarks on many bold and daring adventures. Din operates in the outer reaches of the galaxy called the Outer Rim, away from the jurisdiction of the New Republic.
The Mandalorian began airing on November 12, 2019. The series has since ran for two seasons with a total of 16 episodes. Each episode runs for 30 – 50 minutes.
The Mandalorian Font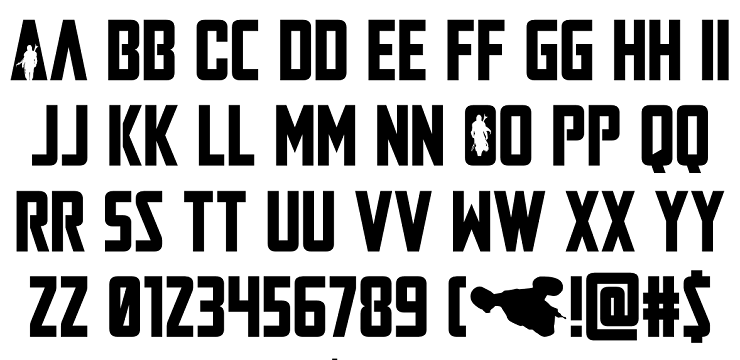 The name of the font used in the logo of The Mandalorian television series is known as Mandalore. Mandalore is a typeface designed by the renowned font foundry, Iconian Fonts.

Based on the near similarities between the words "Mandalore" and "Mandalorian", it's logical to infer that the Mandalore font was mainly popularized by The Mandalorian TV series. The main part of the series' logo is thought to have been designed based on Font Bureau's Agency Black.
Where to Download the Mandalore Font
This font is available for both personal and commercial projects. That's great news considering that Star Wars has a reputation for patenting anything and everything associated with the franchise.
There's only one condition if you're considering downloading the Mandalore font for commercial purposes. Ensure you're not using it for a project that's nearly similar to The Mandalorian series, as that could create a conflict of interest. For instance, it would be imprudent to use the font when making a film, television series, or documentary that's coincidentally titled "The Mandalorian."

Numerous websites allow you to download the Mandalore font free of charge. All you need to do is read the download instructions and select your preferred file format. Action Fonts is one of the great places to download the Mandalore font. You can also download the font from FontLot.

There's an option of downloading and installing another font similar to the Mandalore. For this, you'll need a font generator. On the tool, just type inside the text box and watch it generate a similar font. Font Meme has a Mandalore font generator that's perfect for your projects.