Last Updated on September 21, 2022
Looney Tunes is an American animated comedy short-film series produced and distributed by Warner Bros.

The first film in the Looney Tunes series was released in 1930. Several films would later follow, with the final one being released in 1969.

Looney Tunes films have a running time of 6 – 10 minutes (one reel). The series follows a witty bunny named Bugs, a stuttering pig called Porky, and an unpredictable duck called Daffy. These characters help bring into focus several negative human traits, including lust, avarice, gluttony, pride, slothfulness, envy, and wrath.

Despite being an animated film series, Looney Tunes was targeted at an adult audience. The entertaining scenes playing out in the series may wow kids. But the underlying themes can only be understood by mature audiences.
Looney Tunes Font
The font used in the Looney Tunes film series cover is a customized typeface known as Looney Tunes Tilt BT.

Looney Tunes Tilt BT is a script typeface by an anonymous designer. The font was published by Bitstream Font Foundry. As the name suggests, Looney Tunes Tilt BT was crafted exclusively based on the classic Looney Tunes film series. The font's popularity is also credited to the series.

There are several reasons to consider the Looney Tunes Tilt BT typeface for your next design project.

For starters, the font is incredibly legible due to its boldness. The designer added outlines to each element to improve legibility further.
Looney Tunes Tilt BT also provides impressive pairing functionalities. You can use the font as a standalone typeface or combine it with other fonts for enhanced appeal. Some of the common fonts you can pair Looney Tunes Tilt BT with include Core Mellow, Craft Rounded, Acumin Pro, Core Sans M, Baloo, Flexo Soft, and Core Sans AR.

Looney Tunes Tilt BT is best suited for digital display projects. You can use the typeface when designing the covers of movie logos, television series, video games, blogs, and websites.

Looney Tunes Tilt BT will also look exceptionally great on print media. If carefully implemented, the font can enhance the overall aesthetics of your brand or company logo. You might also apply it on product labeling, t-shirt printing, or as the main font on advertisement materials and campaign flyers.
Where to Download the Looney Tunes Tilt BT Font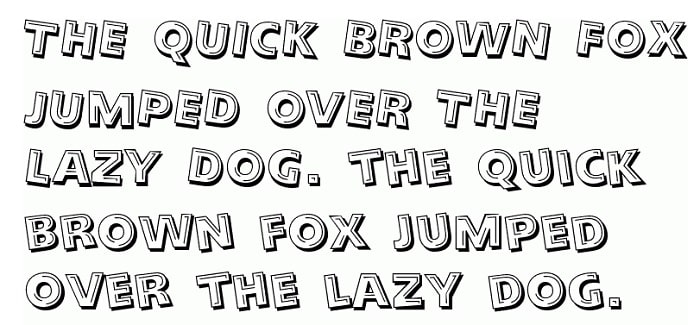 Free Fonts Family is among the best places to download the Looney Tunes Tilt BT Font. The website lets you access the Looney Tunes font in both the Opentype and Truetype formats. Plus, there's a free font generator in case you're looking for a typeface that's very similar but not unique to Looney Tunes Tilt BT.

Other websites to download the Looney Tunes Tilt BT font include Free Fonts Vault, and the Fonts Magazine. Find similar fun typefaces on MyFonts. For the 'That's all Folks!' font, check out DaFont, or purchase the commercial license of Merry Melody by Comicraft from MyFonts.
Looney Tunes Tilt BT Font is 100% free for personal use. Most websites also avail the font free for commercial usage. Be sure to read the full license details or contact Bitstream Font Foundry directly before applying this font on commercial projects.