Lexus, spelt as Rekusasu in Japanese, is the luxury automobile brand of the renowned Japanese automaker Toyota. The brand was established in 1989 by Eiji Toyoda.

Lexus was founded around the same time as common rivals, such as Honda and Nissan's Infinity and Acura makes. The company is currently headquartered in Nagoya, Japan. However, it has major operational centers in various cities worldwide, including Brussels in Belgium and Plano in Texas – United States.

The demand for Lexus cars has grown immensely over the duration the brand has been around. Currently, Lexus automobiles are available in over 70 countries and territories worldwide.
Lexus remains Japan's largest-selling make of premium automobiles. It has consistently featured among the top 10 largest Japanese global brands in terms of market value.
Lexus Font
The font used on the logo of Lexus automobiles is an original font that appears to have been created specifically for this brand. So, the font can safely be referred to as the Lexus font.

Lexus font sports a couple of incredible artistic features that enhance its style and elegant, which is synonymous with the company's automobiles.
When selecting this font, the brand must have also taken into consideration the need for uniqueness. That's why they settled on the custom typeface instead of going for a popular font style.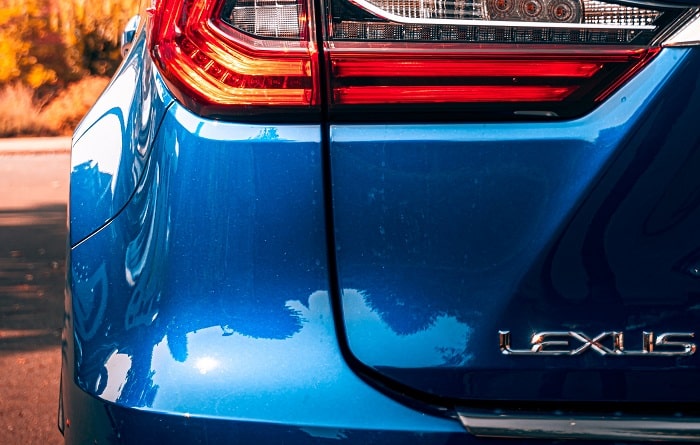 The Lexus font also bears some futuristic elements. And although elegant and highly visible, the font is noted for its relative simplicity.

Another thing worth noting is that all the elements in the Lexus logo seem to feature one uniform font. The logo is basically an italicized "L" enclosed in a round frame, which typically comes with the brand's name enclosed in CAPS.

When you look at the Lexus logo up-close, it appears slightly curved with a nice smooth finish. It also comes in a steel grey color, although the color may appear black or white if viewed from some screens and media channels. All these features resonate with creativity and elegance.

There's also an arrow formed between the three arms of letter "E" and the left side of letter "X." This arrow represents Lexus' superior speed compared to many Toyota cars.

Lexus symbol has earned a reputation as one of the most stunning logos. That might explain the brand's ever-growing popularity among automobile enthusiasts.
But like most brand logos, the Lexus logo has had a checkered history. The logo has been redesigned multiple times over the company's 30+-year existence.
In addition to the font used in the original Lexus logo, there are several other near-identical font styles that you might want to check out. One such font is known as Alexis.
Alexis is a font family created by Iconian Fonts. The font is available in several variants. Examples include Regular, Bold, Italic, Laser, Laser Italic, Expanded, Expanded Italic, Leftalic, Grunge, and 3D.
Where to Download the Lexus Font
There are multiple places to download the original Lexus font. Examples include Fam Fonts, FFonts, and Fontica.

This link may also come in handy if looking to download Alexis, a common alternative to the original Lexus logo font.