Last Updated on September 21, 2023
One of the more lucrative ways to earn nowadays is by selling digital designs. Whether you're a student, a budding entrepreneur, or a freelancer looking for passive income, selling designs online on platforms like Etsy and Amazon are not only profitable, it's a creative outlet, too.
But what if you're not a pro graphic designer?
Enter online design platform, Kittl. This DIY online graphic design application contains templates and design elements to help you craft all kinds of digital content. With its intuitive interface, beautifully crafted templates, and professional design tools at your fingertips, it's easy to make logos, t-shirt prints, wall art, and cards in minutes.
So the question now is – does Kittl live up to its claims, or is it another overhyped graphic design software? This article shall attempt to answer that – and more. Read on as we uncover the app's edge over its competitors.
What Is Kittl?
Kittl is a graphic design platform that offers high-end design templates that are suitable for beginners and seasoned designers. The company was founded by Tobias Saul and Nicolas Heymann.
The app bills itself as the "next-generation design creation platform," and a brief overview of the website's features explains why. The platform boasts cutting-edge design tools, including user-friendly functions to improve workflow. You also enjoy precision editing to ensure the output aptly captures your personal taste and preference.
Saul and Heymann were always passionate about vintage design. Inspired by their fascination with classic concepts and a glaring market gap for it, the duo teamed up to establish a cloud-based community where designers from different walks of life could engage freely and acquire new experiences.
What Can You Design with Kittl?
What sets Kittl apart is its extensive library of customizable graphics. You can effortlessly integrate these designs into your projects, ensuring high-quality visuals that remain sharp and legible across various sizes and display formats.
Beyond logos, you can create awesome T-shirt graphics, labels, cards, posters, and eye-catching social media visuals.
You'll have a diverse range of styles to choose from, with a particular focus on vintage and Y2K aesthetics. Vintage logos provide timeless appeal, featuring subdued palettes of browns, grays, beiges, pale blues, and greens.
In contrast, Y2K logos embrace bold neon colors and futuristic fonts, evoking a late-90s and early-2000s vibe. Kittl specializes in text-based designs that are perfect for printing (i.e., printable wall art, t-shirt motifs, typography posters, etc..).
What Are The Notable Brands That Use Kittl?
Among its prestigious clientele, Kittl proudly boasts the endorsement of iconic brands such as Harley-Davidson, Inc. and Warner Bros. Entertainment Inc.. The list of distinguished companies that have worked with the online design app is nothing short of impressive.
It includes industry giants like Netflix; the renowned advertising and PR agency Ogilvy; the esteemed game and toy company Ravensburger; the beloved chocolate brand Milka; and the esteemed book publisher Penguin Random House.
Kittl Standout Features
1. Advanced Text Editing
You'll discover an impressive real-time text editing tool that seamlessly transforms your text with just a few clicks. This dynamic feature empowers you to experiment with various renditions of your text to create original concepts. Try your hand at array of text editing options such as, text shading, text decoration, and text transformation – all of which enhance your creative possibilities.
2. Magic Recoloring
Color can make or break your project. Kittl understands this, which is why the platform provides a wide range of hues to choose from. But that's not all. Kittl also displays trending color palettes. You can instantly pick from the featured ones and replace the otherwise uninspiring colors from your designs.
3. Innovative Texture Clipping
To outshine its competitors, the platform introduced texture clipping: a groundbreaking feature that simplifies the process of applying diverse texture elements (i.e., noisy, grungy, paper, and patterns) with just a few clicks. 
What sets this feature apart is its ability to seamlessly integrate textures into your graphics without any impact on the design's background. This ensures a clean, professional look.
4. Ease of Use
A graphic design tool needs to be incredibly user-friendly for beginners to quickly get the hang of it. If all the design software you've been using require a steep learning curve, perhaps it's time you switched to Kittl.
For starters, Kittl has a rather uncluttered interface, with all the key functions located in sight. There's also a drag-and-drop feature that quickly delivers the selected vector illustrations onto your artboard.
5. Handy Guides
Despite being remarkably easy to use, Kittl understands that you may still encounter challenges navigating its features. To that end, the company provides tons of handy resources to help you quickly learn the ropes. There are dozens of tutorials as well as blog topics on how to achieve excellent graphics. 
6. Library of Curated Digital Assets
Another thing that makes Kittl attractive is its vast library of curated digital assets. Budding graphic designers can take advantage of high-quality illustrations, icons, frames, and shapes. You can use these designs as they are, or customize them further to suit your needs.
Kittl boasts hundreds of award-winning fonts. All typefaces are specially selected by the company's in-house design team. So you can readily deploy them without worrying about copyright infringement. Explore graphics from the millions of free-to-use photos available!
7. Multiple Upload and Download Options
There are several ways to upload and download content to and from its website. You can upload your artwork via a simple drag-and-drop function. Other upload options include the JPG, PNG, and SVG file formats.
When you're done creating or editing graphics, you can export them as JPG, PNG, PDF, or SVG. There are also built-in sharing features that allow you to automatically export content to your website or social media pages. However, note that you'll need to subscribe to Kittl's Pro Plan to download vectors from the website.
8. Nifty AI Features
Yes – Kittl lets you design with AI! The company has since integrated artificial intelligence into most of its operations in an effort to improve workflow while reducing costs. Users get to enjoy AI-powered text-to-vector and text-to-image conversion tools. There is an AI background remover and AI prompt book as well.
Kittl vs. Other Popular Graphic Design Platforms
a) Ease of Use
Adobe Illustrator and Canva are common Kittl alternatives. However, these tools often require beginners to spend a lot of time learning the ropes. And that's where Kittl stands out.
Our DIY online graphic design app maintains an intuitive dashboard that anyone can understand without having to go through a steep learning curve. The platform also comes pre-built with powerful design capabilities, most of which are readily accessible on its homepage.
b) Speed
It's one of the few design platforms that allow you to create sophisticated graphics in a few clicks. The tool is comparatively faster than several industry leaders, including Adobe Illustrator and Canva.
c) Ready-to-Use, High-Quality Templates
Many graphic design websites provide free, ready-to-use templates. But what truly sets Kittl apart is its massive library of professionally-curated assets. The company works with experienced graphic designers who continuously analyze the trends to come up with unique designs regularly so users have access to new stuff every few months.
d) Design Community
The Kittl community is highly engaged, creative, and supportive! Whether you need help figuring out a design or you want to participate in challenges, there's something in store for you. The website lets professionals and beginners interact freely and share notes on the industry's trends, pitfalls, and best practices.
e) Pricing
Nearly all graphic design tools you'll come across market themselves as free to use. However, they differ when it comes to features you can unlock under the free version. Many design platforms will severely limit you.
On the contrary, Kittl lets you enjoy a complete library of digital assets using its free version. These include dozens of high-quality logos, labels, posters, t-shirts, etc. The premium packages are also considerably lower than most of its competitors.
How Much Does Kittl Cost?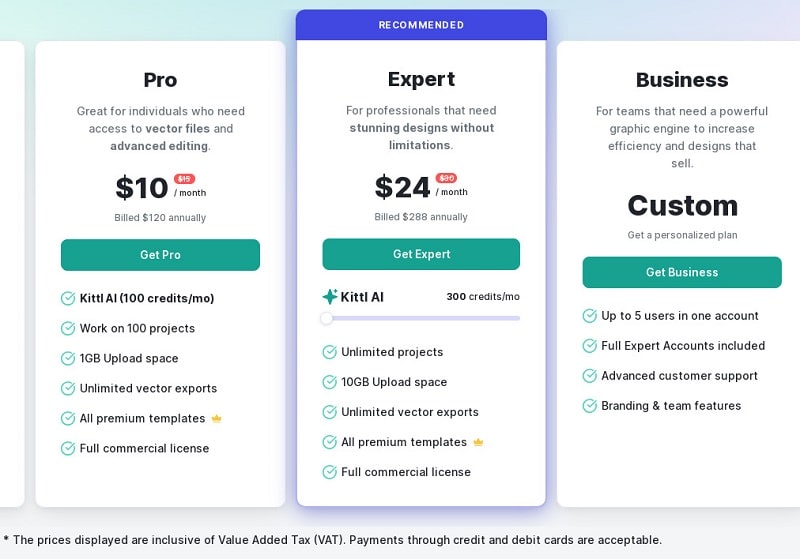 Within Kittl, you have the option to choose from a range of plans, including a FREE tier and three distinct premium offerings. The FREE plan essentially functions as a trial, enabling you to explore the app's capabilities before making a full commitment to the graphic design platform.
This introductory tier provides 15 credits and accommodates up to 20 separate projects. However, it's important to note that the free trial imposes limitations, such as a maximum upload space of 50 MB and the availability of low-resolution downloads. Additionally, creations made under this plan will need attribution.
Fortunately, you can avoid these hassles by upgrading to any of Kittl's affordable premium plans, namely;

• The Pro Plan, at $10/month if billed annually or $15/month if billed monthly
• The Expert Plan, costing $24/month if billed monthly or $30/month if billed monthly
• The Business Plan, which allows you to pay a customized one-time fee depending on the design services you're looking for.
You get more benefits as you move up towards higher plans. For instance, the Pro plan supports 100 credits per month as well as 100 projects and 1 GB upload space. The next tier, Expert, supports unlimited projects and up to 10 GB upload space.
Quick Kittl Pros & Cons
Pros
• Intuitive user interface
• Advanced graphic design features
• Multiple ways to upload and download graphics
• A massive library of curated content
• Tons of design inspirations for beginners
• Flexible pricing plans, including a free trial
Cons
• Vector downloads require a Pro subscription
• The free version is essentially a free trial
• Limited range of payment gateways
Kittl Reviews
The app has racked up pretty decent reviews both on its official website as well as on other credible review platforms. It currently enjoys an overall rating of 4.9/5* from 84 reviews on Product Hunt.
One previous client had this to say, "I am a design professional who has used Adobe Illustrator for years; and, it took some years to learn and master the application. But now comes Kittl, a design tool that takes away all the obstacles between the designer and the ability to create the design. And, you do not have to be a design professional to use Kittl – because with Kittl everyone is a designer!"
This design platform is rated 4.8/5* from 207 reviews on TrustPilot.
*Note: Scores are based as of the time of writing.
Is Kittl The Best Design Tool Around?
Kittl is undoubtedly one of the best graphic design tools in terms of ease of use, affordability, and advanced features. This software stands out for producing consistent image quality across different sizes and display outputs.
Graphic designers will also have fun playing around with colors and different types of vectors. Not to mention cool AI-driven features such as text-to-image and background removal. And with premium plans starting from as low as $10/month, it's evident why Kittl is the next big thing for designers and entrepreneurs.