KFC (an abbreviation for Kentucky Fried Chicken), is an American fast-food restaurant chain specializing in fried chicken. The restaurant chain was founded on September 24, 1952, in Salt Lake City, Utah, by Colonel Harland Sanders. However, it's currently based in Louisville, Kentucky.

KFC is a subsidiary of the restaurant company Yum! Brands. Yum! Brands owns a couple of other globally-renowned chains, including Taco Bell, Pizza Hut, and WingStreet.

KFC is the world's second-largest restaurant chain by sales volume, coming only after the iconic McDonald's. As of December 2019, the chain had a presence in 22, 621 locations across 150 countries.

While it's predominantly a fried chicken restaurant chain, KFC deals in several other food products. Examples include hamburgers, wraps, chicken sandwiches, salads, desserts, soft drinks, and milk shakes.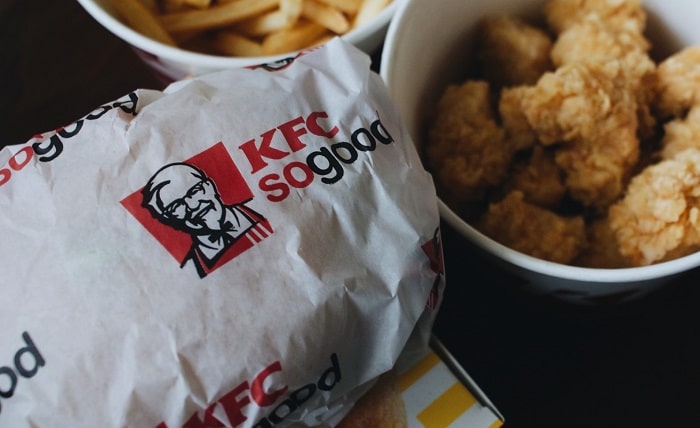 Product variety and customer-oriented marketing are the main factors behind the brand's immense popularity.
It should be noted that KFC was the first American fast-food chain to penetrate international markets, starting from Canada and the United Kingdom before proceeding to Mexico and Jamaica.
KFC Font
The KFC logo is designed in a font known as Friz Quadrata. The font was created by Ernst Friz, Victor Caruso, and Thierry Puyfoulhoux. It's published by Linotype.

Friz Quadrata is a family of fonts that comes in 8 styles. The typeface also includes several package options. It's noted for its fun and decorative texture, which is mainly achieved by the incorporation of thick strokes.
When creating the Friz Quadrata font, the designers also tried to deliver a smooth and neat glimpse to the three initials. You can use the font in various projects, including on video game titles, movie titles, and in t-shirt printing. The font is also ideal for use on stylish emblems, book covers, and campaign posters.

In addition to the Friz Quadrata font, there are several other font styles that closely resemble the KFC logo font. A notable example is the Spiranax Font designed by Brenda Gallo and Gustavo Dipre. There's also the Primitive Font designed by Richard William Mueller.

Another popular font similar to KFC's Friz Quadrata font include the Daily News Extra Bold Italic. Daily News Extra Bold Italic is a transitional serif font created by Gustav Jaeger and published by Berthold.
Where to Download the Friz Quadrata Font
Dafont Free is a perfect place to download KFC's Friz Quadrata font. The font is also available on the Fonts Geek and My Fonts websites.
Friz Quadrata is mainly available for free. However, be sure to check the publisher's download terms before downloading the font. That's especially if planning to use the font for commercial projects.

Remember, there are several other fonts that are nearly similar to KFC's original logo font. Just like Friz Quadrata, these secondary fonts are available for download for personal and commercial use.

You can follow the download link on the Ezzee Fonts website () to download the Spirax Font. The same website is an excellent place to download the Primitive Font. If you'd prefer the Daily News Extra Bold Italic, Download Free Fonts website is highly resourceful.