I Heart NY, also known as I Love New York and commonly stylized as I (RED HEART SYMBOL) NY, is a slogan and logo introduced on July 15, 1977, with the intention of promoting tourism in the state of New York. The term also denotes a song composed for the same purpose of positioning New York as a preeminent tourist destination in the United States.

I Heart NY has achieved near-cult popularity since its introduction over four decades ago. The slogan is best known for its continued appearance on apparels, particularly caps and T-shirts.
I Love NY Font
The 'I Love New York' logo was designed by Milton Glaser for the New York State Department of Commerce (the actual slogan was developed by the Wells, Rich, Greene marketing firm). The logo first appeared in 1976, a year before the slogan was coined.

I Heart NY uses the ITC American Typewriter Medium font for its logo. This is the typeface used for the "I" and "NY" words and not necessarily for the bright-red heart symbol.

ITC American Typewriter Medium, also known simply as American Typewriter Medium, is a medium version of American Typewriter, a slab-serif typeface developed in 1974 by Joel Kaden in collaboration with Tony Stan.
Kaden and Stan created American Typewriter for the International Typeface Corporation (ITC). The ITC subsequently became one of the font's official publishers, even lending its initials to the typeface.

American Typewriter was created based on Sholes's 1868 typewriter patent. And while the font was originally published by ITC, it has since been adopted by other renowned font foundries, including Adobe, Linotype, and Apple.

American Typewriter was initially released in photocomposition, also known as cold type. The typeface later appeared in digital versions. It's now available in four weights, each with matching italics.
ITC American Typewriter Features and Applications
ITC American Typewriter shares most fundamental features with regular typewriter fonts. However, the typeface stands out for its rather proportional design.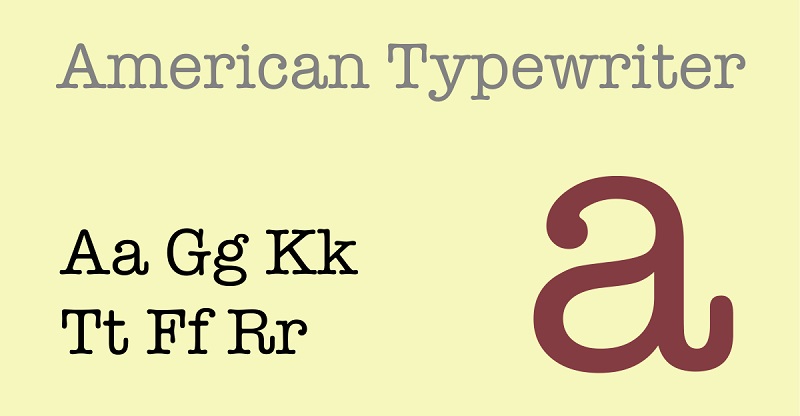 American Typewriter is best suited for design projects where the primary objective is to create a classical or industrial appearance. That explains its usage on the I Heart New York logo. Other notable projects that utilize(d) the ITC American Typewriter Font include;

• MotorWeek (from the 1983/1984 – 1988/1989 season)
• The CBS sitcom 'Young Sheldon' (for its logo as well as opening and closing credits)
• The television series 'The Office' (for its logo)
• macOS and iOS (on some of their products)
• TVOntario (for its logo)
Where to Download ITC American Typewriter
The ITC American Typewriter can be found on Fonts.com, Fonts Market, Mais Fontes, and a host of other websites. The font is generally free for both personal and commercial usage.