Last Updated on October 9, 2023
Hocus Pocus is a 1993 American fantasy comedy film directed by renowned filmmaker Kenny Ortega. The film was written by Mick Garris and Neil Cuthbert. It's set in Salem, Massachusetts, with most of the events taking place on Halloween night.

Hocus Pocus' storyline follows a villainous comedic trio of witches – Winifred "Winnie" Sanderson (Bette Middler), Sarah Sanderson (Sarah Jessica Parker), and Mary Sanderson (Kathy Najimy) – who're inadvertently brought back to life by a teenage boy named Max Dennison (Omri Katz).
After moving to Salem from Los Angeles, California, Omri, a curious teenager, decides to explore a deserted house with his sister Dani Dennison (Thora Birch) and their new friend and Max's crush Allison (Vinessa Shaw).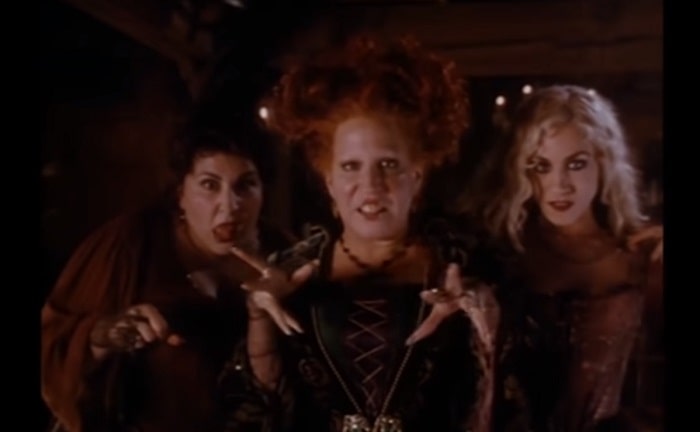 As the three teenagers explore the abandoned house, Allison can't seem to shake off the fears that the property could be haunted. During their explorations, Max accidentally resurrects three diabolical witches who used to live in the house, but had been dead for 300 years.

As soon as they come back to life, the witches embark on a reign of terror as they seek to exact revenge and achieve immortality. Now, Max and his two companions must steal the witches' spellbook to prevent them from becoming immortal.

Hocus Pocus was released on July 16, 1993, by Walt Disney Pictures. The $28-million-budget film was initially a box office and critical failure. However, it eventually surpassed expectations, grossing $45.4 million at the box office.
Hocus Pocus Font
The Hocus Pocus movie logo is designed in a customized typeface that was likely created by in-house designers hired by the film's makers. However, the logo's design looks very similar to the Captain Kidd and Kidela fonts.

Kidela is an eccentric and exuberant serif typeface created by Jeremy Dooley and published by Insigne. The font is reminiscent of hand-painted signage, which speaks to its uniqueness and originality. It features tight kerning and spacing. These elements enhance the font's legibility, particularly on digital display screens.

This typeface includes at least 60 discretionary ligatures. While this feature might make the font look a bit chaotic if examined up-close, it can add an extra layer of aesthetic appeal if properly implemented. That's because the numerous ligatures extend the font's natural hand-painted appearance.
The only potential drawback to Kidela is that the font is only available in one style.
Captain Kidd is another font similar to the ones used on the Hocus Pocus logo. The font has 214 defined characters and 53 distinct glyphs. Designed by The Scriptorium, it is available as a trial. You will need to pay for commercial or personal use. One can use the trial but there might be several missing characters.
Make sure to message the creator if you need Captain Kidd for your projects.
Where to Download the Hocus Pocus Font
The Kidela font is available for download from My Fonts. Note that Kidela is a commercial font. That means you'll need to pay before you can apply it on your design projects. 
Captain Kidd can be found on CuFon Fonts and DaFont Free. You can also use the same websites to find similar magical fonts to use in your projects.