Last Updated on November 11, 2022
The Hershey Company, more popularly known as Hershey's, is an American multinational company best known for its chocolate products.

Hershey's is considered one of the world's largest chocolate manufacturers, available in over 60 countries. The company was founded in 1894 by Milton S. Hershey. It was formerly known as Hershey Chocolate Co. from 1894 to 1927, before the company changed its name to Hershey Chocolate Corporation.
In 1968, Hershey's underwent another name change from Hershey Chocolate Corporation to Hershey Foods Corporation. The company would maintain its new name until 2005, before eventually changing to The Hershey Company.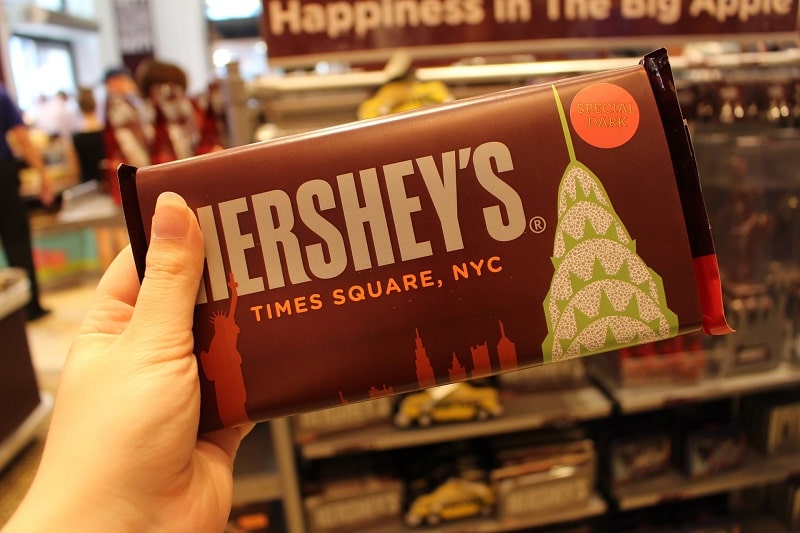 In addition to chocolate, Hershey's also deals in a variety of other edible products. Examples include baked goods like cakes and cookies, as well as beverage drinks like milkshakes.
Some of its flagship products include Hershey Bar, Hershey Kisses, Brookside Chocolates, Reese's Peanut Butter Cups, Ice Breakers Candy, Twizzlers, Jolly Rancher, and Breath Savers.
Hershey's Font
Hershey's has one of the most simplistic logos of globally-renowned chocolate brands. In fact, the logo may look a bit dull and unappealing compared to that of other popular chocolate manufacturers.
Hershey's logo features the company's name – Hershey's – written in CAPS and set on a chocolate brown bar. Perhaps the one aspect of this logo that makes it stand out is the unique fonts used.
Hershey's uses a font known as Milton as its primary typeface. Milton is a custom font that was designed specifically for the chocolate manufacturer. The font is aptly named after the company's founder.

Milton was launched in 2014 as part of Hershey's rebranding initiatives. The font was the result of a joint venture between a group of in-house designers at Hershey Global Design – led by Ron Burrage who worked as the senior director Global Head of Design – and the goDutch Studio based in Cincinnati, Ohio.
But while Hershey Global Design and goDutch took charge of creating the Milton typeface, the font was actually provided by a different entity – the Alexander Design Associates based in New York City, New York.

The company's branding materials feature several other supporting fonts. Brandon Grotesque appears in menus, whereas Brandon Text (a variation in the Brandon Grotesque) is used for smaller copies. There's also the Europa typeface, generally used for headlines.
About Brandon Grotesque
Brandon Grotesque is a sans-serif typeface designed around 2009 and 2010 by Hannes von Döhren of HVD Fonts, in collaboration with Igino Marini of iKern.

Although classified as a sans-serif font, Brandon Grotesque was designed with a low x-height. This feature makes it appear more elegant than common sans-serif typefaces. The Brandon Grotesque family is available in several styles. Examples include;

• Brandon Grotesque Regular Italic
• Brandon Grotesque Medium
• Brandon Grotesque Bold
• Brandon Grotesque Black
• Brandon Grotesque Text
• Brandon Grotesque Thin
• Brandon Grotesque Light
About Europa
Europa is a modern sans-serif typeface that blends geometric reduction with humanistic vitality. The font's development was inspired by two popular European typefaces, namely the Futura known for its geometric features and the Gill Sans famous for its humanistic attributes.

Europa was designed and published in 2011 by Europa Type, an independent-type design and publishing company founded by renowned designer and typographer Fabian Leuenberger. The typeface is available in six weights. They include;

• Europa Regular Italic
• Europa Bold
• Europa Light
Where to Download Hershey's Fonts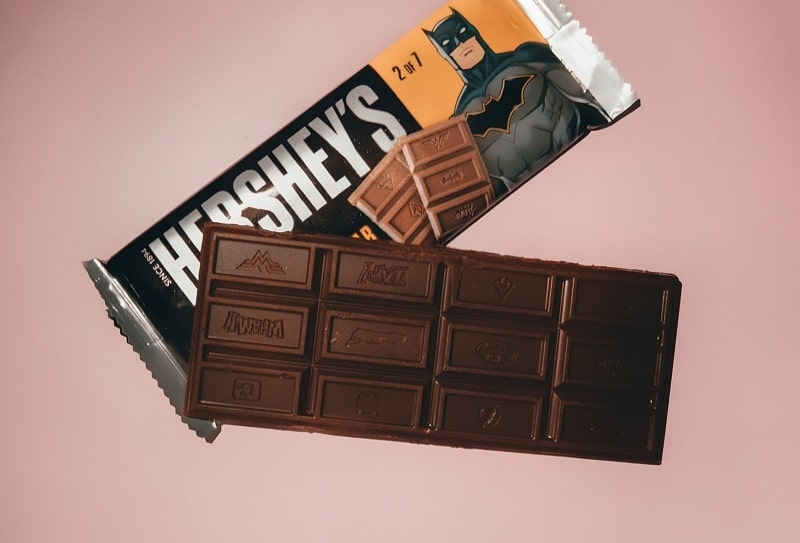 Hershey's primary typeface, Milton, was customized for the company. That means the font has no exact match. However, there are several places to download the company's two supporting fonts – Brandon Grotesque and Europa.

You can download Brandon Grotesque from Free Fonts Family or Adobe Fonts. On the other hand, you can access Europa fonts by checking out the Cufon Fonts website.

Note that both Brandon Grotesque and Europa fonts are only free for personal, NOT commercial, use.