Last Updated on November 18, 2022
Hermès International S.A, commonly simply known as Hermès, is a French luxury powerhouse that designs, manufactures, and distributes high-end apparel and fashion accessories.
The company designs a range of luxury products, including leather foods, ready-to-wear, lifestyle accessories, and home furnishings. It also specializes in the design of high-end watches, jewelry, and perfumery.
About Hermès
Hermès was established in 1837 by Thierry Hermès. It's currently headquartered in 24 Rue du Faubourg Saint-Honoré – 75008 Paris, France. But like most established companies, Hermès distributes its products to virtually all regions worldwide.
The fashion powerhouse has worked with renowned designers throughout its history. Notable mentions include Lola Prusac, Monsieur Levaillant, Jacques Delahaye, Catherine de Karolyi, Eric Bergère, Nicole de Vesian, to mention but a few.

Hermès' consistent partnerships with experienced designers have seen the company rise to become one of the world's largest fashion powerhouses. Interestingly, the brand has maintained one logo throughout its history.
Well, it's worth noting that Hermès' logo appeared several years after the company was established. Still, there must be genuine reasons such a successful fashion brand would choose to retain its visual identity.

In this post, we narrow down our focus to Hermès' logo. The article shall examine what the logo looks like, the symbolism behind the design, and why the company doesn't seem to be in a hurry to redesign it.
Hermès Logo's Appearance
Hermès' logo comprises two basic elements – a graphic emblem and the company's wordmark.
Hermès' Graphic Emblem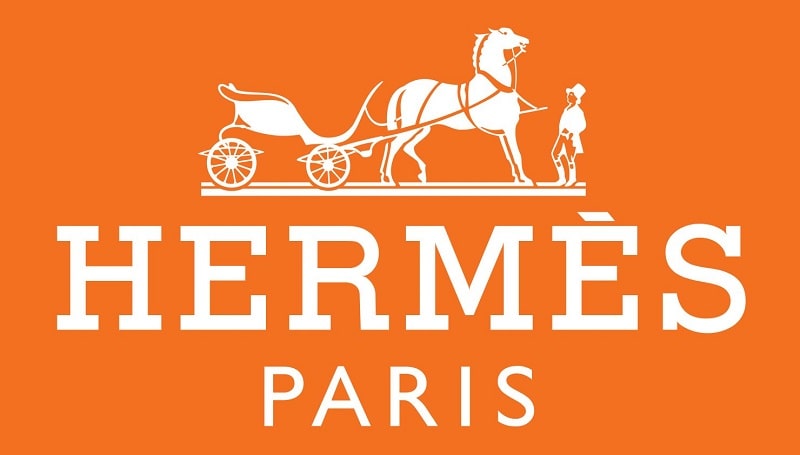 Hermès' emblem is an image of a light carriage with high springs, pulled by a single horse. The image also features a horse rider donning a tophat and tails, standing right in front of the carriage and looking up at the horse.

The carriage and horse, as well as the man, are all standing on a double line. The double line looks a lot like a tarmacked road, although we cannot tell for sure.
Hermès Wordmark
Hermès' wordmark is a core element of the company's logo. The brand name appears right underneath the graphic emblem. It's written in CAPS and executed in orange, which is pretty much the color that the entire badge appears in. Beneath the brand name is the word 'PARIS,' also in orange.

However, it's worth noting that the word 'PARIS' doesn't appear in all Hermès logos. And when it does, it's usually executed in a lighter orange color than the rest of the badge. The word is also in smaller serifs compared to the 'Hermès' portion.
Logo Colors
Orange is the only color used on Hermès' logo. Well, technically, it's orange on a white or transparent background.

Like the rest of the design elements, Hermès has maintained the orange color on its badge for years. The color only seems to change its shades. For instance, the emblem and the brand name generally appear in deep orange, whereas the word 'PARIS' is in a lighter shade of orange.

But like most logos, the Hermès' badge can change color depending on the context. The emblem sometimes appears in a monochrome (black and white color). In these monochromatic versions, black is usually the color for the graphic emblem and wordmark while white serves as the background color.
Logo Font
The font used for the brand name on Hermès badge is a large, sleek sans-serif typeface that's unique and seems to have been designed exclusively for the fashion house. However, it looks very similar to the Memphis typeface.

Memphis is a diverse slab-serif family of fonts originally designed by Dr. Rudolf Wolf and initially released in 1929 by the Stempel Type Foundry. The font family was developed based on inspirations from Germanic geometric sans-serifs that were popular around the same period, such as Futura.

Memphis is characterized by its monoline structure, which makes letterings executed in the font less chaotic. Although originally developed as a single weight, the typeface has since been expanded into several styles. Various font foundries like Monotype and Linotype have also released several digitized designs of the Memphis font.
Hermès Logo's Symbolism
Photo by Chi Lok TSANG on Unsplash
Hermès' logo takes its inspirations from a painting by Alfred de Dreux, which was titled "Le Duc Attele, Groom a L'Attente". The title translates to "Hitched Carriage, Waiting Groom" in English.

Alfred de Dreux, whose official name was Pierre-Alfred Dedreux, was an accomplished French portrait and animal painter who was born on 23 March 1810 in Paris, France. De Dreux died on 5 March 1860 in Paris.
During his lifetime, the celebrated artist was best known for his stunning painting scenes with horses. Many of his notable painting works were completed as part of the famous series of horse portraits, namely Scènes Equestres (completed in 1842) and Petits Scènes Equestres (completed in 1847).

It's worth noting that Hermès founder, Thierry Hermès, had no personal connection with Alfred de Dreux. So, why did Thierry settle on one of de Dreux's paintings?
Photo by Olena Kamenetska on Unsplash
Well, the 'hitched carriage, waiting groom' painting was selected because it referenced Hermès' origins. Hermès originally specialized in the design of custom horse harnesses long before venturing into the luxury fashion business.
In the beginning, the company solely focused on making horse harnesses. It then branched into saddles and a range of other equestrian accessories before eventually venturing into high-end fashion. That might also explain why Hermès' luxury fashion brand did not have an official logo until the 1950s.
But even after shifting its focus to the fashion business, Hermès decided to retain the horse carriage design as a timeless reminder of its origins.

Interestingly, Hermès' graphic emblem also includes the image of a man. Based on the man's dress code, it's easy to dismiss him as a mere horse rider. But if examined closely, you'll see that the man is actually a finely-clothed groom. This is probably the only reliable clue on the industry Hermès is currently involved in.
The Wordmark
As you may have guessed, the main purpose served by Hermès brand name is drawing more attention to the logo.

Note that the name 'PARIS' also appears underneath the company's wordmark in many versions of the logo. The name simply alludes to Hermès' headquarters. It doesn't necessarily reference the area served by Hermès, as the fashion powerhouse sells its merchandise worldwide.
Symbolism of the Colors
Hermès chose orange and white as its primary colors. The orange color appears in varying shades. The carriage and company's brand name are set in solid orange, whereas the word 'PARIS' is in a lighter orange.

Orange stands for happiness and warmth. But the main reason Hermès settled on the orange-white color palette is that the combination looks elegant yet less chaotic.
Hermès Logo's History
Photo by Bestami Sarıkaya on Unsplash
Hermès has not have changed its logo for over seventy years. That's partly because the company adopted a rather detailed badge which is rife in meaning and symbolism.

Hermès logo stands out for its unique, elegant, and memorable design. It is one of the few renowned brands that use the image of a carriage on its logo. Although the badge doesn't aptly reference the company's current industry, it serves as a timeless reminder of its humble beginnings.