Hebrew is the last of the Canaanite dialects. These are languages once used by people throughout the Levant, Mesopotamia, Anatolia, and all the way to the east Mediterranean.
Origins of Hebrew Symbols and Sounds
It was widely accepted that Hebrew flourished as a spoken language from 1200 to 586 BCE. It had gone through several changes during these times, notably due to the rise and fall of empires in the region. Hebrew was no longer widely spoken by Late Antiquity, but it continued to see use as a literary language in Spain.
It also served as a language of commerce in Jews of varying first tongues. Judaists kept the language alive through their liturgies. The late 19th Century saw its revival as a spoken language among people.
The Hebrew alphabet saw just as many changes as its spoken counterpart throughout the years. Its foundations dated as far as between the 20th and 12th centuries B.C. There are theories of this being older than what the current discoveries suggest.
Most of the scrolls from the Dead Sea Caves were written in late Semitic script, where it saw first use between the 4th Century B.C. and the early modern era. The Hebrew symbols we know today began around 11th Century A.D.
The Masoretic Hebrew texts of the Bible were written this way. This has been the way to write Hebrew up to the present.
Modern Hebrew Fonts
Known as the language of sacred texts, Hebrew is both fascinating and vital.
You don't need to be an expert if you want to incorporate a few of its elements and/or aesthetics into your works. All you need are these lovely Hebrew fonts and you're good to go.
1. Micrograma MF
Simple albeit with a few geometric touches, this family pack was designed by Arta Osherov and published by Masterfont. It contains 3 styles you can purchase individually or as a package.
2. Bamberger
Created by Avraham Cornfeld, this font includes 6 styles, ranging from Ultra Light to Grunge. Bold, vivacious, and rough, it definitely has a wide variety of uses.
3. Pronto MF
Featuring 4 elegant styles to choose from, this typeface by Zvika Rosenberg has lovely round stems that make them a wonderful option for headlines or body copy.
4. Vatik MF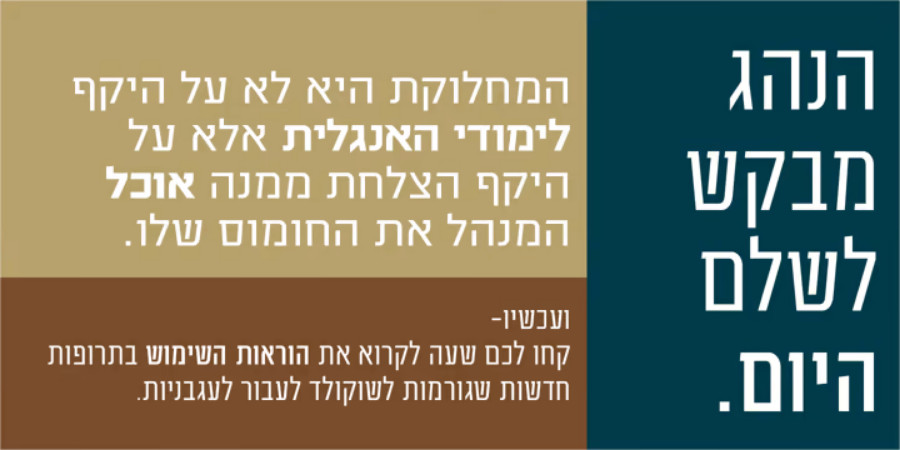 The straight edges of the characters from this font family give them a clean, dignified appeal. Suitable for professional use, you can apply any of its 8 styles on headlines, main text, banners, logos, and more.
5. Otostrada MF
You can't go wrong with this tender sans serif designed by Noa David as it remains legible no matter the font size.
6. Teom
Inspired by the Latin letters of Tahoma, this polished and harmonious substitute is ideal for titles, headlines, and short texts.
7. Celeb MF
The geometric forms of this typeface were derived from old Hebrew characters, albeit the designer added chic, modern twists to it.
8. Oron Koteret MF
Reminiscent of old Biblical manuscripts, this font by Asher Oron manages to maintain clear forms and shapes for decent readability.
9. Chartreux
Inspired by the early 20th-Century era and named after a rare breed of domesticated cats, designer Thoma Kikis brings you this monospaced display sans that's as sophisticated as it is expressive.
10. Caslon1821
Designed by Viktor Kharyk and Konstantin Golovchenko, this typeface is a revival of the 'Italian' of foundry Caslon & Livermore.
11. Tmura MF
With 4 styles, round stems, and a unique, geometric look, this typeface can be confidently used in any point size.
12. Almoni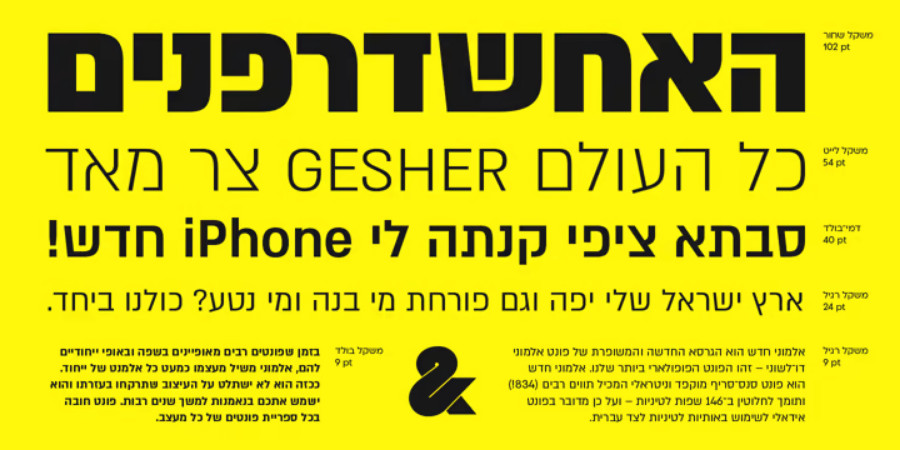 Considered as one of the most popular fonts in Israel, this neutral multi-lingual sans will make a great addition to any designer's toolkit.
13. Avenir® Next Hebrew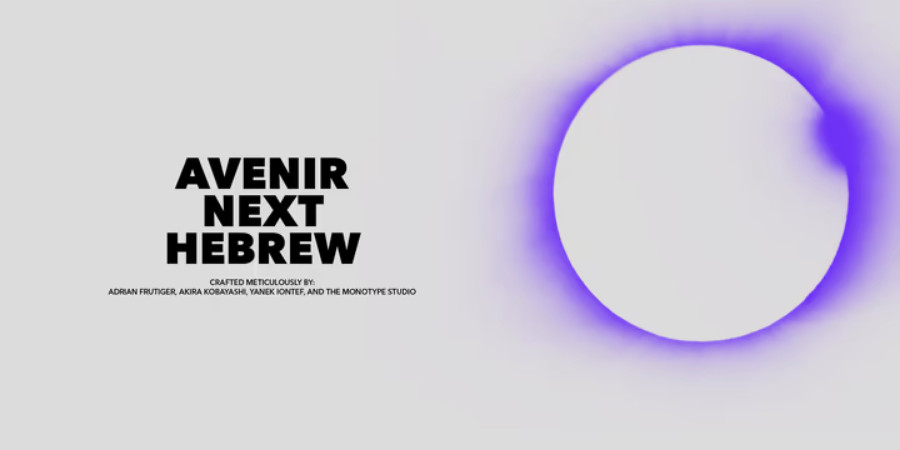 Published by Linotype, this expansive font pack contains a total of 20 styles that can support about 150 languages, including Hebrew, Latin, Arabic, Georgian, Cyrillic, and Thai.
14. Cooperative
Re-create your favorite retro designs using this vintage font by Ben Nathan. It features dirty and grungy styles to add a genuine distressed look to your works.
15. TA Modern Times
This font pack by Tural Aliyev has a whopping 102 styles ranging from ultra condensed light to outline bold.
16. Ploni
Clean, geometric, and unique, this precise sans will not overshadow the rest of your work – be it a type poster, a social media banner, or a magazine spread.
17. SHAPIRIT
The word 'Shapirt' in Hebrew means dragonfly. Inspired by its slim and elegant body, this font pack by Martin Kadlečik also exudes the slender, chic look of the flying insect.
18. Anomalia
Eccentric and geometric, this font family has the right amount of retro touches for vintage or contemporary projects.
19. Newton
Designed by Alexander Tarbeev and Vladimir Yefimov, this legible typeface has Old Style serif characteristics that are suitable on any ad or display title.
20. SK Concretica
Classic but with a contemporary twist, this gem from Tikhon Reztcov includes multilingual elements from Latin, Cyrillic, Hebrew, Hiragana, and Katakana.