Last Updated on January 4, 2021
When talking about Hawaii, what usually comes to mind? It's most likely the tropical beach life – one of sand, sun, sea, and surfing. And that's not surprising, as this U.S. state is one of the most popular holiday destinations for almost everyone, from couples, students, retirees, to families.
This archipelago is not only home to shorelines with gold, red, and black sand, but also to active volcanoes, verdant foliage, and friendly locals. If you're an adventurer, there's no limit to what you can do, too. From catching waves, exploring craters, to diving, road tripping, and simple sightseeing, it's got everything!
Missing the sun and the sea? Capture even just a tiny essence of paradise when you use any of these beautiful Hawaii fonts.
11 Hawaii Fonts
1. Tahiti – Tropical Font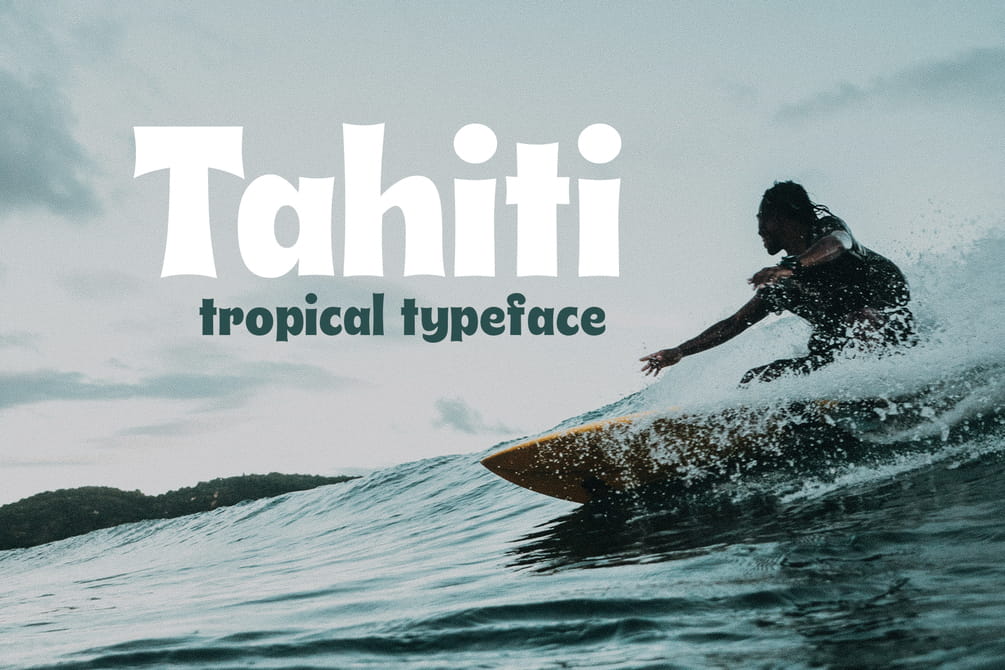 Tahiti is a fun display typeface perfect for your Summer and Spring projects. If you're looking to add some tropical vibes to your work then this font is for you!
2. Palm Canyon Drive
Inspired by California during the '40s and '50s, this monoline script from RetroSupply Co. is all about post-war optimism mixed in with a bit of retro Hollywood vibe. Aside from the typeface, you'll also get tons of extras, such as catchwords and alpha-numeric characters.
3. Aloha Script
Say hello to this lovely brush script designed by Pierre Tardif and Charles Borges de Oliveria. With more than 100 alternate characters, plus a variety of ligatures, swashes, and underlines, it's a font you'll keep coming back to for all kinds of artworks.
4. Tikiland Typeface
Looking for the final touches to a Tiki party? Then why not create amazing invitations, banners, headlines, or greeting cards using this custom font by PutraCetol Studio.
5. Forbidden Isle Tiki Font
Spring Break Jake presents this hand-drawn sans serif that's all about the Tiki spirit. Thanks to its clean, bold design, you can easily use it on book covers, menus, labels, or bar signs.
Download Forbidden Isle Tiki Font
6. Maui
Travel to the island paradise of Maui when you try this beautifully crafted font by Traveling Fonts. Featuring 2 versions (Regular and Eroded), this handwritten typeface also includes over 40 individual illustrations and ornaments to help realize your adventures!
7. Wakiki Layered Typeface
This fantastic layered set from Drizy includes 3 styles (Regular, Cheese, Wood) with a Shadow version to add more depth to your designs. Plus, you'll also receive the Maui Script Font and the Kauai Font as a bonus. Want more reasons to celebrate? A vector pack featuring party elements as well as a poster template is included.
Download Wakiki Layered Typeface
8. Mahalo
Inspired by vintage signage in Hawaii, Mark Richardson created this strong all-caps display typeface with textured uppercase and solid lowercase characters.
9. Hawaii
Noe Araujo brings to you this handmade script that's reminiscent of sunshine and playful waves. It's recommended for use in logos, headlines, invitations, and other projects with a vintage theme.
10. Ocovilla
Influenced by magazine lettering of the 50's and 60's, this offbeat font with a paper-cut look from Astigmatic is quirky and highly customizable. Pair it with tropical photos or bold, solid colors and you'll get a different feel every time.
11. Havana Sunset Font Duo
Evoke the feel of summer in this super versatile font duo by Sam Parrett. With a slapdash textured script font as well as a modern all-caps serif, it's the perfect combination for creating stylish designs in half the time.