When talking about Hawaii, what usually comes to mind? It's most likely the tropical beach life – one of sand, sun, sea, and surfing. And that's not surprising, as this U.S. state is one of the most popular holiday destinations for almost everyone, from couples, students, retirees, to families.
This archipelago is not only home to shorelines with gold, red, and black sand, but also to active volcanoes, verdant foliage, and friendly locals. If you're an adventurer, there's no limit to what you can do, too. From catching waves, and exploring craters, to diving, road-tripping, and simple sightseeing, it's got everything!
Missing the sun and the sea? Capture even just a tiny essence of paradise when you use any of these beautiful Hawaii fonts.
https://youtube.com/shorts/6RKWyxPwiws
Tropical Hawaii Fonts
1. Antigua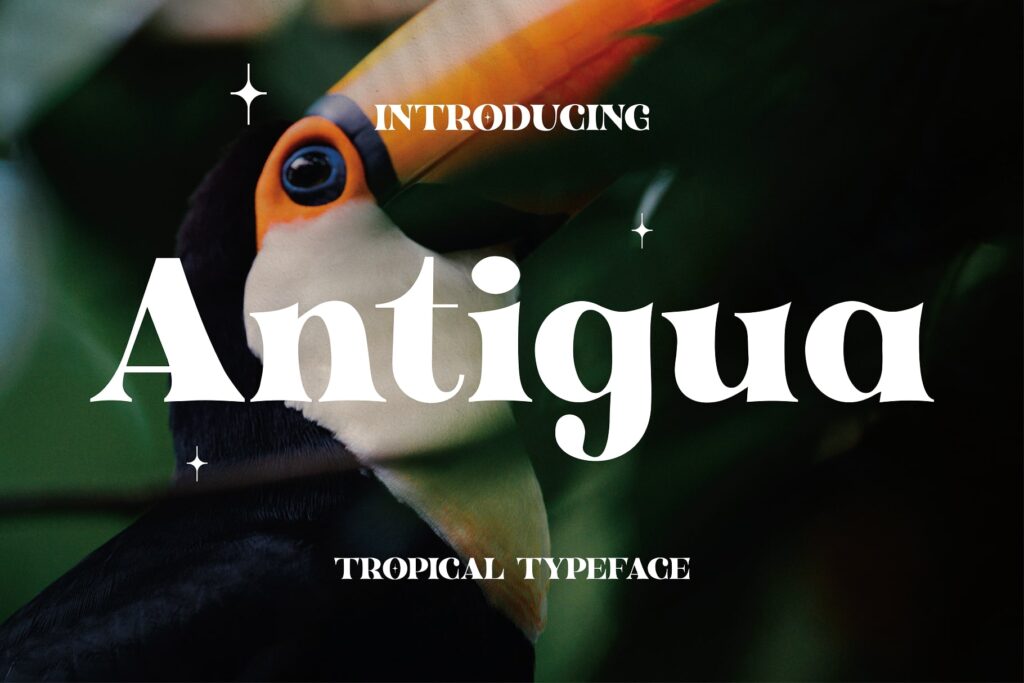 Antigua is a versatile serif font family that offers two stunning styles: Regular and Outline. With bonus ligatures to add flair to your designs, it's both simple and elegant, making it a memorable addition to any project.
You can use Antigua for a variety of applications, including branding, packaging, posters, social media, and magazines. Trust us when we say that this font is a joy to read and use – in fact, you may find yourself using it more often than you'd expect!
2. Mauna Loa
Inspired by vintage maps and illustrations, Mauna Loa is a hand-made, sans-serif Hawaii font that evokes nostalgic, tropical, and organic warmth and is readable both small scale and large.
3. Onboard
Onboard is a smooth Hawaii font with a calligraphy style, perfect for an invitation like greeting cards, branding materials, business cards, quotes, posters, and more!
4. Tiki Tropic
Tiki Tropic is more than just another Hawaii font. It's loaded with graphics like jumping dolphins, palm trees, and Tiki masks to quickly add some visuals to your typography projects!
5. Wanderlust
Say hello to Wanderlust, a beautiful Hawaii font typeface full of spirit, adventure, and awesome alternates! Great for headlines, logos, and standing out in the crowd!
6. Tikiland Typeface
Looking for the final touches to a Tiki party? Then why not create amazing invitations, banners, headlines, or greeting cards using this custom font by PutraCetol Studio.
7. Wakiki Layered Typeface
This fantastic layered set from Drizy includes 3 styles (Regular, Cheese, Wood) with a Shadow version to add more depth to your designs. Plus, you'll also receive the Maui Script Font and the Kauai Font as a bonus. Want more reasons to celebrate? A vector pack featuring party elements as well as a poster template is included.
Download Wakiki Layered Typeface
8. Tahiti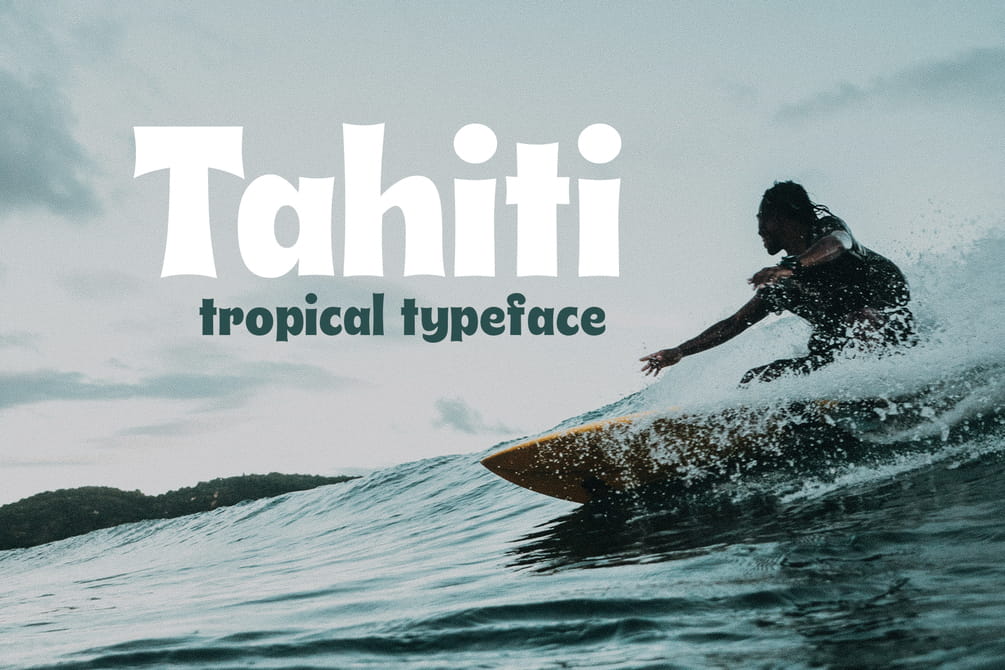 Tahiti is a fun display typeface perfect for your Summer and Spring projects. If you're looking to add some tropical vibes to your work then this font is for you!
9. Citro
Citro is a bold typeface based on retro hand-painted paper signs primarily seen in grocery stores from the 1920s through the 1970s. It features inconsistent baseline and cap heights so as you type the characters seem to dance.
Citro is fun and not too serious. It's perfect for both vintage-inspired and contemporary branding, marketing, packaging, and much more. If you're looking to create a bold impact with a retro flare, then Citro is for you!
10. Mahalo
Inspired by vintage signage in Hawaii, Mark Richardson created this strong all-caps display typeface with textured uppercase and solid lowercase characters.
11. Ocovilla
Influenced by magazine lettering of the 50's and 60's, this offbeat font with a paper-cut look from Astigmatic is quirky and highly customizable. Pair it with tropical photos or bold, solid colors and you'll get a different feel every time.
12. Beachcomber

Beachcomber is the most Hawaii font we could find. You can't look at it without immediately thinking of tiki torches, bamboo huts, and Mai Tais!
13. Havana Sunset Font Duo
Evoke the feel of summer in this super versatile font duo by Sam Parrett. With a slapdash textured script font as well as a modern all-caps serif, it's the perfect combination for creating stylish designs in half the time.
Download Havana Sunset Font Duo
14. Palm Canyon Drive
Inspired by California during the '40s and '50s, this monoline script from RetroSupply Co. is all about post-war optimism mixed in with a bit of retro Hollywood vibe. Aside from the typeface, you'll also get tons of extras, such as catchwords and alpha-numeric characters.
15. Aloha Script
Say hello to this lovely brush script designed by Pierre Tardif and Charles Borges de Oliveria. With more than 100 alternate characters, plus a variety of ligatures, swashes, and underlines, it's a font you'll keep coming back to for all kinds of artworks.
16. Forbidden Isle Tiki Font
Spring Break Jake presents this hand-drawn sans serif that's all about the Tiki spirit. Thanks to its clean, bold design, you can easily use it on book covers, menus, labels, or bar signs.
Download Forbidden Isle Tiki Font
17. Maui
Travel to the island paradise of Maui when you try this beautifully crafted font by Traveling Fonts. Featuring 2 versions (Regular and Eroded), this handwritten typeface also includes over 40 individual illustrations and ornaments to help realize your adventures!
18. Hawaii
Noe Araujo brings to you this handmade script that's reminiscent of sunshine and playful waves. It's recommended for use in logos, headlines, invitations, and other projects with a vintage theme.
19. Surfnik Handmade Vintage Font
Surfnik is a hand-drawn font inspired by beatnik and surfing culture of the 1950s and 60s. A fun, loose design that's typical of pulpy fanzines, movie posters and advertising of the era. From promoting the local surf shop, burger joint or drive-in, it's a font that evokes a bygone era with a playful, nostalgic feel.
Surfnik features an all-caps design that includes unique uppercase and lowercase characters, punctuation, language support and numerals. It also comes with six styles that mix up weights and outlines that look great when creatively combined in titles and headlines.
It's a great choice for when you need a fun and lively look when creating menus, posters, movie titles, album covers and more
Download the Surfnik Font here!
20. Naluka Ethnic Font 
Introducing the ethnic font "Naluka". This contemporary font is funny, joyful, and unique! The font is an exploration of ancient-style fonts and is inspired by the geometric tribal ornaments and wood texture applied to the font as the special effect to give this font looks more fun and friendly!
Naluka was created especially for specific themes like summer designs, holidays, tropical, ethnic, cartoon, beach, cultural, children, and many more! This font is suitable for displays, packed with extra illustrations and OpenType features that you can combine to express your concept!
21. Jungle Bird 
Jungle Bird is a fun, vibrantly colored display font, inspired by the blocky, vintage type of the 1970s
The colorful glyphs are compatible with these apps: Illustrator CC 2018+, Photoshop CC 2017+, and InDesign CC2019+. However, included in your purchase is an SVG file and Adobe Illustrator file that includes each glyph, allowing you to use this typeface with older versions of Adobe products.
Jungle Bird includes an entire uppercase Latin alphabet as well as numbers 0-9, great for headlines and bold call-outs! Your purchase also includes 18 free vector tropical leaves you can use to elevate your awesome designs!
Download the Jungle Bird here!
22. Martellas Display Font 
The font collection is called "Martellas", it is a display font for logotype. These collections contain script and sans serif font. Every font comes with 4 style typefaces (regular, rounded, rough and stamp).
The Martellas pack also includes a range of Hawaii illustrations. This font includes some alternates and ligatures. This texture style includes some different stamps for uppercase and lowercase in sans serif, and the font package is great for a whole range of different projects. 
Download the Martellas font here!
23. Tropikal (FREE)
Inspired by 19th century old-style serif from Philippine banknotes, newspapers, and packaging designs, this modern rendition by Gabriel Reyes breathes new life to a font fit for paradise. Try it on postcards, travel brochures, menus, websites, magazine covers, and social media advertising.
24. São Torpes (FREE)
Big, bold, and free to use for personal and commercial projects, this attention-grabbing display font from Pedro Miguel Xarepe will not take no for an answer. So go ahead – download it and give him a shout out.
Download São Torpes Display Font
25. Ohmayes (FREE)
If you can't go to the ocean, at least bring it closer to you with this creative tiki font from Allouse Studio. Featuring fun vibes and strong lines, it's a wonderful typeface for anything that needs tropical, beach, or sea themes. Free for personal use only.
26. South Wildlife (FREE)
Looking for a cheerful font for travel merchandise or a kid-themed project? This funky typeface by noahtype should put a smile on your face with its quirky lettering and ethnic vibes. Use it on digital or printed projects.
27. Tropical Harmony (FREE)
The beach is often associated with romance because of the warm weather and titillating sounds of the ocean. And what better way to allude to that feeling than to use this modern calligraphy font from Balpirick Studio? It's versatile, enchanting, and will look incredible on postcards, headlines, menus, invitations, stationeries, and branding.
Download Tropical Harmony Font
28. Tropical Taste (FREE)
A creative sans serif with a botanical theme, this display font by GlyphStyle gives off a fresh feeling with subtle leaf shapes in each letter. It's ideal for projects requiring a natural, organic, or tropical concept. Pair it with regular sans serifs for the best effect.