Perhaps there is no metal more prized, more sought after, than gold.
Unlike radioactive elements – which are necessary for science and energy, of course – gold isn't essentially hazardous or poisonous. Brittle enough to be turned to paint or décor, it can be strong enough when mixed with certain metals, too. But maybe it's more distinct and lovable characteristic of all is that, it shines like the sun.
Why did we choose gold for currency?
You might be wondering how mankind decided to use gold for currency. There's no shortage of metals after all, and some are more valuable (e.g. palladium, iridium, and platinum). But why this bright, metallic element?
In the periodic table of elements, gold is considered a 'noble metal'. They are so called because they have amazing resistance to oxidation as well as good catalytic properties (i.e. can increase the speed of a chemical reaction). Other noble metals include: ruthenium, rhodium, rhenium, palladium, osmium, iridium, platinum, and silver.
Noble metals make great candidates for currency as they are not hazardous, they don't corrode immediately, are not prone to rust, and easy to carry. This too, explains why there are a decent number of gold artefacts that are often more than 1,000 years old.
Gold is considered to be the 'noblest' among the list because it's non-toxic, stable, and portable.
Silver doesn't fall far behind; which is why it's also used in the world economy. However, it tarnishes quite easily, particularly if there's high sulphur content in the air. That's why gold trumps silver in terms of value.
Extravagant Gold Textures
From dresses, jewelry, and sculptures, to architecture, cosmetics, art, and currency, gold is definitely all around us. No one can resist its lustrous charms. It can make you rich, beautiful, and look expensive in a flash.
Searching for a quick way to add a little radiance to your designs? These gold textures certainly won't disappoint. Try them out and see for yourself.
1. 40 Premium Gold Textures
From completely smooth to gritty and weathered gold, WG Visualarts has a consistency that perfectly blends with what you need at the moment.
Download 40 Premium Gold Textures
2. Gold Marble Textures
Add a solid and lasting impression to just about any graphic project using this set of textures from Creative Paper. Take your pick between different backgrounds with gold marbling, depending on what color scheme suits best.
3. Soft Gold Textures
Shimmering gold effects with varying degrees of grain will definitely add more accents to your visuals using this set from Paper Farms.
4. Gold Foil Textures
Paper Element brings out the glimmer and gleam in your graphic design with a selection of 40 one-click Photoshop layer styles.
5. Gold Glitter Texture
Make those memories look and feel like the valuable treasures they should be using these digital textures from Paint and Poem. This is great for scrapbooking, blog backgrounds, and a wide range of other graphic projects.
6. 28 Gold Foil Textures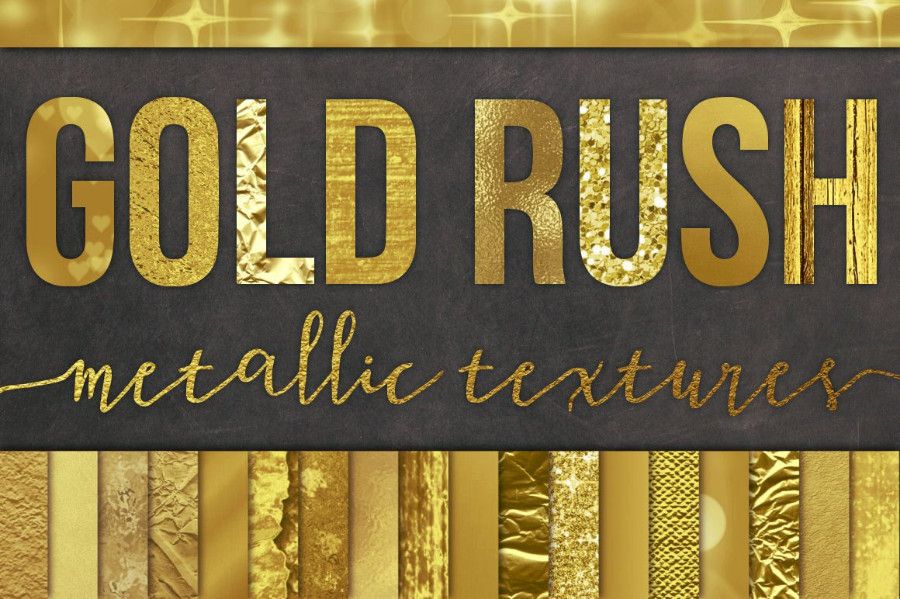 Alaina Jensen's best-selling pack of realistic gold textures is made to stand out from other gold foil layers and backgrounds. Pick from a selection of unique designs that add more bling to your graphic work.
Download 28 Gold Foil Textures
7. 2000 Unique Foil Gold Metal Textures
PrintPixel's bundle of gold and other metallic textures is no doubt going to be quite the help when your projects are in need of gleaming and shiny awesomeness.
Download 2000 Unique Foil Gold Metal Textures
8. Gold Foil and Glitter
This collection of 25 gold textures includes foil, glitter, brushed metal, and vintage gold – all in 300 dpi resolution.
Download Gold Foil and Glitter
9. Christmas Gold Foil Backgrounds
Eclosque gives you these gold foil backgrounds that are hand-painted, decorated with real gold foil, and expertly photographed to bring out a dreamy, elegant, and sophisticated look few other textures can compare.
Download Christmas Gold Foil Backgrounds
10. 50 Gold Foil Textures
Take advantage of this huge collection versatile gold foil texture package from KVArts. These high-resolution JPG files will definitely help create amazing and glimmering projects for all to see!
Download 50 Gold Foil Textures
11. Gold Textures Bundle
Paper Farms presents a collection of 80 shimmering gold textures and patterns including foil, metallic, marble, plus a wide variety of other effects and hues.
12. Liquid Gold Print Textures
Realistic liquid gold effects are available with a single click using this pack from Creators Couture. Bring out the glitz and glamour in your illustrations, designs, and printables!
Download Liquid Gold Print Textures
13. Gold Foil and Glitter Texture
Party decorations, cards, banners, scrapbooks, and other concepts will no doubt have an 'expensive' feel using this set of tinsel, sparkles, and gold flakes, from La Boutique dei Colori.
Download Gold Foil and Glitter Texture
14. 50 Gold Textures
Complement your company logo or add a stunning banner to your online portfolio using any of these gold foil textures from Zeppelin Graphics.
15. 25 Golden Age Luxury Textures
NassyArt gives you this high-resolution hand-made glitter and acrylic textures that will instantly add glam and gold to any project.
Download 25 Golden Age Luxury Textures
16. 10 Gold Textures Vol. 1
Based on real photos of silver foils, edited for a golden look, this pack from Alienvalley comes in PNG format, meant to give your photos, texts, websites, banners, or décor elements a distinct, premium look.
Download 10 Gold Textures Vol. 1
17. Yellow Soft Fluid Backgrounds
Looking for something contemporary? This bundle by Devotchkah contains 63 abstract fluid circle backgrounds that have a myriad of uses.
Download Yellow Soft Fluid Backgrounds
18. Golden Textures
Beautiful, shiny, and sparkly – you wouldn't want to miss this collection from Wowomnom. PNG files compatible with Photoshop, Adobe Xd, Figma, and Sketch.
19. 3D Golden Shapes Volume 1
Re-imagine simple shapes in this Micromove product that offers 35 clean, professional, golden shapes for your logos, business cards, posters, banners, websites, and more.
Download 3D Golden Shapes Volume 1
20. Elegant Foil Textures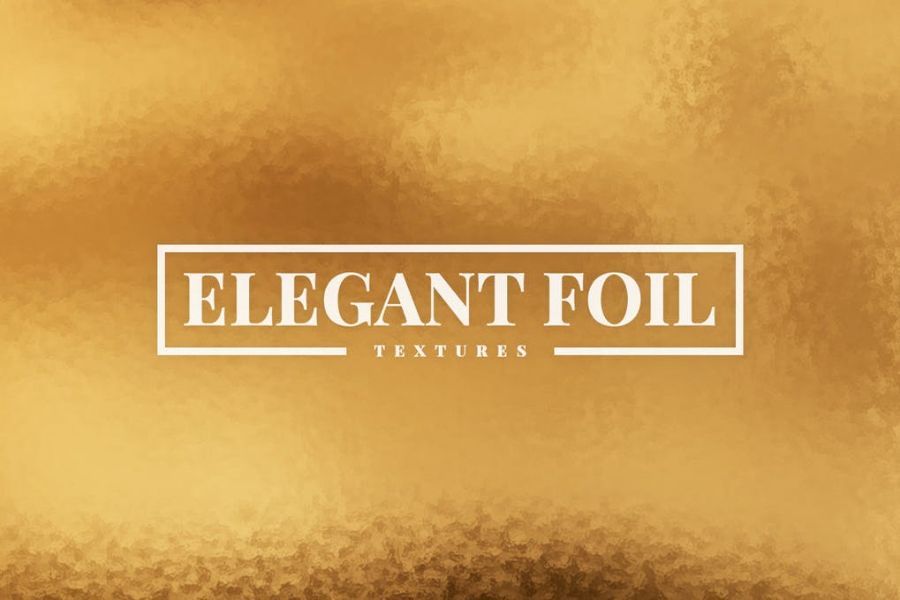 MehmetRehaTugcu brings you this set of 15 gold foil and 10 extra foil textures in various colors – all finely detailed, even up-close.
Download Elegant Foil Textures
21. Golden Backgrounds
Imagine lustrous, glossy strands just falling and curling around. These dynamic backgrounds by VProxy works great for print and web media.
22. Golden Ink Backgrounds 13
Black ink on subdued gold setting gives this product from M-e-f a serious, even somewhat shocking, appearance, making it perfect for flyers, greeting cards, posters, collages, YouTube backgrounds, websites, presentations, etc..
Download Golden Ink Backgrounds 13
23. Silver & Gold Foil Textures
Get two of the most valuable metals on earth – gold and silver – in this one convenient collection.
Download Silver & Gold Foil Textures
24. White Gold Marble Texture Pattern Background
Effortlessly add class to your designs using this gold-dust on white marble by Angelekamp. Ideal for social media and branding projects.
Download White Gold Marble Texture Pattern Background
25. Gold SKY Abstract Backgrounds
Ever wondered what it would be like if the sky was bathed in gold hues and speckled with sparkling dust? Then this texture pack from MaamounAlbibi should satisfy.
Download Gold SKY Abstract Backgrounds
26. Gold Textures
These shiny, sleek backgrounds by StrokeVorkz look like polished gold metal. Bundle includes 4 JPEGS in 5000(W) x 3500(H) pixels.
27. Gold Backgrounds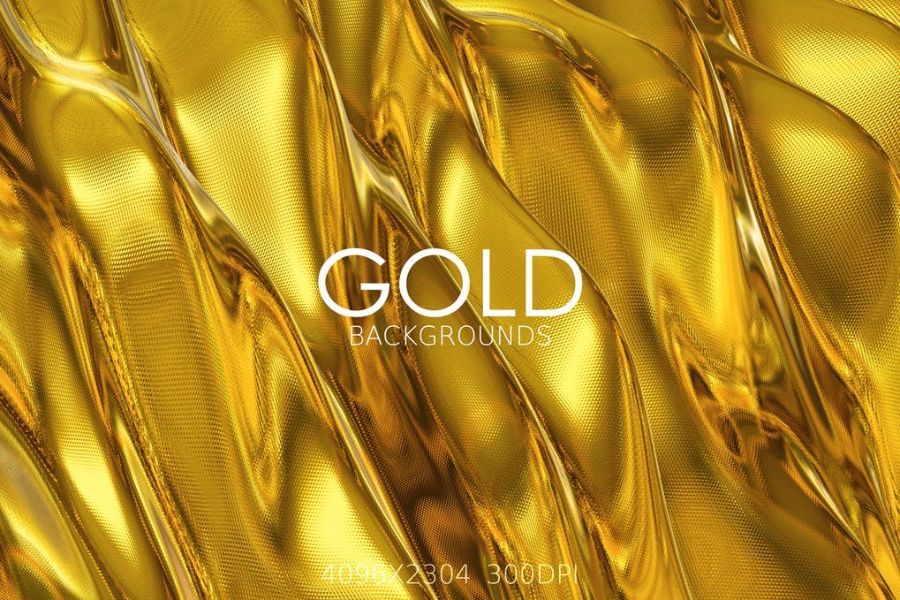 Gorgeous, gold hues that flow like silk and shine as if there's light from within – you'll find these qualities when you grab this texture pack.
28. Gold Marble Texture Patterns
Make your logos, packaging, banners, business cards, and posters look chic and smart with this stunning collection of backgrounds. It's great for minimalist, black-tie, corporate, feminine, or luxury themes.
Download Gold Marble Texture Patterns