Last Updated on May 5, 2023
Picking a font type can be hard work. Obviously, the font that you choose for your design needs to look good, but it also needs to match your personality. As a woman, you may find that tough to do.
That is why we have compiled a list of stunning girly fonts that are bubbly, chic, sassy, and creative, just like you. Now you can show off your unique personality by channeling it through one of these unique fonts. 
Best Girly Fonts
1. Melissa 
Melissa is a font that embodies refinement and femininity, radiating an air of modern sophistication and style. This font's slim and minimalist appearance creates a stunning image of effortless beauty and timeless grace.
It's also versatile for use in both modern and vintage concepts. Trust Melissa to help you design projects that are lively, unforgettable, and magical. The elegant curves and precise lines make it an ideal choice for creating luxurious and welcoming vibes.
It's perfect for beauty, cosmetics, fashion, web design, and other projects requiring a dainty touch. Each letter is carefully crafted, adding a unique handcrafted quality to your works.
2. Spring Melody
Spring Melody is an elegant humanist typeface. Spring Melody has elegant curves, beautiful kerning, and sharp edges. The font is perfectly suitable for creating elegant, clean, retro design such as branding, packaging, social media, wedding invitation, advertising, editorials, and much more.
If you're looking to create a sense of luxury in your designs, then Spring Melody is exactly what you've been looking for.
3. Faither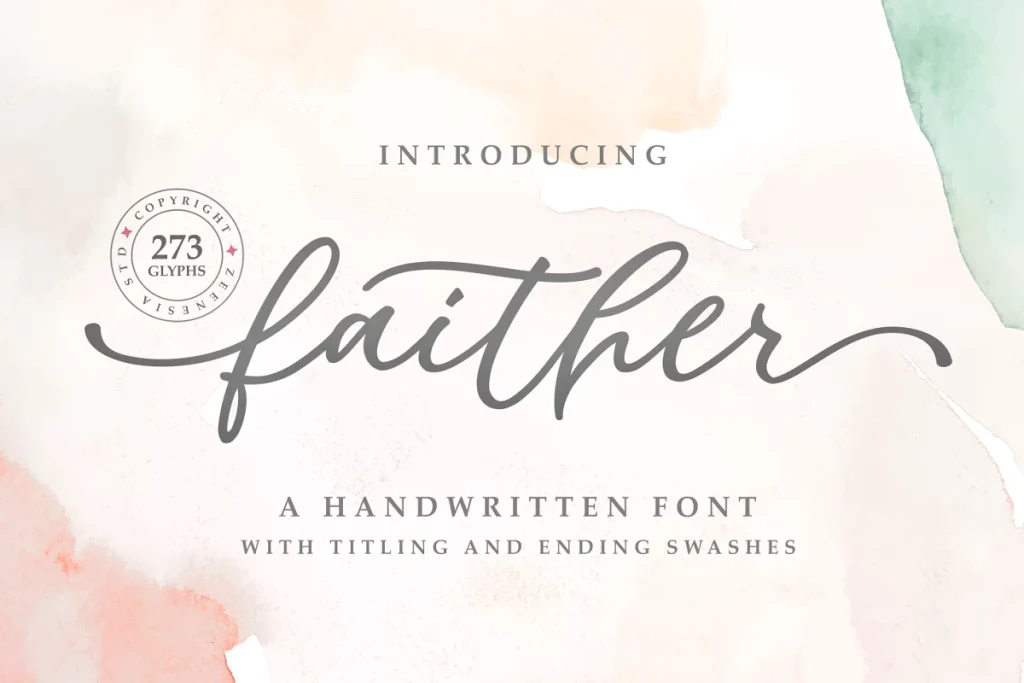 Faither is a thin lettered and graceful script font. Fall for its ravishing style and use it to create gorgeous wedding invitations, beautiful stationary art, eye-catching social media posts, and much more! Natalie is PUA encoded which means you can access all glyphs and swashes with ease!
4. Captivate Script
Introducing, Captivate Script – A beautiful modern calligraphy script based on manual hand writing. The natural flow with the swashes make this font looks even more prettier.
This type of font perfectly made to be applied especially in wedding invitation, labels, logos, magazines, books, greeting / wedding cards, packaging, fashion, make up, stationery, novels, labels or any type of advertising purpose.
Download Captivate Script here
5. Erlinka Hillary Signature Font
Erlinka Hillary is an script font based on authentic hand writing with natural signature style. This type of font perfectly made to be applied especially in logo, and the other various formal forms such as invitations, labels, logos, magazines, books, greeting / wedding cards, packaging, fashion, make up, stationery, novels, labels or any type of advertising purpose.
Included in this package is: 
uppercase & lowercase lettering
numbers and punctuation
multilingual support
alternates and ligatures
swashes
Download Erlinka Hillary Font here!
6. Tuti Cuties
This is Tuti Cuties, a stylish hand drawn font family. Cherries have 2 styles: regular and slanted Tuti Cuties included with some alternate character to make your design awesome. Tuti Cuties is fun and very suitable for cute or girly design needs such as cover design, typography, sticker, greetings card, logo, merchandise and much more.
Tuti Cuties also easy for read and you can use it for quote or caption. Add this beautiful handwritten font to each of your creative ideas and notice how it makes them stand out!
7. Wonderful Adventure Font Family
This font comes with a regular solid version, an outline and a shadow effect. These three fonts work together to layer your perfect vintage design! Limited Edition is perfect for branding, logos, social media quotes, stickers, posters, vintage designs, wall art and more!
This font trio includes a lot of fun ligatures so please use a program that supports these features such as photoshop or illustrator. You can also access these in many other programs by using your character map(Windows) or font book(Mac).
Download the Wonderful Adventure font family here
8. Magnificent Font Duo
Simple, elegant, and easy to work with, with Magnificent, you get one beautiful cursive font, a range of accents, and an easy to edit design that is ideal for a range of purposes, from logos to branding, to posters and social media. 
9. Wanderlust
Wanderlust is a beautiful vintage soft vintage typeface. Wanderlust is a very versatile font, covering a wide range project types, from wedding invitations, to bold magazine imagery, to branding, poster design and so much more.
10. Limited Edition Retro Typeface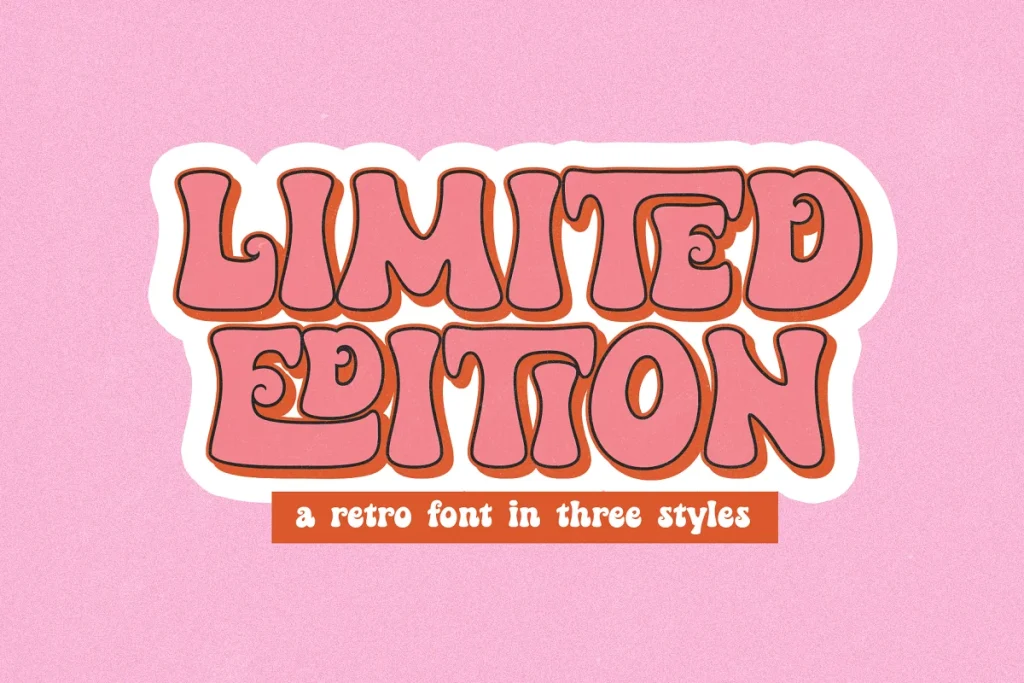 Elegant and playful, this fun-loving font is ideal for love letters, posters, or flyers that are promoting a romantic night or event. Perhaps you are a restaurant that is looking to find an elegant font to use for a date night poster, then this is a top quality font type. You will not be disappointed with this design. 
Download Limited Edition here!
11. Signore Serif Typeface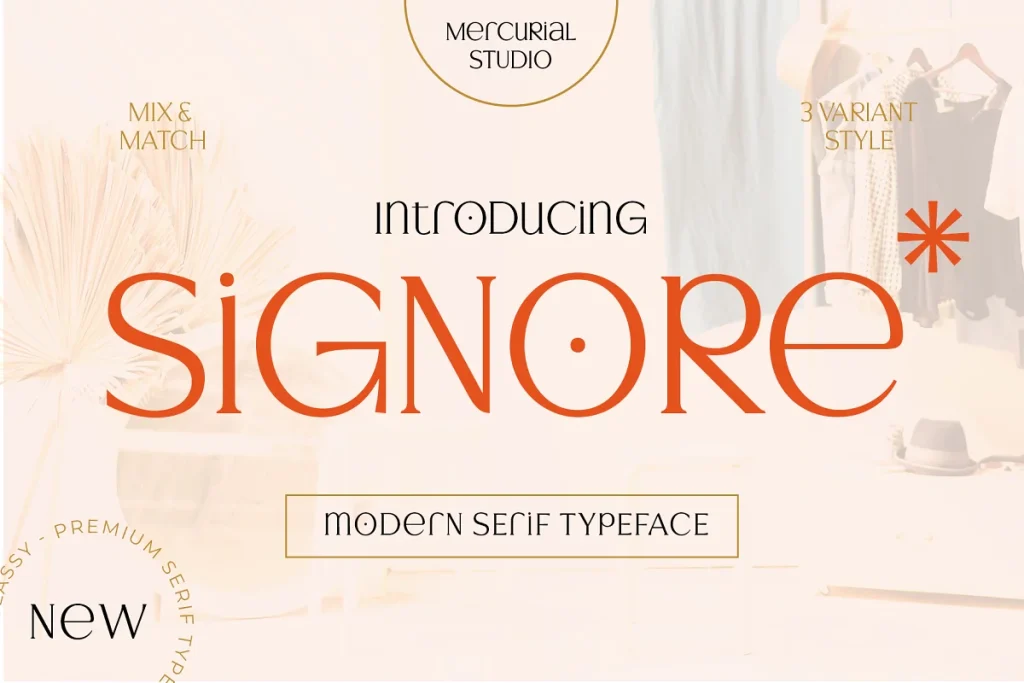 Signore is a serif typeface made with the desire for a quality, elegant, classy font that can still be used in all design needs. Wrapped with a modern yet unique character with a style that can mix & match in 3 model variants.
This versatile font is ideal for design, logo design, blog graphics, style quotes, wedding stationery, art prints, additional design, packaging, social media, magazines, fashion, creative branding, editorial design and web designing.
There are more than 300 glyphs covering various languages, and includes advanced open type features such as standard and discretionary ligatures, positional numbers, style alternatives, and so on.
12. Sweet Berry Handwriting Font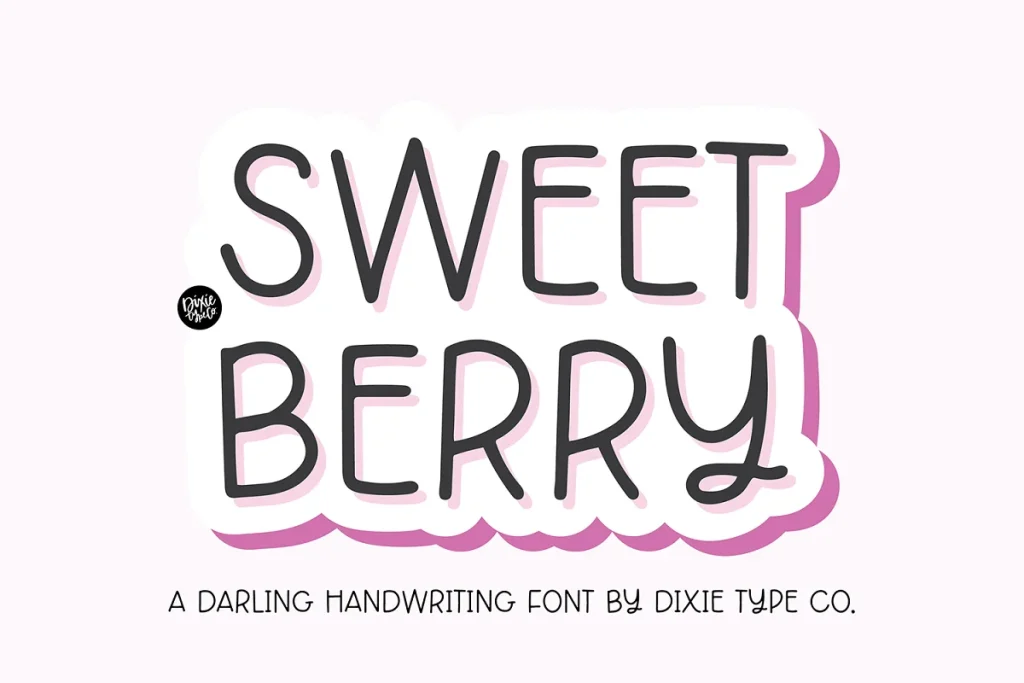 Sweet Berry is a handwriting font that is perfect for social media or crafty projects. Use if for branding, crafts for decor, invitations, and more! This font includes upper and lowercase glyphs, international characters, and basic punctuation marks.
Download Sweet Berry font here!
13. California Oranges SVG Font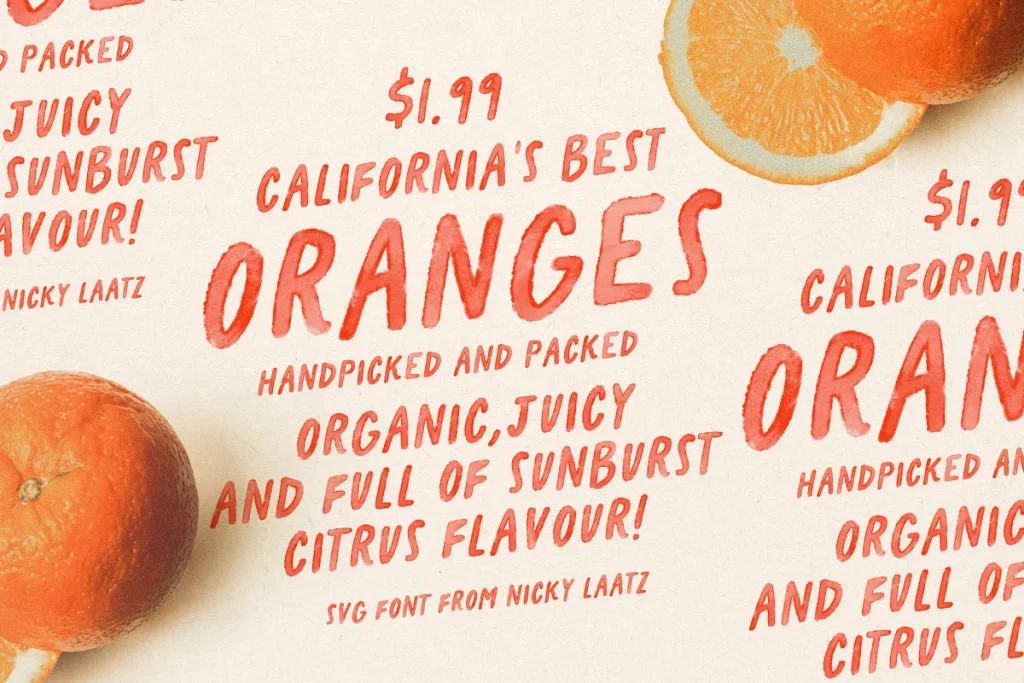 This is California Oranges, a fresh and friendly all-caps font. It is super versatile and looks great on a range of design types. If the look is too diluted for you, just double the layer to make it less opaque. If you would like a solid regular version of this font – it's included too!
Download California Oranges here!
14. Qochy Modern Serif Font
This beautiful and stylish font is perfect for branding of any kind and will add a modern and elegant touch to any design, With a variety of features like upper and lower case lettering, punctuation, alternates, and multilingual support, there are so many options there for you to edit designs as you wish. 
15. Grapefruits
Grapefruits is a retro font with that perfect seventies vibe, that can be used for logos, branding, social media, quotes and so much more! Grapefruits includes uppercase and lowercase letters, numerals, punctuation, ligatures and alternates.
Download Grapefruits right here!
16. Little Peach
Little Peach is a font that you can instantly download in OTF and TTF format. You can use this font in Procreate, Illustrator, or any other program that will allow you to import fonts. Please see listing image for all characters and symbols included in this font pack.
17. Potery Script Fun Handwritten Font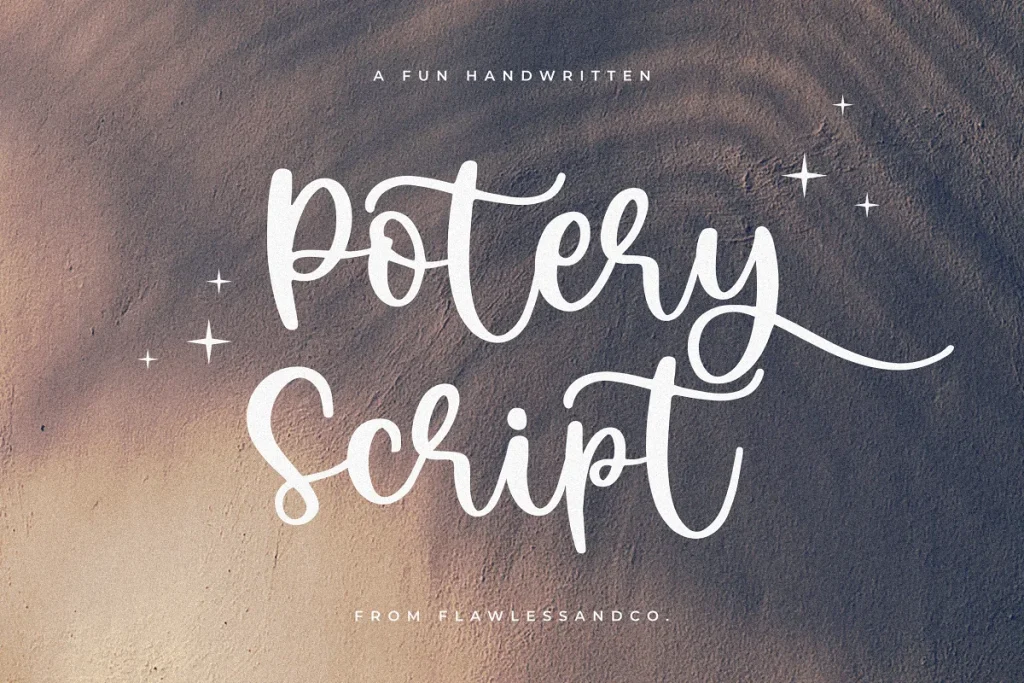 Potery Script Font is a handcrafted script, this style gives the user a modern and girly vibe. The font is suitable for any graphic designs such as branding materials, t-shirt, print, business cards, logo, poster, t-shirt, photography, quotes, etc.
Download this stunning handwritten font here!
18. Hippie Chick Retro Serif Font
Hippie Chick is a stylish serif boho font that is perfect for social media or crafty projects. Use it for branding, procreate, crafts for decor, invitations, and more! This font includes all caps glyphs, numbers, and basic punctuation marks. There are two fonts included, Shine and Solid. 
19. Happy Thoughts Bubbly Font Duo
Happy Thoughts is a fun, bubbly handwritten font! There are two font files included – solid & shadow. You can layer these fonts to create a "3D look" or you can use each font individually!
This font duo is perfect for a range of uses, including creating stickers, Instagram quotes, shirts, procreate, SVG designs, social media, retro designs, quotes, logos and more!
Download the Happy Thoughts Font here!
20. Heartland Handwritten Script Font
Sweet, playful and quirky, the Heartland font is a great option for any girl looking to make their work look a little more feminine, chic, and fun. There is a range of glyphs and ligatures available with the font collection, and it looks great on posters, flyers, or social media designs. 
Download this gorgeous font here!
21. Saint Monica Elegant Ligatures Font
SaintMonica is a versatile, modern, and elegant font. It has a unique style with standard ligatures and supports multilingual languages. SaintMonica includes regular and italic versions.
All gorgeous ligatures in these versions turn on automatically and you don't need any special programs to use them. You can create a unique and beautiful logotype, and use it as an elegant solution for your next magazine layout, or choose SaintMonica for any graphics that require a sleek look with an elegant flair.
Download Saint Monica font here!
22. Pearberry Handwritten Script Font
Pearberry is a cute handwritten script font! The font is so versatile , making it perfect for all of your craft projects, branding, quotes, prints, logos, social media , kid's decor, clothing, svg designs and more!
23. Bloomishly Brush Font
Playful and exciting, Bloomishly has a playfully bouncy baseline, and thick flourishing lines – perfect for adding a fresh & unique look to company branding, logos, greetings, magazine layout, homeware, prints and invitations.
The font package even comes with a full set of alternate characters that can be used to add an extra unique touch to any design. 
Download Bloomishly Brush here!
24. The Paris Lamore Duo Typeface
The Lamore Sans & Script Collection is a Minimalist Modern Elegant font with the Signature script font. Full of beautiful ligatures, tons of special alternative glyphs, ornament and multilingual support. It's a very versatile font that works great in large and small sizes.
Lamore font is perfect for branding projects, Logo design, Clothing Branding, product packaging, magazine headers, or simply as a stylish text overlay to any background image.
25. Mountains Handwritten Script Font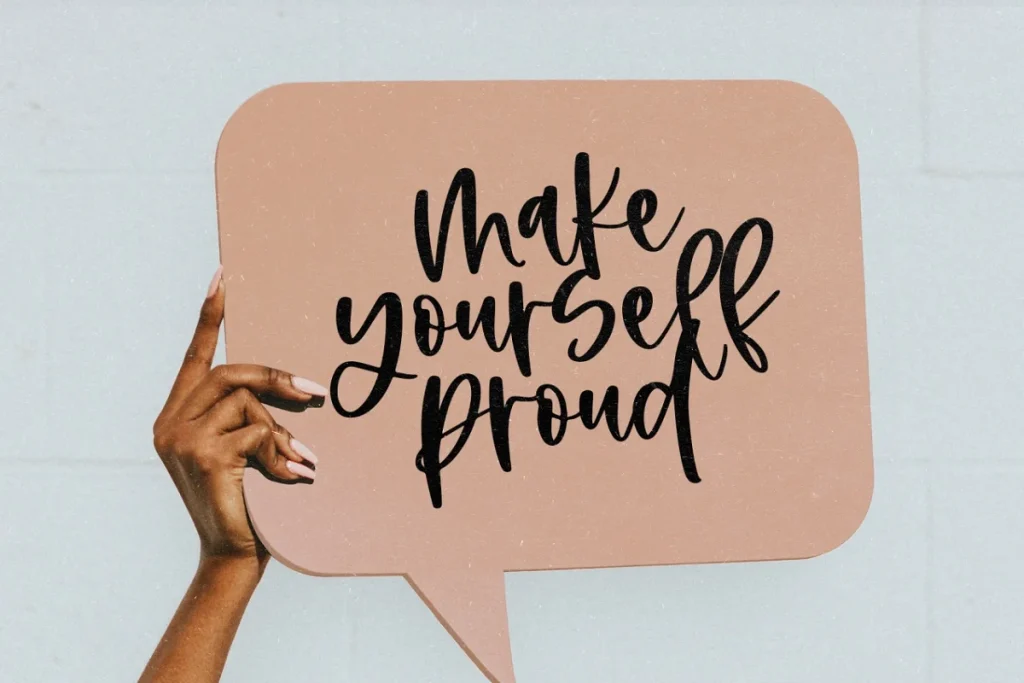 Mountains is a handwritten script font. It has an authentic modern calligraphy look making it perfect for branding and digital designs.
Use this font for logos, social media, websites, blogs, wedding decor, home decor, invitations, Instagram, business cards, branding, and more!
Download this beautiful Mountain Script Font here!
26. Think Pink Handwritten Font Logos
Nothing says girly like a little bit of pink, and Think Pink is a super-cool and modern handwritten font. Its handwritten style makes it perfect for use in all your design projects be it logos, signatures, labels, packaging design, blog headlines. Using Think Pink will definitely make your text stand out.
The font comes with upper and lowercase Basic Characters, Numbers, Marks and Punctuation. Diacritics are also available for Western and Central European Languages. As a feature, you have also the standard Double Letters Ligature, Special Ligatures, Alternates, Swashes and Illustrations.
27. The Lovestory Font Collection
A stunning font package, the Lovestory font design package is full of unique and elegant designs that will make anything look good! The fonts require Photoshop CC 2017 or Illustrator CC 2018 or later to work. 
28. Aurora Elegant Modern Sans Serif
Aurora is an elegant & modern sans serif font with special alternative letters and with multilingual support. Aurora is perfect for logo design, magazine headers, product packaging, branding projects, clothing or simply as a stylish text overlay to any images or websites. You get access to four stylish fonts, and each font in the package is available in TTF and OTF formats. 
29. Marshmallo Handwritten Font
A cool and clean font, Marshmallow contains some nice alternatives, ligatures, and swashes. The idea behind it is that it is fresh and classy, like the modern woman! 
You can use it for various projects such as branding design, blog headers, signatures, quotes, fashion apparel, business card, stationery and more.
Download Marshmallow Font here!
30. Kindness Matters Font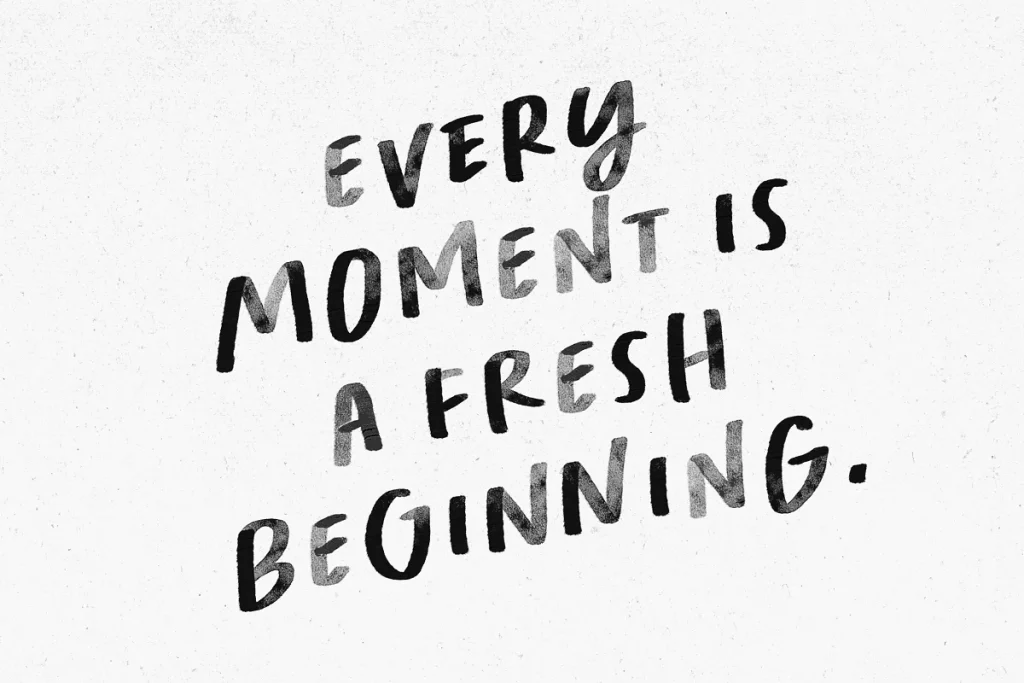 Kindness matters…it really does. Here is hoping that every time you use this font, it serves as a little reminder for you 🙂
Kindness Matters is a quirky All-caps SVG font – with a built-in watercolour texture that looks so very real. Perfect for quotes, posters, flyers, social media posts and so much more!
Download Kindness Matters Here
31. Idealist Serif
Idealist Serif – a stylish OpenType rich serif with letters that seem to dance and twist harmoniously together – to form unique & elegant typography designs.
A large selection of interwoven Opentype ligatures and alternates means ample selection and variety in your finished look.
32. Barley Handwritten Script Font
Barley is a handwritten script font. It has an authentic modern calligraphy look making it perfect for branding and digital designs. Use this font for logos, social media, wedding decor, invitations, home decor, websites, blogs, Instagram, business cards, branding, and more!